Home

A Tailor, Tuxedo & Bridal Shop
Details
Bridesmaid Dresses, Flower Girl Dresses, Mother of the Bride Dresses, Wedding Dresses, Dresses, Alterations, Fashion

Contact Info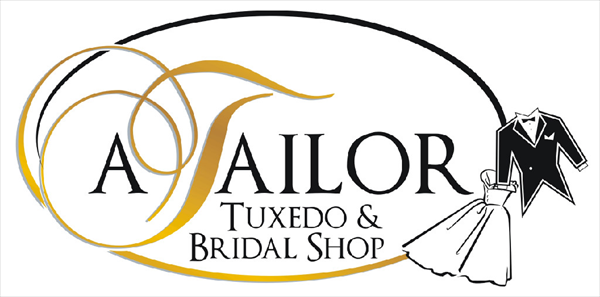 Dream Dress
Reviewed on

5/02/2015
Brianna M
I have gone to this salon many times with friends who where looking for their perfect dress and knew it's where I wanted to go for my dress. They know their dresses and are extremely helpful at narrowing down which dress is for you. Plus you don't feel rushed and like you are... Read More being pushed through a bride line like you do at some bigger national chains. After my dress came in, they did the tailoring and my dress fit perfectly. So happy I used them.
---
Absolutely Amazing!
Reviewed on

1/29/2015
Cheree S
I went to A Tailor Bridal and Tuxedo after visiting two other stores looking for my wedding gown. While there, I found the perfect dress that was a little out of my price range. A Tailor Bridal and Tuxedo worked with me and was able to give me the dress at a discounted price and... Read More it even included alterations done right there at the store. Every experience I've had there has been phenomenal (dress fittings, grooms tux, groomsmen's tux). My now husband even enjoyed working with them. They are very friendly and professional! I never felt like just another girl trying on a dress unlike other chain stores.
---
I wish I could wear my dress everyday!
Reviewed on

5/08/2014
NICOLE M
I found the most beautiful dress at A tailor and Tuxedo after looking at 2 other dress shops previously. The staff was so helpful and had a great eye for picking out dresses. The fitting process was easy. I received numerous compliments on the uniqueness of my dress! And the... Read More price was very reasonable. Highly recommended!
---
Love my dress!
Reviewed on

4/15/2014
Sarah B
Didn't buy my dress here but had it altered here. They took their time and did an amazing job. My dress fit perfectly and they were happy to fix little details.
---
Perfect Tailoring
Reviewed on

3/05/2014
Lexie A
A Tailor did the most amazing job with my dress. They were really easy going when my "wedding brain" missed an appointment or when I decided suddenly that I wanted to get fitted with different undergarments. Completely loved them!
---
Wedding Dress
Reviewed on

1/20/2014
Christa
They were awesome! They helped me to find the perfect dress and were so helpful!! They even held on to the dress for me, up until the day before my wedding and steamed/ironed it and made sure it was perfect and ready to go. They were great!!
---
My husband looked like a million bucks
Reviewed on

10/30/2013
Katie R
Thanks to the wonderful team at A Tailor Bridal and Tuxedo for their help picking out the perfect tux.
---
For tailoring and cleaning: The Best!
Reviewed on

6/25/2013
Danielle
I bought my dress online but needed some alterations, and the people at A Tailor, Tuxedo & Bridal Shop were helpful, friendly, and professional. They worked on the dress until I felt it was perfect, and then they cleaned/pressed it for an incredibly low cost.
---
Ester and team are amazing!!!
Reviewed on

6/25/2013
Denya T
This was the first place I went to try on dresses and it was right after I sent my fiance off to Kuwait for his tour. I was a mess emotionally and Ester was such a gem. She was patient with me and really made me feel like we were great girlfriends. I found 2 dresses I loved but... Read More it was the first store I went to so I didn't want to make a decision right away. I went to a few other stores and finally found "the dress" in Nogales but the service was terrible they treated me really poorly. I went back to A Tailor and told Ester my dilema and she informed me she could order my dress and for cheaper. I ordered immediately. I also found my bridesmaid dresses there but I did not purchase from there because they were more expensive. I ordered the groomsmen ties and ring bearer bow tie from A Tailor and they were perfect. Perfect match to the bridesmaid dresses. She was also even able to order the Mother of the Bride dress cheaper then where I found it. The overall experience was exactly what I needed. The entire team was helpful it was easy and I fully trusted all the decisions I made and their work. The tailors at A tailor were also awesome. They really understood my vision for the dress and made it perfect. Only complaint is that I wish they used hooks for all the bustles the button bustles kept coming undone and I had to hold my train for part of the night. They are amazing and make things happen.
---
Dress of my dreams!
Reviewed on

6/17/2013
R A
Ok, so I have to admit that at first glance at the store front, I thought to myself, "this place might be too prom-y". I was TOTALLY wrong! I had just left Alfred Angelo's on Wetmore and was SO terribly disappointing with the expense awful taffeta fabrics they had (gross) that... Read More were ridiculously overpriced! I knew I wanted a natural, elegant, nice flowly fabric and was so disappointing after leaving Alfred Angelo because I thought I would not be able to afford one. A Tailor, Tuxedo and Bridal Shop totally made it happen for me at a reasonable price!!! Their customer service was OUTSTANDING!! I loved working with the girls there! Jessica was my main consultant and my mom and I truly felt a great connection with her. She was very honest but kind when I would ask her for opinions. I even liked that when I felt uncomfortable with something the seamstress had done, Jessica immediately agreed it was "too tight" and had kindly disagreed with the seamstress (co-worker) even though that meant we would have to do an extra fitting. The seamstress did an amazing job with the dress. You couldn't tell any of the alterations were made and the dress fit me perfectly. Overall, great place to buy a wedding dress and the materials were VERY reasonably priced for the beautiful over laced fabric that I got with beading. I told Jessica that I was SO extremely happy with them and that I will miss seeing her. She was great!
---
Fantastic to work with!
Reviewed on

11/19/2012
Kari P
I acutally purchased my dress elsehwere (back in Wisconsin) but had it altered here for my Tucson wedding. In hindsight, I wish I had bought my dress here! Esther and A Tailor were incredible. They worked on my dress over a period of a few months, doing some sizing alterations... Read More and adding a belt and some tulle to the dress. I was able to easily get appointments to try the dress on that worked around my hectic schedule, and they were very flexible when things changed. My dress looked perfect the day of the wedding and fit like a charm. Best of all, Esther was always there to give sound advice and really listened to me as a bride - which was really important when other friends/family attending fittings were not listening to me. I bought my dress envisioning some changes to it and she helped me get there as painlessly as possible. Love this place!
---
Great staff made the experience fun
Reviewed on

11/06/2012
Olivia M
I knew I wanted to buy my dress here because both of my sisters bought their wedding dresses here. I also like supporting local vendors. I was not disappointed at all in my decision. It was never hard to schedule an appointment and Rene and Esther are both amazing. They were... Read More always kind, offered honest advice (which I desperately needed), and welcomed me whenever I needed to "visit" my dress. In sum, they made the whole experience fun.
---
ok
Reviewed on

9/13/2012
Adelita O
The tux was clean and affordable, but my groom bow tie seemed to be a little on the sad looking
---
Great Dress Price, terrible Alterations prices
Reviewed on

8/19/2012
Catherine T
I got my long dress from them at a bridal sale for $250 (to make my mom happy) but my alterations ended up costing $300 because it was a flat fee. At Maya's Palace they charge hourly and the short dress I got altered there only cost me $30 in alterations, so if you get a dress... Read More at A Tailor I would recommend going elsewhere for the alterations.
---
Extremely Helpful
Reviewed on

8/16/2012
Kristin M
Go see Esther! She was very helpful, and was patient with me for my 5+ fittings!
---
had such a great experience with them!
Reviewed on

8/04/2012
Dyanna H
it took me forever to find the bridesmaids dresses i wanted. Esther came along and helped me find exactly what i had in mind, they were perfect. Esther took the time to get to know us and was willing to help in any way possible, she always kept us up to date with our orders and... Read More worked with us when we had to add and subtract people from our wedding party. the guys also got their tuxes here. all the guys commented on how sexy the tuxes were and they all wanted to know if they were able to buy their tuxes! a lot of the staff there is family...they are all such wonderful people and i enjoyed working with them!
---
Amazing Service
Reviewed on

6/17/2012
Caitlin H
WONDERFUL!!! I had a short engagement and needed to get a dress in a hurry. Other vendors had made me feel that this was a burden, but not A Tailor. They were so helpful. From the second I walked in the door to try dresses on to after my wedding and making sure everything went... Read More well. They did a great job of helping me find the perfect dress and a great job of tweaking it to make it exactly what I wanted. They were always so helpful and so friendly!
---
Wonderful help.
Reviewed on

5/15/2012
Nicole L
I struggled with finding a dress, and these guys were great to work with. I came back multiple times before I settled on a dress. After I did, they did multiple fittings for me, as I requested quite a few alterations. On the day of the wedding, my dress was actually missing... Read More the back eye hook (I ended up being sewed into it so that it would stay), but all in all, the dress was gorgeous. Alterations were a bit pricey, but I think that's the case for any place you go.
---
Dress steam
Reviewed on

5/08/2012
jasmine b
did a great job!
---
not my style
Reviewed on

4/06/2012
Ramie Q
This shop had a large selection, but my friends did most of the work in trying to find me dresses to try. I ended up going somewhere else.
---
Do not go to David's Bridal
Reviewed on

2/28/2012
Rebecca K
I got my wedding dress from here but the bridesmaids dresses from David's just because A Tailor and Tuxedo didn't have what I was looking for. The staff is very nice and able to answer questions. Also, their alterations are cheaper than David's Bridal and can be done much... Read More faster. I had my bridesmaids go there for alterations even though the dresses were from David's. They were done more than a week sooner than if we had gone to David's and cost half as much.
---
Highly Recommend
Reviewed on

2/03/2012
Katherine W
Loved my dress from A Tailor, Tuxedo & Bridal Shop. They were very helpful and made sure I liked the fit before my wedding day. I would highly recommend this vendor!
---
Esther is amazing and I loved my dress
Reviewed on

1/17/2012
Amy S
I was skeptical that I would find a dress in Tucson...we aren't known for being fashion forward...A Tailor, Tuxedo and Bridal Shop came very highly recommended to me so we figured we would give them a shot. I believe in supporting local businesses so the chain shops were not an... Read More option for me. I went to two other shops in town and had very poor service (one shop made an appointment with me at 11am to not even show up until almost 12! They didn't even apologize!).... Esther is knowledgeable, kind and easy going...I tried on dresses for over 3 hours and she never pressured me into buying. She made my mother and mother in law feel comfortable and special during the process as well. I narrowed my dress selection to two dresses and came back a few days later to make the final decision--again I had great service from the consultants. My dress came in ahead of schedule and my alterations were a breeze. Everything was perfect. We ended up purchasing my veil from ATTB as well.
---
Good service
Reviewed on

1/03/2012
Mandi G
I didn't end up buying my dress there, but I did take up a lot of their time, so I figure I should give them a review! Of the four bridal shops I visited, this was my favorite. The service was good...they weren't pushy. Prices were good. I loved loved loved one of the... Read More dresses there and it was only around $400. I like that you are allowed to browse the racks. They seem to have more variety than some of the other shops.
---
Got it all there!
Reviewed on

11/27/2011
Santina E
A Tailor is such an amazing shop. They have wonderful items, amazing prices and great staff. I had been to so many other places where I felt uncomfortable and unwelcome. At A Tailor you never feel that way. Esther helped me, my bridal party and my parents find everything they... Read More needed in a fun, friendly and comfortable environment. Definitely a great choice.
---