Home

Absolute Dream Limo, Trolley & Coach Service
About this Vendor
The Newest & Most Unique Fleet of Limos in Chicago
The only limo winner of "The Knots Best of Hall of Fame" in Illinois! "THE" Wedding Specialists! We guarantee the newest fleet, and best wedding package available. Family owned for 30 years. 2 New White Wedding Trolleys, a new fleet of Limo Buses, Shuttles and SUV Limos.
Details
Limousine + Sedan, Trolley, Transportation









Contact Info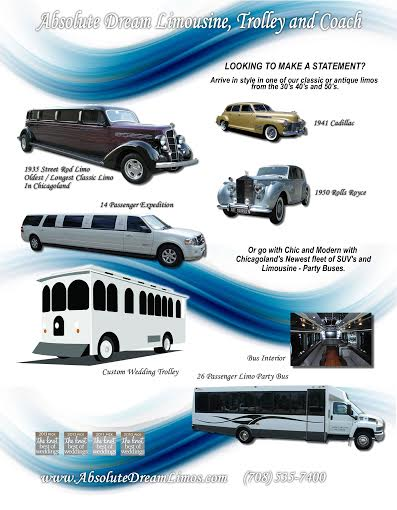 Reviewed on

2/04/2018
Cassie S
Absolute Dream Limo was perfect! Dan was super easy to work with and made scheduling our day go smoothly. They were so accommodating and flexible as our schedule was changing between booking and the day-of. The 29passenger bus was clean, comfortable, and the perfect size for... Read More our 25 person group - complete with a stocked bar and even a champagne toast to kick off the bus party. Our driver was so friendly and knew exactly where we needed to be without any direction necessary. Everything went exactly as planned and everyone was where they needed to be right on-time. All in all, we were able to sit back and enjoy the ride knowing our schedule was in good hands.
---
Reviewed on

12/23/2017
Regina G
Absolute Dream Limo was a pleasure to work with. I was in contact with Dan for the planning process, and he was great about answering my questions, especially about our timeline for the day. He really helped us to make a realistic timeline to get where we needed to. Our driver... Read More was Fred, and he was excellent. He was on time, super nice, and able to get us where we needed to be on a strict timeline in Chicago traffic on a Friday afternoon. The limo was clean and the perfect size for our bridal party. I would definitely recommend them and use them again in the future!
---
Reviewed on

12/23/2017
Christina L
GreAt service and very easy to work with!
---
Reviewed on

12/05/2017
Alessandra V
We used ADLSS for our wedding (11/18/17) and were extremely pleased with the experience from start to finish. Dan was helpful and accommodating from our first interaction, and we felt comfortable with him as a vendor that everything would be taken care of. We booked a 14... Read More passenger limo bus for a bridal party of 8 and 2 photographers. It was the perfect amount of space, and the vehicle was clean, well maintained, and the included champagne was a nice touch. Our driver was excellent: courteous, funny, and he did a great job of getting us from location to location, including a request to take a specific route to get to one of our locations. We would highly recommend booking wedding transportation with this professional, responsive company.
---
Reviewed on

10/27/2017
Paige B
My husband was on the phone with Dan at 9pm a week before our wedding booking the 14 passenger limo bus. We were on the fence for so long about getting a limo but finally decided to do it and it was a smart move. The limo showed up early to my house to pick up the girls and I.... Read More Took us to a lake for first look pictures, and then added the guys and took us to the hall. There was plenty of beer and champagne to go around as well as pop and water. My maid of honor plugged her phone into the sound system and we rocked our way to the ceremony all having a great time. I think it was money well spent and a great company, especially for allowing us to book so late.
---
Reviewed on

8/21/2017
Quannette B
I absolutely loved the driver I would have gave 5 starts but I was told in my contract a red carpet champagne toast outside the church that didnt happen. They said that beer, water and champagne would be aboard the trolley they had 1 bottle of champagne for a party of 31 and I... Read More didnt recall any waters. The radio didn't work properly as well I feel the money u pay for the services all things should be in order before hand.
---
Reviewed on

7/19/2017
Ann M
This company did an excellent job getting us all from one place to another without any delays in our schedule. The owner was very easy to work with and our driver was friendly and easygoing.
---
Reviewed on

7/18/2017
Lauren C
We had a great experience using Absolute Dream Limo for our wedding. Our driver Dan was a delight and had a bottle of champagne for us waiting after our ceremony! The trolley itself was spacious, clean, air conditioned, and even had cup holders! We cannot say enough good things... Read More about our experience with Absolute Dream.
---
Reviewed on

7/12/2017
Kristin E
The trolley was prompt, courteous and clean! Even more beautiful than the photos. Our driver James was an absolute pleasure, super flexible, responsive and kind. The trolleys audio hook up for our personal music worked wonderfully and was a nice touch. The air conditioning on... Read More the trolley was so cold! It was a nice touch for everyone in the summer when its so hot out and we're in suits and dresses. It was so cold one of our girls actually had to put on a sweater! This company was extremely reasonable and flexible, I would definitely book with them again for any trolley needs! The balcony was also amazing and looked beautiful in pictures.
---
Reviewed on

7/12/2017
Amanda H
When searching for transportation for the day of our wedding, we had seen at least one review on every other company pages that stated at some times the bus didn't show up. We immediately went with Absolute Dream Limos because they didn't have any of those types of reviews. WE... Read More ARE SO HAPPY THAT WE WENT WITH THIS COMPANY!This company was incredible. Our bus showed up early (which was amazing because our timeline was pretty crunched), our driver was so friendly and made sure that everyone on the bus was happy! Our champagne toast was wonderful on the way to the church, we had an amazing time! Our driver was able to navigate around downtown, being able to avoid as much traffic (on a Saturday) as possible. Our experience with this company was nothing less than amazing!
---
Reviewed on

7/06/2017
Liz B
Dan was wonderful to work with. The booking process was easy, the trolley was beautiful, and the overall service was perfect!
---
Reviewed on

7/06/2017
Meghan S
Fantastic service! Our driver was so good to us! He brought waters in to the church for the bridal party before our ceremony and rolled out a red carpet for us to walk back onto the limo after the ceremony. He was so nice and easy going. We would highly recommend them to any... Read More other bride and groom!
---
Reviewed on

7/05/2017
Amy P
Absolute Dream Limousine was a fun part of our wedding! Our wedding party had a great time on the party bus that was stocked with water, soda, beer, and champagne between the church and our wedding reception. The complimentary champagne toast was also a very nice touch!
---
Reviewed on

7/01/2017
Cynthia B
Awesome!! we booked them for our wedding and it was great. The driver was on time and helpwd to make our experience good. Kim was our driver and he was one cool guy. Thank you !!! I highly recommend them
---
Reviewed on

6/30/2017
Wendy B
The white wedding Trolley was a WONDERFUL addition to my daughter and son-in-law's wedding. It was so easy working with Dan. Thank you!!
---
Reviewed on

5/26/2017
Maria K
Such a beautiful white Trolley. The driver and assistant were very professional and very helpful.
---
Reviewed on

5/26/2017
Stephanie T
What I loved most was that their trolley is white. So many other trolleys available in the Chicagoland area are green/yellow or red. I loved the white because it fit with our colors and just looked nicer or a wedding. We wanted to take photos on the back of the trolley and... Read More despite the rain and cloudy skies, we were able to get those photos and they turned out great. Dan was great, he came out with multiple umbrellas to make sure my dress and all my bridesmaids didn't get wet. Emailing with Dan was great, he always responded in a timely manner and answered every single question. I wasn't sure at first where to take photos at between the ceremony and reception and Dan offered up suggestions on places to go even though with the rain we didn't end up going but I liked that he gave us a list of at least 5+ places to look into.
---
Reviewed on

5/10/2017
Samantha J
My husband and I contacted Absolute Dream Limousine for our wedding a few weeks ago. We spoke with Dan on the phone and he was extremely helpful and worked with us as what we were looking for did not fit a certain package. He answered all our questions (sometimes more than... Read More once) and was very accommodating; this allowed everything to be perfect on our wedding day. James was our wonderful driver, and not only was he super friendly, but he was very patient and great to work with! Overall, we recommend Absolute Dream, and we will definitely use this company again in the future!
---
Reviewed on

1/08/2017
Lauren M
We have nothing but great things to say. They were prompt and profsssional. They had a champagne toast ready for us after our ceremony. Everything went without a hitch.
---
Reviewed on

1/04/2017
Laura K
The white wedding trolley was perfect for our December wedding! The driver was fantastic! Highly recommended!
---
Reviewed on

12/06/2016
Colleen T
Absolute Dream was wonderful!!! I could not have been happier with our limo service! I did tons and tons of research and they were one of the most reasonably priced options, but you would not have known it from the service. Everything was fantastic! We had the 14 person limo... Read More bus and it was great. They had the limo stocked with beer and a bottle of champagne and had everything set up for us to do a champagne toast in front of the limo after the ceremony. The driver was so nice and such a gentleman, he helped with my dress and flowers while I was getting on/off the bus and was so friendly. I would highly highly recommend Absolute Dream Limousine!!!
---
Reviewed on

12/01/2016
Bridget T
My husband and I used this company for our wedding this past October. The website is easy to use and offers pictures which is very helpful. Dan was very pleasant to work with and accommodating when we needed to extend our rental. Our limo driver was very nice and sincere. We had... Read More an overall amazing experience and I would highly recommend them to anybody.
---
Reviewed on

11/22/2016
Maureen E
We loved absolute Dream Limo! They were so easy to work with. The driver Dan was amazing and helped so much, he really did roll out the red carpet for us ;). We had a white trolley which was gorgeous and so roomy for our wedding party. Would recommend them to everyone!
---
Reviewed on

10/21/2016
We used Absolute Dream Limo for our daughter's wedding and had the services of a trolley, shuttle and limo. Dan Baxter and his drivers were very professional and prompt. We would highly recommend them to anyone having the need of such services.
---
Reviewed on

9/20/2016
Patricia R
Beautiful trolley! Great driver, would definitely recommend to a friend!
---