Home

Admire Design LLC
About this Vendor
Completely Custom Wedding Paper Suites
Your wedding paper should be just that – yours. I create complete custom wedding paper suites from save the dates to the last thank you card and everything in between. I work with each couple personally to make their vision a reality. I hope we get to chat about your special day soon.
Details
Custom Invitations, Paper Goods, Save-The-Dates, Shower + Party Invitations, Wedding Invitations, Invitations + Paper Goods
Contact Info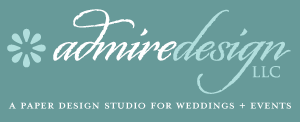 27 Broadbrook Road, Broad Brook, CT
Adrienne is absolutely the BEST!
Reviewed on

6/09/2014
Connie G
We used Adrienne for all of our wedding paper, from the invitations to the escort cards. She did the welcome bags, the welcome letter, the table numbers, the tags for the favors, the signs for the guest book--everything! She was an absolute delight to work with. She helped my daughter and me pick the most suitable yet creative choices for all of these products and was helpful in advising us in an appropriate way. Her personality is easy-going, but you can tell that she really knows what she is doing and has a wonderful creative eye. She met all of our deadlines (some of which were tight!) and was always pleasant and positive. We have another daughter and would DEFINITELY use her again. She is a gem and we feel SO lucky to have found her. We had many comments on the products she made for us, and her work added a wonderful touch to every aspect of the wedding! TWO thumbs up!
---
Admire Design was EXCELLENT!
Reviewed on

6/25/2014
Laura R
Adrienne was by far the best vendor we used for our wedding. She was a pleasure to work with, extremely responsive and easy to get a hold of and most importantly incredibly talented. The save the dates, invitations and wedding paper she designed for us were beautiful and exactly what we were looking for. She also was very respectful of our budget and worked with us to get prices to where we needed them to be. Her prices were very reasonable for the end product. She was very flexible - often emailing me at 10pm on a Friday night to go back and forth on designs or changes. Overall, she was wonderful to work with and produced a beautiful product. You won't regret choosing her to design your invitations!
---
Wedding Invitations, Save the Dates and Wedding Day Paper
Reviewed on

6/01/2014
ashley c
I first discovered Adrienne at Admire Designs LLC when a friend of mine used her for her wedding invitations. The moment I opened it I thought it was the most beautiful invitation I had ever received (and my husband and I have been to at least 15 weddings in the last 3 years). I knew I had to meet with her so I got her name from my friend and did just that. From the moment you meet Adrienne you know that you are in good hands. She has tons of invitations, save the dates, and other wedding day paper to browse. You can customize every single detail from colors, patterns, font, rhinestones and ribbon. Our save the dates came out amazing, and our invitations were even more amazing. The paper is extremely thick and exceptional quality. We got tons of compliments on them, from guys and girls alike! Initially we had planned to forgo programs, but I wanted little wedding day timeline cards for our bridal party and our welcome bags. While I was there I decided to look over programs and I couldn't resist. You can choose anything form a traditional full program, to a short abbreviated who's who in the wedding. We also had our menu cards made by Adrienne, I missed a couple errors on proofreading and she fixed it before I even picked them up. We are just about to order our wedding thank you cards from her as well. Although you may find it pricier than weddingpaperdivas.com or those online vendors the quality and customization is unmatched. I had pretty elaborate invitations, with rhinestones and pocketfold, but you could have much simpler invitations if on a budget and they would still be amazing! Just FYI the cost of service listed in this review was the cost for the pocketfold invitations with envelopes addressed and return address. The wedding day paper was a separate cost. I forgot to mention that we had many changes in our menu cards in the week leading up to our wedding (people who couldn't come last minute, people added last minute) Adrienne was extremely accommodating with making these changes a bunch of times as our venue required names on each menu card!
---
Adrienne is top notch!!!
Reviewed on

7/06/2015
Frances N
From save-the-dates to wedding invitations to welcome bag letters to escort cards and table numbers, Adrienne did it all for us. But she not only did it all...she did it all PERFECTLY. My husband and I went to visit Adrienne and see her material, and within and hour, she understood our style. We asked for a map of the Maine coastline as the background of our save-the-dates, and within a few days, Adrienne nailed our vision. Same with the invitations: from colors to style, Adrienne included beautiful custom details that were exactly what we wanted the first time. We received many compliments on all of our wedding paper, with many guests saying our invitation was the most beautiful they'd ever seen. We agree! We can't endorse Adrienne more. She is professional, prompt, and most importantly, understands individual style right away and delivers exactly what you ask for. Thank you, Adrienne! Fran & Jon
---
FABULOUS!!!
Reviewed on

6/04/2015
We were so pleased with Admire Design. Reasonable. Unbelievable product. I would recommend this company to EVERYONE. Contact me if you would like more information. [email protected]
---
Beyond amazing
Reviewed on

12/09/2014
Kim B
My husband and I were married in November and we would HIGHLY recommend Admire Design for all your stationary needs!!! Adrienne is very helpful, knowledgeable and accommodating. The only requirement we had for our invitations was that they needed to be pocket invitations but we had no other requirements or ideas so we really depended on Adrienne's expertise and opinion and she definitely delivered! She walked us through the different types and styles of invitations to help us choose what was right for us and our wedding. Her design ideas were beautiful and she even incorporated personalized touches that we hadn't even asked for. She was also very understanding of the changes that I had - from spacing to colors to paper (and I feel like I made a lot of them)! Adrienne made the process so easy and painless. It was great to work with someone who quickly understood our style and applied her artistic perspective to give us something beyond our imaginations. I cannot recommend Admire Design enough!! We are still getting compliments on our wedding invitations!!!
---
Wonderful Experience
Reviewed on

10/28/2014
Alicia T
We learned about Admire Design through the knot but quickly learned that Adrienne had done an invitation for a friend of my husband that he actually had kept for years! We ended up getting our invitations, escort cards, photobooth frame inserts, and memorial luminary from Admire Design. From the first meeting Adrienne had proved to be saintly. She made the whole process easy and was very eager to accomodate both myself and my opinionated husband. Adrienne was always easy to get in contact with via email which made life VERY easy. The whole proofing process was a breeze and the finished products were beyond amazing. We are still hearing about how beautiful the invitation was! People even wrote it on the reponse cards... If you want elegant custom paper products and a great person to work with, I would definately recommend Adrienne and Admire Design.
---
Personal Design
Reviewed on

10/19/2014
Alexandra L
Adrienne did a great job designing our save the dates, wedding invites, escort cards and table signs. She created a monogram for us and even helped the venue turn it into an ice sculpture design! I love high quality papers and colors and Admire Design did not disappoint. We went through several revisions, but each time, it was clear that Adrienne understood our vision and worked steadily toward making it a reality. Great Work!
---
So happy with results!
Reviewed on

10/13/2014
I cannot express how happy and how easy it was working with Adrienne on our custom paper items for our wedding. I was completely clueless on how to vocalize what I was looking for but she was able to exceed every expectation I could have ever imagined.Everything was STUNNING! I had a budget in mind and Adrienne was so helpful in working within those parameters. I can't wait to work with her on future endeavors.
---
I ❤️ Admire
Reviewed on

10/11/2014
Adrienne from Admire Designs is absolutely amazing. When I explained my wedding theme to her,boho chic, she knew exactly what I was looking for. Not only did she have great style and impeccable attention detail, but she was extremely accommodating with any help my mother and I needed. When people got our invitations they said they were the most beautiful invitations they'd ever seen. Due to Adrienne's beautiful designs and wonderful personality I would never go anywhere else for any occasion. I will be a forever customer!
---
Hire Admire Design!
Reviewed on

10/11/2014
Admire Design LLC saved the day for my wedding invitations. I started on Etsy and had a terrible experience with the vendor. After being completely ignored by the Esty vendor for 2 weeks after the 2nd proof, I had to move on. Luckily my reception venue had Admire Desing LLC on their preferred vendor list and I was able to meet with Adrienne the same day I called her in a panic over my timeline. Adrienne is the most wonderful and professional person to work with and she completely understands every aspect of wedding day paper. She guided me through the process and was able to customize my paper needs, while accommodating my rush timeline. I was completely impressed with her work, her creativity, and her responisvness and accessibility. I am now left looking for an excuse to hire her again! If you are a bride you must contact Admire Design LLC for your wedding day paper.
---
A Picture Perfect Wedding
Reviewed on

8/23/2014
Adrienne did an absolutely amazing job with our wedding papers. Everything was exactly what we had envisioned, and more! Adrienne took her time to find the exact style, colors and design that we wanted for our wedding day. From invitations to menus, ceremony programs to hotel welcome bag tags, and table numbers to place cards…. everything was perfectly coordinated and gave those beautiful finishing touches to our wedding. Adrienne's knowledge, expertise, creativity and talent along with her professionalism, dedication and organization made this part of our wedding planning process MUCH less stressful and much more FUN! Adrienne was very timely with everything and very easy to get in touch with. This was surely one of our favorite parts of our wedding! Thank you so much Adrienne! :)
---
Excellent!
Reviewed on

8/18/2014
Lauren K
Adrienne did a wonderful job helping us to select and to create the perfect invitations and inserts. She was patient, going through several versions with us, and her final work was perfection! I highly recommend her to anyone wanting a high quality, unique invitation. Everyone raved about ours!
---
Incredible invitations and wedding day paper - couldn't be happier!
Reviewed on

8/18/2014
Rachel G
Adrienne is extremely talented and was an absolute pleasure to work with! It was important to me that our invitation and wedding day paper had a cohesive theme and Adrienne worked with us to develop a color scheme and design that really brought the whole event together. From the ceremony program, to table numbers, place cards, favor tags, hotel bags and more, Adrienne did it all so beautifully! She was incredibly responsive (and patient!) through the proofing process and put together our order quickly under time pressure. I can't thank Adrienne enough for all that she contributed to our day!
---
Admire Designs
Reviewed on

8/15/2014
Riki B
If you are getting married in CT (or anywhere for that matter) don't miss out on the talents of Adrienne at Admire Designs. I wasn't sure what I wanted for wedding invitations, but I knew I wanted something big and fancy, and something people would remember. I had gone to a designer in Long Island where I was living at the time and they showed me some things I loved, but were wayyyyy over budget. I started thinking I just would have to go with something more basic, and then I met Adrienne! My mom found her website on the knot actually, and to be honest it doesn't do her work justice.. You need to see it in person to really appreciate! I showed her 2 or 3 pictures on my phone, said "I don't like a lot of color" and it was like she read my mind. She came up with the most beautiful invitations that my guests are STILL talking about. It had a lace band with a rhinestone accent that more than one guest actually took off the invitation and wore to the wedding as a bracelet! That just goes to show how great the quality was, and the design experience was so easy. I ended up having her do place cards and programs as well, and we did the whole thing over email because I was living out of state. Both came out perfect. She works quickly for how intricate her work is, and is easy to get ahold of. She makes it very easy to make any changes and always gets back to you quickly with a new proof. She is also honest if you ask her opinion but is not overbearing at all and always leaves the final decision up to the client. By the time I got to the programs I was kind of like do whatever you think, because I trusted that it would be amazing! (And it was!) I could go on forever. Admire Designs was absolutely one of the best decisions I made for my wedding.
---
Amazing
Reviewed on

8/14/2014
stephanie c
Adrienne did an amazing job with my invites! She was so easy to get a hold of for any questions or concerns. I absolutely loved all her designs! My invites were beautiful and elegant just the way I wanted them!
---
Gorgeous Invitations
Reviewed on

8/07/2014
Margaret G
My Wedding invitations were absolutely gorgeous thanks to Admire Design. I wanted to incorporate elements of my dress (pearls and lace) and Adrienne created a lovely and elegant invitation. She really listened to me and did the research to find just the right pearl accessory. I was thrilled with the end result and many of my guests commented they were the most beautiful wedding invitations they had seen. When it came to creating the rest of the wedding paper (table cards, menus, etc.), she had many great ideas and produced beautiful, elegant paper that nicely coordinated back to the original invitation design. Adrienne provides a personal touch; listening to her customer and helping set the right tone for the event through her paper products. She is very organized and made the process very easy. I would highly recommend her to anyone planning an event and will definitely use her services again.
---
Maine wedding 7-2014
Reviewed on

7/28/2014
We used Admire Design for our wedding invitations, among other things like STD's, menu cards, thank you's, etc. Adrienne's attention to detail, quality, and customer service is all top notch and I would highly recommend her. We had a wonderful experience and got a ton of compliments on our invites and other details at the wedding.
---
You will not be disappointed!!!
Reviewed on

6/18/2014
Mychal B
We used Admire Design LLC for our invitations, programs, menu cards and favor tags. It was an absolute pleasure working with Adrienne!!! She has the patience of a saint. She is great at blending ideas and coming up with a product that mirrors your "dreams". Her response time is incredible and all of her products were FLAWLESS!!! They really set the tone for our wedding. I highly recommend Admire Design LLC! You will not be disappointed.
---
Best decision made for our wedding!
Reviewed on

1/20/2014
Adrienne was an excellent professional to work with. My case was somehow special, I live in Connecticut but my wedding was in my home country, Venezuela. For our invitations, I looked for months for a provider in CT that best fitted the style used for wedding invitations in Venezuela. I was looking for nice quality invitations that looked very elegant, very formal, unique (for a black tie wedding), and within our budget. When I first visited Adrienne and had a look of previous invitations she had created I immediately told myself "this is it". All her invitations were simply beautiful, no matter the style or the occasion. I just wanted her to do my invitations. When she first sent the quote, it was a little over our budget but Adrienne suggested changes that lowered the price to stay within our budget, and most importantly without compromising the quality of her work. Her invitations really look like the most expensive ones you find in store catalogs but at half the cost! Once she started with the design, Adrienne was very easy going and patient. She took about a week to send us the first draft. Because of my job, I couldn't get back to her with comments right away but she was very patient and worked at my pace. She always exceeded our expectations whenever we suggested an idea to include in our invitation. She would give us several options for fonts; frames, etc. so we could chose whichever we liked the most. She created a beautiful monogram with our names, which she was happy to provide in digital so I could create a cake monogram. The quality of the paper, printer, and designs she uses are excellent! Most of my invitations were in Spanish, but I had a few English-speaking guests and Adrienne kindly offered to print some of my invitations in English free of charge! I have to say, in Venezuela the costume is to hand deliver the invitations to each of the guest's houses. I traveled to Venezuela 2 months before the wedding to deliver them with my fiance. There was not a single person who didn't make a comment when they opened their invitation. Everybody said words like wow! Beautiful! How elegant! And asked who had done these invitations. Even my friends and family living in the US had something to say about the invitation. I honestly felt so happy and proud of our invitations. It was a real success. I have saved a set because I am planning to frame it and keep it as a portrait in our home.
---
Invitations Galore
Reviewed on

10/02/2013
Kelly H
Adrienne was beyond wonderful to work with. We were able to create our own designs while Adrienne provided her professional opinion and made sure we didn't miss anything and kept good etiquette. She was able to meet deadlines on short notice and was so easy going when it came to making last minute changes with additions or name changes. I wasn't at all worried or nervous about how our invitations, escort cards, and table numbers were going to come out. After sending out our invitations.... my mother and I both received numerous phone calls and texts telling us how extravagant the invitations were. We received a ton of compliments on them. I highly recommend working with Adrienne.
---
Best Wedding Paper Ever!
Reviewed on

9/30/2013
Jessica C
We had a vintage travel theme for our wedding, and wanted the decor and wedding paper to reflect that theme. From start to finish Adrienne was amazing to work with. We live in Chicago so I only had the chance to meet with Adrienne once during the design process. Despite that she understood exactly what we were looking for. We sent her ideas for inspiration and she went above and beyond creating the most beautiful save-the-dates, invitations, and wedding day paper you could imagine. We received endless compliments on how unique and beautiful everything was. She is responsive, creative, and a dream to work with.
---
The Finish Touches
Reviewed on

9/09/2013
My husband and I were married this past August 10, 2013 on the island of Trinidad and Tobago. We used Admire Design LLC for all of our stationary needs. If you want to make a statement about your wedding this is how you do it! Our family and friends raved about our invitations created by Admire Design; they set the tone for our wedding. Our invitations were classy and unique, with a quality that is unmatched! I also had our escort cards, table numbers and programs done by Admire Design, details that many of our guests commented on. I can't say enough about this company. Adrienne Craig was professional and timely with all of my inquiries. They have an online program that lets you visualize and proofread all of your stationary before it goes to print. Admire design works with all budgets. All of our stationary created by Admire Design gave our wedding the elegant finishing touch that all brides are looking for!!
---
Mother of the bride
Reviewed on

8/27/2013
marcia g
admire designs was creative , cost conscious and on time with all aspects of the services provided... I highly recommend Adrienne Craig at admire designs. A pleasure to work with...
---
Amazing!
Reviewed on

8/25/2013
Naomi V
Look no further, this is who you need to book. Absolutely professional and amazing product. The time and detail put into each design, specially for your event, shows in every way. I am still receiving praise of the "absolutely beautiful" invitations and comments like "I have never seen an invitation like this!" Timely and specific directions guide you through the creation and packaging of your order. It was money well spent. You will not be disappointed! Call now!
---
Meet The Owner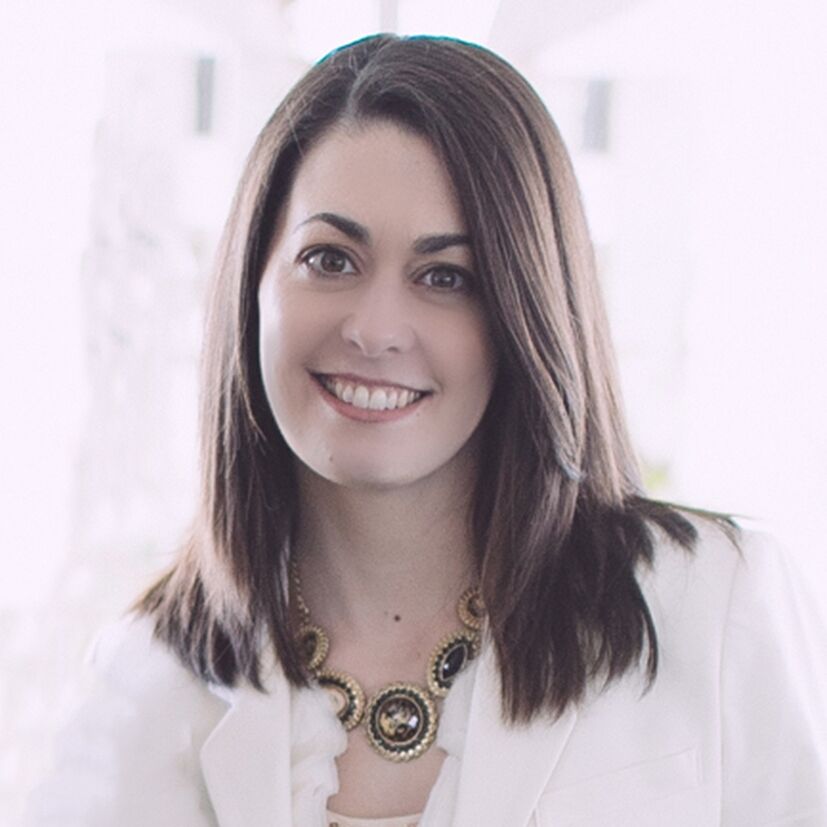 Adrienne Craig
I love designing for the most important moments in people's lives. You can really capture the style of an entire wedding with the right typeface or card stock selection. It may sound simple, but all those details go hand-in-hand to create something truly memorable. This is what started Admire Design in 2007. I create custom stationery for weddings and all of life's most memorable occasions!
Send Message