Home

Admit One DJs
About this Vendor
Your Ticket to Great Entertainment
As a client, you'll be invited to attend our "Meet the DJs" event where you can meet and mingle with our entire staff of DJs and choose your primary and backup DJs. Personal concierge services - Just press a button and your DJ will alert your wedding staff of any immediate needs.
Details
Classical, Country, Disco, Folk, Hip-Hop, Jazz, Pop, R&B, Rock, Arabic, Indian, Latin, Persian, World Music
Ceremony, Reception, Wedding
MC Services, Recorded Music, Sound Equipment, Music
Contact Info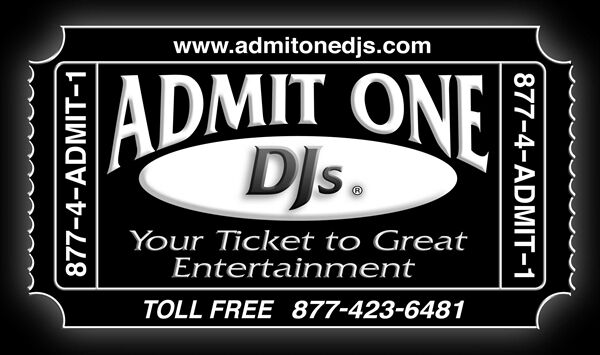 104 Ambassador Drive, Naperville, IL
Admit one is beyond AMAZING!
Reviewed on

10/31/2014
Admit One was amazing from the very first time I interacted with them at the bridal expo! Don was very attentive and informative. I love the fact that they have a meet the DJ night. It was great to actually interact with all the DJs and choose the ones I liked best! I had Steve as a Dj and he did an amazing job. He was very attentive the whole night and made sure that the dance floor was always packed! I still get compliments about my DJ. I would definitely recommend them to anyone that is looking for an outstanding DJ service!
---
Best DJ Ever!!!
Reviewed on

10/30/2014
Lauren E
We worked with AdmitOneDJs from early on in the planning process and they could not have done any better. There is not one thing I didn't like about this company. Everything from the bridal expo to meet the DJ night to our wedding was perfect! They had options and services that I never even thought of. They really anticipated our needs before we knew what they were! I love the planning website; absolutely awesome for someone like myself who is very detail oriented and a planner! I also love that you get to meet the DJs before the big day and not only that - you get a guarantee that one of your top 3 choices will be your guy on the wedding day! Steve was our DJ and was so accommodating and professional. He called to check in, give us reminders, and met with us before to go over the final details. Also if you're thinking about the pager thing at your wedding it is a must! Steve was there at our beck and call. He was able to keep people dancing all night and met all of our needs as well. Our guests were complaining at one point it was getting to hot- Steve found the event coordinator and got them to adjust the temperature. It may seem small but trust me it was the last thing I wanted to think about. And he also got out there and did a line dance with our guests! My husband and I have nothing but outstanding thing to say about Steve and the entire AdmitOneDJs team! You all made our day better than we ever thought it could be!!!
---
Absolutely amazing DJ experience!!
Reviewed on

12/02/2011
Carrianna R
We've been to a few weddings this year, and my big priority was a good DJ. I heard horror stories about horrible DJs. I came across Admit One DJs at a bridal show, and their pager got my attention. The groom would get a pager and the DJ would come over and help or get us anything. What we really liked was their Meet the DJ Night, where we could talk to all the DJs available for our wedding. We came across Duffy and knew we found our guy. He really put the effort into making sure everything that was played was something we wanted him to play. Everyone LOVED him, we had absolute blast, and everyone was tired after dancing so much. We couldn't have picked anyone better, and I HIGHLY recommend using Duffy.
---
DUFFY was GREAT
Reviewed on

7/07/2015
Tarynn K
They were organized and Duffy our DJ was amazing he called and checked in several times the weeks before. He was great!
---
These guys know what they are doing!
Reviewed on

7/06/2015
Jessica A
Our 1st meeting with Admit One was really long (we were there for 3 hours!) and they basically went over their whole business plan with us. I was ready to hand over my credit card after the 30 minutes, honestly. But, they were GREAT. Their website was so easy to use. We made our own Playlist and uploaded 2 of our own songs. Tom ended up being our DJ and he was fantastic. Really read the crowd well and played everything we requested. He checked on us a few times throughout the night to be sure we were satisfied. Great service, highly satisfied and definitely worth it. Book Admit One for an unforgettable night.
---
Highly recommended
Reviewed on

4/01/2015
Lynn F
Booking a DJ was the last thing I did for my wedding because I had no idea where to start. I am so glad I took the recommendation to check out Admit One DJs. From the beginning I knew that they were not your typical DJ service. The process was stress free and they make sure there will be no surprises the day of your wedding. The website was easy to use and gave us the ability to plan our reception the way we needed it to. When it came to the wedding day everything went exactly as planned. Our guests were a bit stubborn when it came to dancing but our DJ got them on their feet. The music was exactly what we wanted and all of our favorite songs were played. Everyone had such a great time. We couldn't have asked for a better party. We recommend Admit One DJs 110%! What a wonderful experience!
---
DJ Don
Reviewed on

3/29/2015
Ashlei B
Don was our DJ. AWESOME!! I have been getting messages all day saying your DJ was awesome. He played the best music! Everything we requested! He put on a great party! He made our wedding the best party since our college days!
---
BEWARE!! DO NOT GET DUFFY
Reviewed on

3/01/2015
Erika S
When we first met with the owner Greg, we were very impressed on his willingness to negotiate price and cater to our needs. The meet the dj night was fun and we felt we made a connection with a couple djs who would make our night extra special. We were EXTREMELY DISAPPOINTED in our dj DUFFY who showed up 40 min before our reception (completely unprepared--and seemed under the influence ). He forgot important equipment, mics, itinerary, etc and I HAD TO KEEP HIM ON SCHEDULE. We are a LESBIAN COUPLE and he announced us as MR AND MRS , and BRIDE AND GROOM ALL NIGHT. Given we had both spoke with him and gone over and over everything once a week for the 6 weeks leading up, we were shocked. It was completely disrespectful and embarrassing for us, our friends, and family. When the owner found out about his actions he was immediately removed and our money was refunded. 1 star DJ, 5 star company.
---
BEST PHOTOBOOTH!
Reviewed on

12/11/2014
Robin A
They were amazing at our wedding! We booked Admit One for their lighting and Photobooth since we had already booked a DJ. We loved their booth set-up. It was a screen, camera, and open air! No need to cram yourselves in a tiny booth (a plus for claustrophobics). Also, as soon as you finish at the photobooth, your pictures automatically show up on live video montage in the reception area. Very clean, professional, and systematic. We had such a blast with them!
---
Admit One
Reviewed on

10/31/2014
Our DJ, Erica, was a blast. Really fun / high energy. She did a great job. She kept the night at a great pace and snuck in songs for us.
---
Great DJ
Reviewed on

10/31/2014
Caitlin C
Erica was an amazing DJ. She called a few times before the wedding to check on our playlist. She made sure she had drinks waiting for us when we got to the reception. Erica also made sure we were inside when any songs from our must play list were about to come on. She was high energy and everything we wanted in a DJ for our wedding.
---
DJ Tom was AWESOME!!!
Reviewed on

10/21/2014
Meghan M
Tom was our DJ and he was absolutely the best!! Everyone afterwards kept saying that they have never seen a dance floor so packed all night. He read the crowd and keep them excited the entire time, and played all the songs we requested. We were very happy with Tom, and with all of Admit One DJs. The company is very professional and a pleasure to work with. One less thing to worry about for your wedding day!!!
---
Admit One DJ Services
Reviewed on

10/18/2014
Katie B
Greg was my DJ from Admit One. He is the owner of the company, and when we had our first consultation about services, my husband and I immediately fell in love with him. After an awesome experience at "meet he DJ night" we made a special request for Greg to DJ our wedding. To our excitement he was honored to be our DJ. From beginning to end the DJ and photo booth services were amazing. Being a wedding photographer my self, I have seen less to par DJ services and had high expectations. Admit One and Greg lived up to those expectations. After the wedding, all my guests talked about was the awesome music and cool TV's that were displayed though out the reception. I think that is the biggest compliment to Greg, that out of the whole wedding, the music was what the guests were talking about days after. Great Job Greg and Admit One DJ Company!!!!! You Rock!!!
---
Fairy tale wedding came true
Reviewed on

10/14/2014
Meghan W
My wedding was absolutely perfect, and the reception was a dream come true, mainly because of the amazing music! Bryan was my DJ, and. Not only did he understand the type of vibe I wanted for my day, he kept everyone on the dance floor the whole entire night!! As a bride, that is exactly what you want to see! Our friends tell us all the time that our wedding was the best wedding they've ever been to, and we even have friends asking for the DJs info to book for their wedding!
---
Great night
Reviewed on

10/14/2014
Lisa V
We picked Erica as our DJ and she did a great job. The dance floor was never empty. It was a great night.
---
Admit One DJ
Reviewed on

10/13/2014
Katy Z
Admit One is like no other DJ company. We were able to pick our DJ rather than just having a DJ bid on us. Duffy was amazing, read the crowd perfectly, and didn't make a single mistake! We got tons of compliments on our music and Duffy seemed to just get us and understand us. At first I thought all the phone calls we had was a little too much but then after the fact I knew it was needed to have the perfect reception and in deed it was! I could not have been happier! When we signed for Admit One we actually did not know what most DJ companies charge and we didn't know that most people were surprised we would spend over a thousand on a DJ. But let me tell you, it was worth it! We also got a few deals that should have made the initial price even higher! Admit One made us feel like more than just another costumer, we felt valued more than just a price tag. I was at a wedding recently that the DJ fumbled on so many songs, the entrances and the one that stood out to me the most was the father/daughter dance. The bride actually had to go talk to the DJ! I'm not sure what company he was from but I'm super happy I went with Admit One. No one should skimp on the price of their DJ but the DJ literally runs the reception! Like on a game show, the DJ is the host and Admit One knows what they are doing. Duffy knows what he is doing and he is phenomenal.
---
Wedding
Reviewed on

10/09/2014
My husband and I got married this past September and we had Paul as our dj. He seriously was amazing. He catered to all our needs, asked us any questions through out the night that needed answers. He was very on top of his game for the planning process. Made it very easy and less stressful for us. For anyone getting married I suggest Paul. He rocks! Thanks for making our day awesome!!!!!
---
Matthias is the best D.J.
Reviewed on

10/08/2014
Jessica B
The reason we choose admit one djs is because I had attended 9 weddings in the same year and out of the 9 weddings I only remembered 1 of the couples DJ. I asked the bride who her dj was when I got engaged because I wanted to have the same experience I had at her wedding, a memorable one! The bride had Brian from admit one who still works for them. My husband and I had Mattihas who was excellent! I really can not say enough good things about him but being a recent bride other brides should know he was respectful of what song choices we wanted played, he talked to us 1-2 weeks prior to the wedding, we could call him at any time and he would return our calls in a prompt manner, he let us know if songs weren't going to work well, and reviewed his entire play list a day or 2 prior to the wedding to make sure everything flowed well. I will say choosing a D.J. Is a difficult task because as a bride you want your dance floor packed all night, Matthias managed to complete that task with ease. He also kept the flow of the night on schedule which was great. He also gave a fun tip of things that he has seen work well in the past i.e. Fake the first bouquet toss because it makes for a fun picture. Overall you can not go wrong with Admit One D.J.'s they are truly great at what they do!
---
Give them a chance
Reviewed on

10/08/2014
Emily S
I have to admit I was worried about admit one djs. I was charmed when I met them at a bridal show, and even more so when I went in for a consultation. Then I read reviews on yelp which were mixed. Some of the customers were very angry. No one wants a dud DJ at their event. Fortunately those reviews mention who to avoid, and so I did. I went with DON and do NOT regret it. He was very friendly, very professional and we had a packed dance floor all night.
---
Best DJ Ever!!
Reviewed on

10/06/2014
Dana K
One confession, my biggest wedding fear was no one dancing at our wedding. But, when I told Paul (My DJ) that, he promised me that it would not be the case. So when we met in person to plan our night, I had so much confidence in Paul that our wedding would be rocking. And it was. I remember at one point there was a TON of people still on the dance floor towards the end of the night. I had multiple people ask me who this random guy was that was checking in on Dan and I throughout the night, and when I said it was my DJ, they responded "That guy is Awesome!!" If you are looking for friendly, fun, GOOD DJ, look into Admit One. They rocked our wedding and made it the best night of our lives!
---
great wedding DJ
Reviewed on

9/26/2014
Rachel R
I found Admit One at a bridal show, they were very personable and did not hound you like some other vendors do, so that definitely got my attention. We liked the idea of the DJ pager and the Meet the DJ night so that you could pick some people you liked. We ended up with Paul as our DJ and could not have been happier. He was great and so professional. My husband and I are not very big music people, but Paul had great ideas and suggestions to make the day our own and keep people dancing all night. The only downfall of Admit One was their introductory meeting. The confirmation email said it would take 90 minutes - we couldn't believe it would even take that long! - but 3 hours later we were finished with the meeting. We are both happy that we decided to go with Admit One for our wedding, but just be aware of what you are getting into for the intro meeting.
---
Everyone was dancing!
Reviewed on

8/26/2014
Rebekah A
While planning my wedding, one of the biggest things I was worried about was that nobody would dance! After meeting & booking Admit One, I trusted their experience to provide an amazing party at our wedding! They did not disappoint! Their Meet the DJ night is so neat! They provide food & drinks while you go around their office meeting all the DJs to find which one you "click" with best. You get to turn in your top choices before leaving. I loved it because I knew exactly what I'd be getting before arriving that night! Tom was our DJ and I can't say enough great things about him! He called my fiancé the week before the wedding to go over the timeline of the night, to make sure everything would run smoothly, and practiced pronunciations of everyone's name for introductions. There were people on the dance floor ALL NIGHT... most of which my husband and I had never ever seen dance before!
---
Albanian success
Reviewed on

7/31/2014
Kristen G
Loved working with admit one! The dj that we choose had an emergency at the last minute so Greg, the owner stepped in and worked our wedding reception. I was very happy when I found out Greg was our dj last minute because I had mainly been communicating with him for our consultations. Greg was absolutely amazing. We had some difficult song requests (albanian music) that he was able to find and play for us during our reception. Couldn't be happier.
---
Excellent!!
Reviewed on

7/15/2014
Matrisa H
Great DJ - request Damian! He's the best! Loved being able to meet & pick our DJ before the wedding too!
---
Erica is the best!
Reviewed on

6/24/2014
alisa w
The staff at Admit One was extremely helpful with questions I had & giving us the info we needed in a timely manner. Erica was our Dj & she was absolutely perfect. From the time we met her we knew we wanted her to be our Dj. She was upbeat & kept our guests on the dance floor (old & young) all night. She was extremely attentive making sure that everything went perfect on our big day. She kept in contact with me & payed special attention to our requests (like surprising my dad with a dance he wasn't expecting). I could tell she really read the comments I put in (like my moms name being Caroline so we really love Sweet Caroline) by the way she was announcing & what she said. Our guests commented on how great the music selection was! I would recommend Admit One & Erica to everyone I know.
---
Send Message