Home

Affordable Limousine & Party Bus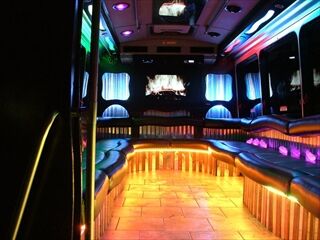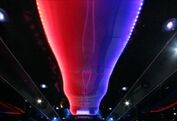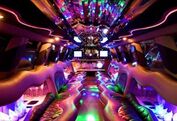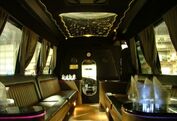 About this Vendor
Let us give you the best transportation in town.
Affordable Limousine and Party Bus is proud to serve Michigan with memorable moments while giving you the best deal in town. We offer our services with the best of on-time, dependable, luxury transportation service. We will go above and beyond to assure your experience with us will be memorable.
Details
Valet Parking, Limousine + Sedan, Transportation
Contact Info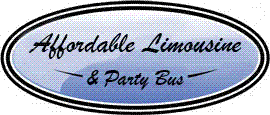 2950 Prairie St SW Ste 700, Grandville, MI
What a fun way to end our wedding reception!
Reviewed on

8/15/2013
Laura U
After a sparkler send-off, my husband and I were able to hop onto a delux party bus with all of our closest friends and family members. We had two hours of driving around time, which allowed everybody a chance to mix and mingle (plenty of room on this awesome bus!), and... Read More celebrate a little more. Our driver was great, didn't judge!, and was flexible with where we wanted to go. Dropped us off safe and sound at our hotels at the end of our ride. They have a flexible payment schedule, and offer great deals if you book for later in the day, or non-Saturdays. It was a great experience, and many guests said, the best part of our wedding!
---
So much fun
Reviewed on

6/25/2013
Kelsey M
We rented the trolley for the day of our wedding and it was well worth the money. The driver was great and was accommodating when we changed the routes on him at the last minute. Very fun way for the whole bridal party to hang out. We left stuff on the trolley and they held on... Read More to it for us to come and pick up.
---
Fun Fun Fun
Reviewed on

6/19/2013
Paige W
We rented the 28 person party bus and had a blast! We had the music up and were able to unwind from the ceremony as we rode around for an hour before the reception. The office called and confirmed all the details with me the week before so I never had to worry if the drivers... Read More were going to be on time or show up. I would recommended using Affordable Limo!
---
Hummer Limo
Reviewed on

4/10/2015
Amanda S
We rented the hummer limo for our wedding. We had a blast in the limo! The limo was very nice and roomy! Our driver was great!
---
Great!
Reviewed on

11/10/2014
Megan G
Great service!
---
Scott was great!!
Reviewed on

10/21/2014
Sarah B
I have used Affordable Limousine & Party Bus for multiple events. Scott R was our driver and he was wonderful. He was very helpful getting my big dress in and out of the limo and he was helpful to the rest of the bridal party by putting a step down for us to get in and out. He... Read More listened to our directions and suggestions and followed along as well as helping us find a place for a bathroom. Scott even let us borrow his umbrella as it was raining. He was great at navigating the streets of Grand Rapids during Art Prize and was able to change plans so we could get around. Overall Affordable Limousine & Party bus was great to work with.
---
Yikes.
Reviewed on

9/22/2014
Charlotte W
Our Limo driver only had to bring us from our wedding venue back to our cottage and didn't even bring us the whole way! He made us walk! He didn't have a GPS, and was rude. No thanks.
---
Limo Service
Reviewed on

8/07/2014
Jessica P
I really liked this limo company. I had a hard time finding one because there weren't a lot of great reviews online. We split up our three hour minimum time with 2 hours used for driving around the bridal party for pictures before the ceremony and then we used our last hour to... Read More have a car pick my husband and me up to take up to our hotel. Both drivers were very professional and clean vehicles.
---
Nice ride
Reviewed on

8/29/2013
Denise C
We ordered the 30 passenger party bus and it was fantastic. They showed up on time, brought us to different places for pictures and were very professional. We slid around a couple times because of sharp corners, but I don't think anyone got spilled on and no one got hurt so that... Read More was good. The bus was everything it shows in the pictures. My ushers hooked up their iphones and played music and there was room in the middle for dancing and walking. We only had about 20 people thank goodness, otherwise it would have seemed a little more crowded, but still comfortable.
---
A little disappointed
Reviewed on

8/06/2013
Emily M
I used Affordable Limousine for my Bachelorette party and loved them, however not so much for my wedding. First of all, I just needed them for 1.5 hours, but paid the two hour minimum. That is fine, but the driver was LATE. Time was precious for us because we were on a strict... Read More schedule. Also, the bus that we got was the 18 passenger and I feel that I have been on nicer party buses. Overall, it was okay and I may go through the company again.
---
Limo Service
Reviewed on

7/21/2013
Nicole V
Overall very good service and company but we did have a problem with miscommunication were the owner of the company came up with solution we were happy with. Day of wedding we an awesome driver who drove all over Grand Rapids dropping us off where we wanted to take photos. While... Read More taking photos he was kind to restock the adult beverages we drop off day before and keep them chilled. Dropped us off on time to arrive at our wedding reception. A different driver picked us up after reception she was very good as well, but did have some food on the bus she picked up that smelled a little weird to me, but I dealt with it since it was short ride to where we were dropped off for the night.
---
Convenient & affordable
Reviewed on

7/15/2013
Annie S
I was very last minute with my limo choices, but so glad I picked this one! The driver was so helpful and cheerful, even when we had to switch things up last minute. Very affordable, too!!
---
Great vehicles and prices, could use more professional drivers.
Reviewed on

7/04/2013
Heather M
The vehicles were beautiful, well kept and clean. A lot of limo companies really let their vehicles fall apart or look tacky and outdated. We used affordable for my bachelorette party, transportation for myself and my girls from my bridal suite to the ceremony location and a... Read More party bus after the ceremony. The only driver we didn't have an issue with was the lady who drove us from the bridal suite and that was our shortest trip :( On the night of my bachelorette party we got hit by a taxi, which was a freak thing but we had to sit in the limo on the side of the road for an hour and wait for the police in which time we were not allowed to leave the limo. Some people had to walk home just so they could use the bathroom. So while that wasn't his fault it really sucked and we didn't get home until 3am. The worst driver was the lady who was driving our party bus. We had rented this to take us bar hopping and location hopping for pictures. She had no knowledge where anything in the city was!? How can you be a limo driver and not know where anything is? A groomsmen had to sit near the front and give her directions the whole time. These were main attractions like the Art Museum. Also, at one point she ran a yellow light which resulted us almost getting hit by a truck. Yikes! The company is flexible, has many vehicles, all which are nice. I would recommend just ask questions about your drivers before hand.
---
SO fun!
Reviewed on

6/13/2013
Samantha G
Our party bus driver was a hoot!
---
They double-booked!!
Reviewed on

6/13/2013
Elizabeth B
The double-booked our party bus on our wedding day!!! What a headache!!! I'm not really sure how they managed to do this, especially since they didn't "realize" it until weeks after I gave them our deposit. It was very disappointing!! On the bright side, they put us in... Read More contact with another limo company who got us a party bus and honored the price.
---
So fun!
Reviewed on

5/08/2013
Jill H
We had a blast and the party bus was the perfect size and the driver was the best!
---
Pretty Decent Service
Reviewed on

4/07/2013
Kat W
The party bus was clean and everyone had a lot of fun on it. We used the part bus to transport our wedding party and a few friends to locations for photos before arriving at our reception location. The only down side was the fact that the bus was about 15 minutes late. Also, we... Read More thought that they charged the full amount to a credit card, but they only charged the deposit and we had to get cash for them that day for the full amount. Other than that, the bus was really great, clean, and a lot of fun.
---
Party Bus
Reviewed on

2/04/2013
Katie J
We used the party bus for our transportation from the ceremony to the reception and we had a blast! The driver was very kind and helpful. The whole wedding party danced the whole way and drank champagne. We stopped along the way to take photographs. Be sure to bring... Read More food/drinks if desired as it is not included.
---
Great Bus
Reviewed on

1/01/2013
Lindsey S
We rented the 45 person party bus and it was awesome! Perfect for a December wedding with a cool fireplace and even a restroom on the bus which was a plus!
---
Be careful of extra fees
Reviewed on

12/18/2012
Rebecca P
Too expensive, and the tip wasn't even included.
---
Lindsey & Jeff
Reviewed on

12/10/2012
Lindsey C
We had a 22 person bus and it was fabulous! Our driver was fun and the bus was a perfect size for our group! They were there on time and had the bus stocked for us!
---
average
Reviewed on

12/02/2012
Rachel P
They were very expensive and took a long time to get back with me, in return we didn't use them.
---
Party Bus well worth it
Reviewed on

11/12/2012
Kristen M
I was so pleased with the service of Affordable Limo. With a large wedding party, we booked their large 40 pasenger motor coach. Affordable limo had exceelent follow up with me on the transportation plans and even our drive emailed me to introduce himeself and give me ideas of... Read More places to go for pictures. I've heard stories from friends who have had their party buses not even show up at their wedding from other companies and was so pleased with Affordable limo and their service. I knew i didn't have to worry about this as their attention to detail is very thorough!
---
Great Service
Reviewed on

11/05/2012
Heather W
I have always used Affordable for every event we want a limo for! <3 the ladies in the office and the drivers are great as well. Everything was great! <3 Heather
---
Great!
Reviewed on

11/01/2012
erin c
Affordable was an easy choice! The price was right and the service was great. We even went to their garage and looked at all the options in person which was helpful and made us easily decide on the party bus. Our driver was very sweet.
---
Send Message