Home

After Hours DJ Entertainment
About this Vendor
Making Your Dream Reception A Reality
Elegant to high energy our goal at After Hours DJ Entertainment is to take the guesswork out of choosing entertainment. We take the time with you to plan a tailor-made reception. This is your day! We give you exactly what you want! Our quality, professionalism and value are unsurpassed.
Details
60s, 70s, 80s, 90s, Big Band/Swing, Classic Rock, Classical, Country, Disco, Hip-Hop, Jazz, Latin, Oldies, R&B, Top 40/Pop, Variety
Ceremony DJ, Ceremony Music, Cocktail Hour Music, Coordination Services, Lighting, MC Services, Uplighting
Contact Info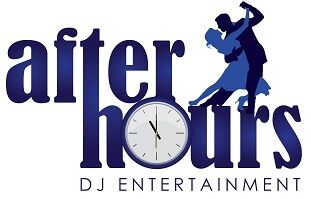 27A Pasco Drive, East Windsor, CT
Made the party!
Reviewed on

3/05/2015
Carole M
I had Sean from After Hours DJ for my June 2014 wedding and he was spectacular - I cannot say how much fun everyone had at our wedding - people were on the floor dancing until we were forced to leave. Thanks again! -Carole
---
A Beautiful Wedding Day
Reviewed on

2/01/2015
I just married on 1/24/15 and we had After Hours DJ Entertainment for our music. Can't say enough good things about them, they are just fabulous! A company I previously worked for used them every year for our holiday party and they always had the floor packed! JR Burrows was not only our dj but the Reverend that married us. He prepared such a beautiful ceremony, very touching. Then when the music started it was professional, appropriate and he really went with what the bride and groom wanted. Our guests were pleasantly surprised with the selection of music as we had quite the mix from old school (1980's), Dean Martin, modern day, country, and some latin music. I don't think there was one time that the floor was empty. They are just amazing with all that they put into it. You will not be disappointed with any of their dj's and I HIGHLY recommend them! Great job guys!
---
Organized, Efficient, and Fun!
Reviewed on

11/29/2014
After Hours DJ Entertainment was one of the best investments we made for our wedding. Our DJs for the evening were Sal Fusco and Sabrina Cody, and they were awesome! Right from our first consultation, Sal blew us away with his description of his services and his general ideas of what makes a fun wedding. We were instantly at ease that we were working with true professionals. The DJs kept in touch throughout the wedding planning process, offering tips, guidance, and suggestions without ever pushing ideas on us. They really listened to what we had to say and made us feel that our day was important to them, as well. Sal met with us two times: for a consultation and about a month before the reception. In between, Sal provided us with a shared document on his website, which was used to provide wedding party information and designate songs and requests. This was really easy to use and made it convenient to communicate back and forth about the event. On the day of the wedding, Sal and Sabrina were extremely organized and efficient. The ceremony went off without a hitch, and the microphone and music set-up that was used was flawless. During the reception, Sal went above and beyond, both with the music and making sure we were comfortable and on schedule throughout. Everyone had a great time and we received many complements about the DJs from the reception. The DJs at After Hours Entertainment are true professionals, and I would highly recommend them without hesitation.
---
Reviewed on

5/13/2015
Talia S
My wife and I used After Hours DJ Entertainment for our wedding at the Pavilion at Crystal Lake and couldn't have had a better experience. Sal Fusco and Sabrina Cody were our DJ's and did an amazing job, both working with us leading up to the wedding date and especially in making the reception a memorable and fantastic time. Every one of our guests mentioned how on point the DJ's were and how the music and special events (cake cutting, speeches, etc.) were seamlessly woven into the dinner and dancing. We also got the photo booth through this vendor and it was a HUGE hit with everyone in attendance. They also made us a guest book with the photo booth pictures and comments and it was a great thing to have at the end of the night.
---
Awesome
Reviewed on

11/29/2014
Tammy M
DJ Peter Devine was amazing from start to finish. He made sure that our day was perfect and played the best music. My friends and family are still talking about how much fun they had. Thank you so much!
---
Couldn't have been more perfect.
Reviewed on

11/09/2014
Janice N
Sal Fusco and Sabrina Cody were your DJs for our October wedding. They were amazing. They took everything we wanted in consideration for songs to be played. They also took played great songs that they knew would get the crowd dancing. They really got the guests laughing and having a good time at the tables to see who was going to take the table arrangements home. The process of planning our wedding with Sal was so super easy. Everything was laid out in an easy booklet to fill out. He would go over every detail with us numerous times to makes sure it was perfect and it was. Everything went flawless and we didn't have anything to worry about. Sal alway was our officiant to marry us. It was so wonderful to personalize everything aspect of our wedding and have it be exactly the way we dreamed it would be. We couldn't have asked for a better group to work with.
---
So much more than DJ services!
Reviewed on

11/08/2014
Lisa M
DJ Sal and Sabrina are becoming a family tradition for us. Ours was wedding number three in the family. We used DJ services as well as minister services. It was so much easier to find one vendor to cover both. Sal helped us with the entire planning process and even came to our house accommodate our busy schedules. They kept in contact with other vendors to ensure everyone was on the same page, which made our day go perfectly smooth! He even made sure the heat was turned down and the fireplace was shut off at the venue when he noticed I was melting. Sal answered all wedding related questions any time I had them-whether they were vendor recommendations, or questions about our ceremony, he was always there. After Hours DJ Entertainment is worth every single penny. I can not endorse them enough. We love you Sal and Sabrina! Thank you!!
---
BOOK THEM NOW!
Reviewed on

11/07/2014
Christine W
We booked Sal for our wedding. JR was his DJ for the night. They were GREAT! They were fun, energetic, and interactive. They kept our guests entertained and our dance floor was busy all night. We couldn't have asked for a better experience. Sal was always available to answer any questions along the way and gave us sincere opinions whenever we weren't sure about certain things. He met with us a couple times to go over details, which was nice and reassuring. They take pictures throughout the night too and you have a thumb drive of it all by the end of the evening, which was nice to relive it the next morning. They were even kind enough to drop off the thumb drive at our hotel since we were all hanging out in the lobby after because the file wasn't ready by the time our bus was packed and ready to go. Honestly, great experience with Sal.
---
Best Wedding DJ!
Reviewed on

11/03/2014
Sarah F
Sal and Sabrina did such an amazing job at our wedding on 10/18/14! I still have guests commenting on what a great job the DJ did and how they kept everybody on the dance floor the entire night. I had met with Sal many times before the wedding and he eased so many concerns I had throughout my wedding process. He knew exactly what to do in any situation during the wedding-good or bad! He was extremely flexible and so easy to work with-we changed our first dance song 20 minutes before we got introduced! You will not be disappointed with your choice and I will be recommending them to all of my bride friends : )
---
great party
Reviewed on

11/02/2014
Sara D
Dj Sal Fusco and Sabrina gave us a great party, the dance floor was filled all night! Sal kept everything organized and on track, we never felt lost. Added bonus is not only do they take pics all night, they also record the ceremony, speeches, first dance and father/daughter, mother/son dances which are invaluable. They are one of the best in the state for a reason!
---
Must Use
Reviewed on

10/30/2014
Erica Lynn M
We used after hours for our d.j and photo booth and the services was great they also were very use to being an reception venue which was A Villa Louisa. Mike who was our d.j was over the top amazing. He have us lots of suggestions to music and played a couple of really cool games with our guest which kept the guests amzed and entertained thw whole night.
---
Wonderful DJ
Reviewed on

10/28/2014
DJ Sal not only put on a great show for our wedding but he also made sure we were comfortable through the process of deciding music for our wedding day. He made the process so simple by providing us with endless music choices and took the time to get an idea of who we are and what we were looking for! He had communication with our other vendors to make sure that everyone was on the same page and our wedding day would run as smoothly as possible. He had so many ideas of how to make sure all the guests were dancing to the music and really enjoying themselves. I would recommend Sal as a DJ to anyone!!
---
What A Great Experience!
Reviewed on

10/27/2014
Andrea G
We had Sean Crawford as our DJ and I can't say enough good things about him. He made our wedding very special and a day we will never forget. He played music for our ceremony & our reception as well. We had such a mix of cultures and ages we were concerned about the music selection, but Sean went above and beyond what we expected. Everyone danced at our wedding and had a great time. Before the wedding he picked up the phone for any and every question along the way which was extremely reassuring. I would recommend Sean Crawford and After Hours DJ to anyone!
---
bride
Reviewed on

9/27/2014
carolina b
We had an amazing experience with our DJ. They were really reliable,understanding, and very professional. I recommend them 200%. The price was really affordable.
---
FLAWLESS!!!
Reviewed on

9/25/2014
Danielle P
Dj Sal Fusco & Sabrina were nothing short of AMAZING!! We had heard great things about Sal from other friends and family members that were previously married. We hired Sal right on the spot after meeting him. I knew he was the right DJ for us! Sal made the planning so easy. He offered tons of suggestions and was able to work with our schedule and meet us in the evening. Sal was not only our DJ but also our JP which made my life 100x easier. Two vendors in one! It does not get any better than that. Sal was a fantastic JP and worked with me on how I envisioned our ceremony. He gave suggestions on different material to use to make our ceremony unique to us. On the day of our wedding Sal & Sabrina exceeded all my expectations!! Sal performed our ceremony and it was perfect especially with his added humor! Sabrina saved me from having a bridezilla moment while trying to do our first look. She helped move family members that showed up early so we could have our moment in private! When it came to the reception the music did not disappoint. Sal & Sabrina played a great variety of music which had everyone on the dance floor! Sabrina was great at teaching us all the dances we had requested and keeping the party going! There was not a song that wasplayed that no one danced to and as a bride that was my biggest fear. Choosing After hours Sal & Sabrina will be the easiest and smartest choice you can make on your wedding day! Thank you both for making our day so PERFECT!!
---
Love After Hours!
Reviewed on

9/24/2014
Courtney M
Bert was both my DJ and JP! As soon as I met with Bert I knew he would be the perfect DJ. He is energetic, humorous, and very outgoing. He was very patient in helping us pick out our music and demonstrating how the songs would flow nicely for the ceremony. They send out reminders to their couples so they stay on top of what needs to be done. I received many compliments on Bert performing the ceremony and how wonderful his words were. The music was great with great variety, everyone had a blast dancing. One of our friends even had Bert DJ her wedding 8 years ago and loved them back then! I would highly recommended After Hours to anyone looking for a wonderful DJ and JP.
---
Highly Recommended
Reviewed on

9/17/2014
Katie P
We had DJ Sal Fusco and Sabrina Cody provide the music for our ceremony and reception and would highly recommend them. All the music that we wanted played was played and Sal did a great job of incorporating everything that we wanted and didn't want. Guests had a great time dancing and Sal did a great job organizing the events of the reception. They took a lot of photos and videos, which was a great bonus! Our friends loved looking at them on Facebook right after the wedding.
---
Best party ever!
Reviewed on

9/14/2014
Kristen C
My husband and I used Sal and Bert as our emcee and DJ. We wanted reception entertainment that could keep the party going and that is exactly what we got! We loved their ideas and personal touches.They went above and beyond our expectations. They had all of our guests laughing & dancing until the final song and even recorded videos of our ceremony vows, mother/son & father/daughter dances, unbeknownst to us! I recommend After Hours for your event. They are true experts in their field.
---
Best Choice Ever!
Reviewed on

9/03/2014
Amelia T
My husband and I had attended a few weddings where Sal Fusco and Sabrina Cody were the DJs. There was no doubt in our mind that we wanted them on our special day. I believe they were one of the first vendors we booked right off the bat. Once we had our initial meeting with DJ Sal, we knew it was the perfect choice. He understood everything we wanted and needed for our special day. We kept in touch through out the wedding planning. At one of our final meetings, Sal sat down and took the time to help us choose entrance songs for our bridesmaids and groomsmen (we were too indecisive). On the day of the wedding, I knew one thing I did not have to worry about was the reception. Sal and Sabrina ran our reception so smoothly..all the way from introductions, first dances, speeches, etc. to the end of the night party music, they were both phenomenal. Hands down they made our day AMAZING.
---
Awesome DJ!
Reviewed on

9/01/2014
Michelle
When reminiscing about our wedding day with family and friends, every conversation contained a common theme: "your DJ really rocked that party." This was really important to us as a couple because we wanted our wedding to be all about our friends and family joining together to have a good time. What sets Sal and Sabrina apart is that they don't create a static playlist; rather, they read and interact with the guests and tailored the songs to the mood on the dance floor. Sal and Sabrina were very easy to work with throughout the whole planning process. They shared their ideas and paid attention to every detail, and most importantly, they know how to suggest ideas without stepping on toes. For all of these reasons, and more, we highly suggest booking Sal and Sabrina for your wedding!
---
Super fun and organized DJ
Reviewed on

8/28/2014
Susan F
Jim was the DJ for our wedding and he was great! He was so friendly and helpful in all of our meetings. It felt like our wedding was the only one he was dealing with... he was always e-mailing us reminders instead of us having to seek him out. The music for the wedding was great... he played our favorites and it was a really fun atmosphere. We even did the conga line which was super fun and got everyone on the dance floor. Even my 90 year old Grandma was out there wearing a straw hat and dancing to the end of the night!
---
Great party! Great DJs!
Reviewed on

8/23/2014
Stephanie S
After Hours DJs are top notch and really know how to deliver an action packed wedding reception. We were very fortunate that since we had our wedding during the slower winter month of February that Bert and Vinnie were able to be our personal DJs for this affair. Bert was very accommodating making the process smooth all throughout especially with us living out of state and planning our wedding in CT from Florida. These professional M/Cs played almost all of our requests, and kept things very interactive with Vinnie leading the charge teaching our guests to dance, allowing the groomsmen to dance a special routine, and even finding me a karaoke version of a song allowing me to sing to my beautiful wife. Thanks Bert and Vinnie for a great time and providing world class DJ service on our special day. Thanks!
---
PERFECT!!! Jim Casso and After Hours is amazing!
Reviewed on

6/22/2014
We truly had the absolutely best experience working with DJ Jim Casso of After Hours Entertainment, they are phenomenal and helped make our day 100% perfect. We were going through a very difficult time in life on top of planning a wedding and not only was he supportive and sensitive to our needs but he put together the absolutely most perfect wedding we could have dreamed of...without any pressure and with very minimal work from our end. Jim and his brother (our 2 person team) were both extremely organized, professional, and tons of fun. They kept the crowd engaged and coordinated with all of our vendors and involved parties effortlessly. They are worth EVERY penny and we would use them again in a heartbeat!!! Not one bad word to say. THANKS JIM!!!
---
Awesome DJ!!!
Reviewed on

6/17/2014
Meghan O
I used after hours dj entertainment for my Wedding on May 31,2014. Sean was our DJ, and I would recommend him to anybody. He was fun and had everybody up on the dance floor all night. He knew the type of music that my husband and I wanted. It was a blast because of the DJ we chose. If you need a dj, contact this company.
---
Professional, easy going, fun!!!
Reviewed on

6/05/2014
JIM CASSO. I didnt even want to hire a DJ and he sold me after 15 minutes. He was direct, honest, and personable. He was very professional and helped with the structuring of the evening reception. Before the wedding he spent a few hours with us, on the phone and in person to help us design the evening that we wanted. They sent us forms to help us organize our music selections and provided access to their music library beforehand so we could have fun picking out the music. He provided a lot of fun and direction for our guests, kept everybody moving on the dance floor and was a real professional. I would absolutely recommend Jim Casso and After Hours DJ.
---
Send Message