Home

Alena Swanson LLC
About this Vendor
Personal, Calm & Organized. You can Relax & Enjoy.
Alena has been coordinating & helping create custom & classy weddings with a calm & confident presence for over eight years. I genuinely love weddings and love stories! I love translating the needs of my couples to their wedding pros and I have a passion for great communication. I have fun getting to know people and I care deeply about every part of your wedding day. I bring peace and reliability to the crazy process surrounding a special and sacred moment. I strive to collaborate with my couples and ensure their weddings are smoothly executed: caring about every detail individually, but also the ambiance of the whole shebang! My belief is that every couple and family deserves to be excited instead of stressed for this once-in-a-lifetime event!
Details
After Party, Day After Brunch, Rehearsal Dinner, Rehearsals + Parties, Ceremony, Cocktail Hour, Reception, Rehearsal, Wedding
Destination Wedding Planning, Budgeting, Day-Of Coordination, Full Service Wedding Planning, Wedding Website, Planning
Contact Info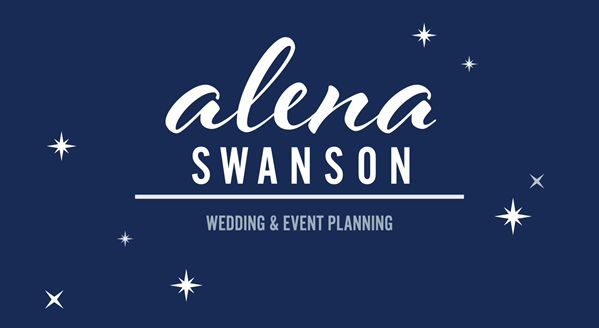 Reviewed on

5/10/2017
Katie T
Alena was seriously the best money we spent on the entire wedding! She is kind and caring and helped our day run so smooth. Her value is priceless, but it's her that is so incredible. A lot of people can help run the wedding, but she made us feel so taken care of. We love her... Read More and recommend her to everyone!
---
Our Wedding was Absolutely Perfect because of Alena
Reviewed on

7/09/2015
I knew I was going to need help planning our wedding early on, so I found Alena and met with her. I knew immediately that she was going to be perfect to help plan our special day. She catered her services to our particular needs, which I really liked. I had an idea of what I... Read More wanted for our wedding and still wanted to be actively involved in the planning, but I needed help with finding trusted vendors, staying within budget as much as possible, and most importantly, I didn't want to have to lift a finger on the day of the wedding! Alena worked diligently with me every step of the way, and she made me feel more like a friend than a client. I was at ease throughout the entire planning process because of her. She set up all of the meetings with vendors, and attended any of the ones I didn't feel comfortable going to alone or with just my husband. I literally felt no stress about our wedding until the week leading up to it, and only because of all the family that was in town and last minute details. As I'd hoped though, I felt completely calm when I woke up on the morning of the wedding. I knew everything was in Alena's hands and she knew exactly what I wanted. She checked on me periodically throughout the day and kept me informed about progress. When I walked into the ceremony and reception site, I was in awe. Everything was exactly how I'd imagined it to be, and more. The night went off without a hitch, even with a change in plans due to weather, and it couldn't have turned out more perfect. My husband and I were able to enjoy ourselves and our time with our guests without a single worry. I cannot imagine our day without Alena, she turned our dreams into reality. I absolutely recommend contacting Alena to anyone who is even slightly considering the possibility of hiring a wedding planner, you will not regret it!
---
Reviewed on

6/06/2015
Nicole S
Alena is the absolute best!! I was lucky enough to find her early in the process. I was 100% set on having her be a part of our day but my mom was a little skeptical. I had her meet with us at one of first meetings and from then on she was a believer. She was so happy to sit... Read More back and relax on my wedding day and she was able to enjoy every minute of it! Alena helped me find vendors and save time (and money!) during a crazy time with work and wedding planning. She was a shoulder to cry on when I was overwhelmed and would talk to me in the middle of the night sometimes just to make sure the day was going to be everything I had imagined. My wedding was more than I could have imagined and it is due in huge part to Alena. I couldn't have asked for a better wedding planner and I am lucky enough to now call her a friend. She is simply fantastic!!
---
Reviewed on

5/21/2017
Nick K
Alena was really fantastic. We were a little unusual in that we started planning our wedding 2 years out, due to scheduling concerns, and she was perfectly accommodating. Her experience and expertise really shined when it came to making decisions. She made us feel like her... Read More suggestions were already tried and true, no reason to second guess. She knew exactly where the sticking points would come up and did an excellent job of dissuading me that my worries were based on fictional issues, haha. She was really diligent in meeting us, taking notes, and getting to know us; that made those suggestions that much more perfect. Her pièce de résistance was her planning and coordination leading up to and the day of. She handled all the vendors and made sure our vision of our day was being executed faithfully. If you're ever able to find a more honest, hardworking planner, be suspicious, because they're probably a figment of your imagination!
---
Reviewed on

5/20/2017
Alena was so amazing!! She went above and beyond to make sure our wedding ran smoothly. I am so happy that I had Alena by my side so that I could completley enjoy our big day. She was also very helpful with picking decor for the wedding and all of the vendors she recommended... Read More were great. I am so happy to have had her help out with our wedding.
---
Reviewed on

11/10/2016
Ashleigh E
Alena is so worth it, straight up! She kept us in line, on budget, and assisted me greatly with her opinions and suggestions. She wasn't daunted by our ranch wedding location and she made planning less stressful and more fun. She is incredibly genuine and cared about every... Read More detail we wanted to incorporate. We may have paid for a wedding planner but we're so blessed to say we gained a new friendship - in both Alena AND Jeff! :)
---
Reviewed on

9/11/2016
Aly W
Alena was absolutely fantastic. She has the expertise, organization, and truly cares about making your day fantastic. I used her for day of coordination which came with some preplanning advice and time as well. Alena was easy to work with and get a hold of even though I was... Read More planning from another state. She had great ideas and advice for the planning process. The wedding day was absolutely amazing. If there were any problems, I didn't know about them. Everything went according to plan, was beautiful, stayed on time and I couldn't have asked for more. She even had blister block for my shoes and Shout wipes for when I had wine and food on my dress. She was an integral part of my wedding day and I couldn't have asked for more.
---
Reviewed on

6/06/2016
Courtney M
We're so glad we hired Alena! When my husband and I first started planning my wedding, all of the details and logistics quickly piled up. I was trying to keep my budget very small, and was very hesitant to spend so much to hire someone just to take care of that stuff. It was... Read More SO worth it. Alena helped keep the planning process on track. She provided encouragement when we felt behind, resources when we got stuck, and a clear list of things we hadn't even thought of. She was perfectly responsive and always willing to work around whatever worked best for us. On the day of the wedding, Alena handled everything: set-up, organizing vendors and deliveries, etc. I was able to focus on just enjoying my wedding; getting made up, being married, and partying with friends and family. Because of Alena, everything went so smoothly; I cannot recommend her enough!
---
Reviewed on

5/16/2016
Alena is simply amazing at her job. She made planning for the wedding so easy, especially with all of her connections within the industry. It was so nice to be able to let go of the stress on my wedding day. But what will stand out most to me are the intangibles ... She was... Read More ready with a solution when the bustle on my dress broke, she helped calm my fiancé's anxiety the day of with a peppermint oil remedy, she relayed any message I requested to any of the vendors there, she worked with our reception vendor when a potentially huge space crisis could've occurred and came back to me with a stress relieving solution that brought me to (happy) tears. I truly can't thank her enough for everything she has done for us, both leading up to the wedding day and the day of. Even if you are just thinking about getting a wedding planner, reach out to Alena. I don't trust easily (especially with my wedding) and it just came natural to trust her - I'm so glad I did! Our wedding day was ... The best day ever, mostly thanks to Alena!
---
Reviewed on

11/25/2015
Alena is a blessing! She helped plan our wedding and was an amazing resource to have. She was always available and responsive for questions. Her is fee is affordable and was well worth the money. She kept us on track with our timeline and gave us great vendor recommendations... Read More that fit our budget. She is absolutely the best!
---
Reviewed on

10/21/2015
Susan C
I tried to do all the wedding planning myself until I became so overwhelmed my fiance was about to kill me. We started looking for a wedding planner but were discouraged by the price. Hiring Alena to coordinate our wedding took a load off my shoulders. She was so affordable and... Read More thought of so many things that would have fallen through the cracks. Alena was an invaluable asset to our wedding; she worked wonders for us!
---
Best Decision We Made
Reviewed on

9/30/2015
Monica W
My now-husband and I made a lot of decisions, both big and small, during our wedding planning process. Hiring Alena was the best decision we made. During the planning process, Alena saved us time, money, and anxiety. She saved us time by helping us identify vendors that... Read More fit our style and desires. She saved us money by helping us prioritize and avoid unnecessary expenditures. She saved us anxiety by keeping us on track and helping us deal with a problem that came up with one of our vendors. In all areas, she went above and beyond to make sure our day was special. On the day of the wedding, Alena made sure everything ran like clockwork. My now-husband and I did not need to worry about logistics, instead we could focus on getting married and spending time with our loved ones. We also did not have to ask friends or family to spend the day working. It was wonderful. Alena is professional, organized, and a pleasure to work with. You won't regret hiring her.
---
Wife
Reviewed on

9/23/2015
Alena is a wonderful wedding planner! She is great at making you feel comfortable and organizing your wants and needs for your big day. I would recommend her a thousands times to anyone!
---
Life Saver!!!
Reviewed on

8/20/2015
Kaelee W
Alena not only helped out with my oldest daughter's wedding in Albuquerque, but 2 months later she helped with my youngest daughter's wedding 750 miles away! Alena was always professional and gave her honest opinion about every aspect of the weddings, which by the way were total... Read More opposites in style. I was able to focus on the girls and enjoy the weddings!!! Highly recommend Alena for any event!
---
Amazing Wedding Day
Reviewed on

7/20/2015
Keren C
I cannot say enough wonderful things about Alena and the amazing job she did planning our wedding. I started planning a year before our big day and there are so many little details that I didn't think about that Alena helped me coordinate. She kept me on schedule, and during... Read More meetings with vendors she knew all the right questions to ask. She is the most organized person I know. Guests even came up to my husband and I during the wedding to tell us how amazing it was, and we knew it wouldn't have been possible without Alena. My wedding was amazing and I didn't have to worry about anything because I knew I was in great hands. Alena sheltered us from a lot of coordination and venue drama the day of, too. All in all, we can't imagine having gotten through the planning or the wedding without her expert guidance.
---
Reviewed on

7/06/2015
Kate L
Alena is amazing! My husband and I didn't really think we would need a wedding planner, but now that we've had time to reflect on our wedding day and the months leading up to it, I can't imagine that time without Alena. This is a great time in your life and you're probably... Read More both excited and stressed out! Maybe you've decided you need help, or maybe you're not sure yet. One of the great things about Alena is that she will help as much or as little as you want so you still feel in control of your special day. We chose to hire Alena for her day-of services as well as several meetings prior to the wedding. Along the way, she kept us on task, on schedule and on budget. She fought battles when we needed help with vendors and listened when we had concerns. She gave us suggestions for vendors and worked with the ones we hired to make sure our wedding day would go smoothly. Her calm demeanor and genuine presence were greatly appreciated throughout the whole process. On the day of our wedding, Alena took care of everything. She made sure that the venue was set up, decorations were in place, vendors arrived on time and that we were happy. My family, who were mostly from out of town, were also grateful that they didn't have to worry about anything or do any work on our wedding day. Weddings are notorious for glitches and ours was no exception. I would not have made it through with my sanity if Alena had not been there to make adjustments, take charge and provide support. Even once I thought things were going smoothly, a guest spilled red wine all over the front of me. Seriously – I would have freaked out of if Alena (and my photographer) had not jumped into action scrubbing my dress with stain wipes! So, even if you don't think you need a wedding planner/coordinator, you do! And, if you don't think you can afford Alena, you can! Hiring Alena is the easiest wedding decision to make, and once you've hired her, you can take a deep breath and know that you're in good hands!
---
Meet The Owner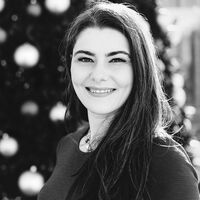 Alena Bard
You just found your new BFF. Alena loves local food, her puppy & hubby, shoes, and deep conversations over black coffee. She is an award winning wedding planner and coordinator who's been published all over the inter-webs, plus a podcast hostess, speaker, and spiritual director. She lives in Albuquerque, NM, and has assisted over 150 couples make their day worthwhile. She's confident, calming, and classy, while home-grown and hard-working, which creates a personal, high quality, and meaningful experience- exactly what you want in a person you trust with such an important day.