Home

Alex Michele Photography
About this Vendor
North Florida's Premier Wedding Photographer
Details
Contact Info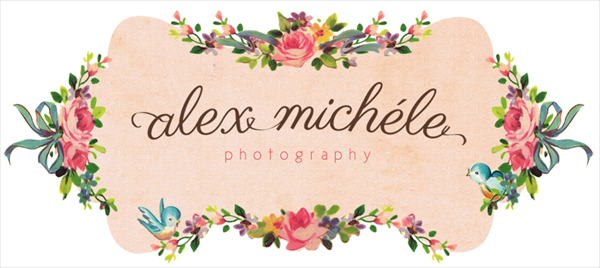 Reviewed on

5/12/2015
Amber N
Alex Michele Photography was absolutely fantastic the day of our wedding! She is very professional, knows what will make the best picture and has a great personality. When looking for a photographer for our wedding, we not only chose her because of her beautiful pictures, but also because of how easy she makes it for everyone to access and download our wedding pictures. The pictures are all amazing and capture every aspect of our wedding perfectly! We could tell she really enjoys her job. Thank you, Alex Michele!!
---
Reviewed on

5/01/2015
Melissa M
I met Alex about 5 years ago, and knew back then I would one day want her to photograph my wedding! She has photographed two of my best friends weddings. So, when I got engaged last year, I was so excited to call and book her to shoot my wedding! She photographed our engagement session which was absolutely amazing. She made us feel so comfortable and relaxed, I received so many compliments on how gorgeous her photos turned out. I couldn't wait to have her photograph our wedding! During the wedding day, she is right on point and there for you every step of the way. I couldn't have asked for a better experience. My photos are incredible, and she got them to me so quickly! We were so thankful and happy to have Alex photograph such a wonderful and memorable time for us! I recommend her to everyone and will use her for future family shoots :)
---
Classic Shots = Lasting Memories!
Reviewed on

4/30/2015
Ashlee J
Alex is now my go-to Photographer! I was searching all over for a photographer that would capture classic, timeless, and effortless shots for my engagement shoot! I stumbled across her photos via a social media site and instantly had to contact her. She shot for my engagement shoot and, after receiving the most beautiful portfolio, I immediately booked her for my wedding! She is extremely professional yet extremely fun! She makes you feel comfortable and reminds you of the purpose of the shoot, which is to have fun and capture the exciting time in your life! My wedding shots are amazing! Everyone who has seen them has given so many compliments about the candidness and effortless joy that Alex captured in the photos! I would also like to point out that Alex communicates with you through the whole process and even schedules a consultation to go over all the details of the big day so that you, the bride, do not have to worry about the photographer capturing the special shots you want. THANK YOU, ALEX! I look forward to booking you for my next big life event!
---
Best Photographer
Reviewed on

12/30/2014
Kendall S
We used Alex for our engagement session, rehearsal, and a full day of wedding photography. This was one of the most expensive budget items we had, but if I had to do it all over again I would pay it and probably more for Alex's talent and quality! Loved working with Alex and her photos are some of the best I have seen in a long time! She is so professional and really pays attention to what the needs are of the bride and groom. I will love looking at these photos I have for the rest of my life!!
---
undoubtedly the most wonderful wedding photographer!
Reviewed on

12/12/2014
I will begin by saying that it takes a lot for me to recommend something wholeheartedly, and I have no hesitation doing so with Alex! I couldn't sing her praises highly enough. One of the greatest things about her is the personal touch she brings to her services - that you are not "one of a slew of brides", but you are a focus and important to her. She takes the time to get to know you as a couple, to craft an experience that is so cherishable. She is professional and passionate, with a love for her work that simply cannot be forced. We couldn't be happier with the results, and have no doubts that she will be our go-to photographer for years and years to come!
---
Truly amazing!
Reviewed on

10/07/2014
Austin C
Where do I start! Alex is amazing not only at photography but at helping with every part of your wedding! She is there as a friend throughout he entire planning process and then on the day of she is a true professional behind the scenes catching each and every moment while making the day run smoothly ! After my wedding Alex had my photos to me in less than a week ! But even if she had done none of those things I would still highly highly recommend her because she did not just capture portraits at my wedding she captured moments! As I look back at each photo I see the exact moment and relive the emotions of that day I will cherish each and every one the the over 1000 pictures I have of my wedding day for the rest of my life! I can not thank Alex enough for the amazing person she is and images she took!
---
Professional and On point
Reviewed on

10/01/2014
Chavet C
I came across Alex's work several years ago when she photographed my niece. The first time I saw her work I wanted to know "Who" took these beautifully delicate tender photographs of my sweet niece. I then began to follow her work and noticed a common theme...They all had a softness to them and very touching as well. She is able to capture the emotions that are happening in those moments. When I got engaged I knew I would hire her and I am so happy that I did. We got married in North Carolina in April and we where so excited to have a lovely spring wedding overlooking the majestic mountains...I chuckle as I write this because we where embraced with pouring rain and 30 degree weather. Yes, I said 30 degrees!!! Our wedding was outside and that did not stop Alex from doing a remarkable job!! She was a professional through and through. She was freezing just like the rest of us and powered through all of it without one complaint. I honestly was afraid to look at our pictures at first because I was so afraid she didn't get any good shots. I really was...But to my wonderful surprise she got some incredible pictures that we simply love. I too am a business woman and I have a different approach to reviewing how other business owners do their job. With 100% certainty I can say she handled our wedding with every ounce of professionalism given the difficult weather. She rocks and she means business!!! You can trust her and she will produce the most elegant touching photographs you will ever see.
---
Alex is THE BEST!
Reviewed on

9/23/2014
kelsie m
I first saw Alex's work when one of my student's mom had family pictures taken by her. After seeing their pictures, I knew I needed to contact Alex. Alex's passion for her work just beamed out of her when we first met with her. We had both our engagement and wedding pictures taken by Alex. Our engagement session was so much fun! I'll admit that my (then) fiance and I were a little unsure of what to expect at first. (After all, we are far from professional models) Within five minutes, we were pros at taking the pictures. Alex somehow turned a photo shoot into a date! The entire session was just about two of us spending time together, flirting and just being ourselves. The product... the most beautiful pictures I've ever seen (until our wedding pictures :) )I was amazed at how good they turned out! Alex was more than a photographer on our September 6 wedding. As busy as she was getting the most incredible wedding shots, she was constantly asking me if I needed anything and how I was feeling. Even when things got a little off schedule and hectic at the reception, Alex was there to take charge and keep me calm. She knew my perfectionist personality way too well :) When we got our pictures back (two weeks later), I was just floored. Every shot is worth framing. I don't know how I'll narrow them down for our album. She even took my sister, brother-in-law and my nephew (our one year old ring-bearer) out to the golf course to take a little mini family session. The pictures are to die for! I just cannot recommend Alex and her talent enough. From the first meeting to the very last picture, her love for what she does just reflects from her pictures. I am so thankful that I had her as a part of my wedding. I can't wait until she can take family pictures when we have little ones one day! Alex will make your day, not matter what the occasion, even more special.
---
Highly Recommend!
Reviewed on

8/19/2014
Michelle D
My fiancé and I are so happy with our engagement photos. Our family and friends love them as well. I had been following Alex for a few years, and she was the first vendor I booked for a reason; she is AWESOME! Alex was absolutely wonderful to work with. She made us feel comfortable and the shoot was so much fun! It was important to me to find a photographer that matched my style and budget, and provided the level of professionalism I expected. I am happy to say that we had such a great experience working with her before the wedding. I am SO excited to have her as our wedding photographer!
---
Alex Michele Photography is AWESOME!
Reviewed on

6/09/2014
Jen S
Alex is the best wedding photographer you can hire! We got married in Charleston, SC on 5-10-14. You will NOT regret hiring her. She is so talented and gifted. A plus is she is super cool and easy to work with and is very flexible. You can really let her run with it, she has great ideas! She will do any shots you want but also will suggest / pose you. She also catches a lot of details and things that you may have forgotten or not seen - trust me the day goes by in a flash! 3 of my girlfriends have used Alex for our weddings - she is THAT good! She is worth every penny! We are so happy with our photos and have had a ton of compliments from others. I am going to use her in the future again for kids photos, family photos, etc. I won't use anyone else! She will travel too, just ask her to quote it for you. It's worth it!!!
---
Stunning!
Reviewed on

6/01/2014
Bianca R
Alex is such a talented photographer! We just received our wedding photos and everyone is absolutely obsessed over all of the photos. I have seen Alex's work before and that is the one thing in our wedding that I put my foot down for, I had to have her as my photographer. It has been over a month since we have been married and I am still looking through the photos. We took her advice and did a "First look" and choose to get the bridesmaids and groomsmen photos done before the ceremony. Everything went so smoothly and we did not feel so rushed through the day. We even got time to just sit down and eat appetizers by ourselves during the cocktail hour. She caught every moment and more during the entire event. What we LOVED the most was that she got plenty of pictures of our friends and family, she even got pictures of our 1 month niece! My brother and wife now want to use Alex for family/baby photos. So, to sum everything up for you...SHE IS AMAZING, takes STUNNING photos and you will not regret hiring her.
---
I'm in LOVE with my pictures!
Reviewed on

1/03/2014
Jamie M
WOW. When Alex sent me our engagement session pictures, I was speechless. I have to admit, I had HIGH expectations since I constantly gawk at engagement pictures on FB photography blogs and pinterest. During the shoot, I felt like it was just a "normal" session, nothing special about it....but boy was I WRONG! The pictures were incredible and truly captured the love my fiance and I share together. Alex knew EXACTLY what to have us do during the shoot in order to capture OUR love. She was so professional, encouraging, and super positive. Furthermore, I had a vision of what I wanted our session to be like and include. One of the props we planned to use fell though last minute. I was a bummed bride knowing that my "vision" was crushed. Well, Alex OFFERED to close the shoot after the several dozen pictures we had already captured, and meet again for a part 2 session when our prop was available to use. SERIOUSLY?! That made my day and let me know that I was a valued client, not just a paycheck. Overall, my experience working with Alex was nothing short of wonderful. She is SO kind, passionate, creative, and willing to connect. That's what I wanted. I wanted someone to know us, not just take our picture. She made the entire session really comfortable and it clearly shows with the finished product.
---
Alex has an eye that can't be taught...
Reviewed on

9/26/2013
Nicholas K
Alex shot our engagement session, and it was just amazing. So much more than we expected! The photographs were just beautiful. The angles and the shots she was able to capture were truly breathtaking. On top of that, she worked tirelessly to have our photos edited and back to us within a week. We couldn't wait to see how the wedding would turn out. Once again, every picture was so beautiful. Alex takes hundreds, even thousands of photos to make sure she doesn't miss a moment. And this time, at the wedding, she even had an assistant who was also extremely talented adding hundreds more photos and moments that would be captured forever. And again, we got to see teaser photos within days and had our photos back in hand within weeks following our honeymoon. (I wish we could have brought her there too!) And now, 9 months and some odd days later, we turned to none other than Alex to shoot our newborn session. I think these are the best yet. We have our family photographer for life. Even if you're not local to Alex, it's worth flying her wherever you are to have her shoot your wedding, engagement session or anything else.
---
Alex exceeded my expectations!
Reviewed on

9/25/2013
Kayla M
I have been following Alex's work for about a year a half now. Each new session that she would post on her website would get me more and more excited for the day that I was going to be the bride in her beautiful pictures! Alex flew all the way from Florida to Nebraska to shoot our wedding! Alex totally exceeded all expectations I had! Nick and I had not had many professional pictures taken of us before the wedding but we felt so comfortable with Alex. Sometimes it can be uncomfortable to take pictures with someone you've never met before but we felt like we had just reunited with an old friend when meeting her. She was so energetic and bubbly, but also very professional when shooting our wedding. Everyone at the wedding just loved her and were jealous that we had her as our photographer! :) Alex makes every step of the planning process so fun and exciting! She is so genuine and really makes you feel like you are the most important bride. She has an in depth questionnaire which really helped in the planning process so that we were both on the same page come wedding day. She is enthusiastic and informative and loves to help you with any questions (photography based or not) that you may have about your wedding day. After the wedding is the most fun part about hiring Alex as your photographer! The sneak peeks, the blog, facebook! My whole family was on facebook 24/7 waiting for those sneak peeks and they were so worth it! She had a couple pictures up the day after our wedding! Alex finished editing all of our wedding pictures in 10 DAYS and we had tons of pictures to choose from. She writes such a sweet blog and posts pictures in timeline so that you can relive your wedding day step by step whenever you want to visit it. I am still so in awe of how amazing our pictures are and am so glad that we chose Alex as our photographer. She captures each and every moment and emotion like no other photographer can and I can still feel each emotion as I look through my pictures. What I love the most about Alex's work is that each session is unique to each couple. No session looks the same because she gets to know the couple that she is photographing and lets each unique personality shine through her pictures. Even though I had met Alex for the first time on my wedding day I felt like I had known her for along time and I hope to continue to know her for a long time! I very much recommend Alex and I hope to be able to work with her again someday!
---
We feel so lucky to have Alex!
Reviewed on

9/24/2013
My fiance and I were referred to Alex by a dear friend so we knew that she had to be good. But when choosing a photographer for my big day nothing spoke to me more than her overall personality and passion. From the wonderful feeling that I got from Alex after the conversation we had, I knew I had to book with her right away. Because of the connection I felt I even sent her pictures of a wedding dress I was interested in to see her opinion- and received a overwhelming reply. :-) She is there every step of the way of your wedding planning. Then .... our engagement session just blew me away!!!! To be able to capture the moments so perfectly takes a truly special person....and Alex's love for what she does shines through every snapshot. I am simply thrilled to have Alex be the photographer of my wedding day this upcoming May!!!!
---
One word- Amazing!
Reviewed on

9/20/2013
Cater c
I have always known that I loved Alex's work and respected her business. I myself am a photographer based out of Minneapolis, MN and have been following Alex ever since the beginning. When My husband and I first got engaged I decided to shoot Alex an email based off of hopes and dreams expecting her prices to be through the roof. I received an extremely fast response that made my night! Alex was willing to travel and helped find a package that worked for perfectly for us. I was beyond excited to share the news with all of our friends and family about our wedding photographer but nobody was as excited as I was. Well, it didnt take long for everyone to understand my excitement once they met her. Alex is bubbly, fun, professional and strait to the point when it comes to her profession. She knows exactly what she is doing and gets it done in a timely matter. She is serious while shooting and then will giggle with you afterwards. I received my images in less than a week after my wedding date, yes you heard me right LESS than a week! Not to mention they were GORGEOUS! I believe we received 700 "likes" on her FB page from one of our images. I still to this day have people bring up my wedding photos out of the blue. I couldn't imagine using anyone else and I also believe I made a life long friend out of the relationship! I will personally fly Alex back to MN for every other big event in our lives just so we can receive beautiful photos(:
---
Hands down, the best photographer in Jax
Reviewed on

8/08/2013
Ruth A
Brides, I don't normally ever right reviews for things/people, so for me to go out of my way for this is truly something from my heart. AMP was referred to me from a friend, when I was engaged. My first encounter with Alex, was one much less ordinary.. I was one of the brides that lost their wedding venue a few months into wedding planning due to a venue being shut down by the county. As I was also very new to Jacksonville at the time, I reached out to Alex to get her ideas on wedding venues that would be "pretty to shoot". I hadn't retained Alex at all yet, but was desperate for help as many of the venues I had visited where already full. Alex was so helpful and nice (even though she did not know me or even have to be) and helped me land my wedding venue. From then on, it was a no brainer that she would be shooting our wedding. She shot our engagement photos (2 times, thanks to FL weather, and her being so professional to not have bad photos) and got my now husband to have fun.. the guy that HATES pictures. They turned out amazing. Alex takes the time to find out what you want, guides you if you just need help or advice (yes I DID text her my engagement photo outfit from the dressing room.. that is the kind of girl she is.. she was honest and actually gave me great advice!)and takes beautiful pictures. She captured all the great moments at our wedding and made me not worry one bit. She is truly worth every penny and more as my photos are with me for life, and remind me of every detail of my day. Thank you so much Alex for being so special and being awesome at what you do!!!
---
Wedding Photographer of My Dreams!
Reviewed on

8/08/2013
Danielle H
I stumbled upon the work of AMP years ago and before marriage was even in the picture, I knew that she would be "the one!" When the time came, I contacted her in high hopes for her to be my wedding photographer! She responded promptly and in a way that seemed just as excited as I was! She was a pleasure to work with through out the whole process. Alex was very informative and even suggested some things to help make my day run more smoothly photography wise, as well as other schedule aspects. Alex's fun attitude and spunk helps to lighten mood and make you feel more comfortable. From the engagement sessions to wedding photography, she is the best of the best!! Very professional and genuine. I would and have recommended her to many friends. A++++ Thank you so much Alex Michele Photography!!
---
Love!
Reviewed on

7/22/2013
Samantha H
Alex and I went to the same high school and ten years later I saw her work on Facebook and knew I wanted her to shoot my engagement session. We had a great time and the pictures were amazing. She then agreed to come to our Bahamas cruise wedding and I could not be happier with the pictures! Alex is extremely talented and her work speaks for itself. Love, love love my wedding pics!
---
The photos were perfect
Reviewed on

5/23/2013
Rebekah M
I had no doubt that my wedding photos would be beautiful after seeing past work from Alex Michele photography, but the photos exceeded my expectations! I can't stop looking at the photos and have gotten so many compliments on the photography. The day of the wedding Alex was so professional and made everything easy for me. I was definitely a laid back bride and didn't really have any ideas on poses or specific shots I wanted. Alex was a real pro and made me feel completely comfortable and made the whole experience wonderful. Thank you, Alex!
---
Alex is the best!
Reviewed on

1/18/2013
Lyssa M
Alex is a wonderful photographer and a truly amazing person! She was a joy to work with and exceeded all expectations. Her photography is unique, of the highest quality, and allows for the client's personality to shine. We are so thankful for all the time and effort she put in to capturing the most important day of our lives!
---
Super Talent
Reviewed on

12/06/2012
Allison B
Before I was engaged, I knew I wanted to use Alex as my photographer. Her photos are truly one-of-a-kind beautiful and unique. She takes time to discuss every detail of your wedding to make sure that everyone is on the same page-knowing what to expect during your special day. I love that most of my photos were not traditional and boring-my photos show our personalities and the style/theme of my wedding. I truly consider my wedding photos gorgeous art. If you're looking for a talented and experienced artist, she is the kind of photographer to deliver these expectations.
---
Love at first sight
Reviewed on

12/01/2012
Lauren G
I followed Alex's photography page on facebook a few years before I was even engaged. I knew right away that when my day came, whenever it may have been, she was the photographer I had to have! I fell in love with her natural and chic, creative style. She has an eye for capturing moments and details that a lot of other wedding photographers fail to capture. The day my now husband proposed to me, the first vendor I contacted was Alex. She was prompt in her response and she was just as excited to shoot my wedding as I was to have her. She is out of Jacksonville and I live in Gainesville. She made a visit to Gainesville, just so we could meet in person and go over all the details that were important for me to have her shoot. Alex was so personable and made me feel comfortable right away. On the day of my wedding, Alex was 7-8 months pregnant and still managed to shoot it flawlessly. It was even a treat to have a complimentary second shooter. Even though it rained on my wedding day, Though I was panicked, Alex assured me that I had nothing to worry about. Most brides pray it doesn't rain on their wedding day, but I was glad it did, because my pictures wouldn't have turned out as green and gleaming as they did. My experience with Alex was just as I imagined it would be, and my pictures were even better. I plan on hiring Alex to shoot other mile stones in my life (new born and family photos) when the time comes. I HIGHLY recommend Alex to anyone who needs a wedding photographer, or photographer for any other life event. Disappointment doesn't exist with Alex.
---
The best of the best!
Reviewed on

11/30/2012
Kristy R
Alex was simply amazing! So easy going, even when details were changed last minute, she never missed a beat (or a picture for that matter!). My husband and I had such a great time, and he is not a picture taker! Being a photographer myself, I am very picky about my photos. Alex not only met my expectations, as I knew she would, but she exceeded them and will forever be my go to photographer even if I have to fly her up to Wisconsin! We got sneak peeks very shortly after our wedding, which held us over until we got our flash drive in the mail with all of our photos. Quick turn around time, great quality, great personality, I seriously don't know what else to ask for in a photographer Alex is the best!
---
Wedding
Reviewed on

11/29/2012
ann b
I received my photographs from AMP. It was like I was reliving my wedding day. All the tiny details that were flying by 9-1-2012 all came back to me. AMP captured moments and expressions that would have been missed by any normal photographer. I remember emailing Alex a week before my wedding in tears of stress. I couldnt even think of what I wanted anymore. Alex, always calm and rational, went through every detail with me again. She is understanding and patient and then shocks you with the final result, knowing you more than you knew yourself. I could not have been happier with my photographer. Her imagination and sensitivity to your big day is something you will never regret choosing. I only hope she is available for yours :)
---
Send Message