Home

Alison Conklin Photography
About this Vendor
Alison Conklin is an award-winning photographer for weddings, engagements, families, and children, as well as commercial photography for lifestyle and catalog shoots. She is known for her candid, bright, and emotionally-charged shots which have graced the pages and covers of numerous magazines.
Details
A Variety/Blend of Styles
Contact Info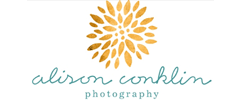 Amazing!
Reviewed on

11/03/2011
JESSICA L
I found Alison completely by chance and I really believe it was fate! A friend of a friend commented on a Facebook post of pictures from a wedding she had shot and it came up on my news feed. I was curious, did a google search, and found her blog. As soon as I saw her work, I knew that she absolutely had to photograph our wedding. Alison has an amazing ability to capture emotion in her photographs in a way I have never seen before. She is kind, generous, caring, and simply wonderful. She finds the most amazing locations for photographs - it is fascinating to watch her work as you walk with her, because she sees beauty everywhere. She captured the most incredible moments of our wedding day. We treasure every single image that she took - I wanted to include all of them in our wedding album! Both Alison and Geoff are incredibly quick to respond to any questions you might have, either by email or phone. On the day we were supposed to have our engagement shoot, we had horrible weather. Geoff and Alison immediately contacted us and worked with our schedule to find a different date. You also get your images quickly - friends of mine have waited ages for their engagement and wedding pictures, but we had ours from Alison Conklin Photography almost immediately! Our friends and family loved seeing the pictures and slideshow on her blog, especially those that lived overseas and could not attend our wedding. Simply put, choosing Alison Conklin Photography is the best decision you can make when planning your wedding!
---
The best decision you can make!
Reviewed on

10/12/2011
abby p
I had been a fan of Alison's for a few years before I was married, so the moment we got engaged, I asked Alison what dates she had free for our wedding- to me, having Alison shoot our wedding was the most important detail of the whole event. I had done a shoot with Alison previously and absolutely loved her style. I felt completely comfortable and natural while she was snapping away, and couldn't believe how beautiful the pictures turned out. If you ever have the pleasure of meeting Alison, you will notice right away just how kind, relaxed and funny she is- so not only will your pictures be stunning, but you can also feel confident your family and guests will all feel relaxed and happy when she's photographing them. Her photos are timeless and heartwarming- she's able to capture the emotion and warmth of the day with grace and style. We love our wedding photos so much and consider them heirlooms for our future children and grandchildren. They are classic, classy, and full of love. We've even given family members large framed prints of themselves that Alison had taken at our wedding, she really was able to notice small moments that made sweet shots. I also want to point out that she's able to get her shots up onto her blog or into your hands extremely fast- seriously, faster than you can believe. I didn't realize how rare this is until a few of my friends got married- some people wait for months! Our complete slideshow was up on her site TWO days later, amazing, no?! I loved putting together albums for myself, my mom and mother-in-law... the photos just flow so seamlessly through the day, and bring me back to the moments I always want to remember. I will always appreciate the amazing gift it is to have these photos, and I know every one of Alison's brides feel exactly the same way.
---
Worth WAY More Than Five Stars!
Reviewed on

10/10/2011
Jesson G
I wish there were more stars to use in this rating, because if there were I would use them. Simply put - Alison's work is absolutely phenomenal, and I couldn't be happier that I chose her and her husband Geoff to photograph our special day. My husband and I opted not to hire a videographer for our wedding, and I regretted it a little when we were on our honeymoon. But as soon as I got back and saw the photos Alison took, I didn't miss the videos at all! She and Geoff truly captured the magic of the day - and every single photo tells a story. I laughed and I cried when I looked through all of the pictures, and I truly relived every single moment thanks to her beautiful work. Not to mention, she was hands down the BEST vendor I worked with. I never had to follow up and nag her for anything. If anything, she had to chase ME down! And she is just the sweetest and most wonderful person to have around during what is usually a pretty hectic day. I cannot thank Alison and Geoff enough for everything they did to make our wedding a day we will NEVER forget. Anyone who doesn't use her is missing out :)
---
Reviewed on

6/24/2015
Alexis P
We hired Alison to photograph our wedding after hearing good things from friends and other wedding vendors. We could not have been more impressed! Alison was such a delight to work with. She was discreet but still captured all of the important details of the day. She had great ideas, and made us feel relaxed and comfortable in front of the camera. The photos of our wedding are absolutely exquisite. We already had high hopes when we hired her, but she truly exceeded our expectations.
---
Simply the BEST!
Reviewed on

10/25/2014
While sharing coffee at a local Starbucks, we decided Alison was the perfect photographer for our wedding the first time we met. Her photos were beautiful, her journalistic approach was refreshing, and her kind, warm personality felt as if she was a friend we had always known. (I secretly daydreamed how she'd take pictures of our babies one day.) We were married in 2005. If you frequent Alison's blog (which I highly recommend), you will find the quality of her photographs are amazing. She works magic with light, composition, and emotion. I love her attention to detail. When looking through our wedding album, almost nine years later, it is the little details she documented that evoke memories of the smells, sounds, and taste of the day, bringing back to life so much of our wedding day. Two of my favorite wedding pictures are from our reception. In the first, my husband is telling a story while myself and another couple are listening intently. In the second, we are all laughing so hard we are close to tears. None of us can remember what was so funny, but every time I look at those images I feel the intimacy, friendship, and soul-splitting laughter. And we had no idea anyone was paying attention to us. My children were in a wedding two weeks ago of a very close friend. The photographer spent a long time photographing the bride and bridal party while they got ready, and I constantly compared her to Alison. She posed the bride, repeatedly, while staging the background. Her mantra was, "Breathe. Relax. Smile!" The emotion was lacking in the room because she was constantly in charge of the photos. This was not my experience with Alison. One of her great talents is just being there and capturing amazing photos as they happen. She captures the very essence of your wedding day without you realizing it is even happening. I would love to view life through Alison's eyes because I am quite certain she sees things in a way the rest of us miss. And watching her talent blossom over the past nine years makes me want to get married again just so she can photograph it! Of all the wedding decisions to make, Alison Conklin as your photographer is easy. She's simply the BEST! p.s. She did photograph our babies... in 2009, 2011, and sometime in 2014!
---
Worth every penny
Reviewed on

10/08/2014
I met Alison briefly when I was a guest at a friend's wedding. I had heard from the bride how amazing she was, and I passed along the compliment to her when I met her at the reception. She was working with her husband, Geoff, and they worked so seamlessly together. They were everywhere snapping away, and yet, you hardly noticed. I saw a blog post of the pictures when they were ready and I was literally BLOWN AWAY. I was at this wedding, yet she somehow captured things I missed and made everything look even more breathtaking. Immediately, I decided to book her for family portraits and was excited to see her magic with my own family. We have family pics done yearly, and I will NEVER use anyone but Alison. Hers were by far the most amazing ones we have ever had done. I was so glad to meet her at this wedding, and happy to say we now use her yearly.
---
absolutely amazing!
Reviewed on

10/17/2013
Laura D
Alison and Geoff were so incredibly amazing! They captured so many great moments throughout the day and all my guests have been raving about their work. I would highly recommend them!
---
Professional Beautiful Photos
Reviewed on

9/26/2013
bell d
I attended a wedding that Alison Conklin shot and she was the consummate professional - you didn't even know that she was filming the wedding, not obtrusive at all. And the end result was beautiful - terrific work.
---
REMARKABLE Person + Talent!
Reviewed on

9/18/2013
dara b
Working with Alison & Geoff was truly one of the most enjoyable, peaceful, and memorable experiences from our wedding. To say we adore them would be an understatement. From the moment we first met Alison and had the honor of doing our engagement pictures with her we knew we were so lucky! She is so easy going, fun, genuine, and most importantly...an incredible talent! Our wedding pictures are a a DREAM! This team expresses true artistry through the lens. They have an eye for the most stunning/unique images. Their ability to capture people and read emotion is inspiring! There is no doubt Alison would provide you the most wonderful epic shots from your special day. Even more so, you will be left feeling as though you have a wonderful friend by your side helping you create and capture your fairytale! Our appreciation for them grows each time we look at our pictures. Alison Conklin was hands down one of the best investments we made for that special day. We are forever grateful!
---
AMAZING!
Reviewed on

9/18/2013
Christina R
I had been looking at Alison's photos for the last 5 years or more! I absolutely lover her photos and so far mine have been amazing! Everyone raves about them and I am so happy knowing she captured such special moments and memories that we can look at for years to come! Alison and Geoff are also just great people who genuinly love their job! I highly recommend them!
---
Truly EXCEPTIONAL!
Reviewed on

9/16/2013
shelley b
EXCEPTIONAL! EXCEPTIONAL! EXCEPTIONAL! I am trying to grab the attention of all brides-to-be. You must be sure to book Alison Conklin as your photographer. While Alison may be holding a camera she is truly performing magic before your eyes. Alison's creative eye will take any simple scene and turn it into a MAGICAL- truer than life setting. Take the time to review her web site's blog and galleries and you will instantaneously feel that you were a guest at all of those weddings. Alison's great flexibility and calm manner will keep the bride and groom, bridal party, et al at such ease that the most natural, unposed and candid photos will be yielded. I continue to be amazed at how Alison and Geoff (who assisted her at my daughter's wedding) were able to be there at all the "right moments" while not getting in people's way or view. I recently attended a wedding where the photographer was constantly blocking people's views, practically tripping us on the dance floor, and often shining bright lights in our eyes. Alison's photography is IMPECCABLE, NATURAL,EXCITING, STIMULATING and just downright BEAUTIFUL!!!!!!! Any bride-to be- should consider booking Alison Conklin Photography as soon as you set a date. Utilize her packages fully and she will provide you with an exceptional and fun engagement picture session which will wet your appetite for what will be coming at your wedding. Your selection of her services as your wedding photographer will REAP you many rewards, as her memorable photos will immediately take you back to the feelings of wonder and excitement you had on your special day. I cannot thank Alison enough for providing my daughter and then fiancee with a fun filled and creative engagement photo session. The resulting photos are amazing and required great creative thought and inspiration. I quickly saw that Alison was able to see Dara and Sal's bright personalities and great love for each other. This carried through to their wedding day where the pictures just draw you in and allow you to feel their joy and love for one another. I am so grateful that she placed a large sample of their wedding day on her blog, a short time after the wedding. Now that we have the full set of pictures I am so amazed by all the wonderful aspects of the day that she was able to capture, many that I, as mother of the bride was too busy to observe, or recall due to many blurred memories of the day. People always say that the day will go so quickly. Thanks to Alison and her creative eye, I will have all the wonderful moments of my daughter's wedding to cherish and revisit forever. I also want to thank Alison and Geoff, for making us feel like VIPs. Their constant state of "calm" put us at such ease and enabled her to catch the bride and groom's and bridal party and guests "best moments" . You want to laugh along with them. While at the same time she captured Dara and Sal's great love for each other with some of the most romantic and touching pictures I have ever seen. These photos continue to bring tears to my eyes each time I look at them, now a few months later. I know that my family's relationship with Alison Conklin Photography will be ongoing for many other important events in our lives.
---
Photos that tell a beautiful story
Reviewed on

4/09/2013
Rose M
Alison and Geoff both came to photograph our wedding. We were instantly at ease, having been in email contact for months and going over what we wanted. Hiring them is probably the single best choice we made during the planning process. They were never in the way, never tried to "pose" us or get us to take standard, cheezy shots... Everything was natural, easy and us. Since they were both there, they could be in two places at once and capture lots of great moments. Alison has an amazing gift for capturing not only the light at its most beautiful, but taking a picture that looks like you at your best, not some cookie cutter bride. We, and our families, will cherish these photos for years to come.
---
Incomparable
Reviewed on

12/02/2012
Laura R
Alison and her partner Geoff photographed our March 2012 wedding in Brooklyn, New York. From the first contact we had with Alison by phone through the photo-selection process for our album, Alison and Geoff have been a pleasure to work with. We initially sought out Alison because we wanted photos that captured the best parts of the day, with lots of candid shots and vivid colors as opposed to what we felt were the same-old portraits. Alison certainly did take lots of standard portraits, which are really breathtaking with several shots taken in front of the Brooklyn and Manhattan Bridges. However, some of our favorites are the pictures she and Geoff took during toasts when we are laughing or tearing up, and during the hora (the traditional Jewish wedding dance) when our guests are clapping and laughing, my husband looks fearless, and I was screaming! The calming presence and unobtrusiveness that Alison and Geoff brought to our wedding was especially meaningful. We were also impressed when Alison ran with us to a nearby carousel to take a few last photos after the cold temperature and some drizzle forced our family into the venue, and those photos ended up being among our favorites. While Alison accompanied us on our carousel adventure, Geoff was able to take some beautiful shots of the venue that beautifully capture all the work we did in planning our wedding's "theme," from the flowers to the linens to the cake-topper to the photobooth props. I highly recommend Alison Conklin Photography!
---
The definition of talent and artistry
Reviewed on

11/07/2012
rachel m
I don't quite know if there are the right words to express how overwhelmingly in love we are with our wedding photos. Alison Conklin and her husband, Geoff, are truly talented. Their photojournalistic approach captured the joy and happiness of our wedding night. From the moment we met them, we found them both to be inviting and friendly. They naturally clicked with our family and friends, making them a pleasure to work with. They photographed moments throughout our night that seemed as if they had known us our whole lives. Our wedding photos was the most important element of our wedding. We knew that no matter how much effort and money we invested into the many details, when your day is over, the photographs are all that will be left. Alison and Geoff gave us a gift that will last us a lifetime. We are forever grateful and look forward to working with them again soon!
---
The BEST part of my Wedding!
Reviewed on

11/07/2012
Michele
Where do I even begin?! I had my eye on Alison's work three years before I even met my husband and I knew that she would be the photographer to shoot my own wedding when the time came. She was my first phone call two days after we got engaged (and we didn't even have a date set yet!). Alison shot both our wedding and engagement session, and after seeing over 1500 pictures, I can honestly say there wasn't a single one we both did not LOVE. Choosing pictures for our actual wedding album was incredibly hard, as we literally could not pick! Her pictures speak for themselves. No two pictures are alike, and every photo is filled with sheer emotion and beauty. Not only does she shoot the MOST beautiful photos I have ever seen, but she and her husband, Geoff were a true pleasure to work with. They are both incredibly down to earth, personable, fun and sweet. Their communication was always prompt and they were always available to answer our calls, emails and questions. I would (and have) recommend Alison Conklin to ANY bride without hesitation. Having her shoot our wedding was the BEST decision we made throughout the planning of our wedding. It was truly the most amazing gift we could have given ourselves. We feel so lucky and blessed to have worked with Alison and Geoff, and are so grateful that we will have our beautiful photos to look back on for the years to come!
---
THE BEST!
Reviewed on

11/06/2012
Rachel F
Alison Conklin is beyond amazing! Our wedding photos are absolutely stunning and beautiful! Alison and her husband Geoff have a magical way of capturing the emotion of the night. They managed to capture moments that we didn't even know happened. Through our pictures we've been able to relive our wedding each day (not to mention watching our incredible wedding slideslow/blog while on our honeymoon)! Alison and Geoff are also so easy to be around. My husband even said he had fun taking engagement pictures (what guy says that!)! They were never invasive or directing us how to stand or what to do. We both truly felt like they were family and just part of our special day. I cannot recommend Alison highly enough!!!
---
Best of the Best!
Reviewed on

11/06/2012
dana k
Alison and Geoff were the first vendors that I booked for my Summer 2012 wedding. They are extremely professional and incredibly flexible to work with. I would highly recommend them without hesitation! They captured every detail and emotion on our special day. They are the very best at what they do!
---
Absolutely Amazing!
Reviewed on

11/06/2012
Ashleigh B
We could not have asked for a better photographer for our wedding. Not only are Alison and Geoff extremely talented, but they are two of the nicest, most sincere people I have ever met. My husband and I went through several changes to our wedding plans and Alison was extremely accomodating through the entire process. We moved our wedding from Pennsylvania to Aspen, Colorado and Alison was on board with the whole process and couldn't have been more supportive. Our photos were stunning...more than I ever imagined! If you want a photographer to capture every moment and emotion of your wedding day, you must choose Alison. She is the absolute best!!
---
Absolutely Amazing!!!
Reviewed on

1/11/2012
Kristin D
I found Alison's blog from a high school friend and fell in love with her work immediately. She was the first vendor I booked and it was the best decision I made! She is able to capture moments that most photographers wouldn't. My favorite shots from our wedding are candid and really show the love and happiness that we truly felt on that day. Besides taking fantastic pictures, she is the sweetest and nicest person to be around! She and her husband, Geoff, are the best to work with! I can't wait to have them photograph our next milestone!! (Just as a side note, my sister changed her wedding date and location just so she was able to book Alison!)
---
So much more than amazing photos!
Reviewed on

11/16/2011
lauren w
Alison and her husband Geoff photographed my wedding and I was absolutely thrilled with the entire experience! Everything that they did from the inquiring process to the final exchange of photos was highly professional and classy. First of all, every photo that they took was stunning and each moment was expertly captured. Just glancing through their work anyone can see that they take amazing photos, but what really made my experience with them so wonderful was their personal approach to their work. They began the process by getting to know me personally, understanding my style and discovering what was important to me. A friendly set of questions began the process, which honestly felt like a best friend excitedly discussing the details of my wedding with me. They asked me things like who I was most looking forward to seeing at my wedding, who was going to be traveling far to be there, and so on. I didn't realize it then, but they were listening to my answers to make sure they got pictures of the things and people that would be most important to me. If they had just come out and asked me what do absolutely want pictures of, I would have panicked and listed everything I could think of. Truly, they are so good at what they do that they don't miss a big moment. But any photographer can capture the big moments, it's the little moments that set them apart. I could not believe it when I looked through my pictures and there was a beautiful photo of the moment my childhood friend and I first saw each other. She had come from miles away and there were tears in her eyes. The thing is, your wedding day goes so fast and so much is happening at once. There is no way I could have told them that moment was so important to me, but they knew, and they captured it. After going through my photos, I found so many more little important moments like that that they managed to preserve. The funny thing is, I never remembered them being there at the time. They are photographers and artists yes, but more than that they are extensions of the heart. They gave me beautiful images of everything my heart was feeling that day, and as I look back over those photos for years to come I can jump right back into those moments and feel them with just as much love as I did that day!
---
Breathtaking work! We could not have been happier
Reviewed on

10/30/2011
Erin R
Five stars and beyond! Words cannot describe how happy my husband and I are with all of our wedding photographs! We feel as though we have received a very special gift to last a lifetime - our wedding day captured through a truly talented and artistic eye. I first came across Alison's work about a year and a half before our wedding. I found myself looking at Alison's website often, touched by the emotions, colors, and unique images. When I called to look into booking her, I immediately knew she was the one for us! Her personality truly shines (even over the phone) and her sense of warmth and kindness makes you feel at ease. When meeting with us, she really took the time to get to know us as a couple, in addition to our wants and needs for the wedding. Our engagement photo session was a day we will never forget! Alison and Geoff kept us laughing and comfortable. Our pictures came out beautifully and it was a blast! When our wedding day arrived, Alison and Geoff were unbelievable! Our family and friends were blown away by their professionalism, wonderful personalities, and ability to capture everything. They didn't miss a beat! When going through our pictures after the wedding, we couldn't believe how every single special moment of the day was documented with such beauty. When you book Alison Conklin Photography, you are not only working with unforgettable people, you are investing in memories to last a lifetime. You can relax and have total faith that you will be 100% satisfied with the final product. When looking at her blog, it is evident that she truly cares about each and every wedding she photographs. The images are breathtaking! There is not a day that goes by that I do not look at our framed wedding photographs around our home and relive the emotions of the day all over again. Thanks again, Alison and Geoff!!!
---
Amazing!
Reviewed on

10/19/2011
Holly K
My decision to ask Alison to be our photographer was made by just viewing her portfolio, I am very happy she was the one who shot our wedding. Her style in capturing those special moments is amazing! My wedding was a very simple out door country wedding and without explaining anything to her, all of my pictures reflected that and the style I was looking for. There were pictures that I didn't even know she took that were gorgeous, and I do love the not planned and posed pictures! I constantly recomend Alison to everyone I come in contact with that needs a photographer. I can only say great things about her and know her career will be nothing but successful. Alison is very fun to work with, understanding to your needs, and always gives that special touch to each one of your pictures! You will definately be more than happy with them, just like I was!
---
Amazing photographer!
Reviewed on

6/30/2011
Kim G
Our photographer, Alison Conklin, did an absolutely AMAZING job on our wedding photos. She has the ability to capture all of the special moments of the day like no other photographer can. Whenever we show someone our wedding pictures they immediately want to know who our photographer was. I just can't say enough good things about her. Not only is she amazingly talented, she is one of the most genuine people you will ever meet.
---
Phenomenal Photographer and Person!
Reviewed on

1/12/2011
Katherine C
We are so thankful that Alison and her husband Geoff were able to capture our wedding day. Alison truly understands the meaning of capturing all the moments from your wedding and her photo collection told a beautiful story of our wedding day that we will cherish forever. Beyond taking breathtaking images she is truly a wonderful, kind, person who was a breath of fresh air during our most stressful phase planning our wedding. On our wedding day, even when things didn't quite go as planned, she was a calm companion that made me realize everything was going to be ok. She possesses a relaxed natural way of taking photos; nothing is forced and she patiently captures moments of smiles, laughs, and joy as they occur throughout the day. She is always willing to go the extra mile and is genuinely interested in her couples. She and I corresponded regularly before the wedding about how planning was going and she was always there to provide friendly advice. After the wedding, a highlight photo slideshow and images was promptly displayed only days after the event. And what a slideshow! If you have never seen Alison's work, please do yourself a favor and check out her blog. Whenever I felt a little down, I visited her blog since her slideshows tell such great tales of true love and happiness and by viewing them one can't help but feel better. Seeing her photos beforehand, I had hoped ours would be just as good and they exceeded all my hopes and dreams. I know for a fact that our slideshow made several of our friends and family cry all over again viewing the beautiful images. When I first got engaged, many friends and family told me that the wedding photographer is one of the most important vendors since the photos are the most enduring element following the wedding. I wholeheartedly agree and am so thankful that I was able to have Alison to serve as our wedding photographer.
---
THE ABSOLUTE BEST!!!
Reviewed on

12/02/2010
Stacy P
Alison and Geoff did a fantastic job photographing our wedding. Couldn't have captured the emotions of the day better. After we got married, Alison continued to photograph my husband and I as a couple and then the birth of our son and now the three of us as a family. She continues to amaze us with her talent and how she truely captures the emotion with each and every shot. The absolute best photographer I have ever seen. She is a delight to work with, very personable and fun!
---
Send Message