Home

All The Fuss Events
Details
A la Carte Wedding Planning, Budgeting, Day-Of Coordination, Full Service Wedding Planning, RSVP Tracking

Contact Info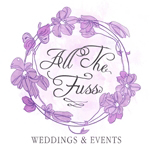 Emily and her team are wonderful
Reviewed on

12/19/2014
Christine C
Emily and the girls at All the Fuss (Amanda, Kortesia and Taryn) were so helpful in making our wedding and enjoyable and less stressful day. We had all the Fuss as our day of coordinators. The girls were professional, enthusiastic, and didn't mind me asking them many seemingly... Read More silly questions! When a couple of things went slightly awry they took care of it and made sure the rest of the event went smoothly. It was especially helpful to have their advice and suggestions leading up to the big day in matters like vendor tips, etc. It was also so helpful to have one of the girls on hand at our rehearsal, as there were a lot of little details that I think brides are not always aware of that Amanda was really helpful with. We even had some of our vendors comment on how professional and organized they were. Thank you again for everything girls!
---
BEST wedding planner ever! Huge help!
Reviewed on

9/19/2014
Erica J
My name is Erica, Emily helped my husband and I plan our August 16th 2014 wedding. Let me start by saying, She is incredible. I originally wasn't going to get a planner because (I thought) it was just an extra expense. Once I started the planning process I realized how over... Read More my head I was, having Emily's help took out so much of the stress. She took our ideas and made them a reality. She offered solid reccomendations for first class vendors that were within our budget. We had no idea on what to look for in vendors, hidden fees, Ways to cut cost etc. Emily and her team have done this a thousand times before so it's easy for her to reccomend the best vendors, great ideas and ways to make your wedding unique and memorable. I can honestly say the only vendor that didn't perform to our expectations was the one she didn't personally reccomend. Another AMAZING help was her knowledge and connections for the best pricing. For example we wanted these chair sashes with crystal broaches for each chivari chair. They were going to be $12.00 each, to rent. She found them wholesale for $3.00 each. That's only one example of the multiple times she saved us money. Not to mention, we had 250 guest. She and her team went in and assembled every single chair sash the morning of. We also had gift bags as favors. When I say bags, I mean we literally rented a Uhaul for our favors lol, it was so much work, but Emily and her team put together 250 gift bags the night before the wedding. It would have taken me days to do all that work!!! There amount of help she gave us is immeasurable. Not only did she keep us sane when we became overwhelmed, but she delivered 10 fold!!! We had the most beautiful, breathtaking, once in a life time wedding that I could have ever imagined. A month later and it's still the talk of the town. We highly reccomend hireing All The Fuss Events! Thank you Emily!!! Erica and Nkem Ojougboh
---
All The Fuss Events, Makes You #1
Reviewed on

8/13/2014
Alyssa V
We hired All The Fuss Events for Day of Coordination for our wedding at Loon Mountain to help the day run smoothly. I stress out easily, and I had interviewed a few other wedding planners before I met Emily, but once I met Emily I felt extremely calm and knew that she was the... Read More right person for the job! Emily was recommended to me by a past co-worker but her extensive background in planning events as well as her demeanor made her a right fit for us. Emily (Owner and Lead Planner of All The Fuss Events) was a great resource to have even before the day of! I was able to ask her questions and bounce ideas off of a wedding expert! Emily was super responsive - throughout the entire process she made us feel like we were her only couple! I was nervous to have my final meeting at Loon because I wasn't sure what to expect, Emily came to the meeting with me and helped taken down all the notes – having an extra pair of ears was helpful as there is so much information to go over the day before your wedding! Emily and her team did all the setup for the wedding and they implemented my ideas better than I could have even imagined! Emily and her team listened to all our wishes, needs and want and put them into action, which allowed us to be stress free the day of. Emily and her team did an outstanding job! I recommend having a day of coordinator so you, your (future) husband, your family and bridal party can enjoy the day – and when you are looking for a wedding planner do not look any further- All The Fuss is the best choice!
---
Thank goodness we hired Emily and her team!
Reviewed on

7/31/2014
We hired All the Fuss Events for Day of Coordination services for our wedding in central New Hampshire. And thank goodness we did! Emily was very communicative throughout the planning process (even when my emails made no sense!) and was quick to offer advice and vendor... Read More suggestions. Emily was super organized on Friday afternoon. She showed up a few hours before the actual rehearsal to help with setup (and hung globe lights that would've given me nightmares). She (along with her mother who served as our JP and is equally wonderful) did a stellar job at our rehearsal making sure everyone was comfortable and knew what they would be doing. On the day of our wedding, I became markedly more calm upon her arrival (a minor miracle!). She, along with her two assistants, took over the remainder of the setup, made sure everyone knew where to be, and spent time troubleshooting any issues that arose. I even lost an earring in the midst of hugging people during dinner, and her assistants found it within 5 minutes! I could go on, but I will leave it at this: Emily and her team did an outstanding job at our wedding, and I would recommend them without reservation to anyone looking to get rid of some (most) of their wedding day stress.
---
Professional and perfect wedding coordination!
Reviewed on

5/22/2014
Caitlin P
Emily and her team made our wedding day perfect. After our original coordinator disappeared three months before the wedding, Emily swooped in to save us with total professionalism. I can't overstate how important it is to have someone else worrying about all of the details the... Read More day before and the day of your wedding, and Emily handled it all with aplomb!
---
Emily and her team...first class!
Reviewed on

10/06/2013
Sonya S
Emily St. Pierre and her associates helped to make our wedding such a fantastic experience. She was such a warm presence, and yet, very understated. I didn't have to do anything on my wedding day but get married, eat, dance and enjoy my new husband, family and friends. Emily and... Read More her team made the day's events flow seamlessly. She followed our visions for the wedding to a tee, and made implementing them look easy. My mother is still raving about how wonderful she was. I couldn't recommend All The Fuss Events highly enough!
---
Great wedding coordinator!
Reviewed on

10/02/2013
Andrea D
We hired Emily to help out mostly with our day-of wedding coordination since we had a venue requiring us to bring everything in. Emily went above and beyond, meeting with us frequently prior to the wedding, helping give advice for planning & decor, finding trustworthy vendors... Read More when needed, and loaning last minute items such as easels etc. Emily and her staff were extremely professional and saw to every need-including providing a quick fix when the zipper on my dress broke halfway through the reception! The rehearsal dinner, ceremony, and reception all were perfect without any hiccups! This bride (and more importantly the mother of the bride) had a completely stress free day and were able to enjoy every minute of the wedding thanks to Emily and her staff-absolutely worth every penny and then some!
---
Amazing Planner!
Reviewed on

10/01/2013
Amanda E
All The Fuss Events is amazing! Emily and her team were so great to work with. We didn't think that we would need a planner, but after getting into the nitty gritty of planning our wedding we realized we could use some serious help! We are so thankful that we found Emily. She... Read More was incredibly responsive and organized throughout. On the day of our wedding, I didn't have to worry about a thing because I knew Emily was on top of it. She was truly a life saver, allowing us and our families to have an amazing day! I would highly recommend All The Fuss to anyone look for a wedding planner!
---
Love Emily and her team! Made our day AMAZING!
Reviewed on

10/01/2013
Kia M
Emily and her team were perfect on the day of our wedding and Emily was great leading up to it. Although I was based in New York, Emily made sure to make time for us to speak via Skype as many times as I needed. She was very helpful in researching vendors that I was unable to... Read More find and also meeting with my vendors in NH while I was in New York. On the day of the wedding, Emily and her team made sure the day ran very smoothly. Our wedding had a lot of logistics with getting our guests to the ceremony location and although we had a few hiccups with some of our vendors, I had no idea until after Emily and I discussed the wedding after I returned from my honeymoon. That's just a testament to how great she is that I thought the day ran smoothly. Emily and her team also made sure that my family was taken care of in every since of the word. She made sure the elderly members of my family had plates of food before the buffet even began. She was amazing and our day would not have been complete without her and her team. All the Fuss Events is great!
---
Amazing!!
Reviewed on

9/30/2013
Patty M
In the months leading up to our wedding day and the day of Emily and her team were absolutely AMAZING. She was so responsive with any questions or advice I needed as well as knowledgeable! My wedding was outside basically on a lawn with VERY little facilities and I never would... Read More have been able to pull it off without Emily's help. She completely saw our vision and made our wedding day EXACTLY what we wanted it to be, all the while making me and my husband feel comfortable and relaxed. The piece of mind that Emily and her team gave us is absolutely priceless and I look forward to hosting an event that I can use her for again!! Thank you SO MUCH, Emily!!! You are fantastic at what you do!!
---
Great Wedding Coordinator
Reviewed on

10/24/2012
Sharita T
Emily and her team from All the Fuss are great to work with! If you are able to book your date with All the Fuss Events do so quick cause the word is getting out about how great her company is. She made sure my day went off without a hitch. Things I forgot about on my wedding... Read More day she took charge and made it right. Hire this team and you'll go worry free on your wedding. I used All the Fuss for day of coordinator which included a meeting a couple weeks before the wedding, rehearsal help, and wedding day help. She also came that week before the rehearsal to make sure I was all set with everything. I would say hire a coordinator it will save you a lot of stress so you can enjoy your special day.
---
could not have done it without her
Reviewed on

10/24/2012
lucinda c
My daughter and I met Emily from All The Fuss Events at a bridal fair and we fell in love with her on the spot. She was so enthusiatic about our wedding and had so many thoughts and ideas that we just knew she was for us. My daughter's wedding was in the middle of a field in... Read More the middle of no where and without Emily and her crew it would never have been as amazingly beautiful as it was. She and my daughter had met on a number of occasions and Emily got to know my daughter and really embraced her vision. Emily had some great ideas and recommendations and helped my daughter get everything lined up including enlisting her Mother, who the JP for the ceremony. Emily and her Mother were there to faciliate the rehearsal and were back the next day with the crew to get things set up. They even brought a wheelchair to aid the grooms grandmother! The wedding was set up exactly as my daughter wanted - they took care of all the deliveries and made sure everyone was where they needed to be on time and perfectly turned out. They were there until the very end including folding and repacking all the linens. We didn't have to worry about a thing on the day of the wedding and could completely enjoy a worry free day! Hiring All The Fuss Events was the best thing we could have done to make the day simply perfect.
---
Would not do this without her!!
Reviewed on

8/30/2012
Michelle M
Emily was AMAZING!!!!!!!!!!! I would most definitely not plan another wedding without you. She took care of sooo much stuff that no one else had to even think about. Her team was great!
---
Excellent planning = excellent wedding day!
Reviewed on

7/09/2012
Sarah R
Emily and her team at All The Fuss Events worked hard to make my wedding day stress free and organized. Emily took care of every detail - planned and unplanned! She is creative, organized and pays extreme attention to detail. My husband and I can't sing her praises enough. Her... Read More professionalism coupled with her understanding of a bride's needs is unmatched. I will recommend Emily and All The Fuss Events to any couple looking for help planning their wedding. We couldn't be happier with the way our special day turned out.
---