Home

Al's Formal Wear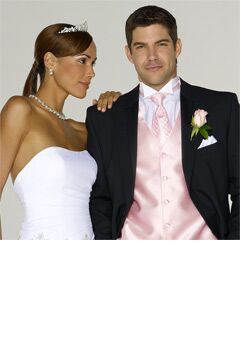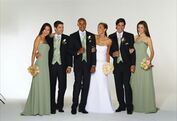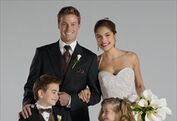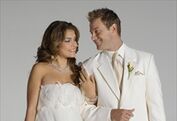 About this Vendor
Al's Formal Wear specializes in wedding tuxedo rentals and sales, and operates over 100 stores in Texas, Oklahoma, Arkansas, Louisiana and Colorado. Featuring 55 tuxedo styles and hundreds of accessories, Al's Formal Wear is the perfect fit to begin your happily ever after.
Details
Group Discounts, Rentals, Cummerbunds, Shoes, Ties, Tuxedos + Suits, Vests
Contact Info
6 locations to serve you, Austin, TX
Very helpful
Reviewed on

10/14/2013
kerrie s
Highly recommend. !
---
Great Service
Reviewed on

1/21/2013
Gail U
Al's was great in getting everyone measured and notifying if someone was not (in a timely manner). We had plenty of rental time and alterations were done super fast!
---
My Groom Looked So Handsome!!
Reviewed on

11/07/2012
Zeena O
My husband and I went to Al's Formal Wear to get his and his groomsmen's tuxes for our wedding. We picked out a white jacket (James Bond style), with a white shirt, black pants, black shoes, and black vest and tie. I swear to God, he has never looked more handsome! Our ring... Read More bearer matched his tux and it was so adorable! Everybody commented on how handsome my husband looked and that they loved the white jacket. The groomsmen wore black tuxes with white shirts and silver vests and ties, and they looked so sharp and put together too. Al's did a great job of tailoring the tuxes to fit them all perfectly, plus they were very affordable. I highly recommend them if you aren't looking to purchase tuxes that you are most likely never going to wear again.
---
hit and miss
Reviewed on

10/04/2015
MELISSA R
good things first.... My dad looked great and it worked out for him. My now husband, looked very handsome on the day, but we did have to go like 3 different times in order to get things done... He was measured, and we were told to come back for a fitting, we did, and changes... Read More needed to be made. He was re-measured and the day we came to get his stuff, none of the changes discussed during the fitting were done... so after things were re measured, again, we got it taken care of. Now, my brother in law, oh I feel for him. It was a terrible experience for him. Because he and my sister live out of state, they couldn't come in to be measured, but they call in the measurements. However, when they tried it on, nothing really fit. They were told it was because they were not measured there, but my fiance was... and we had issues so.... They did not offer many options unless he asked for them. And although they have a website, you can see all of their options in the store not online. The quality of some of their suits was not the greatest. My brother in law's pants ripped, and all of the men in my family complaint about the shoes
---
He looked amazing!
Reviewed on

11/09/2014
Marissa M
MY husband went to Al's for his wedding tux, had a great fitting where the guy helped him learn about and pick what he wanted. He looked so good, and we complimented each other well without having seen the other's outfit! Pick up and return were super easy. Was a little more... Read More than I expected cost-wise, but I really didn't know what they cost to rent.
---
Great!
Reviewed on

10/20/2014
Lisa M
Very nice to work with and affordable!
---
Als Formal Wear
Reviewed on

8/22/2014
Rachel J
The San Antonio locations are awful! Terrible customer service. None of the sizes were correct once they were picked up. They had our order wrong 8 times... no exaggeration. We had to continually call and go into the store to correct the order. They have good colors, but it is... Read More not worth the hassle.
---
Looking good
Reviewed on

7/12/2014
Celeste S
All 5 tuxes for $500. They were fitted perfectly and the Lakeline Mall folks were a joy to work with. Plus, my husband got a suit as part of a deal. Will take all my business there from now on.
---
Don't use them!
Reviewed on

2/25/2014
Robyn R
We had the worst time with Al's. We used the Round Rock store and I began to regret the decision pretty early on. While we did get what we picked out, we had to make one of our groomsmen get remeasured the week of the wedding because the store he went to had lost his... Read More measurements. I felt like I had to babysit them way too much. Go somewhere else!
---
Arwin Thompson
Reviewed on

10/20/2013
Arwin A
Great find if you are looking for your attire with only just a few days to spare before the wedding. They have the best rental deals & you can rent it the whole weekend for a one day price.. that's winner.
---
Al's Formal wear
Reviewed on

7/15/2013
Jennie V
We were not very pleased with Al's formal Wear. It was expensive and ever time we tried to change something it wouldn't get changed so we had to call or go there several times. In the end everything came in right, but the process was stressful.
---
good service
Reviewed on

6/28/2013
cecilia g
The guy who helped us was extremely helpful and friendly
---
Not exactly what I expected
Reviewed on

3/26/2013
Savannah S
I met a representative of Al's at a bridal fair in Austin and was very excited since she seemed very excited and willing to help work with us because our wedding was very colorful. However, when my (now) husband and I went to get the men's outfits picked out, another woman was... Read More there and she was not very helpful at all. She acted as though we were interrupting her time. Although we did finally get everything sorted out and picked, the day before the wedding when all the groomsmen had picked up their outfits, we noticed a part of the tux as missing. I called Al's and they assured me the missing pieces would be available by noon the next day, the day of the wedding. Although they were in fact available, several of them were not the right size.
---
Treated the Father of the Bride like CRAP!
Reviewed on

1/14/2013
Jane J
These people promised my father that he could buy a tuxedo jacket for my wedding for around 100 dollars but then when the time came to purchase (the day before the wedding) they told him he had to purchase the entire tuxedo for more than 300$! My dad was furious and had to go... Read More somewhere else to get his tux jacket.
---
Did the job
Reviewed on

12/28/2012
Dana R
We used Al's for my husband's suit as well as his two groomsmen. We could have probably rented suits cheaper but we wanted a place that had several locations since the groomsmen are spread out around the outskirts of Austin. We were pleased with the color options and the fact... Read More that they provided everything we needed (including shoes).
---
nice
Reviewed on

11/05/2012
Tracey R
Nice tuxedos
---
Got the job done
Reviewed on

7/18/2012
Kelly K
Al's was an interesting experience for us. We went into the tux shop in March to take care of everything. We went back in three separate times to alter colors or styles and each time had the frustration of having to start all over because they couldn't find our information. On... Read More the Friday before the wedding when all the groomsmen and my husband went into pick up their tuxes, my husbands was at a completely different location and they had to wait two hours for it to be shipped. It made no sense since we had only talked with this store and went in three separate times to fix things. They were very unorganized and unaware of what was going on. Overall, even though there were a lot of mix ups they fixed it and everyone looked good for the ceremony
---
Awesome Tuxes
Reviewed on

6/24/2012
Jaclyn D
All the men that took part in our wedding looked FABULOUS! Al's formal wear did a great job on our wedding, and they even extended our returns to another day free of charge as we were too busy the day after our wedding.
---
HANDSOME!
Reviewed on

6/23/2012
Lindy M
Bill Clift was outstanding at the Al's at 183 and 360! So customer-service-oriented and kind, remembered everything about my husband and his family! A+++ The boys looked so handsome!
---
Rare suit
Reviewed on

6/06/2012
Natalie O
We chose to have our bridal party in Tan suits...not very popular among tuxedo rental shops! There are not many in our area as it is so we were forced to use Al's. The experience was not horrible, but definitely could have gone smoother!
---
Not Bad
Reviewed on

6/03/2012
Samantha C
had never used them before and got a great deal through a bridal show. The only real issue we had was with the shoes as not all of the sizes were correct during fitting and they were unable to fix it before the wedding.
---
Be careful matching colors...
Reviewed on

5/17/2012
Erin S
I used the coral and pistachio colors through Alfred Angelo to match things for my wedding. I'm originally from Texas which is where we were having the wedding, but I currently live in Seattle, so since I was planning long distance, I had to rely on fabric swatches and others to... Read More help me with these sorts of details. Originally the plan was to have my bridesmaids wear coral and my maid of honor wear pistachio along with the guys. In the end, all of my bridesmaids ended up wearing coral, and thank god they did, because the green that my groom and the groomsmen showed up in that day was nowhere near the pistachio from Alfred Angelo. It was much more of a sage green, almost borderline forest green, which was way too dark. I think it might be a stretch to say that those two greens coordinate. When I first saw my ring bearer in his tux the day of the wedding, I almost had a heart attack because the green was completely wrong. I thought maybe they had sent him home with the wrong color, but no, all of the other guys were wearing the same wrong shade of green and they all picked up from different locations throughout Texas and specifically requested pistachio, so pistachio green according to Al's does not match pistachio according to Alfred Angelo, at least not in my book. It ended up not being too bad since my maid of honor wore the coral dress and there was nothing next to the guys to compare the color to, but I still wasn't too pleased.
---
Very Helpful from the Beginning
Reviewed on

5/17/2012
Briana B
You can't go wrong with Al's Formal Wear! Pricing for our groomsmens tuxedo's was about $140...this included EVERYTHING (except undies!) from the tux, shirt, tie, vest, pants, socks, shoes, etc. And the grooms, if you have at least 5 groomsmen, was only a $40 tux rental. They... Read More were very helpful with their viewing selection as well!
---
Get what you pay for!!
Reviewed on

5/07/2012
Stephanie T
This was by far the most stressful part for me. I do not like the fact that you only get one fitting and if any changes need to be made you have to pray it works out because you do not get to see the tux until 2 - 3days before the wedding. If your groom is at all a odd size,... Read More ie: broad shoulders or taller/shorter than average you may have some problems. The tuxes looked great but definately needing some extra tailoring but you get what you pay for.
---
The boys have too look good too
Reviewed on

3/20/2012
Jamie M
I chose Al's because they were offering some discounts and they have a destination wedding policy. Since we had a cruise wedding we were not able to return the tuxedo next day. At the location we used (183 at 360) the staff was nice enough but weren't really that helpful. I'd... Read More never gone to a tuxedo rental place before but I thought they would have a variety of things for the guys to try on. It was more like choose from the catalog. They had a basic sample we could try on for sizing but just like trying on dresses you never know how its going to look unless you get to try them on. Obviously they can't stock everything but I found the experience disappointing. When we picked up the tuxedo they did not make sure the fit was correct when my fiance tried it on and I had to keep asking questions. There were marks on the tuxedo that looked to be dust or something. I would expect that they would inspect the outfit and make sure it fit properly as part of the normal service. Overall everything was fine. The color of green that we chose wasn't an exact match to the David's Bridal dress color we chose but it was close enough.
---