Home

Al's Formal Wear
Details
Custom Designs, Group Discounts, Online Ordering, Rentals, Fashion Services, Bow Ties, Cummerbunds, Shoes, Ties, Tuxedos + Suits, Vests, Menswear, Fashion


Contact Info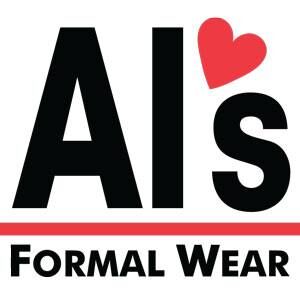 Reviewed on

3/05/2017
Rebecca S
Just to be clear, this 1 star stands for a NEGATIVE 1000! This business was the absolute worst that I have ever dealt with. They lied to me consistently. The staff was rude and oh yeah, our groomsmen's "tuxes" had to be duct taped onto them in order for them to even remotely... Read More stay on. From beginning to end this place was a nightmare. I was also promised 40% off on wedding invites but as soon as I signed the contract they said they changed their minds and now they wouldn't be offering the discount. Also be advised that they absolutely DO NOT match the colors of Alfreds Bridal next door like they proclaim! Lastly, there is no way this company was rated highly on the knot without it being by fake reviews! If you check google you will see that all reviews of this place are only 1 star!
---
Reviewed on

7/31/2016
Lyle B
Al's helped me find exactly the perfect tux for me and my groomsmen. No way I would recommend anyone else but Al's. We looked at every possible store, and Al's won out on service, quality, friendly staff, and price. Thank you Al's OKC for getting me in my dream tux!
---
Bad customer service
Reviewed on

7/12/2015
Kaycee S
The suit we rented was decent but we could have gone with anyone. We chose Al's because they were offering a $70 off per rental at a bridal show we attended. I'm giving them a low review because the person we worked with at the 41st and Yale location was rude. Her name was... Read More Barbara and she's awful. If you are going to use Al's, use the 71st location. Also, they use an outdated computer system and they were not able to communicate with the other stores about who had been measured and who had paid. It was a mess trying to get any of that information.
---
Great value. The guys looked sharp.
Reviewed on

1/25/2015
Allison L
Our tuxes looked great! My husband loved that he could come in for a groom's fitting a few weeks before the wedding to make sure he liked everything. Prices were reasonable. Linda at the OKC location on May was really helpful.
---
Nice Suits
Reviewed on

12/03/2013
Ashley M
My husband and groomsmen ordered their suites from Als Formal Wear. They were nice suites and decent priced.
---
Just Fine
Reviewed on

10/14/2013
Bethany S
The tuxes fit the men great. Only thing I didn't like was the toddler tux, it was oversized and didn't fit very well. If we had known it would fit so awkward, we would have just bought him gray pants.
---
So helpful!
Reviewed on

9/16/2013
Megan E
The staff at Al's were amazing through the entire process. They were very helpful and personable when planning the wedding. They sat down and went over styles, options and prices with us. When problems arose (my husband is 6' 8" and getting his fit was tricky), they were quick... Read More to find a solution and made everything perfect.
---
Great staff!!
Reviewed on

7/23/2013
Stephanie J
I love the variety.
---
Al's
Reviewed on

7/13/2013
Heather W
There weren't a lot of options, but the prices were ok, and having multiple locations worked out for us! They were flexible and easy to work with.
---
GREATTT!
Reviewed on

7/03/2013
Nicole b
Overall I was very satisfied with the tuxes. They made everyone pick them up and TRY THEM ON THE Thursday before the wedding, so on the day of the wedding there weren't any surprises. Any issues or weird sizing they had they fixed it before the wedding. My husband was just... Read More recently in a wedding and they got tuxes from Men's warehouse. They did not make him try anything on and the pants and vest were too small....This also happened in another wedding where they used Men's warehouse. Al's was great!
---
Dashing Men
Reviewed on

6/18/2013
Katie B
My guys looked great. We had a few problems when we picked up the tux's but they fixed it right away!
---
Tuxedos
Reviewed on

6/11/2013
Tiffany B
We loved the Al's in Norman. Terrance is wonderful!
---
terrance
Reviewed on

5/10/2013
aubrey b
terrance at the norman, ok location was the absolute best and made everything stress free for us!! i cant thank him enough. highly recommended!
---
Ups and Downs
Reviewed on

5/08/2013
Sheila N
I'm going to start on a postive note and say that the workers here at Al's besides a lady named Linda is very helpful and understanding and tried really hard to make you happy. Coleen was great and she did EVERYTHING in her power to make it fair for me. Overall the tuxs were... Read More good but not great. My husband was not happy with his at all and instead we went to buy him brand new tuxs and let his father wear his which fit him really well. The tuxs were not as fitted as I liked and seemed to swallow some of them. But the color match was dead on after we picked out the right color. For what we paid I wish it was fitted and fit the groomens better. But overall everyone was happy and looked good.
---
Awesome Customer service
Reviewed on

5/07/2013
Chelsie P
The staff at the alls formal on yale was absoultly wonderful. we had attendance ranging from age 14 to 36 and they treated them all with the up most respect, They fixed any sizing difference witin 24 hours. And they worked will with us considering not all of out attendance could... Read More make it in store due to being from a state that does not have an als. They accepted measuments from other store as most place ( Even for my dress) would not I would deffiantly recomended them for any formal wear needs
---
wonderful
Reviewed on

4/11/2013
Kristi B
Al's had lots of great choices in all price ranges. we selected one type for the groomsmen and another for the groom. all the tuxes arrived with no missing pieces and everything fit. everyone looked great and the groom's tux was free so you can't beat that.
---
Great tuxes and great service
Reviewed on

4/02/2013
Rebecca W
Tuxes turned out perfect - no complaints! Very helpful staff; they were very patient in helping us pick out invitations. Was really nice to see hundreds of invites in person; made it much easier to choose! Staff is A++++
---
Tuxes
Reviewed on

12/20/2012
Susanne M
The guys looked fantastic! They were able to help determine which guys would wear what color, what was more traditional and what was popular. They were very accommodating on obtaining everyone's sizes as well.
---
Quite Disappointed.
Reviewed on

11/08/2012
Stefanie
We ordered the Tuxes several months before the ceremony, and they guys had gone in to do their final fittings. Finally the tuxes came in a week before the wedding. First, two of the guys's pants were completely the wrong size, then one of the guys shoes, and the groom's shoes... Read More hadn't come in. So they worked to fix them, and it was about 2 more days and the fixed items came in. I went up there just to pickup the Best Man's pants, and my groom's shoes. I got the pants, but the shoes were 3 sizes too big. We had to send in for them to order them. By the time we got the shoes, it was the day before the wedding. I was quite upset. Luckily all turned out well, and all of the guys looked amazing!
---
pretty
Reviewed on

10/18/2012
Kelsey H
our invitations were very pretty we loved them!
---
Issues!
Reviewed on

10/06/2012
Priscilla W
Als Formal Wear was great at working with me and helping with last minute preperations, but there were some disappontments as well. First of all, when my father and brother went to get their tux, neither one fit right. Because of this, they had to pick up their new tuxes the... Read More day of the wedding. They still did not fit right, but they worked. On the day of the wedding there were also issues with the color of the ties. Some of the groomsmen were given black ties and some were given green ties. Thankfully the local Als Formal Wear had two extra green ties that they were able to bring to us! I have mixed feelings about this place.
---
So helpful and easy!
Reviewed on

8/28/2012
Leigh Ann S
Al's Formal Wear was SO great for our wedding. The staff was knowledgeable and made the selection of our tuxes incredibly easy! We really enjoyed working with them and appreciated the price.
---
Amazing
Reviewed on

8/02/2012
Skylar S
They did a great job at helping us get everyone fitted.
---
Very helpful!
Reviewed on

7/01/2012
Lora S
They were willing to match the price of another tuxedo store around town, so we saved a lot of money from them! When we ordered the tuxes, we didn't have the bridesmaid dresses picked out yet, so we couldn't pick out the matching groomsmen's vests. Al's never called us to... Read More remind us that we needed the vests (turns out they input both mine and my now husband's numbers in wrong), but when we went for the final fitting, they ordered the vests, ties, and handkerchiefs for us, without charging us anything extra, so it all worked out in the end! We also got 40% off of our wedding invitations which really helped with that cost!
---
Great
Reviewed on

6/29/2012
melissa c
Very helpful and friendly, the tuxes were great too!
---