Home

Al's Formal Wear
Details
Alterations, Custom Designs, Group Discounts, Online Ordering, Rentals, Fashion Services, Bow Ties, Cummerbunds, Shoes, Ties, Tuxedos + Suits, Vests, Menswear, Fashion



Contact Info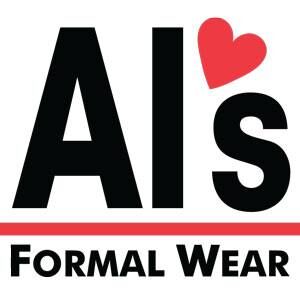 Address
18 locations to serve you, Throughout DFW Area, TX
WEBSITE
Reviewed on

11/07/2016
Kayla Q
If I could give no stars I absolutely would. They were a nightmare to work with from the beginning. I will tell everyone to not use them. First they messed up the contract... they gave us 2 free tuxs but then refused to honor it after they said they had to if it was in the... Read More contract... we checked the contact and sure enough it was but they still refused. They made one of our groomsmen come back and pay the remaining balance when it was their fault. Second, when another groomsmen picked up his tux he told them it felt too tight they told him it must be because of his "gut"... so basically calling him fat and then when he called them out on it they 2 girls just laughed. One of tuxes was missing buttons, another jacket and shirt was way too big and they couldn't or wouldn't (who knows) give him another size (they measured him by the way). That groomsmen had to safety pin his shirt together in the back because it was so big. He ended up changing right after the ceremony because he looked so bad. Just don't use them! Stay far, far away... pay the extra money and go somewhere else. Somewhere better.
---
hit and miss
Reviewed on

10/04/2015
MELISSA R
good things first.... My dad looked great and it worked out for him. My now husband, looked very handsome on the day, but we did have to go like 3 different times in order to get things done... He was measured, and we were told to come back for a fitting, we did, and changes... Read More needed to be made. He was re-measured and the day we came to get his stuff, none of the changes discussed during the fitting were done... so after things were re measured, again, we got it taken care of. Now, my brother in law, oh I feel for him. It was a terrible experience for him. Because he and my sister live out of state, they couldn't come in to be measured, but they call in the measurements. However, when they tried it on, nothing really fit. They were told it was because they were not measured there, but my fiance was... and we had issues so.... They did not offer many options unless he asked for them. And although they have a website, you can see all of their options in the store not online. The quality of some of their suits was not the greatest. My brother in law's pants ripped, and all of the men in my family complaint about the shoes
---
Don't do it!
Reviewed on

8/07/2015
Jessica M
Got a call a week before the wedding that the location we booked the tuxes at was closing in one day. Had to go to a location to pick up tuxes 20 miles from us. They messed up 3 peoples measurements and forgot articles for 2 of the groomsmen. Didn't offer any credit for... Read More their mistakes. They charge way too much for a rental place.
---
Great Pricing for a Great Look
Reviewed on

6/16/2015
Skye B
When we started looking for the groom and groomsmens' clothes we had trouble with other places since we did not want the suit jacket (we had a garden wedding). Other places were going to charge 213 to meet our specifications or 240 for the whole suit. Al's worked with us and got... Read More what for the most part. The only drawback was when our orders came in we discovered the shop had ordered solid colored ties instead of striped ties like we requested. Also the vest we had been shown in store had the color matching the entire way around while the one that came in had a white back. Our gentlemen still looked dashing, just not to our exact expectations. Overall I would still recommend them for service and value.
---
Reviewed on

6/10/2015
Melissa V
Al's was definitely the most frustrating part of our wedding. My husband and I had gone into the Belmar location several times before the wedding to clarify some details about colors and styles. The employees indicated that they had made the changes to our file. However, when... Read More our groomsmen picked up their suits, we found that the pants were wrong, one groomsman's pants were broken and wouldn't stay up, and another's was missing pieces. My husband spent the entire morning of the wedding running around to different stores fixing Al's mistakes. When we returned the suits, the lady didn't even check the bags to make sure everything was returned. I think Al's has great pieces, but is short staffed and poorly run.
---
They Did Good
Reviewed on

1/20/2015
Nelly L
We used Als Formal Wear for tuxes for 3 groomsmen and one groom. They had a great selection including the color we wanted at an inexpensive price. Their tux package includes everything you need so you do not need to go anywhere else for things like shoes. It is nice that... Read More there are so many ALs stores nationwide and statewide. This helped our groomsmen get measured and not have to travel far. This also helped when a mistake was made in the ordering of one of the groomsman's tux. Als was able to call another store and get the right size shipped and ready to pick up in time for our big day. I was mildly concerned that the tux would not arrive on time but Als did a fantastic job with remedying the situation. Returning the tuxes was easy and again so convenient that there are so many stores you can return the tuxes to. I did not go with the groomsmen to get measured for their tuxes but I was with my then fiancé to get measured for his and the staff was very helpful and kind. I would use Als again for my formal outfit needs.
---
Suit Rentals
Reviewed on

12/22/2014
Christa K
I used the Al's in Ft. Worth, TX. They were very friendly and helpful while picking out our suits. I was very unsure about using Al's for our groom and groomsmen. I had the impression they were poor quality and not made well. When we went and looked they had a variety to select... Read More from. They had the right color for my wedding. They were very decently priced too! The quality was great for rental suits.
---
Great customer service and wonderful selections!
Reviewed on

11/30/2014
Samantha S
We loved Al's formal wear in Aurora, CO. The manager of the store, Sheri was the nicest and most easy and helpful person to work with. We had walked into a Men's Warehouse looking to rent from them because they're big name and located everywhere. My husband asked to try on a... Read More couple different jackets and we were told that we couldn't try on anything! At Al's, you place your initial order and then once it arrives if you don't like it, you can order something else. They have a great selection at a cheaper price than Men's Warehouse, and the customer service is excellent!
---
Horrible Service
Reviewed on

11/18/2014
Katie P
We ended up going to the southwest plaza location and it was horrid! The first time we were there we were the only people in the store, then another party walked in and we were brushed aside and only helped when they were done with the other people. They did not keep records... Read More so when we went to pick the tux up the manager said we owed $126.00 more than we did. We needed a receipt to prove that we put a down payment. I will never use them again.
---
He looked amazing!
Reviewed on

11/09/2014
Marissa M
MY husband went to Al's for his wedding tux, had a great fitting where the guy helped him learn about and pick what he wanted. He looked so good, and we complimented each other well without having seen the other's outfit! Pick up and return were super easy. Was a little more... Read More than I expected cost-wise, but I really didn't know what they cost to rent.
---
Great service
Reviewed on

11/09/2014
Bonnie J
The staff at Al's was very helpful in getting everyone fitted for the tuxes, no easy feat with my son! Quality product and helpful staff.
---
Great!
Reviewed on

10/20/2014
Lisa M
Very nice to work with and affordable!
---
Great for a Brital Party in different Cities
Reviewed on

9/24/2014
Ashley L
Al's is a well oiled machine, which is what you need for men to get a tux! It was easy, inexpensive, and their location all over the US helped our bridal party get their measurements in one city, and pick up the tux in another!
---
Als Formal Wear
Reviewed on

8/22/2014
Rachel J
The San Antonio locations are awful! Terrible customer service. None of the sizes were correct once they were picked up. They had our order wrong 8 times... no exaggeration. We had to continually call and go into the store to correct the order. They have good colors, but it is... Read More not worth the hassle.
---
Service So So
Reviewed on

7/29/2014
Susie M
Service was so so, quality was so so
---
Guys looked great
Reviewed on

7/29/2014
Melanie M
The tuxs were all nice and for a great price. Even got some for Dad's that were flying in and would rather pay $90 to rent it. Would have liked a larger purple selection but we just went with buying ties for all the guys.
---
Decent Tuxes
Reviewed on

7/23/2014
Katie O
We selected the perfect tuxes for our wedding theme. However, day of the wedding, numerous of the groomsmen (including the groom right before he walked out) had issues with the buttons on their jackets. They all started coming off! The tuxes fit perfectly, so it was not an... Read More issue of them running small, but rather really poor quality. Luckily, one of the mom's was a seamstress and we were able to quickly fix all missing buttons. When we returned the tuxes the next day we were simply told "sorry" and that the tuxes were new so there was no reason for them to be falling off.
---
Fantastic experience
Reviewed on

7/22/2014
Ashley D
We rented from the Centerra location in Loveland, CO. The staff was incredibly helpful, the tuxes were amazing, and the value was great too! We couldn't have asked for a better experience in renting 10 tuxes in various colors for our wedding party.
---
It was very expensive
Reviewed on

7/20/2014
Kiara V
They were very expensive left and went to tuxedo junction
---
Didn't meet our expectations
Reviewed on

7/15/2014
Cierra M
We chose Al's because I went to the bridal extravaganza, and put a downpayment on my groom's tux because they were running a special. The first time we went, the service was great, but they ordered the wrong size of everything. Closer to the wedding, it was a good thing we... Read More called because they never placed the correct order for his suit. It was a disaster. Finally when it did came, the shirt and shoes were the wrong size again. Not only did my groom have a problem, but everyone else who got their tux from the Al's at the Colonnade in San Antonio had problems as well. The guys who ordered from Al's in other locations had a great experience. So overall, Al's isn't bad, but choose a different location!!!!!
---
Looking good
Reviewed on

7/12/2014
Celeste S
All 5 tuxes for $500. They were fitted perfectly and the Lakeline Mall folks were a joy to work with. Plus, my husband got a suit as part of a deal. Will take all my business there from now on.
---
my man looked sexy!
Reviewed on

4/26/2014
Sarah O
We originally went to them because of my dress coming from Alfred Angelo, but I was pleasantly surprised at how handsome the tux and suits were for the wedding party. My husband looked his finest in a stylist tux from them!
---
Great help!
Reviewed on

3/31/2014
Megan
Great services! We had to change our tux colors and had a custom order and they called to remind us of everything! Big help and very nice people.
---
Was it worth the hassle...
Reviewed on

3/12/2014
Amber C
I have never used Al's Formal Wear before my wedding. I first went to the Allen/Fairview, TX location. They were so rude. They were like, "oh those are your colors, then you need this tie and this vest..." I told them I wanted three different tuxes so everyone would look... Read More different. I got, "oh no, no that won't look good in pictures." Basically, I was not allowed to have an opinion. They decided what I wanted for me. Very bad experience. Luckily, I have the regional managers information. I e-mailed her to let her know the situation. She apologized and transferred our account to the Frisco, TX location. Well, this was not any better. First off, the gentleman that helped up was wearing khakis and a Pink Floyd album cover shirt that had bunnies on it. He was almost the same way. He was suggesting different things. I finally had to put my foot down. "No, I want this for him, this for him, and this for him." Even then he wrote down the wrong tuxes and was arguing with me that two tuxes were the same when they were not. Not to mention that they gave the groomsman the wrong size tux two days before the wedding. I forgot to mention that Al's Formal Wear does not have fittings. They get your guys measurements and if they have a jacket in the store they will have them try it on but that is it. Then the "pick up" is two or three days before the wedding. So if something is wrong or not the right size, you just have to hope they can get it by the wedding date or you are SOL. They are cheaper than Men's Warehouse and they have a bigger selection, but is it worth it...?
---
Don't use them!
Reviewed on

2/25/2014
Robyn R
We had the worst time with Al's. We used the Round Rock store and I began to regret the decision pretty early on. While we did get what we picked out, we had to make one of our groomsmen get remeasured the week of the wedding because the store he went to had lost his... Read More measurements. I felt like I had to babysit them way too much. Go somewhere else!
---