Home

Al's Formal Wear
Details
Custom Designs, Online Ordering, Rentals, Fashion Services, Bow Ties, Cummerbunds, Shoes, Ties, Tuxedos + Suits, Vests, Menswear, Fashion
Contact Info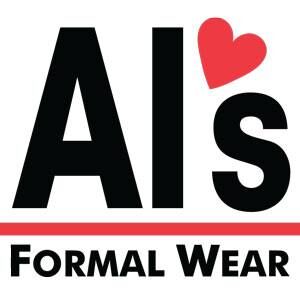 Address
Throughout West TX Area, TX
WEBSITE
Some Mishaps Along the Way..
Reviewed on

1/27/2015
Ashley W
The service at Al's was great, but there were several things that were incorrect when our groomsmen picked up orders.
---
Corpus Christi, TX Shop is the Best!
Reviewed on

9/09/2014
Gina R
My husband, his groomsmen and my father rented their suits for our wedding from the Tuxedo Junction in Corpus Christi. The employees were all very friendly, helpful, and knowledgeable. They made the whole process very simple and carefree. The suits we chose were beautiful and... Read More the prices were the best in town. I definitely recommend them!
---
Sweet People/Great Experience!
Reviewed on

8/17/2014
Arely V
The ladies that run the Al's in town are wonderful. However, our poor guys had the hardest time there! They had came into town months before for their fitting and the day before the wedding have of the suits were wrong because they were either too long/short/tight/loose. Even my... Read More poor groom had to have emergency alterations because the pants were way too long. Regardless, they ensured that we would come out of their happy and they did what they had to!
---
Good
Reviewed on

6/24/2014
Nichole S
They did a good job!
---
grooms attire
Reviewed on

6/12/2014
Amy M
Inconsistent
---
Easy and friendly
Reviewed on

5/05/2014
Tembri M
Al's made our tuxedo rentals easy. We had groomsmen and ushers scattered around the US, and they were able to get everyone fitted. They had very nice looking tuxes at decent prices and were very friendly.
---
Tuxedo Rental
Reviewed on

11/07/2013
Jessica S
The tuxedo rented was a new style that fit well and there were plenty of color options to choose from. The salesperson that attended to us was friendly and helpful. She made the experience painless and did not feel like a time consuming chore.
---
Wedding!
Reviewed on

8/08/2013
Melissa R
They were very helpful in choosing the right tuxedo for the groom and groomsmen. Variety of styles and colors for the vests.
---
Abilene Al's Formal Wear
Reviewed on

7/25/2013
Paige W
Al's Formal Wear in Abilene was a great place to rent from. They have great deals and really planned out every detail with my husband and I.
---
good place
Reviewed on

4/23/2012
Katrina K
very helpful and nice staff just wish they had more selection in store
---
tuxedos
Reviewed on

12/11/2011
Lory B
We went in to order the tux's for the wedding and everything was good. Well three weeks before the wedding when we went to measure my son for his tux, it all turned to crap. Our order was entirely wrong, the prices that were given to me the first time around were not accurate.... Read More Everything was just a big mess, talk about unorganized. Apparently they were going through some staff changes, so the manager who initially took my order was giving out whatever she wanted. It took a little bit but they fixed everything and I was able to get back on track with a little more out of my pocket that I had been told.
---
tux
Reviewed on

9/03/2011
Krystal T
when the tuxedos came in 2 days before the wedding and some of the tuxedos have different color vests. Father of the grooms white shirt didn't fit and they weren't able to get another shirt until the day of the wedding like an hour before. We didn't even get the shirt because... Read More the wedding was in odessa and he was very busy. He just used a shirt he had
---
It all worked out
Reviewed on

3/09/2011
Rachel W
I was very pleased with the quality and style of the tuxes we picked out. We were in there trying all kinds of colors, changing tuxes and colors a ton of times, but they were great about making sure we were pleased with everything. We did have some issues arrive when they were... Read More shipped from the warehouse, but the district manager was very helpful and took care of us. Thank you everyone.
---