Home

Amadeus Quartet
About this Vendor
Ceremony, Cocktail Hour and Reception Musicians
The Amadeus String Quartet can create the perfect mood for your wedding ceremony/cocktail hour and reception. We play at weddings through Westchester, Dutchess/Putnam/Columbia County in the Hudson Valley, Rockland County, New York City, Connecticut, and New Jersey. We offer a diverse and beautiful repertoire of wedding ceremony and cocktail hour music ranging from classical, contemporary, rock, pop and jazz standards. We can provide custom arrangements of any contemporary song you desire. We even play pop music for dancing with our wonderful trumpet player!
Details
Cello, Trumpet, Violin, Vocals
Classical, Klezmer, Latin, Pop, Rock, World Music
Rehearsal Dinner, Rehearsals + Parties, Ceremony, Cocktail Hour, Reception, Wedding

Contact Info
Address
201 King Street, Westchester/Hudson Valley, NY
Tri-state Area, NY, NJ, CT, Westchester and Hudson Valley.
(914) 238-0388
WEBSITE
FACEBOOK
Reviewed on

4/07/2016
"The Amadeus Conservatory string quartet performed the music at my wedding ceremony in October. They did an OUTSTANDING job. I was so happy and the music was beautiful. They also customized a song for us that is usually played on the piano and it was entirely lovely. I highly... Read More recommend this group and found that they were also reasonably priced."
---
Reviewed on

10/10/2016
Vanessa M
We were extremely happy with the Amadeus Quartet! Their performance at our church ceremony and cocktail hour were extremely well done, and we received wonderful feedback from our guests. They were very timely and professional to deal with. They added a very elegant touch to our... Read More wedding and we would highly recommend them!
---
Reviewed on

11/08/2017
Jane D
We got married at the end of September this year. It was a pleasure working with Kristi to make our wedding cake selection. She met with us one afternoon and brought mini cupcakes, filling, and frosting in the selections we made. Everything was delicious it was hard to decide... Read More but she helped us come with something a little different that we loved and it was absolutely delicious on our wedding day. We are looking forward to eating the top layer in the next few months!
---
Reviewed on

11/23/2016
Ashley H
Amadeus String Quartet truly enhances the beauty of your ceremony. Throughout the planning process, Deborah was extremely knowledgeable, patient, warm, and honest. She is quick to respond to emails, and explains everything very clearly. Her and her fellow musicians are... Read More extremely talented and delivered 100% on everything that was agreed upon. I highly recommend Amadeus Quartet for any wedding ceremony. They have so many songs you can choose from. It's amazing how much they can play! Looking back, I wish we had them play during our cocktail hour in addition to the ceremony. If you can make it work in your budget, do it! Amadeus String Quartet is simply wonderful! Your guests will think so, too!
---
Reviewed on

10/09/2016
Lee H
Amadeus was wonderful! They were prompt and incredibly professional. The music was beautiful and set the mood exactly as we had hoped it would. These guys were fabulous and I certainly recommend them with no reservations! My only critique is the communication between contract... Read More signing and the event was a bit sparse. That said, they were very responsive as soon as I reached out. I would have simply liked a bit more pro-active communication.
---
Reviewed on

8/12/2016
Tabitha B
My wedding was in July 2016 at the Bear Mountain Inn and we hired Amadeus as our ceremony musicians and they were amazing. We went with a trio - Jonathan Kahn on violin, Mehmet Aydin on viola, and David Moore on cello. Deborah was very responsive (even though I emailed her a... Read More million times) and we had them arrange Kashmir by Led Zeppelin and honestly it brought tears to our eyes. I only wish I attended the wedding so I could hear everything they played! I was so impressed with the range of music they offered, and wouldn't have trusted anybody else with this role. Thank you thank you Amadeus!
---
Reviewed on

7/19/2016
Manveen D
Beautiful music played by a very talented and professional group. We couldn't have asked for more! It was a pleasure to work with Deborah and her team. They communicated well with us throughout the entire process. We would definitely recommend them!
---
Reviewed on

6/19/2016
Vanessa V
It was a pleasure to work with Deborah! Our families and many of our guests complimented the Quartet's music. They were professionals, and a wonderful addition to the beautiful day.
---
Reviewed on

6/07/2016
Hannah P
We used Amadeus Quartet for our wedding ceremony. Working with Deborah and her team was so easy and enjoyable. We also really enjoyed using their website to pick out our music. On the day, the music was beautiful and everything was executed perfectly for our ceremony. I... Read More highly recommend Amadeus Quartet!!
---
Reviewed on

4/05/2016
Lesley C
We booked the Amadeus Quartet to play at our engagement party a few weeks ago and I cannot recommend them highly enough! Being a professional musician myself, it was important for me a) to have music at the party and b) to have a really high level quality musicians. The Amadeus... Read More Quartet did not disappoint. Deborah, the director was extremely easy and friendly to work with and made me feel at ease from the booking process to the event itself. The Quartet have a huge repertoire ranging from classical to pop, so it suited all of our guests. We have booked them again along with their singer for our wedding - I can't wait!
---
Reviewed on

4/03/2016
Sara F
Amadeus Quartet was very easy to work with. One of the musicians did show up late however, which resulted in our ceremony starting a few minutes late. Quality of the music was good and it was a nice touch to our ceremony.
---
Reviewed on

3/31/2016
It's a wonderful experience with Amdeus Quartet. They have a wide range of pieces to choose from, Bach to Coldplay. The performance is excellent and seamless. Their elegant presence definitely made a difference to our ceremony. Highly recommended.
---
Reviewed on

3/31/2016
Having a live string quartet for our ceremony and cocktail hour was the best decision we made and the Amadeus Quartet were not only unbelievably talented but equally as professional. I would highly recommend them.
---
Reviewed on

3/30/2016
Amadeus was a wonderful addition to my son and daughter-in-law's beautiful wedding ceremony. They were punctual, extremely easy to work with, and highly professional, and played everything from rock to classical with verve and charm. The ceremony was outside at a gorgeous spot... Read More at Red Maple Vineyards but was a bit chilly -- nonetheless, the quartet plus trumpet brave the elements and did a great job. They also learned in advance some special pieces that the bride & groom requested, which was much appreciated. Highly recommended.
---
Beautiful ceremony music from Amadeus
Reviewed on

11/24/2015
The Amadeus String Quartet plus trumpeter Terry Szor did a wonderful job playing before and during my son's wedding ceremony. The ceremony was outside and it was chillier than expected but the performers didn't let that interfere with the beauty, vibrancy, or spirit of their... Read More playing. Deborah was easy to work with and overall the group was extremely professional and reliable. Some of my guests are very musically inclined and they were also thrilled. Highly recommended.
---
My Daughter's Wedding
Reviewed on

10/23/2015
a belated thank you you translated my audio vision into reality what greater talent than that your performance was extraordinary regards Jeffrey Link
---
brides mother
Reviewed on

10/17/2013
Amadeus was simply magical! They were at the church first preforming music as guests arrived, then as the bridal party entered, then as the bride entered... They continued to play through out the service at designated readings, and then as the bride and groom walked out! The... Read More sound was truly beautiful. The vocalist and the trumpet player were superb....Right on tone, on key on beat..... I can't say enough good things about the Amadeus Quartet. They also played at our cocktail hour selected contemporary pieces... What a wonderful job they also did with these. They were prompt, courteous, professional, simply... the best! I would highly recommend them!
---
Amadeus was amazing!
Reviewed on

10/16/2013
Deborah and Amadeus were great! We used the quartet for our ceremony and cocktail hour. Extremely professional, great sound and wide range of cocktail music for a quartet! Highly recommend!
---
Beautiful Music, Beautiful Day
Reviewed on

10/16/2013
We were very pleased with Amadeus during the planning and actual wedding day music. Many of our guests complimented the Quartet's music and they were an excellent addition to the beautiful day. Deborah was very easy to work with and on the day of the wedding everyone was... Read More extremely professional. Since everything was planned in advance they came in on their own, set up and played wonderfully with such little involvement from us or the wedding venue. It was such a relief on what was a very busy day.
---
beautiful!!!
Reviewed on

12/03/2010
Emma W
We hired the Amadeus trio to play during our ceremony and cocktail hour. They played the most beautiful versions of Coldplay, The Beatles, and other "modern" music, played classically. They were on time, very nice to work with and just made our day that bit more special.
---
String Quartet
Reviewed on

10/27/2010
Euka P
I worked with Deborah, from Amadeus, with booking a string quartet for my wedding ceremony. She was very accomodating and the company offers wonderful service and exceptional value. The music absolutely made the ceremony special. I would recommend them to anyone and... Read More definately use them again for other events or cocktail parties.
---
Beautiful music!
Reviewed on

10/22/2010
Amanda W
They were so easy to work with! I'm very fond of string instruments and used to play the viola - so I'm familiar with the songs and how they should be presented. I had always dreamed of having a string quartet at my wedding. They played for the ceremony and cocktail hour. They... Read More were very professional and arrived on time to set up. I fondly recollect hearing Canon D and Trumpet volantary as my bridal party and I walked down the aisle - absolute perfection!!
---
Meet The Owner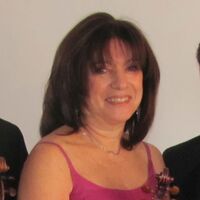 Deborah Molodofsky
HI, I'm Deborah Molodofsky, the Director of the The Amadeus Quartet. We are professional soloists as well as faculty at Amadeus Conservatory - hence the name of the quartet! After being asked to play at a friend's wedding 10 years ago, we had so much fun that we decided to form a professional wedding quartet. Since then we have been playing for weddings, cocktail hours and receptions throughout NYC, CT, NJ, and the Hudson Valley! Music is our passion. We look forward to making the most wonderful day in your life even more special with arrangements of your favorite pop songs!