Home

Amway Grand Plaza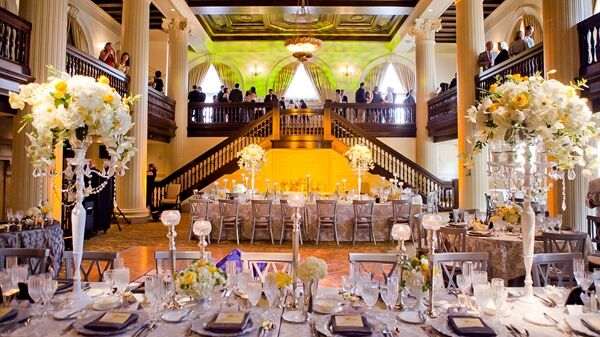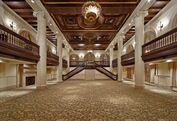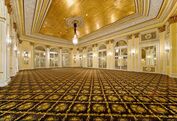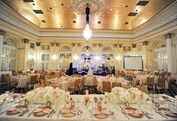 About this Vendor
Amway Grand Plaza
From the flawless catering to the exceptional decor, the Amway Grand Plaza Hotel's magical and unforgettable setting will surpass your expectations, and that of your guests. Call to reserve your enchanting date, or to inquire about hosting a reception in one of our private dining rooms.
Amenities + Details
Amenities
Handicap Accessible

On-Site Accommodations

Indoor

Reception Area
For more details about amenities, please message the Venue.
Ballroom, Historic Venue, Hotel, Restaurant
Bar + Drinks, Cakes + Desserts, Food + Catering, Rentals + Equipment, Service Staff
Contact Info
187 Monroe Ave. NW, Grand Rapids, MI
Amazing Day
Reviewed on

11/14/2012
Kari A
The Amway Grand Plaza is simply amazing. Everything from the food, service,and experience is top notch. Also, working with Grace and Amy made all the difference. They helped to make my wedding more than I ever could have dreamed of, and a day we will never forget. It has... Read More been 6 weeks since the event and guests are still talking about the venue and food.
---
First Class Hotel
Reviewed on

10/17/2012
Sonya S
My husband and I were pleased with the Amway Grand Plaza Hotel. We had our wedding ceremony in the elegant Gerald R. Ford Presidential Ballroom and reception in the stunning Pantlind Ballroom. The food, service, decor, etc were top notch. We are still getting rave reviews from... Read More our guests.
---
exactly what we hoped for:
Reviewed on

8/28/2012
Lisa P
From start to finish our experience at the Amway was superior. Beginning with Grace Hill and continuing with Jennifer May their commitment to work with us to create an elegant and warm experience for our daughter and son in law was exceptional...and the food was excellent!... Read More Most of our wedding guests were from out of town and they were impressed by the atmosphere, service, and amenities at the Amway. The location was great and our guests enjoyed being able to access the museums and other venues around town by foot. A wonderful week-end!
---
Reviewed on

2/10/2016
Facilities are beautiful. The food is excellent. But the staff is inattentive, dismissive, arrogant and unfriendly.
---
Beautiful!!
Reviewed on

11/10/2015
Katie L
The amway always does it right! We had gifts delivered to our guess and we were upgraded to a nicer room too! Beautiful views and we felt so fancy. I also thought the block prices were pretty affordable.
---
Getting married?
Reviewed on

9/09/2015
Miranda G
When checking in, my now husband said that it was our wedding day and they upgraded our room from a room on the Pantlind side to a suite on the tower side. The view was amazing! Grace was the best person I had worked with my entire planning process!
---
Upgraded
Reviewed on

8/25/2015
Miranda G
I worked with Grace and she was the most wonderful person to work with. She was very accommodating which made the process very painless. We had booked a room on the Pantlind side, but when my husband when to check in, they had upgraded us to a suite on the Tower side which are... Read More much nicer and newer. Couldn't ask for better service!
---
Excellent!
Reviewed on

8/16/2015
Kellie B
Caitlin and her staff at the spa were amazing!! Caitlin was great during the planning process - answering questions, coordinating the schedule, and being attentive to any changes. I worked with Rose for my trial and the day of and she was great. Rose was friendly and is amazing... Read More at her job. The spa was able to accommodate a bigger group (12 women) for the day of and they were even able to squeeze in one unplanned person. My dad had tripped the day before and had some bad bruises on his face so he asked Caitlin if there was anything they could do to help him. They airbrushed him and you couldn't even see the bruises! He was so happy with their work and thankful they were able to help him.
---
Wedding Extravaganza
Reviewed on

7/07/2015
Kaitlyn M
I cannot say enough about Katie Dietrich, our catering manager, and Grace Hill, our sales and reservations coordinator. Together and individually they pulled off the most special day of my life. To say they went above and beyond is an understatement. They genuinely cared... Read More about me, my family and my friends and made sure we were happy at all times. We booked the Pantlind Ballroom about a year in advance and from start to finish Katie and Grace were professional, personable, and extremely easy to work with. Amway Grand as a whole is the most accommodating hotel I have ever been to in the southwest Michigan area. From the valet boys and front desk staff, to the waitstaff, bartenders and chefs...everything was nothing but top notch at all times. If you book an event here, know you are in good, professional hands at all times. I will always highly recommend Amway Grand Plaza Hotel....and Katie Dietrich and Grace Hill! Talk about a DREAM TEAM! Absolutely wonderful!!
---
A Grand Rapids Native Dream Wedding Venue
Reviewed on

11/05/2014
Jen Z
The Amway is the equivalent of Bride Wars "The Plaza" for a Grand Rapids bride. I write this as my experience and not the standard experience with the Amway Grand Plaza Hotel and its staff. To the good: • The rooms blocked for our guests were to be cheaper than anywhere else... Read More during Art Prize. • We were able to book over a year in advance. • When we arrived to our cocktail hour, we were able to part take and were asked if we would like a drink. • Our banquet captain took great care of us throughout the whole evening. • The food was delicious. • The bar went from a full service upstairs to a beer and wine only bar downstairs after cocktail hour. • The bride and groom cake design was very nice and turned out well. • Our tower suite was wonderfully accommodating. To the not so great: • Our block of hotel rooms was not addressed by the main coordinator and caused us much embarrassment when family tried to reserve rooms and called us to say we had no block available. • For our taste testing, we selected dishes from the list in our packet. The day of our tasting, we were given the full menu, after already choosing what we thought our small list of options were. Also, each dinner comes with desert or a credit, something we learned after the fact, again. • We planned our wedding from another state and time zone. Both working a 6:30am-4:00pm job only ever caused email conversations, were there were huge confusions and weekend phone calls meetings. • Emails often were filled with errors in capitalizing or grammar. • In working with our linens, we were under the impression that the Amway would provide floor length linens for the dining. This ended up not being the case but thankfully the head events coordinator was able to step help us get the linens free of charge • I requested a list of rules that the Amway has so I could avoid any more confusion. Such a document did not exist because it would have some many points to make (from the catering manager). I stated that I did expect a place like the Amway to have such a document since my church had a minimum 7 page document with such limitations. • We were told we were late on a payment at the meeting we had two days before the wedding and that we would be charged our full estimated bill (~$4,000). This charge was supposed to be placed on our card that day and we were to get our bill to review and then settle the rest of the cost. After getting back from our honeymoon, our catering manager had not contacted us and there were no charges were on our credit card. We had to seek her out for an answer. She stated we would be credited, but did not say if it would be on the additional payment we were supposed to make or on the 1 ½ times the room cost we had already paid. • Our bride and groom cake was more than half cream cheese filling. We much would have preferred more than half cake. All in all, the main staff at the Amway were so wonderful to work with, as well as the events director. The space itself was great and not paying hourly for the bar was a great decision for our group of ~120. Our catering manager was overpaid for the service provided. From what I have heard from other brides and my vendors (seasoned in the Amway, but none interacting with this coordinator), other coordinators really do make this a great process and celebrate you. I pray that anyone who chooses to live out their childhood dream of an Amway reception gets the experience they are seeking.
---
Do yourself a favor....
Reviewed on

10/18/2014
Amanda L
We could not have had a better experience for our wedding weekend than we did with the Amway Grand Plaza Hotel. I contacted their wedding coordinator, Grace Hill, about 8 months prior to our wedding and she took care of us like it was her own wedding. She was responsive, honest,... Read More kind, and so easy to work with. She then assigned me to Katie Dietrich as my catering manager, and she was just as wonderful! Fast forward a few months.... From the moment my bridesmaids and I walked into our getting-ready suite, we were blown away. The suites on the tower side of the hotel had just been renovated and they were absolutely stunning. Even the helpful valet attendees and bellmen were such a pleasure to work with and would drop anything to help us with our things. We had our ceremony at our home church in Grand Rapids, but we immediately came back to the hotel for our reception in the Pantlind Ballroom. First and foremost, the room itself emanates an old-world, palace look-and-feel... almost like you are in Versailles, France! The gold-gilded ceilings and mirrored walls just sparkle when the lights are dimmed and you first walk in. The meal was not only hands-down the best wedding dinner I've ever had, but one of the best meals of all time! The food was warm, perfectly seasoned, and super fresh. Our servers were very attentive and handled our every need. Don't even get me started on that cake.. We had the red velvet cake with cream cheese filling AND a dark chocolate cake with peanut butter ganache filling. It was to DIE for and all of our guests were over the moon. The weekend was perfect, and I could not have hoped for a better wedding than the one we had. Thank you to every single person involved. I would recommend them to every Bride I meet for their own special day.
---
Wonderful Experience.
Reviewed on

8/12/2014
kiley h
It was a wonderful experience to stay there for the weekend of our wedding. It was dream come true!!
---
lovely service
Reviewed on

8/10/2014
Loretta H
great service loved it
---
Excellent Reception Venue
Reviewed on

10/03/2013
Judith A
We hosted our wedding reception in the Pantlind Ballroom on August 10, 2013, and everyone had a great time. During the planning phase, I worked primarily with Darrin, who is really an expert at what he does. He was businesslike, organized, and polite throughout the entire... Read More process. I don't live in Grand Rapids, so I wasn't able to meet in person until later in the process, but Darrin was extremely flexible and patient with all of the emails and phone calls leading up to our event, right down to last minute decisions and changes. The event execution went extremely smoothly - the setup crew arranged things nicely, the staff at Amway worked well with the florist and DJ, and the waitstaff and kitchen crew served an excellent meal for a large crowd of people. Our server for the evening was so prompt and kind - I wish I could recall her name! Also, the chef created a delicious, classic cake based on a picture that I had emailed to Darrin. The Amway is clean and well maintained, the rooms and common areas are historic and beautiful. Many of our guests were from out of town, and the Amway provided an excellent first impression of Grand Rapids. The discount room rate was a great value, and after some initial hangups with the booking website, guests had a positive experience. Selecting the Amway as your venue will certainly cost more than other Grand Rapids venues, however, if it is in your budget, or if you are able to adjust other areas of your budget, this historic and beautiful venue is worth the cost. Rather than stressing about details and coordination, you can leave it up to the staff at Amway, and they will pull together a lovely event for you. The Amway will provide a smooth and elegant experience for you and your guests!
---
Wedding Night Stay
Reviewed on

6/23/2013
Amy F
My husband surprised me with a stay at the Amway the night of our wedding. He emailed them and they even gave us a discounted rate!
---
Wedding Night
Reviewed on

1/02/2013
Becky M
We had the Louisiana Suite for our Wedding Night and it was beautiful! The view was incredible!
---
Well worth the price
Reviewed on

12/27/2012
Leslie V
We compared venues throughout Grand Rapids and nothing compares to the Amway! We had a December wedding reception in the Imperial ballroom and it was so elegant! All of our guests loved the food and setting. Darrin was our coordinator and was very attentive. This venue may... Read More be one of the more expensive venues in GR, but when you look at the quality of service you get and the ambiance, you can't beat it! The photo ops alone are worth it!
---
Great Spot!
Reviewed on

12/11/2012
Sarah R
Beautiful and so accommodating. They have a fantastic spa, shopping, restaurants, and fun bars around downtown!
---
Five star venue
Reviewed on

8/21/2012
Ericka F
great place
---
Perfect reception
Reviewed on

8/21/2012
Brittni S
The Amway was a gorgeous location for my August wedding reception. The food was delicious and the service was impeccable. The wait staff was so nice and helped us out throughout the whole night (and they didn't complain that I kicked off my shoes almost immediately). The overall... Read More bill ended up being much more expensive than we originally anticipated but our friends and family had a great time! We received so many compliments about our wedding and the Amway is to thank for that.
---
Yummy Cake
Reviewed on

7/08/2012
Lindsey S
I am a gluten free bride, and the pastry chef at Amway actually seemed excited to accomodate me. He made the top layer gluten free, and gave me so many options for the rest of the cake so that my guests could have regular cake. My gluten free portion was amazing, but even... Read More better, we had so many compliments from our guests. Everyone said that it was the best cake they had ever had at a wedding. People were even asking for seconds. The cake really matched our style as a couple, and I am so excited that everyone liked the cake.
---
wedding room block on 4-28-12
Reviewed on

5/15/2012
Melissa T
Excellent service and elegant atmosphere!
---
Stunning and Stress-free
Reviewed on

2/29/2012
Courtney S
Amy Detweiller did a great job coordinating our wedding. She's a veteran at the task and it shows! She was very patient with us throughout the planning process; she kept us informed and at ease that the day would go smoothly. She did a great job! We held our ceremony in... Read More the GRF Presidential Ballroom and the reception in the Pantlind Ballroom; both beautiful , elegant venues. We were very happy with the ease of planning, organization, coordination, table service and bar service. It was a bit on the pricey side (we paid for everything ourselves), but in this case, you get what you pay for - NO STRESS! :) FOOD WAS DELICIOUS!!! The tomato bisque with puff-pastry dome was perfect for our fall wedding. Generous servings CAKE WAS GORGEOUS and yummy! We went with their red velvet and fondant. Very good! Also make a groom's cake for us with a scuba theme; fun and chocolate! One thing that many guests noticed was that, unattended cocktails were very quickly whisked away from the tables. If you took two sips and set your glass down to go dance or mingle ant a neighboring table, you'd have to go back to the bar for a new drink because your previous vanished. We went with the flat bar rate versus the per-drink rate, so I guess that was lucky on our part. Perhaps this is serving policy to keep minors from trying any "funny-business?" Anyhow, it was a beautiful setting and I always felt like everything was under control. I would highly recommend this venue!
---
Beautiful hotel!
Reviewed on

11/27/2011
Rachael V
This is a beautiful hotel! We used it for our accommodations the night prior and night of our wedding. We had amazing service and had no complaints. I even left behind some things which they held for me at the front desk so I could easily retrieve them the next day. Room service... Read More was prompt and delicious. It was well worth being treated like royalty for the weekend. Every individual in the hotel remembered who we were when we showed up and left. It felt great!
---
A fairytale experience
Reviewed on

11/23/2011
Maryrose D
I had an amazing wedding, actually a dream come true. The Amway is beautiful and elegant. We stayed in the Pantlind side of the hotel, got our hair done in the salon. It was amazing, my hair was absolutley amazing. The stylists are so nice there and they can handle quite a large... Read More wedding party. The food was amazing and my guests raved about it. They are very proffesional and have amazing event coordinators such as Amy that help with what ever you need.
---