Home

Amy Beck Cake Design
About this Vendor
All cakes are not created equal
Amy Beck's award-winning, custom-design cake bakery, located in River West, designs and creates cakes for all occasions—from the classic cake adorned with hand-sculpted sugar flowers to sleek and modern. Each cake made with the freshest ingredients, resulting in your delicious wedding cake..
Details
Cake Delivery + Setup, Cake Tastings, Cakes + Desserts
Contact Info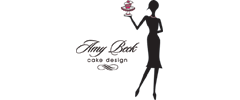 636 N. Racine Ave., Chicago, IL
So great!
Reviewed on

1/01/2014
greer s
Our cake was so beautiful. I had a vision of snow for our winter themed wedding and the cake was the center of attention. It was simple yet immulated snow. Amy was reliable, and awesome to work with. She delivered exactly what we wanted and after the meeting/tasting we never had to worry about this item again. i would highly highly recommend her.
---
Wedding Cake
Reviewed on

9/12/2013
Alicia B
I ordered the cake for my wedding from Amy Beck, and it was absolutely fantastic. I would recommend Amy to anyone in Chicago. Working with Amy was a pleasure--at our consultation she listened to my ideas and looked at the photos I brought in, and based on that information she created a beautiful cake that complemented the theme and color scheme of my wedding. I loved how she incorporated my wedding colors (pink and gold) and how the decorations on the cake echoed the decorations on our custom invitations. I also loved the garlands of delicate white, sculpted icing flowers that hung down the sides of each layer. On top we had two gold, marzipan love birds, and they made me so happy. We had a six-tier cake, which was light pink with white decorations, and it really was a star at the wedding reception. I remember seeing it for the first time and being amazed because it was more beautiful than I ever could have imagined. It also tasted delicious. Amy has tons of different cake and icing flavor options, and we chose lemon cake with raspberry buttercream and lemon curd--good for a summer event. All my guests commented on the taste and my mother even ate a second slice!
---
Let Them Eat Cake!
Reviewed on

8/17/2013
Meredith W
Working with Amy Beck from the beginning was both a fantastic and delicious experience. The cake tasting was fun and Amy has such excellent ideas and talent. Our cake was exactly what we wanted and so beautiful, we can't wait to eat the top layer at our first anniversary!
---
Amy Beck's are phenomenal!
Reviewed on

11/23/2014
Amy Beck is a joy to work with on our wedding cake. I appreciated how responsive she was throughout the process - always responding to my emails without delay with a personal touch. At our first appointment, she shared with us her background and how she got her start in baking, she spent the time to get to know me, my fiancé, and mom, and understand our vision for our wedding. After taking a look at photos of my venue, flowers, color scheme and wedding dress, Amy got out a notepad, and whipped up a sketch of the most perfectly fitting cake I could imagine - inspired by my wedding dress, and a few wedding cakes I had pinned on interest. The detail of my wedding dress incorporated into the cake was unbelievable. She also handmade the most beautiful flowers I've seen to attach onto the cake for a pop of color, exactly what I wanted! Not only that, but we shopped around to many bakeries, and Amy's cakes and frostings were above and beyond the competition in terms of taste. My mom has a bakery of her own and has high standards and was blown away. The creative flavors, and the moist consistency - just amazing. No joke, at our wedding, people were requesting seconds and thirds, and there ended up not being any leftover cake (which made me sad the next day when I was dying to indulge in it)! I cannot wait for my 1 year anniversary when I get to eat it again, and would recommend Amy Beck to everyone!
---
100% happy: More than just a wedding cake
Reviewed on

11/17/2014
Lauren E
What stood out to us about Amy's shop, among the handful of cake tastings we attended, was the personal touch from Amy. She has since hired a business manager, but during our experience, Amy was the one who responded to our emails, Amy was the one who baked our cake, Amy was even there on our wedding day, delivering it herself. We were particularly impressed that Amy joined us during the tasting to learn our feedback and make real-time suggestions, when she could have easily left us to go cross things off her to-do list. She was confident from the first email that she could make us happy. Going beyond just the amazing flavor combinations (we chose chocolate bourbon cake as the base on all three layers, with different fillings on each level), we had several ideas about what it would look like. Amy was able to creatively take elements from each of our ideas to create one cake that made everyone happy. To sum up: my fiancée and I 100% enjoyed our experience with Amy Beck Cake Design. That's 100% from the first email inquiry to eating the cake on our wedding day. There were no hiccups or concerns along the way, from our tasting, to the contract, to the delivery. And, if you're looking for a LGBT-friendly bakery, Amy didn't blink an eye when I told her ours was a same-sex marriage. Delicious cake. Beautiful design and execution. Stellar customer service. Thank you, Amy!
---
FABULOUS experience with Amy Beck Cake Design
Reviewed on

10/30/2014
Maura M
My husband, family, and I are so thankful for Amy and her talents! With the added stress of planning a Chicago wedding from across the country we had only one day in town for one cake tasting! Amy is THE one! She was so sweet and patient in responding to my initial inquiry and in every correspondence that followed. Every detail counts with Amy. Our cake was inspired by her Romantic Lace design, but Amy and her team's artistry brought OUR vision to life. The design incorporated both my gown's lace detailing and complex and precise geometric designs as well as button closures down the back AND a delicate feather accent inspired by my headpiece! It was absolutely stunning... My mom, husband, and I visited Amy's shop for the tasting! We had a BLAST! Amy had countless delicious pairings ready for us to try. DELICIOUS! Our four-tier cake was as moist and flavorful as our samples at the tasting. A highlight of our wedding planning! We ultimately chose a fun combination... A little something for everyone! Each slice had vanilla butter cake paired with Jamaican rum butter cream on top, chocolate bourbon cake paired with raspberry buttercream on the bottom, split by a layer of chocolate ganache! Yummmm. Perhaps most importantly... Amy is honest! She's experienced and talented, and knows what works and what doesn't work in this fun process! Ask for her opinion. Trust her and heed her advice! You'll be so thankful you did! Thank you, Amy!
---
Exactly what we ordered!!!!
Reviewed on

10/30/2014
Shari N
I love cake. I love wedding cake. It was very important to have a great tasting cake and a unique looking cake. It was so easy to talk to Amy, share the vision of what I wanted and being able to personalize it, while tasting delicious cake, which my fiance LOVED. The cake turned out beautiful and was so delicious. It truly has been the best carrot cake I have ever had. It was also my fiance's top choice and he is a chocolate cake fan to the core.(that was our second flavor) I was so happy when some of our guests asked "Is your cake based off your wedding dress?" Yes, it was!!! From the tasting, to ordering, payment and delivery, Amy and her team were the best. It truly added to the whole vision of our wedding. We are so happy. Looking forward to our 1 year anniversary and a top layer replica.
---
Amy is Amazing!
Reviewed on

10/30/2014
Amelia L
We used Amy Beck cake design for our June 2014 wedding. We chose a pretty ornate design with lace textures and a bunch of cascading flowers and Amy delivered. She even matched the lace on my dress from a photo. We are going to have her make a small anniversary cake for us soon.
---
Delicious cake, beautiful quality and strong professionalism
Reviewed on

10/30/2014
Alisa L
Amy made the delicious and artistic wedding cake and grooms cake for our rehearsal dinner. She was professional and timely. Not only did the cakes taste better than any typical wedding cake, but Amy worked with us to make our cake design personal. We definitely recommend her to any bride or groom!
---
Best cake designer!!
Reviewed on

10/30/2014
catrina r
Amy Beck was a dream to work with. Amy and her team are not only wonderful, extremely talented artist but they really took the time to work with us and create a design that was one of a kind and just beautiful. The cake is beyond delicious, we got so many compliments on our cake!
---
simply the best
Reviewed on

10/30/2014
Arlette V
I cannot say enough wonderful things about Amy Beck Cake Design. Everything about it is top notch! Amy herself to her team, the shop and of course the best tasting cake ever. Amy Beck was the first tasting I had during my planning and I instantly fell in love. I had a few other tastings I already scheduled and they did not come close to the perfection that is Amy Beck. They have ruined all other cake fore me! We all loved it so much I ordered another cake less than a year after my wedding for my niece's birthday. It's worth every penny. I can't wait to get pregnant and have a baby shower to have another reason to buy one of her cakes...lol yes it's that serious. Thanks Amy Beck and team!
---
The most beautiful cake I have ever seen
Reviewed on

10/29/2014
Susan M
Amy Beck Cake Designs created the most beautiful cake I have ever seen at a wedding. Not only did it taste amazing! (My husband I chose: red velvet, lemon, and vanilla cake), buts it's grandeur was a show stopper. Amy and her company are fantastic with communication, and if you're type A, like I was that is extremely beneficial. She was able to beautifully design my dream and create a stunning final product.
---
Wedding Cake-7/26/2014
Reviewed on

10/10/2014
Amy and her associates were extremely professional, courteous and personable from my experience with them. I was married this past summer and they assisted me in every aspect of the cake choosing process from the number of tiers needed, to design, color, and flavoring. I did not feel alone during this process which is always useful for a bride. The end result was more than I had hoped for. My wedding cake was stunning; 5 tiered with bouquets of flowers throughout of various shades of my wedding colors, blue and purple, to serve as the flowers. The taste was indescribably wonderful and my guests were very pleased. I would highly recommend Amy as your cake provider for your next event.
---
Thank you, Amy Beck!!!
Reviewed on

10/08/2014
Tara K
My husband and I recently used Amy Beck Cake Design for our wedding cake (wedding was August 30th)and WOW! From the very start, Amy was a pleasure to work with and made sure to focus on my husband and my needs, visions, etc. to ensure that the cake would be exactly what we wanted. Not only are all of the cake flavors incredibly delicious, but the design that Amy put to life was everything we wanted and more! Amy even asked to see a photo of my wedding gown so she could use the lace design to be incorporated onto the cake. On the wedding day we received so many compliments, not only on the cake design, but the taste as well - it was simply gorgeous. I would highly recommend Amy to any bride looking for something beautiful, elegant AND delicious! Amy is a sweetheart to work with and incredibly talented. Thank you again, Any, for making our wedding day that much more perfect. My husband and I are looking forward to celebrating our one year anniversary by devouring the cake top that we saved from our wedding day :)
---
Outstanding cake and service
Reviewed on

10/08/2014
Phildonna R
I had a great time working with Amy and her staff for my wedding. She listened to your ideas and was very helpful with brainstorming different designs as well. It was hard deciding the cake flavor because everything was great. After my wedding I have used Amy Beck Cake Designs for other events I had as well. Thank you for making each event I had memorable by making cakes that everyone loved.
---
Winning Combination, creativity and decadent taste!
Reviewed on

10/04/2014
pam k
Not only are her cakes amazing, she is too! I had scheduled three tastings, but my daughter (the bride to be) cancelled them all after meeting with Amy. It wasn't just the cake, which again was so good we had to pick 4 different flavors to make sure we didn't miss out on anything, but her infectious personality as well. We felt like we had known her forever and the perfect fit for us. Once we got through the tasting, Amy focused her attention on my daughter, made her feel special as the two of them discussed her vision, which she made reality! Ever detail perfect and of course the taste phenomenal. We were so confident with the cake and the flavors, it was the only desert we served. She is the best for flavor and creativity!
---
Wedding Cake - Frank Lloyd Wright inspired
Reviewed on

7/14/2014
Krissy B
We hired Amy Beck Cake Design to create our wedding cake, which we wanted to be Frank Lloyd Wright inspired. We worked closely with Vanessa and Amy, who asked numerous questions to make sure the cake was exactly to our liking. It was absolutely the best cake we could have asked for. They paid attention to every little detail and in addition to the stellar design, the taste was exceptional as well. Each of the three tiers was a different flavor. Yum! I have to admit I was fortunate enough to have more than one serving!!!
---
Beautiful cakes!
Reviewed on

1/23/2014
Kathleen L
Amy did an amazing job with our wedding cake. She incorporated many of the intricate designs from our venue, the Chicago Cultural Center, so that the cake fit in perfectly with the venue. She took the details from our invitations and the pictures we brought to our meeting for inspiration as well. We could not believe how amazing the gluten-free cake was, you could not even tell, and that is truly hard to find in baking-typically it is dense and dry. My now-husband was able to enjoy the cake tradition on our wedding day and we could not be more grateful. I think we will have a hard time waiting for one year to eat the cake topper in our freezer! Thanks Amy and crew!
---
Delicious, decadent wedding cake
Reviewed on

12/12/2013
Brooke R
Amy was easy to work with and the process was very straight forward. We chose 2 cake flavors, one for the bride and one for the groom. My choice was the carrot cake with alternating pecan cream cheese and regular cream cheese fillings. It might sound like too much cream cheese frosting, but that simply doesn't exist in my world. The pecan cream cheese frosting is the BEST frosting that I have ever tasted. At our tasting I ate every last bit. My husband was not a fan, which is why he chose almond cake with alternating chocolate ganache and salted caramel buttercream fillings. Also sounds over the top, but was delicious! We heard several times that "this is the best wedding cake I have ever tasted". We thought so too! Amy was also very nice about lowering the cost of the cake when we had fewer attendees than expected. No issues, very responsive, easy to work with. The cake looked amazing and tasted wonderful, couldn't have asked for more!
---
Amazing!
Reviewed on

12/01/2013
Kristin L
The best cake, ever. Design was perfect. Wish I could have a piece e very day. Can't say enough about her and the cake.
---
PHENOMENAL
Reviewed on

10/15/2013
Michelle E
Truly as good as it gets! Amy's cakes not only look GORGEOUS, but also are BEYOND DELICIOUS. If you want to work with the ultimate professional and have absolutely NO stress wondering if your cake will both look and taste phenomenal....Amy Beck is your gal!!
---
OMG that cake is good!
Reviewed on

10/03/2013
Catherine B
I had never tasted good wedding cake. If fact, most of it was absolutely awful. Amy's cake was the hit of the reception. I'm glad we got extra cake because our attendees absolutely devoured it. As soon as we tasted it, we kinew we'd have a mob on our hands if there was no extra cake! And it was beautiful! Her designs are simply amazing. She is very courteous, and makes will stop at nothing to make the bride and groom happy!
---
Cake was great!
Reviewed on

9/29/2013
Natalie P
We went to four cake tastings and this was beyond our favorite. Margo worked with us on our cake design and created something beautiful and simple based off just a few photos we showed her. The final product was amazing and exactly what we asked for. They even matched the color to the swatch of our bridesmaids dresses! We had a three tier cake and each tier was a different combo of flavors. Everything tasted great and our guests loved our cake. If you can spend the extra money on your cake, go with Amy Beck!
---
Delicious Cake and Excellent Service
Reviewed on

8/08/2013
Kristin T
First, all of Amy Beck's cake and filling flavors are tasty. There is a wide range of flavors and you will definitely find a handful that you like. Our guests enjoyed the cake, and I'm sure you will agree if you go to a tasting. Second, they work closely with us to customize the cake to our exact specifications. We had about 10 flavors of filling and cake to try at the tasting, and Amy talked us through which ones went well together. Each tier of cake has a number of layers of cake and filling (I think it was 4 layers of thin cake), so you can really get creative. Amy sat with us during the tasting to design the look of the cake. She had a number of cakes on display and I brought in a few pictures of cakes I had seen online. Amy asked me what elements of the cakes I liked, and then drew a sketch of a cake on the spot that was exactly what I wanted. It was very impressive.
---
Incredible!
Reviewed on

8/06/2013
Heather K
Amy Beck saved our cake! We initially contracted with a company that was, although slightly less expensive, uninformed and unresponsive. We were able to cancel our contract with that company and Amy Beck stepped in to take over. Our cake was a fairly complicated design and Amy Beck executed it flawlessly. I was beyond impressed with the cake design and taste and remain incredibly appreciative of their professionalism. I HIGHLY recommend Amy Beck Cake Design.
---
Send Message