Home

Annie's Culinary Creations
About this Vendor
An unforgettable day deserves unforgettable cake!
From the most elegant and traditional wedding cake styles to modern or even whimsical cakes, we'll work with you to create a wedding cake that will be a beautiful reflection of you and your wedding theme.
Details
Cake Accessories, Cake Delivery + Setup, Cakes + Desserts





Contact Info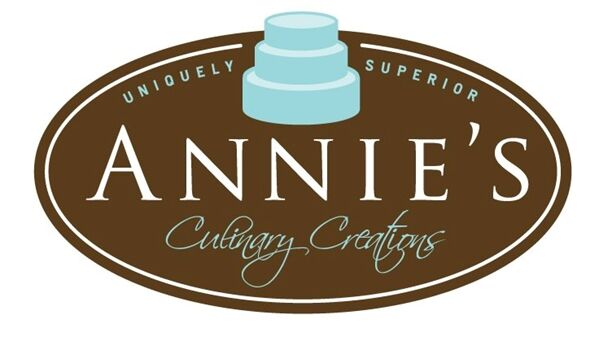 Reviewed on

2/06/2018
Morgan F
I highly recommend. Annie makes fabulous cakes. I wanted something different and Annie delivered. The wedding cake was very elegant and beautiful. She even hand painted the gold dusting on the cake once it arrived at the venue to make sure the color would be perfect and go with... Read More the rest of the wedding reception theme. The groom's cake was a white yeti cooler. It looked so real. Everyone thought it was an actual cooler instead of a cake. I would hire again and again.
---
So special and delish!
Reviewed on

5/21/2015
Jennifer W
Annie is AMAZING. We visited 3 bakeries before deciding on which we'd go with for our wedding, and we couldn't have made a better decision. Her cake and icing flavors are to die for - and she doesn't just inject a flavor into vanilla cake to change up the flavors, she actually... Read More uses other ingredients to make the flavors which is why it's so good. Huge assortment. I showed her a photo of the cake I wanted and she hit the nail on the head. I had mentioned to her that I have a love for minions, and she surprised me by putting a tiny bride and groom minion on the back of the bottom tier of the cake - I cried when I saw it, I loved it so much - the perfect, subtle personal touch to make the cake ours. She's a phenomenal baker and was just the nicest woman! Additionally, everything was hassle free and our cake showed up on time as planned, looked beautiful and everyone loved it. Any cake we need in the future, we'll be ordering from Annie. I highly recommend her! A word to the wise - Annie was the middle cost of the 3 bakeries we looked at but we loved her cake so much (and her), that we sprung for the cake that was a little outside of our budget - best decision we ever made! Actually, the lower cost bakery was only $200 less and that bakery ended up closing their doors unexpectedly leaving a ton of brides hanging last month, so paying a little bit more to get exactly what you want and know it will be perfect, is worth it.
---
Reviewed on

4/02/2018
Ashley P
Annie is WONDERFUL!! We tried a couple bakeries before meeting with Annie and the others did not compare to Annie's. Annie was great from day one - helping Ben and me better understand what we wanted for a wedding cake. The whole experience with Annie was very personal; she even... Read More suggested the very personal detail of having the cake decorated like the lace of my dress. Now on to the cake itself - it's DELICIOUS. I didn't even get a slice of cake at my wedding because it was gone so fast. I'm anxiously waiting that top tier for our first anniversary but know that I can always swing by her shop on Henderson for a cupcake when the mood strikes
---
Reviewed on

3/27/2018
Lizzy T
We had so many compliments on the presentation of the cake, as well as the taste! It turned out to be absolutely perfect, and we are grateful to Annie and the staff for helping our wedding day turn out so special. In the planning process, Annie was great with helping us decide... Read More how to get the best wedding cake. We did one tier with Mexican chocolate and another tier with strawberry and champagne. We would highly recommend those flavors! Very rich and delicious.
---
Reviewed on

1/15/2018
Jessica F
We tried two other bakeries before we tried Annie's and there was no comparison. Annie's cakes are so moist and flavorful! Our wedding cake was 3 flavors because we loved them so much! Annie is friendly and a joy to work with!
---
Reviewed on

12/05/2017
Sarah R
Annie's cake at our wedding was a hit! Not only did it taste amazing, the custom design she helped create for us was awesome! Highly recommend her if you're shopping around for a wedding cake.
---
Reviewed on

10/25/2017
Tiffany D
Our cake was stunning very detailed and the taste matched. Annie was great from day one.
---
Reviewed on

10/25/2017
Lauren G
Annie's bakery did an amazing job on my wedding cake. Everything was perfect and exactly to my liking! They had the best customer service and truly cared for what I wanted. The cake was fresh and all my guest was complementing how good it was! Definitely would recommend!
---
Reviewed on

9/25/2017
Taylor B
We got cake and mini pecan pies for our wedding and it was delicious! We had cupcakes that were decorated to help distinguish the different flavors and they were all beautiful. Delicious desserts at a very fair price, I definitely recommend them!
---
Reviewed on

9/12/2017
Paige B
Annie's is AWESOME! Its not often that you get to work with the owner of a place, but at Annie's, you are working directly with Annie. Once I walked in the shop to do our first cake tasting, I knew I wanted to go with Annie's regardless of how the cakes tasted because I felt... Read More immediately cared for. The experience was very personal and Annie herself sits down with you to design the cake of your dreams. Bonus: the cakes are phenomenal! She has so many different flavors and let's you combine whatever you want. One of my tiers was strawberry and champagne (I can't recommend the strawberry enough!) Annie also customized my grooms cake which was a fake cardboard cake with dingdongs and Oreos stuck to the sides with icing, (my groom doesn't like cake) it was the CUTEST thing ever and she didn't mind one bit buying the ding dongs and oreos to create my vision. The process was very stress-free. In fact, now that I think about it I didn't have to do anything other than tell her what cake I wanted and the venue and date, she took care of everything else. The tasting was done with cupcakes and we got to take them all home after to finish! She gives you time by yourself to decide while tasting which I loved because I get awkward when someone is hovering. She let me change my mind and flavors as many times as I wanted up until a few weeks before which worked great for me because I'm so indecisive.
---
Reviewed on

8/31/2017
Megan R
Look no further - Annie's is TOP NOTCH!! Quick back story: I do not like cake. I wasn't even going to one at my wedding. But my mother-in-law insisted I would regret it & offered pay for one. She sent me a couple bakeries that had good reviews. I called Annie's because it was... Read More first on the list, picked a design from Pinterest, and chose flavors I thought sounded good. Fast forward to our wedding: we cut the cake and my husband fed me a piece and OH. MY. GOSH. It was the most moist, delicious, flavorful, perfect thing I've ever eaten. Not to mention it was beautiful. Annie was very prompt and detail-oriented. They earned a lifetime customer! SO HAPPY!
---
Reviewed on

8/28/2017
Sarah M
We LOVED the cakes Annie made for us. She made a Batman cake for my husband and it was incredible. Mine was more traditional but just as beautiful and tasty. I'd recommend Annie's to anybody planning a wedding or hosting an event.
---
Reviewed on

8/23/2017
Caitlin B
Annie's was such a pleasure to work with. Not only were our wedding cake and cupcakes delicious, she was responsive and pleasant! She also gave great recommendations for other vendors in the area. I ended up with my florist and videographer by her recommendation and all were... Read More wonderful! Thanks Annie - you rock!!
---
Reviewed on

8/17/2017
Ashley P
I don't think there are enough kind words to say about Annie and her team. I know I changed the design, guest count and flavors too many times to count but Annie was always patient and always so accommodating. My husbands brother used them when they got married so hopefully we... Read More see a bakery repeat at the family weddings to come! Go with Annie's Culinary Creations, you won't be disappointed.
---
Reviewed on

8/17/2017
Michelle K
I switched to Annie's after having a really bad customer experience with the vendor I had already booked. Annie knocked it out of the park! During our first meeting she took as much time as we needed to understand our vision, talk us through different designs and specs, provided... Read More helpful feedback and insights, and came out with what I think is the most beautiful and delicious wedding cake I have ever seen! She has unique flavors and allows you to mix and match which is AWESOME! I HIGHLY recommend working with Annie and her Team if you want delicious, beautiful and a stress-free experience! And definitely try the snickerdoodle cake with cinnamon icing :)
---
Reviewed on

8/16/2017
Meagan P
Annie was wonderful! She made designing our cake so fun and personable and really brought my vision to life...not to mention her cakes are TO DIE FOR! I had compliments from guests all night. Thank you Annie for playing such a huge part in making our wedding perfect!
---
Reviewed on

8/16/2017
Lauren D
Our cake was gorgeous and tasted fantastic. Annie was very easy to work with and the price was more than reasonable. She helped make the design amazing and gave great suggestions. We have friends and family still talking about the Snickerdoodle cake 3 months later.
---
Reviewed on

8/16/2017
Megan W
Amazing! Annie is wonderful and our cakes were absolutely beautiful and so delicious!! I would highly recommend using Annie's! Thank you so much!
---
Reviewed on

8/16/2017
Amanda P
Annie's Culinary Creations is AMAZING! and so is Annie herself. My best friend used Annie's for her wedding cake about 8 years ago...and we have ordered birthday cakes, baby shower cakes, etc. Plus we would always stop in and buy the fresh cupcakes whenever we were near their... Read More location (And they have been consistent throughout all those years. I NEVER had a bad experience, never anything but great service, and ALWAYS the best tasting and freshest cupcakes!). So of course, when it came time for me to get married....I called Annie! I had a really cool idea I wanted to do for my husbands grooms' cake and she sat with me and we were able to get my ideas to paper. All while eating the DELICIOUS cake flavors they used for my cake tasting! She was very thorough and made sure she saw the same vision I did, all in less than an hour. She was quick, but efficient, kind and funny as well! (and she even remembered my birthday cake that my friend had ordered like 5 years prior! She's unbelievable!) Fast forward to my wedding day, she delivered the bridal and groom's cakes herself, plus stayed until they were all set up. She made sure that I was happy with everything before she left too! I got SO many compliments on the cakes design, but even MORE on the taste! I wish I could upload a photo because they were just THAT beautiful! Annie's is 10/10 and I would HIGHLY recommend Annie's Culinary Creations (I would also highly recommend stopping by to get a fresh cupcake...just make sure you get extra in case your new husband/wife is a mean, ole cupcake thief!!!!)
---
Reviewed on

6/21/2017
Kami M
Annie did such an amazing job on our cake! She was so easy to work with, and our expectations were exceeded on both style and taste. Annie makes all of her cakes from scratch and are always fresh, not frozen. You could really taste the difference! I can't wait to order... Read More another small one in a year for our 1st anniversary!!
---
Reviewed on

6/06/2017
Savannah K
All I can say is Perfect! My wedding cake was absolutely wonderful. It is the exact cake I had pictured on my head! I showed her a picture and she made it look exactly like the picture. Her creativity is amazing! The flavor was great as well...I had snicker doodle as my wedding... Read More cake flavor and German chocolate for the grooms cake. She even added strawberries around the grooms cake to match my colors! Great price too...I got both cakes for $550! Absolutely wonderful! Will definitely hire again if I need a special cake!
---
Reviewed on

5/26/2017
Michelle D
Annie's cakes are delicious. Her flavor options well surpass anyone else and she was really great to work with too. She helped us meet our price point as well as give our guests multiple choices. The cake was the first thing to show up at the venue and it looked amazing and... Read More exactly what we had talked about. This was the best and easiest experience we had throughout the entire wedding process. Really great cakes and service! Thanks Annie!
---
Reviewed on

5/05/2017
Natalie A
Annie is so good at what she does. Not only were our cakes beautiful, people could not stop talking about how delicious they were. No matter the occasion, I will be going to Annie for all of my cakes!
---
Reviewed on

4/17/2017
Dani S
Seriously one of the best cakes I've ever had. I went to two other bakeries when I was searching and nothing came as close as Annie's did. I had several people come up to me at my wedding asking for her information for their next event etc! She is reasonably priced and wonderful... Read More to work with. I highly recommend choosing Annie's Culinary Creations for your next event or wedding day, you will not be disappointed!
---
Reviewed on

2/26/2017
Elizabeth B
Annie did an AMAZING job!! Mark and I did and nontraditional wedding cake ( very colorful) and Annie ROCKED it!!! Both taste and design were spot on! Highly recommend Annie's Culinary Creations!!
---