Home

Annie's Culinary Creations
About this Vendor
An unforgettable day deserves unforgettable cake!
From the most elegant and traditional wedding cake styles to modern or even whimsical cakes, we'll work with you to create a wedding cake that will be a beautiful reflection of you and your wedding theme.
Details
Contact Info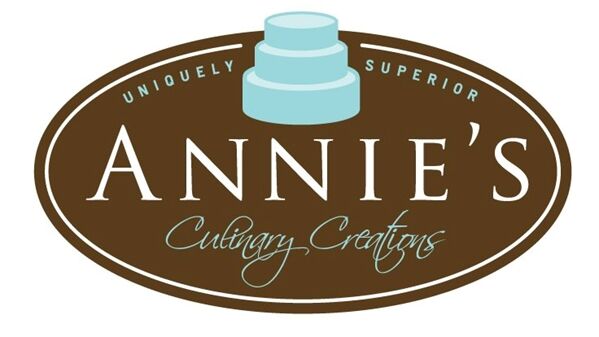 1908 N Henderson Ave, Serving the DFW Area, TX
Annie's Culinary Creations
Reviewed on

2/19/2014
Lauren T
Absolutely fabulous throughout the whole experience! The tasting process and initial meeting was great! Will let you test any flavor you want and will even create custom flavors!! We were so thrilled with our experience. Annie's never missed a beat! We ordered the Brides cake and Grooms cake from Annie's and both turned out perfect and tasted even more perfect!! All our guests kept commenting on how beautiful the cake was and how delicious it was!! Would definitely use them again for any occasion!!!
---
Annie's always delivers beautiful cakes that taste even better
Reviewed on

9/06/2013
Sara B
I learned about Annie's Culinary Creations through family members who had ordered special-occasion cakes there before. She made a fabulous Halloween-Over the Hill-themed cake for a Halloween birthday party in 2010, so when our next family birthday rolled around, I had her make a beach-themed cake. Since then, we've ordered cakes for holidays, showers and birthday parties, and we've never been disappointed. So when it came time for my wedding, we asked her to do both our wedding and groom's cakes. The wedding cake was beautiful and exceeded our expectations so far as taste was concerned. (Our 1st anniversary is in two weeks -- can't wait to bring the top layer out of the freezer!) My husband wanted a cake in the shape of a Japanese cartoon character that most people have never heard of for his groom's cake. I emailed her a photo of the character and the cake turned out PERFECTLY. It was the hit of the reception. Annie is personable and professional. I can't say enough good things about the shop.
---
Delicious!
Reviewed on

11/09/2012
Heather S
Annie was a pure delight to work with and her cakes are out of this world. We had a three tiered strawberry cake, Mexican chocolate cupcakes, and oatmeal chocolate chip cookies at our wedding reception. Everyone loved them and was raving about all of the desserts. I sent Annie a photo of an ombre cake I liked and she did a perfect replication. Also, her sampling is incredibly generous - you receive full size cupcakes of multiple flavors. All in all, wonderful vendor with both product and service. Choose Annie's!
---
Amazing Cake
Reviewed on

3/30/2015
Katie K
Annie was great to work with and was very customer service oriented. She treated you like you were her only customer and did everything possible to create your dream cake. This was also the only cake tasting we attended where we were given full cupcakes with different mixes of her top flavors. If there was another flavor you would like to taste that was not currently in the showcase, she would let you know when her next batch would be (about 3 days). It was perfect. A hard and fast rule for Annie is that she does not freeze cakes. They are always fresh and for your 1 year anniversary, Annie will make a fresh cake topper so you do not have to keep it in your freezer. It really is a great value for your money. Then there is the flavor! I have never had so many great cake flavors in my life. All of the cakes tasted like my mom was back in the kitchen make fresh treats just like when I was a little girl! The frosting is light and compliments the cake well. I highly recommend Annie's for your cake needs - I will be using her again for my husbands birthday cake :-)
---
Wonderful wedding cake
Reviewed on

3/18/2015
Lauren B
Annie was just great to work with. The cake tasted great and looked beautiful
---
Best Cake Ever!
Reviewed on

1/27/2015
Whitney W
At my wedding, I cut a huge piece of my cake all for myself. We ordered a white almond cake with white almond icing. I prefer traditional flavors for weddings and it was perfect! My guests all raved and I was so happy to have leftovers. It was worth the $ paid. We had a 3 tier cake as well as one kitchen cake. (kept the cost down/serves 150) I was worried we wouldn't have enough, but we had plenty! I still go in just to buy her almond flavor cupcakes.
---
Best tasting gorgeous cake ever!!!
Reviewed on

1/14/2015
Tina L
I hired Annie to do the cake for my 12/30/14 wedding and wow did she ever come through!! The cake was exactly to my specification visually....stunning!! But the taste...that's what makes Annie different!! I've been too soooooooo many weddings and never had cake that tastes as good as it looks!! We had NO leftovers!! Now my husband and I are addicted to her cupcakes. Annie is like a magic word in our household!! Try hers and you won't want anyone else!
---
Highly Recommended!!
Reviewed on

12/03/2014
Kristin M
The cake was great and beautiful!! The grooms cake was awesome!
---
Best Baker in Dallas!
Reviewed on

9/28/2014
Crystal L
My guests absolutely loved our wedding cake!! It was wonderful and we can't wait until our one year anniversary to try our top tier!
---
Wedding Reception
Reviewed on

9/09/2014
Annie's Culinary Creations was our first and only choice for a wedding cake. They did an outstanding job, the cake tasted and looked wonderful. It was presented beautifully on the cake table at our reception and everyone commented on how good it taste. They catered to all of our wishes and the experience could not have been better. Jim Mathis Sachse, TX
---
So so good!!
Reviewed on

8/29/2014
With dozens of bakeries in Dallas, it was a challenge finding the ONE. We did several tastings but knew Annie's was the place. We went for a tasting with Annie on a late week night. She was the most flexible with her tasting hours out of all the bakeries we called. Her presentation was excellent and most of all, her passion for what she does stood out. She simply loves to help you achieve the look you want for your big day. August 23rd was the big day and the cakes that we ordered looked spectacular. The brides cake was three triple layer boxes with the frosted tip design. We then had a rheinstone band added to each layer. We opted for three flavors..vanilla cake with vanilla buttercream icing for the bottom layer, the center was amaretto with amaretto buttercream icing and our top layer was champagne with champagne buttercream icing. Not only delicious but a stunning cake. We also ordered a grooms cake and we requested a Cohiba Cigar Box with cigars around it. People could not believe it was cake as it looked so real. We went with champagne cake with champagne buttercream. Everybody loved how moist the cakes were as well as the frosting not being overly sweet. We couldnt be happier with our choice in Annie's!!! P.S. We brought the top layer home and put it in the freezer. The cake was so good that we already cut into it and couldn't wait a year to have more.
---
Annies amazing cakes
Reviewed on

7/24/2014
Sara S
What I really loved about Annie's is we got to do a cake tasting of fresh cakes at her location and I was allowed to bring my groom, my maid of honor and my soon to be mother in law. Which was really awesome to have extra opinions. Her creations are amazing she pulls off the impossible that is for sure. She also has an amazing team all extremely nice and helpful. I am about to call her for a cake for my husband's 30th birthday in October. Will only use her bakery, best tasting cakes all 120 of my guests loved the cakes. Thanks again Annie and team!!!
---
The BEST!!
Reviewed on

7/24/2014
Dawn M
O my goodness!! If you are looking for the best cake or cupcakes for your special day - be it wedding or something else - look to Annie's! Our daughter was looking for a special cupcake for her groom and Annie came up with that recipe. Annie delivered the BEST cupcakes (5 different flavors) and the wedding guests could not stop talking about them! I would highly recommend Annie's Mother of the bride
---
jo kemp
Reviewed on

7/23/2014
jo k
She made all the changes that I requested, she helped me design the cake, she arrived on time and every one loved the cake. I just wish I had made it bigger. I also thought the price was very affordable.
---
Last minute wedding
Reviewed on

6/16/2014
regina g
I had 3 weeks to plan my wedding. I was calling around to find a cake and flower vendor that could handle an order in very little time. Annie's was recommended to me by another bakery. A week later I was sitting at a cake tasting with Annie at a flower shop. The cakes were all wonderful! I choose the amaredo flavor for the cake. My husband hates sweets and even he was fighting for the last piece. Friends were still asking about were I got my cake 2 weeks after the wedding. I even threw in a strange request of Annie for the cake. I had her create a big Foot to put as the cake topper. (my new last name is Foote). It looked great and everyone loved it. Annie's culinary really came threw for me with a beautiful cake that tasted fabulous in less than 2 weeks! Thank You Annie!
---
Amazing!!
Reviewed on

6/12/2014
Brooke T
Annie's cakes were perfect! We were really concerned about the cake because we are not from the Dallas area, but were getting married in Colleyville. We searched several bakeries in the area and scheduled a full day of cake tasting. Annie's was the last bakery visit of the day and I was so full from trying other vendor samples; however, that did not stop me from devouring Annie's samples. I was so blown away by her cakes! Her attention to detail is amazing. I am looking forward to our anniversary, but I might have to make the drive back to Annie's before then! I would recommend her to anyone!
---
Brides Review
Reviewed on

5/21/2014
Kristen S
Annie is amazing! She is very creative. She is easy to work with! Her cakes taste amazing too!
---
Wedding Cake
Reviewed on

5/05/2014
The cake was extremely good and I like the fact you can do a taste test before. Annie is very good at working with you up to the last minute.
---
Cake Vendor
Reviewed on

4/30/2014
Ashley
We loved Annie and she was so easy to work with and helpful! My cake was fairly simple but turned out so beautiful and was absolutely perfect. I was nervous going in because the cake was one thing I didn't already have a pretty solid idea of what I wanted. She took what I knew I wanted and gave some suggestions and it seriously turned out amazing. Also, I'm one that believes the cake can look good all it wants, but that doesn't mean a thing if it doesn't TASTE good. Annie's is one of those that easily is both. So delicious! We were a little short on servings so she said she would make and serve my entire cake and make a separate top for our anniversary (since you usually take the top of your cake for that). She also of course did the groom's cake as well and it was also amazing. My husband is an Aggie so he wanted to make his cake Kyle Field. She did such a good job with this and it too tasted as good if not better than it looked. We also did various cake balls around it which was a nice touch of variety. Again, Annie was very easy to work with (even though she was moving her shop in the middle of all the planning) and was always willing to answer any questions.
---
Excellent
Reviewed on

11/09/2013
Kristin B
Yummy
---
Wedding Cakes
Reviewed on

10/10/2013
Jonae W
Annie's Culinary Creations did an amazing job on my wedding cakes. I would recommend anyone in the DFW area to check this place out!!
---
Karen Kier
Reviewed on

10/03/2013
Karen K
Annie was wonderful!!! Everyone loved our cakes and they looked amazing.
---
Perfect in taste, design, display, customer service!
Reviewed on

9/09/2013
Layla K
My husband and I just had our 1 year anniversary and pulled out the top tier of our wedding cake from the freezer! I had been waiting an entire year to have another piece of our cake. It was still delicious! The tasting was one of the most enjoyable moments of our wedding planning. The gourmet flavors were unbelievable, we had a very hard time choosing just 1! So we chose 3! I loved the key lime and the strawberry:) The cake was the highlight of our day. It was ivory colored with vintage broach style flowers all around with jeweled ribbon around each tier. The flavor was perfect and the moisure was amazing, the fillings were so good. Everyone was talking about the cake. We are going to make a trip to the bakery for some cupcakes soon. Thank you Annie for making our day so perfect! -Layla and James
---
Amazing taste, presentation and customer service. I love this place!
Reviewed on

9/07/2013
Melissa B
Annie's was amazing from the first interaction beginning with Annie herself. I had been to several bakeries acquiring quotes and tasting and basically checking out the bakeries themselves. I had not visited one yet that had a cake tasting that was good or treated you with excellent customer service. I met Annie and immediately knew she was very customer service oriented and her staff was as well. She was very detailed in her questions, offered solutions for anything I asked about, and the cake testing….yes the cake testing was amazing. Such homemade flavor that I had not been able to find anywhere else. I not only wanted my cake to look good but I also wanted it to taste amazing for all of my quests. I chose the champagne cake with the same icing. Everyone loved it. As for the delivery, I was not there when the cake was delivered but when I arrived everything was set up and beautiful. I recommend Annie's to all of my friends and family and basically anyone that needs a great baker. This bakery has it all…if you want a bakery that you can count on with no worries for your wedding or any occassion, you can stop looking and call Annie's.
---
Delicious and Gorgeous
Reviewed on

7/17/2012
Lauren H
Annie's cakes were the talk of our reception; I honestly cannot even count the number of guests who came up to tell us how incredible the cakes tasted! They were also beautiful, and I feel really showcased her ability to do both breathtakingly simple (mine, pale pink squares with gold trim) and carved creative (his, Han Solo frozen in carbonite). The cake is hands down the best I have ever had. When you go in for a tasting, Annie meets with you and gives you FULL cupcakes for tasting- no frozen slivers. Seriously one of the best things about our wedding was getting cake from Annie's! We already have an order in this week for my mom's birthday.
---
Send Email