Home

Another Wild Hare
About this Vendor
Limitless creativity for your breathtaking wedding
If you choose to work with us, we would be honored. We are confident that our level of service, attention and knowledge is not often matched in the industry. Regardless of the size of the budget, when working with a couple, it is our goal to make sure that our couples stay on budget, and creating an event where your guests will walk away talking for months about the experience. We focus on the small details to make an event truly breathtaking.
Details
Engagement Party, Getting Engaged, Honeymoon, After Party, Bachelor Party, Bachelorette Party, Bridal Luncheon, Bridal Shower, Rehearsal Dinner, Welcome Party, Rehearsals + Parties, Ceremony, Cocktail Hour, Day After Brunch, Reception, Rehearsal, Wedding
Destination Wedding Packages, Destination Wedding Planning, Destination Weddings, A la Carte Wedding Planning, Budgeting, Day-Of Coordination, Full Service Wedding Planning, Honeymoon Planning, RSVP Tracking, Planning
Contact Info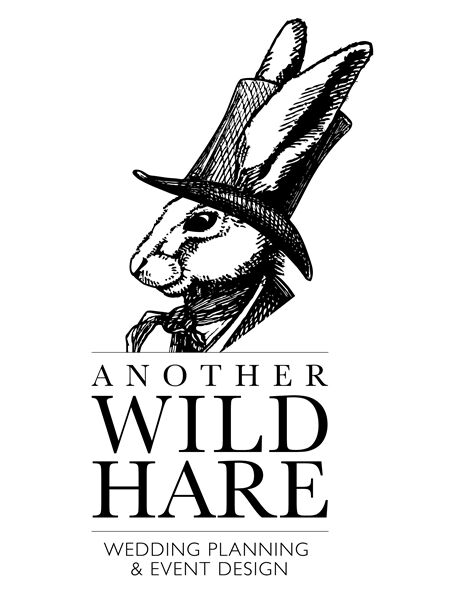 Stress-free and seamless!
Reviewed on

6/08/2015
Nicole K
I can't say enough about how happy I was working with Leah. Extremely professional, thorough, and pleasant! I put a lot of work into the initial planning as I didn't initially think we needed the extra help, but once I handed over my vendor info I felt confident in Leah in... Read More picking up right where I left off. She also provided helpful information and suggestions when asked. Her follow-up and interaction with vendors was great, I had little involvement, and the weeks before as well as the big deal were seamless and stress-free. My husband and I were able to enjoy all of it, which was really important to us. I would certainly recommend Leah!
---
Reviewed on

3/02/2017
Claire S
Leah from Another Wild Hare was amazing to work with, she's incredibly personable and professional,the perfect mixture for a wedding coordinator!!! While we had most of the 'big' decisions handled already, she was able to fine tune the details and stick to the vision we had for... Read More our rustic-shabby chic barn wedding in Harrisonburg, VA. My groom and I were struggling with where to make our grand entrance from and which part of the barn and venue to use for the ceremony, etc. Leah offered her opinion on the how tos and where's, which hadn't even occurred to us, it was such a relief! She had great contacts for servers for our limited budget and great craft tips since this was mostly a DIY wedding. Leah is quite the go-getter and quick to respond for any couples' needs, she took so much stress off of our plates and we've received many compliments on the wedding and the flow of the evening. My husband and I can't speak highly enough of Leah and her services and definitely recommend her for any big event you may have!
---
Reviewed on

8/24/2016
Leah was our Event Coordinator for our son's rehearsal dinner at Hotel Laurance in Luray, VA. I had to plan long distance from Colorado and Leah made things seamless and low stress! She did all the coordination with the caterer, Main Street Bakery, and made sure every little... Read More detail was addressed. She had some great suggestions for the floral decorations and created incredible wildflower arrangements that set the exact tone that we wanted. It was a delight to have someone taking care of all the details so that our family could relax and enjoy this memorable event. Choosing Leah and Another Wild Hare would be a super smart move for anyone needing an Event Coordinator!
---
Works great under pressure
Reviewed on

4/27/2015
dawn p
Leah did an amazing job as a wedding planner and floral arranger for our outdoor beach wedding and reception at our home in Key Largo. I love the fact she can work so well even when things aren't going perfectly. The flowers arrived late but she was calm and put together some... Read More beautiful arrangements. Her creative ideas and "knack" for saving money is a valuable asset. all our guests said they just "loved" our wedding and had so much fun! That makes it a success for us. Thks to Leah and "Another Wild Hare" for your help on our special day!
---
Keys Wedding
Reviewed on

4/27/2015
Another Wild Hare did the wedding planning for our wedding, including hotel negotiations (room rates), food, flowers, music & photographers. Leah personally handled all aspects before the wedding and was there to coordinate. She was awesome! She saved us much more than she... Read More cost. 5 stars to Leah and Another Wild Hare.
---
We loved Another Wild Hare
Reviewed on

10/26/2013
Leah and Another Wild Hare were amazing! We needed a wedding planner because we would never have found the time to plan the event, but we went into the planning with an EXTREMELY limited budget, considering that we wanted to invite about 120 people. Leah found us a venue --a... Read More STUNNING new venue that was still under construction and therefore willing to give us a great deal. Leah and Danielle felt like partners throughout the process, trying to figure out not just what we wanted, but who we are as people. They totally understood the style and feeling we were aiming for. And they made the process fun with their humor, good nature, patience, and positive attitude. Whenever either of us felt nervous or stressed about any aspect of the planning, we always felt reassured and calmed after speaking with Leah or Danielle. The day felt absolutely magical and everything ran smoothly --which was no small feat. Because we were on a limited budget, we were working with 5+ vendors (2 food trucks, appetizers that needed to be picked up from elsewhere, coffee and cake delivered separately). They pulled it all off without a hitch. We can't recommend their services highly enough!
---
Made sure everything went smoothly
Reviewed on

8/16/2013
Laura R
I think the highest praise I can say about Another Wild Hare is that we only heard about one thing that didn't go as planned during my wedding - because they took care of everything else. And the one thing that I did hear about was a difficult situation that AWH handled well,... Read More involving our caterer's time mis-management. We hired AWH for day-of planning services and even though we knew they had several full planning clients, we felt like we got the attention and responses we needed. I would recommend AWH to any bride.
---
Artists and Planners in One!
Reviewed on

7/23/2013
Alecia O
Another Wild Hare was one of the best decisions I made regarding my wedding (perhaps second only to choosing the groom). I was dragged to a wedding convention by my best friend where a sea of vendors were peddling services from catering all the way through to honeymoon planning.... Read More I haid no intention of partaking in anything the salon had to offer, when I noticed Another Wild Hare's table in the event planning section. It was the beautiful layout and general aesthetic of their table that sold me. I knew they could achieve the look I was going for in planning my wedding. From my first meeting with Another Wild Hare they struck the perfect balance of professionalism and comfort you hope to achieve with someone planning your one and only (hopefully) wedding. We sipped champagne and discussed what I wanted (a vintage circus wedding) and ideas immediately began flowing. They found our venue and our band and through their connections got us exactly who we wanted and at a fair price point. They did our floral for us! And our invitations! Ever the professionals, they provided us with competitors samples and pricing but in working so closely with them, AWH turned out to be the right choice. They knew exactly what we wanted BECAUSE THEY LISTEN. So many people in this industry have preconceived notions of what you should be ordering but Another Wild Hare's staff includes so many talented people that can help you shape and improve your vision of the day by listening to what you want and building on it. You hope that the day goes smoothly, but unfortunately that was not the case at our wedding. We encountered a catering meltdown (the only vendor we chose without the help of AWH!) and we were able to see how the planners handle pressure. They kept things from coming apart at the seams. But what AWH did the best was the aesthetics. It is their forte. Our vintage circus themed wedding had a contortionist and juggler (which AWH found) performing at our cocktail hour. There was a popcorn machine with seasonings made by their staff and a cotton candy send off. Inside our tent hung umbrellas and dynamite lighting (that we decided on the DAY BEFORE - and they made it happen). Our photobooth had the most elegant handmade masks and props, all the type of detailed, classy work you can expect in hiring Another Wild Hare.
---
Excellent service! Went the extra mile!
Reviewed on

7/03/2013
Mariah S
We worked with Leah and she helped us last minute to put together the details for our wedding. I had decided that I didn't want to hire a wedding planner or coordinator, but a week before my wedding I realized I needed some extra help. Leah helped by making the escort cards,... Read More created a seating chart and table layout. She also helped me develop a timeline and communicate to my vendors. She took a lot of weight off my shoulder while staying in communication with me. I was so happy to have her help. I was able to enjoy my wedding! Thanks!
---
Great Day of Coordinator
Reviewed on

1/02/2013
Rakesh M
We had a very small HIndu/Christian wedding of 50 people in Brooklyn. Leah was our Day of Coordinator. She took care of communicating with our venders and made sure that the day ran smoothly. We had no idea that one of guests ended up brining an unexpected date. Luckily Leah had... Read More ordered an extra place setting and chair so that the date had a place at a table. Leah was always thinking about the worst case and this saved us! Another Wild Hare is a great business and the staff are very down to earth and knowledgeable.
---
Top Notch Wedding Design
Reviewed on

1/02/2013
Carrie Q
Another Wild Hare helped me plan my wedding for 124 guests in manhattan. They were great. They worked very well with friends of mine who are in the business and created a perfect affair. Our wedding was amazing and stress free. They negotiated with the caterer, the only vender... Read More we didn't know, and they saved us $3,000. So in reality Another Wild Hare's service would have paid for itself if we had needed to use venders we didn't know. I was hesitant to pay for their service as the price seemed like a lot more than i could afford. Little did I know all the things they would end up doing for us and the money they would save us. Thanks again!
---
The Best Wedding Planner!
Reviewed on

12/07/2012
Lisa H
A wedding planner needs to be a few things: -Organized -Friendly -Professional -Easily Reached -Knowledgeable -Dependable -Creative Another Wild Hare's Team was amazing! I had a very clear vision for my wedding. I wanted a glamor filled, crystal and glass wedding. We had... Read More 180 guests and had a budget of $80,000. I had meet many planners who had 20 plus years of experience, but they just didn't seem excited about working with us. They seemed more interested in the money than anything else. Leah was very prepared for our first meeting. She remembered everything I had told her. She had created a vision board based on what I told her. She listened to me and put me at ease. She didn't even ask me about my budget! She valued our business for the excitement of the event and didn't seem to be in it for the money. In fact, they charge a flat fee regardless of your budget so for us Another Wild Hare was a great value. Another Wild Hare will be planning our New Years Eve Party!
---
Great Wedding Planning, Design and Coordination fo
Reviewed on

12/07/2012
Regina L
We were really hesitant to hire a wedding planner, but we both work in banking and don't have the time or energy to put into the wedding planning process. We loved working with Another Wild Hare. We told them our vision and they created it! We wanted a modern decor, but we... Read More wanted to have our wedding at a historic home upstate. Leah worked to blend our modern tastes with the venue's history and made sure our wedding was perfect! I highly recommend Another Wild Hare. They were a great value and it was money well spent.
---
Meet The Owner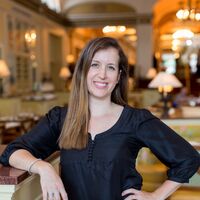 Leah Pence
An old soul who loves design, creating a couple's vision and working in the background. Silk or Velvet: Silk.I have cats. velvet=velcro with cat hair Hometown: Page County, Virginia Feels Like Home: NYC or anywhere gypsy at heart One thing every couple needs at a wedding: Lighting! Makes all the difference in the world Favorite Food: Brussel Sprouts, Lamb, Mango Vanilla or Chocolate: Chocolate Favorite Drink: Yes Favorite TV Personality: NPR ;) Average Wedding Budget: $205K in major cities, $100K in less urban areas. I have worked with budgets as small as $38K and as high as $650K.