Home

Anthony David Photography
About this Vendor
Creating memories for you that will last forever!
Hi, my name is Anthony and I'm a Wedding Photographer in the beautiful Temecula Valley. I have been shooting Engagements & Weddings for many years now and I would really enjoy creating those special moments of laughter, tears & love for you on your big wedding day. Call me today!
Details
Artistic, Classic, Documentary, Dramatic, Lifestyle
Bridal Portraits, Engagement, Trash The Dress
Getting Engaged, After Party, Rehearsals + Parties, Wedding
Destination Wedding Packages, Destination Weddings, Online Proofing, Digital Files
Contact Info

Reviewed on

2/09/2016
Marina T
Everybody says your wedding day goes by faster than a blink of an eye or for the purpose of this review faster than a click of a camera. Planning a wedding is a wild crazy fun journey of choices, opinions, details and the list goes on and on. Some of the most important... Read More decisions you can make is selecting the right vendors, especially the photographer. The photographer is an artist who can paint a picture and tell your story for you to remember for the rest of your lives. We first came across Anthony David on the The Knot and were immediately drawn to the story he is able to create and the way he is able to capture the elegance, emotion, magic, excitement and love on the big day. We choose Anthony's "All Inclusive" package which included makeup done by his wife Michele. When you think about the combination of the two it makes a lot of sense. Michele's ability to understand the visual goal of Anthony's photography helps create a magical chemistry that allows them to elevate the final product. We absolutely love Anthony and Michele!!! The attention to detail, professionalism, time and thought they put into us is something you don't see very often. We truly felt like we were their only customers. Anthony was able to show his experience and creativity. He did his homework of the locations we had in mind and came up with ideas we never would even have thought of. We found him to be hard working yet take the time to listen to our ideas and to make sure we were happy. The experience we had with Anthony is close to perfection and that idea of perfection came from his passion for what he does. Oh and on top of all this the pictures came out, PERFECT!!! We loved working with Anthony and would absolutely recommend him to anybody else!!! Thank you Anthony for capturing the magic, romance, fun and love or our Wedding Day!!!!
---
Reviewed on

12/12/2017
Rachel M
Absolutely the most amazing, wonderful pictures I have ever seen. He takes the MOST insanely beautiful pictures, they look like actual paintings. I literally cannot choose just one I want in my house, they are all beyond perfect. But the most amazing part of our experience... Read More was and is that he is just a truly incredible person. You will not find anyone more caring, friendly, or wonderful. I would give him and his wife Michelle a million stars if I could. They helped to make EVERYTHING special, from the time we met them, until the day of our wedding, and long after. You will not find anyone better, my Husband and I love them both, and the pictures are truly magical. Thank you soooo much for everything you two! You are truly the greatest ever.
---
Reviewed on

11/26/2017
Tracey R
We had such the pleasure of working with Anthony and his assistant on our Wedding day in August. He truly is gifted at what he does. He is very prompt at returning any of your calls or emails. We love our photos so much! Him and his assistant were beyond nice. They caputured... Read More all our special memories. He went above and beyond for us and we are so grateful. His work is incredible!!! I highly recommend any future couples to take the time to talk to him and look at his work. We loved the selection of photos he gave us along with the black and white options! Anthony is the best!
---
Reviewed on

6/13/2017
Claryssa T
Anthony photographed our wedding this year. He also did our engagement photos. I feel that some of the pictures for the engagement were taken so far away it wasn't very personal. For the wedding photos I asked that the picture be taken closer for a more intimate feel. Pictures... Read More came out beautiful from the wedding. I do feel that Anthony was very easily irritated the day of the wedding, which is the last thing the bride needs to deal with and was kind of a deal breaker for me. Anthony also brings his wife to hold things for him every now any then but I dont like that I have a few pictures where she is in the very front with my family, I dont think photographers or helpers should be in the pictures. The 2nd photographer he brought with him was awesome and seemed to be very concerned with getting all the pictures we wanted. I do think some details were missed but I am happy with the wedding photos. It was just a little difficult to get there. I think for all day coverage he is priced well.
---
Reviewed on

7/29/2016
Our wedding was June 11, 2016 and the pictures we received from Anthony David Photography were spectacular! Because my husband does photography, I was extremely picky (but with a budget). I loved the style-- a combination of realistic and fairy tale. And as you can see in his... Read More currently featured photos, it truly came out looking like a fairy tale! I can't imagine them being any better! We had hair and makeup arranged through Michelle as well and it all turned out great. Thanks Anthony!
---
Reviewed on

10/20/2015
Jessica M
I just had my wedding on October 4th and everything was absolutely perfect! Anthony and his wife Michele were such a fantastic team and you can really tell that they love what they do. Michele did all of the make-up for all of my girls, Annie (their hairstylist) and her friend,... Read More did all of our hair, (which turned out fantastic!) and Anthony was our photographer. All of the pictures turned out amazing and I can't stop looking at them! To top it all off, Anthony and his team, are the nicest, most talented, and professional people around. My husband and I are very pleased with how everything turned out. We highly recommend Anthony David Photography. Thank you again!!! :] Jessica
---
Great personality and very professional
Reviewed on

1/11/2015
I was a maid-of-honor for my best friend and I was very impressed by the Photographer and the Make-Up Artist, Michele. Anthony made us feel very relaxed and brought a lot of charisma to the whole event. He was very professional and a great sense of humor which makes it so much... Read More more fun! We all looked stunning and the photos turned out fantastic..especially our make-up. :) I would recommend him to anyone! April
---
Best wedding ever
Reviewed on

12/28/2014
I would like to begin by saying finding the "perfect" photographer is no little feat and near impossible. But I would like to think that ANTHONY DAVID Photography is pretty close. As much stuff as a bride has to do, kinda nice when a vendor helps take some stress off and is easy... Read More to work with. Anthony was amazing and accommodating from the very first meeting. First class all the way, highly recommending him to all my friends for the future and any monumental family events we have upcoming!
---
Best Value, Best Quality
Reviewed on

12/18/2014
Anthony David Photography services are extremely top notch. His professionalism, understanding, and vision made my dream engagement and wedding beautiful and extravagant. Anthony has a terrific understanding to capture your dream day. I highly recommend using Anthony David... Read More Photography for everyone engagement and wedding.
---
Thank YOU Anthony David!!
Reviewed on

12/17/2014
For those considering which photographer to choose for one of life's most important events, a wedding, we can speak from years of experience as to what important benefits must be considered, not only from our personal experience, but from viewing the multitude of weddings we... Read More attended while delivering wedding cakes and supporting catering operations. For over 20 years, before retiring, we worked in the catering business and owned & operated a very popular bakery dedicated to providing elaborate wedding cakes. Choosing a photographer is much like choosing a wedding cake bakery and baker. On the surface, you have a common product; photographers provide a memory book of photos you share and cherish for a lifetime; the wedding cake is a memorable centerpiece for your guests to enjoy during the festivities. Both are details that require careful consideration when planning a wedding. Any selected company "should" reflect the desires of the bride and groom, instill confidence, provide guidance when selecting available services, and, most importantly, be caring, experienced "hands on" business owners. This brings us to Anthony David Photography. We are writing this review as we are impressed with the result of our experience. We clearly understand the events that take place at engagement parties and on wedding day or, as in our case, repeating wedding vows. The wedding cake business allowed us to view what happens before, during and after the wedding event. We saw firsthand how each photography company performed; their interactions with the client, guests, event or day planner, venue staff, caterer, limousine company, and so on. A common thread to achieving a quality memorialized event is definitely the Photographer. Anthony David Photography, as noted from our personal experience when repeating our 33 year marriage vows, offers the key elements needed to navigate from the engagement day celebration to the often, very stressful wedding event. Anthony David and his wife/partner, Michele, understand bride anxieties, family member concerns, bride's cosmetics and hair needs, proper picture taking locations, lighting & exposure, when to take pictures, who pictures must include, and how to blend with guests so as not to be intrusive. This requires an experienced Photographer with a personal commitment to please; one who is on time, has extreme patience and understanding, is very flexible (it is your event, not the Photographer's), and, of course, produces a high quality, creative product at a competitive price. Anthony David and his lovely wife Michele, an award winning professional makeup artist and hair stylist, offer all of these attributes. And, given Anthony's almost 30 years' experience as a fire department emergency professional, you are assured of a stabilizing calm and excellent organization during your event. We highly recommend Anthony David Photography when considering a capable Photographer. Meet with Anthony and Michele. You will be very pleased, as we were, that you take the time to do so. We were also comforted to know that when you choose Anthony David Photography to photograph your event, you shall have Anthony David as your Photographer, not another person you have never met. You are hiring Anthony David, a professional Photographer, when choosing Anthony David Photography. Byron & Loree McIntire Pasadena, CA
---
Thanks Anthony David!!
Reviewed on

12/14/2014
Jessica S
Anthony did our engagement photos. We shot in Temecula in Old Town, some Wineries, and even on an ice rink! He was super easy to work with and made us feel very comfortable. I appreciated the thought he put into our shoot. Anthony knew where, how, and what to shoot without... Read More any hesitation! He's very professional! Anthony has such a great eye; when we were all done he noticed the spot for a perfect picture and couldn't pass up the opportunity. I appreciated his care and dedication for what we wanted while also adding in his own twist. The pictures turned out absolutely amazing! I can't wait to share them with our family & friends!
---
Great Photographer, Great Photos!
Reviewed on

12/09/2014
I was very impressed with not only how amazing my pictures turned out, but also the professionalism with Anthony David Photography. He has a great eye behind the camera and knows how to create the perfect wedding pictures. I would highly recommend this vendor to any bride and... Read More groom!
---
Meet The Owner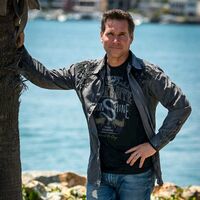 Anthony David Godinez
My name is Anthony David Godinez (Go-dean-ez) and I'm married to my beautiful wife Michele. I've spent most of my career working for the Pasadena Fire Dept. but my true passion has always been in Photography. This is where I made the transition from fighting fires to shooting engagements & weddings for many of my clients and the best part of what I'm doing in photography, is creating memories for couples that will last a life time. I LOVE IT!!