Home

Appease Inc.
About this Vendor
Wedding Hair Stylists, Makeup Artists and more!
Appease Inc. is an on-location bridal hair, makeup and spa team. We give our brides the celebrity treatment! Hair styling, Airbrush makeup, tattoo coverage, eyelashes, massage, mani/pedi's and hair extensions are only a few of the bridal glamour services we offer. Call us today!
Details
Hair Stylists, Airbrushed Makeup, Eyelash Extensions, Makeup Artists, Nails, On-Site Hair + Makeup, Facials, Massage, Waxing, Spas, Spray Tan, Tanning, Beauty
Contact Info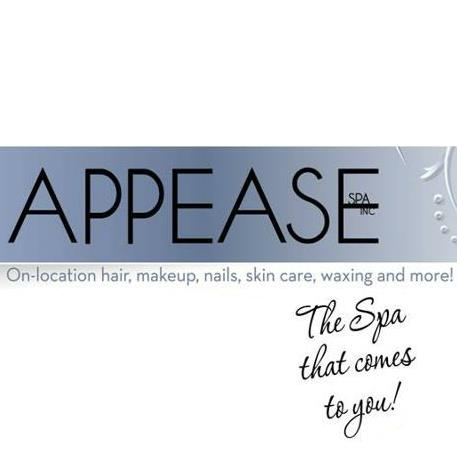 Glendale Heights, IL
Chicago and Suburbs
Very satisfied
Reviewed on

12/02/2010
Claudia V
Everything was great! The staff was very professional and did a great job! I'm so glad I selected Appease for such an important part of our big day!
---
Blushing Bride Package
Reviewed on

10/09/2013
Colleen C
The Blushing Bride Package was worth it on so many levels! Massage, mani-pedi, hair, and makeup! Everyone I worked with was amazing and friendly. My makeup and hair trial was at their Lombard location which is beautiful. I would recommend them to everyone, even those who aren't getting married.
---
Furthered my vision
Reviewed on

9/18/2013
Kristin K
I knew the look I was going for on my wedding day and Appease hair/makeup helped make that happen. I had some particular major problems with my skin on my wedding day that they were able to hide- I was so grateful for their expertise. They were also really fun and willing to change things that I and my bridesmaid weren't totally happy about.
---
Reviewed on

8/02/2015
Nathan B
We used Appease for both our hair and makeup for all the bridesmaids, the bride and the mothers. To say people were impressed would be an understatement. Throughout the entire night and after the wedding we all got tons of compliments on how beautiful we looked and we owe most of that to the ladies of Appease. Thank you for making me look my best on the most special day of our lives!
---
Reviewed on

6/22/2015
Yuliya P
I would not recommend working with this company. They put me through a lot of unnecessary stress chasing them down and trying to figure out details with them. The day of my wedding, the makeup/hair people were also mean and rude for reasons I still don't understand. All of my other vendors seemed like they just love working with people to make their day special, but this was the opposite at Appease, I just don't think they care much about it at all, they just want to make money. If you want to avoid stress on your wedding day I would avoid working with Appease.
---
Hair makeup
Reviewed on

4/24/2015
Nandita S
Loved working with carrie, jen and jonathan. Best to work with!!! Good communication. Great personalities and great work!
---
Great Partner for you Wedding Day!!!!
Reviewed on

2/15/2015
Brie M
I could not be more happy and pleased with my hair and makeup wedding services from Appease! Cathy did an amazing job with my hair and was so willing to work with me to make sure I was happy. Laura did a great job with my makeup as well! I felt like I still looked like myself just a little more glamorous which is exactly what I wanted! Cathy, Laura and Carla also did a great job with all the bridesmaids, moms, flower girls and grandmas...all in all they did 12 people and everything went smoothly. I received so many compliments at my wedding and requests for who provided the service. Again, a HUGE thank you to the Appease team for making my day magical and exactly like I hoped!
---
Budget Friendly & Professional
Reviewed on

2/02/2015
Monica P
I absolutely love working with appease and Iris who did our hair and make up for the bridal party. Everyone looked beautiful. I couldn't ask for a better person to work with than Iris. She just has an eye and understanding for what your looking for and makes it come alive. I couldn't be more happier with my choice of hair and make up on our wedding day. Thank you appease! Monica
---
Great Quality and Value
Reviewed on

10/22/2014
Alexandra T
I would highly recommend Appease to any NYC bride. The ease of having at home service on the day of was invaluable. When I wasn't happy with my first hair trial, Carrie (who was great with email correspondence) quickly sent me another stylist free of charge and I loved her. Jasmine my new stylist, did a fantastic job on the day of with both my hair and my bridesmaids'. My hair looked exactly like the picture I sent her, and didn't move an inch, an amazing fete considering the extremely windy weather. Jonathon did my make-up, and gave me the natural (albeit enhanced) look I was going for. Like, Jasmine, he was extremely personable, and set the whole party at ease. My only issue, was that not enough time was built into the schedule to accommodate all of my 3 girls' up-do requests. Fortunately, for a nominal fee, Jasmine was able to travel with us to the venue and finish up. It turned out to be a blessing in disguise, as she was able to help out with last minute touch-ups before the ceremony began. Overall, I was thrilled with my experience and can't thank them enough.
---
just hire them
Reviewed on

10/15/2014
elizabeth M
They were amazing, really accommodating and so nice. I danced all night and my hair stayed perfect, as well as my makeup. They listen to the bride, and the wedding party, and they are extremely helpful
---
Pricey, but fabulous outcome
Reviewed on

10/06/2014
Jill P
I loved my make up artist Janessa. She listened and did exactly what I wanted. She was knowledgeable and professional and a sweet person. I did not care for the fact that the owner did not allow me to tip my stylist with cash. Instead she charged my credit card for the tip portion. I would have preferred to ensure giving my stylist cash to ease my peace of mind that she was compensated adequately for her good work. $70 for a trial, and $130 for wedding day make up (air brush) was a bit pricey, but it came out beautiful and I received so many compliments.
---
Fabolous!
Reviewed on

9/10/2014
Paola C
They were amazing! Their service went beyond my expectations and will definitively recommend to other brides! Awesome!
---
Happy Bride! Thanks Appease!
Reviewed on

8/13/2014
Pamela O
I contacted Appease four days before my wedding after my previously hired hair and make-up person showed an amount of unprofessionalism I could no longer take (i.e. charging us more than they said originally, changing our end time, etc.) Carla and Carrie came to the rescue and couldn't have been more phenomenal! They are an organized business and listened to what I wanted and made sure they could offer it before scheduling me and my bridal party. On the day of the wedding, they were on time, listened to the bridal party and what they wanted, and were personable and easy to work with. All the girls looked awesome! Also, even though one of the girls initially had said she only wanted hair done because she never liked any make-up services she had received before, after seeing the others with their make-up, she changed her mind; Carla agreed to do her make up too and did a great job (the bridesmaid said it was the first time she ever got her make-up professionally done and actually liked it). Before taking off they touched up a few things the girls asked for (ie re-do curl, bobby pin piece of hair, etc.), gave us a little powder and lipstick to touch up our make-up in case we felt we needed it, and put my veil on for me (I was nervous to mess up my hair). So nice! Our photographers noticed how well they did and what great customer service they had and even asked us what the company name was so they could refer future brides to them. You can't go wrong with these two!
---
BEAUTIFUL
Reviewed on

3/19/2014
Melissa J
Carla did an amazing job on our hair and makeup. She asked questions to make sure we were getting exactly what we wanted. Emails and phone calls were answered promptly and she was very professional. She was very accommodating by doing my trial on a day that they normally don't. I would definitely recommend Appease!
---
Amazing Airbrush Services
Reviewed on

9/01/2013
Jen
Carla did a great job with my airbrush make-up. She was very professional and very friendly.
---
I LOVED IT
Reviewed on

8/13/2013
Anna S
I loved the stylist, she was amazing. My makeup was great, I loved it the most because I still looked like myself just with great makeup, and my hair was also great. I loved my makeup because even after all the dancing, my makeup still looked great.
---
Great service
Reviewed on

7/16/2013
Aimee S
We were very happy with how our hair and makeup was done for the wedding day. Carrie and Carla were great to work with, they did a great job.
---
Good for the price
Reviewed on

7/03/2013
Jillian O
Appease was one of the very few vendors I could find for hair and makeup for a bride + 2 for under $750. I think I paid about $500 overall. My artist was very friendly, the trial went great. She came to my apartment and we had fun chatting while she created a beautiful hair and make up style for me. The day of, she came to the hotel where we were getting ready and started with a bridesmaid who wears almost no make up. The makeup on this bridesmaid was done pretty heavily, despite her request for extremely light makeup, so she ended up removing a lot of it. She did a great job on the second person. My hair and makeup turned out lovely, but the hair wasn't the style we had done in the trial. I couldn't see this until it was finished and too late, which was frustrating. The style was pretty, just not what we had planned. Both the updo and makeup held up very well throughout the night, which was great.
---
great service
Reviewed on

6/19/2013
Katrina R
Carla Was There For Me Every Step Of The Way. She Was Very Helpful And Flexible. EveryoneS Hair And Makeup Was Beautiful.
---
Looked great in the end, but with changes
Reviewed on

6/06/2013
Jennifer E
I loved how I looked the day of my wedding, and how my maids and moms looked. The trials were great, and helped determine what we wanted for myself. The day of, my hair was not done the same and needed to be adjusted. It was still not done the exact same, although close. One of my maids took quite some time to get her hair after many changes because it just did not look good. Very curly hair. In the end everyone looked amazing, just took some time. Overall the prices were some of the best for this service. I also liked knowing if one of the artists was sick, they have subs on hand.
---
Hair and Make-up
Reviewed on

5/21/2013
Merideth H
SO AMAZING! Carrie and Laura were incredible! Carrie showed up and did hair for hours! Every single bridesmaid (I had 6), plus my mom and my flower girl as well as myself. We all looked amazing! Everyone loved their hair (how often does that happen where everyone loves their hair...never!) She was so sweet and friendly, too. My hair was incredible and stayed all night long-in fact everyone's hair held up through hours of dancing! Laura was the make-up artist and she was fantastic. People who didn't pay for make-up ended up getting it done because it looked so good. I've never felt so beautiful in my whole life! Pay the extra for the air-brush...so worth it! Plus they give you a foundation, lip liner, and lip gloss for touch-ups!! I wish I could have them do my hair and make-up everyday!
---
FANTASTIC
Reviewed on

1/17/2013
Lindsey T
I hired Carla and her team for my New Years Eve wedding. Carla did an awesome job on both my hair and makeup. I normally don't wear makeup or do my hair and we were able to work together to create the exact look I wanted. The best part of the experience was having a trial a few months before the wedding. I was able to update my look for the wedding without the anxiety of not knowing what I would look like. Plus they came to my hotel room for the wedding which was super convenient. Carla is very sweet and easy to work with. I would recommend her a million times over. FANTASTIC!
---
Very happy with Appease
Reviewed on

11/05/2012
Audrey P
I was a little worried about using a "company" for our hair and makeup. But I was proven wrong. Carla did the hair for my entire bridal party and mine and my mom's makeup. I was INCREDIBLY pleased with how it turned out. Before planning my wedding, I had no idea this was a whole industry. Carrie was great in working with me to answer all my questions pre-wedding. Carla came to do a trial with me and really listened to my ideas and feedback. She is truly an artist. We were so happy we chose Appease. They were affordable and very talented.
---
Professional, Experienced, WONDERFUL!
Reviewed on

11/02/2012
Katerina S
Laura did my hair and make-up and she was awesome! She is very professional, completely knows what she is doing and made me look like a million bucks! I love that Appease takes on lump sum from you (tip included) and they are very good about getting back to you and setting up your appointments. Great to work with. Definitely, 100% recommed!
---
Recommend hair by Carrie!
Reviewed on

10/08/2012
Alissa G
Appease came to our hotel to do hair and makeup for the girls and moms. I also did an at-home trial with Appease. In the beginning, I had great communication with Appease (via email). About 6 months before the wedding, someone else within the company began responing to emails and she was not always very organized or responsive. My trial went fine, although there were things I wanted to change. On my wedding day, Carrie did the hair and she nailed it! I made some changes after the trial and she understood them all and it turned out beautiful. Sunshine did the makeup and after all of the changes I had, she did a fantastic job as well. Both girls did hair and makeup for the wedding party and everyone absolutely loved their hair and their makeup. There was only one girl who did not have the right foundation color on. I pointed it out to Sunshine but she checked her and thought it was fine. Maybe it was the lighting but she looked even worse during the evening when the lights were dimmed. My girl didn't say anything but I felt bad because it should not have looked that way. Overall, I would recommend Appease. I'm not giving them 5 stars because of the email communications and because of the girl with the orange-ish foundation color.
---
Send Message