Home

Appletree Cake Company, LLC
Details
Cake Accessories, Cakes + Desserts
Contact Info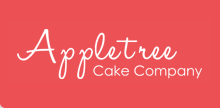 Reviewed on

6/27/2017
Lauren R
We tried many cakes and Jan's was by far the BEST wedding cake we tried! She had so many interesting flavors, it made it hard to choose. So we chose three, one for each tier of our wedding cake! We really wish we had more leftover cake.
---
Reviewed on

7/04/2016
I could not be happier with the beautiful and delicious cake the Appletree Cake Co LLC made for my daughter's wedding last weekend! Jan Butterfield was wonderful to work with. She was so kind and accommodating while working with me through the entire selection process.... Read More Because my daughter was attending college out of state, I had the deliciously daunting task of selecting the cake without her assistance. I knew her vision was for a semi-naked cake with lots of flavor, but I was nervous about making a choice she and her groom would both like. Jan provided a wide variety of flavors and fillings to mix and match during the initial tasting. (She was also kind enough to provide me with a second box of samples, when I started to doubt my choice just weeks before the wedding!) Another area she proved knowledgeable in, was helping me select the correct number of tiers to give the cake the proper height to make sure it was aesthetically pleasing to the eye. My daughter and I both couldn't have been more pleased the end results! Jan delivered a beautiful semi-naked cake with salted caramel cream cheese filling! It was the perfect color, and looked beautiful in the rustic venue setting with fresh flowers on all the tiers. I had so many guests comment on how moist and delicious it was! Appletree Cake Co really "takes the cake" in delivering excellent customer service, along with a beautiful and delicious quality product! I highly recommend their services!
---
Reviewed on

3/24/2016
Rachel P
Words are simply not enough! !!!! Jan was able to perfectly create the vision we had. We had rather detailed and intricate requests for our cake, and she delivered more than we could have imagined. Our cake was a topsy turvy design with such realistic details. Not only... Read More the design. .... but the cake itself! Flavors were amazing and such neat slices when cut. You can tell her heart is in this business! She was so wonderful to work with. I would most definitely recommend Jan to any bride to be!!!!!!
---
Great Cupcakes and Cheesecakes
Reviewed on

11/03/2015
Lani T
Jan was great to work with. I had cupcakes and cheesecake served at my wedding instead of a traditional cake. Jan was able to meet our needs and provided us with delicious desserts!
---
Best cake ever.
Reviewed on

10/30/2015
Trish A
Jan (owner) and her creations are absolutely fantastic! Meeting with Jan for a tasting was such a treat. She was so welcoming and open to suggestions. She really aims to understand your vision, and if you don't have one, asks questions to guide you in the right direction.... Read More She offered many cake and filling flavors, so my now-husband and I had a very hard time choosing our wedding cake flavor combinations. All of her cakes are moist and flavorful. Flavors include more "classic" ones such as vanilla (but she does hers with sour cream, which is amazing) and milk chocolate, but also ones like chai tea and lemon coconut. Her fillings are so good that I could eat them by the spoonful (and I did—raspberry cream and lemon curd, hellooo?). We ended up choosing three tiers with sour cream vanilla cake throughout, raspberry cream filling for the top and bottom, chocolate mousse buttercream for the middle. The sour cream vanilla cake is moist and fluffy, perfectly sweet, with great vanilla flavor. I think it also has just a touch of almond extract, which, unexpectedly to some, sends it over the top to vanilla cake heaven. Beyond any of your boxed cake mix dreams. The raspberry cream filling is a great balance of creamy, tart, and fresh raspberry flavor. Wonderful consistency, as is the chocolate mousse buttercream. While Jan typically uses traditional/American style buttercream to frost, I requested Swiss Meringue Buttercream on the outside. It is undoubtedly way more difficult to make and can be finicky in warmer temps due to the amount of butter/fat in it, but I love the texture and minimal amount of sweetness—it balances well with cake and typically sweeter fillings, IMO. Jan was up for the challenge and delivered a smooth, velvety SM Buttercream! I have a simple style and asked that the outside of the cake have a rustic look on the outside, with a crown of fresh raspberries on the top. However, Jan can make very elaborate and beautiful decorations if that's your vision! I'm an avid home baker and appreciated that her cakes were well-baked (neither overdone nor underdone, even golden brown on the outside, even height), cake to filling ratio was perfect, layers were even, and flavors were balanced. Many of our guests complimented us on the cake, including my cousin, who is self-admittedly a food snob (her words, not mine, I promise). We also had ice cream sandwiches at the reception (from another vendor) and were initially worried that there'd be too much dessert left over; however, both the cake and ice cream sandwiches were devoured by the end of the night. Jan is professional, prompt, creative, and a master baker. We cannot wait to have another occasion that calls for cake. We will head straight to Appletree Cake Co.!
---
delicious wedding/groom's cake
Reviewed on

12/29/2014
Katie E
As a sweet tooth, my highest priority for the wedding cake was a delicious cake. My mom found AppleTree cake co. at a wedding expo in Richmond and could not stop raving about the chocolate mousse filling. My (now) husband and I met Jan at her house to taste cakes and icing and... Read More they were wonderful (even the fondant). We ordered both a classic wedding cake with buttercream icing and a playful groom's cake with fondant icing and Jan did a fantastic job with both. we received many compliments on how delicious they were.
---
Delicious!
Reviewed on

5/01/2014
Christina D
I found Appletree Cake Co. while at the Richmond Bridal Expo. That day I tried about 15 kinds of cake and I found theirs to be the most moist. It truly tasted "homemade" yet their presentation was beautiful.
---
Amazing Wedding CHEESECAKE!
Reviewed on

9/29/2013
Katie O
Jan of Appletree Cake Company provided us the best service and cheesecake we could have ever asked for! She worked with us from beginning to end to make sure our design of the cake was what we wanted as well as she worked with us on the delivery of the cake! The cheesecake and... Read More toppings were amazing and our guests continuously complimented how tasty it was and many stated that cheesecake was a much better idea than traditional cake!
---
Delicious and Affordable
Reviewed on

9/08/2013
Rebecca D
I enjoyed working with Jan for our wedding! She was prompt, sweet, and talented. Our cake was adorable and so scrumptious -- we got lots of compliments!
---
Delicious!
Reviewed on

9/08/2013
Kelly
If you want a cake that not only tastes delicious but looks amazing, then you need to use this company! Not only did I use her for my wedding cake, but I used her for my bridal shower and nursing school graduation! Jan and her family run this business out of their home and... Read More are so welcoming. She listens to all of your ideas and is willing to try anything! My husband and I made up our own flavor for our cake and it was delicious! She is professional and attentive to details. She somehow manages to keep her cake moist and fluffy. All my guests came up to me at the end of the night asking who made my cake and if they could get more. My engaged friends are asking for her number because it was the best wedding cake they had ever had. That is a HUGE compliment. Most wedding cakes end up being dry and crumbly but Jan's cake is like no other. Also, I didn't want regular fondant icing but marshmallow fondant and she said "no problem!" IT WAS AMAZING!!! my mouth was watering the entire time. You need to try her cake and see for yourself how amazing her cakes are.
---
Above and Beyond!
Reviewed on

8/17/2013
Kelly A
My husband and I were extremely pleased with the quality and service we received from Appletree Cake Company. We were sold on Appletree's cakes at the Richmond Bridal Expo because her product is DELICIOUS! When we met Jan for our tasting and consultation, she was professional,... Read More personable, and extremely helpful. I had a hard time deciding what I wanted the cake to look like, and when I gave Jan an idea of some of my preferences, she was able to create the cake of my dreams. It was stunning, and the talk of the reception! I highly recommend Appletree Cake Company!
---
Wedding Cake Disaster
Reviewed on

8/13/2013
Joanna W
Appletree Cake Co. was fairly easy to work with in the days leading up to our wedding. My (now) husband and I worked with the owner to design our dream wedding cake. However, the day of the actual wedding, our cake did not arrive on time at 4pm. We did not hear from Appletree... Read More Cake Co. about what was going on and could not contact them. After three hours of my family and wedding planner panicking, a cake was finally delivered (by now the reception had already begun). However, it was a hastily thrown together cake that did not resemble the cake that we had spent hours designing, nor was it the correct flavors. Apparently our special cake had fallen or melted or something in the car on the way to our wedding venue. Instead of contacting us to let us know what had happened, Appletree Cake went to another bakery to throw together something else. I DO appreciate their attempt at giving us a cake to replace the destroyed one, but we found it extremely unprofessional that we didn't even know what was going on or where our wedding cake was until many hours after it was scheduled to be delivered, and many frenzied conversations between my family and wedding planner about what to do - who SHOULD have been able to spend the day enjoying the wedding. We obviously ended up without the cake of our dreams, and also without the one year anniversary tier that we planned on saving. It was extremely disappointing and the refund we received hardly made up for not having the beautiful cake that we had planned and worked so hard on. I would not recommend using Appletree Cake Company.
---
A cake to remember!
Reviewed on

6/13/2013
Essie W
Jan with Appletree baked us the most beautiful cake I've ever seen! Every layer (three layers: sour cream vanilla with chocolate mousse, lemon with lemon mousse, and turtle--chocolate cake with homemade caramel, chocolate ganache, and pecans) was delicious. The guests loved the... Read More options, and we were thrilled with how beautiful it turned out! The cake was surrounded with beautiful handmade sugar paste flowers, and topped with a perfect pair of butterflies. Jan is truly talented! I can't wait til the next time I have a good excuse to order one of her amazing desserts!
---
delicious cake!
Reviewed on

5/27/2013
Annie L
Jan was a pleasure to work with from day one of tasting to delivery of the cake itself on our big day. Jan was quick to answer any questions I had which made my planning process so much easier. She made a perfect cake for us that was just within our budget! The cake tasted... Read More amazing and we cannot wait to eat it again for our 1 year anniversary!
---
Wedding and Grooms Cake
Reviewed on

5/02/2013
Debbie S
Jan prepared a VA Tech Hokie themed Grooms cake for us as well as a 4 tier wedding cake. Both were perfect! We received lots of compliments on both the work and flavor of the cakes which was excellent. I would highly recommend Jan for your wedding.
---
Big Better Deal
Reviewed on

11/08/2012
ericka p
Jan was wonderful. I planned my wedding in VA from TX, she was really helpful and easy to work with. My Mother and Father in Law were sold on the cake based on the tasting, they raved about all the different flavors and how all were delicious. Needless to say I couldn't decide... Read More on one flavor and requested all three tiers to be of a different flavor. All of the different cake flavors were amazing, guest raved about it!!! It was amazed how Jan created the perfect cake for me without me actually meeting her. Appletree Co. is a professional organization. I felt like I cheated them, I got everything you could hope for in a cake and more for a steal! Thank you Jan!!!
---
TASETY CAKE!
Reviewed on

10/18/2012
Jennifer M
If you want a nice looking cake you can pay more and go with bakers kitchen or desserteri or some other expensive venue, but honestly I tasted everywhere in virginia a, Jan Butterfield had the best tasteing cake! Her cake was not overly sweet but the right consistency and... Read More flavors. There were a few flaws on the icing, you could tell it was hand done, but I was ok with it, it was by no means sloppy. Her Turtle cake (caramel + pecans + chocolate cream on chocolate cake) and chocolate / coconut cream cake (chocolate cake with coconut and chocolate filling) were amazing! everyone was raving about how great the cake tasted! I would totally reccomend this vender! very affordable!
---
Best wedding cake I have ever tasted!
Reviewed on

7/15/2012
Michelle D
Most wedding cakes look beautiful and taste terrible. This cake looked amazing and tasted even better. Jan also made us a grooms cake that looked like a bible. It was perfect, guest actually thought it was a real bible. Great pick!
---
Great cake!
Reviewed on

7/07/2012
julie g
Thanks for a wonderful cake. Appletree Cake helped us decide on flavors, colors, the whole thing. I didn't want a traditional flowery cake, so they made it with lots of geometric lines withthe colors of my wedding. Creative and fun.
---
Groom's Cake better than Imagined
Reviewed on

4/10/2012
Sue C
I hired Appletree Cake Co. to create and design a unique cake for my son's Groom's cake at the rehearsal dinner for 40 guests. Jan took some interests that I shared about my son, and designed a cake honoring his military service and police service. She emailed me a few ideas... Read More of what she could make it look like. I choose one and she did an amazing 3D US Marine uniform cake. Not only did it look fabulous, it was very delicious and moist. She helped in suggesting what filling flavors would go best with the cake we chose. It was a beautiful masterpiece. It wasn't too good to eat because everyone had a piece and raved about it. Thank you Jan for developing your passion into a business and helping me to complete a great dinner.
---
Amazing cake!!
Reviewed on

3/15/2012
jan w
We had a super cake made by Appletree Cake Co. Jan was so fun to work with and made exactly what we wanted. The cake was moist and yummy, and really, really beaustiful. Thank you Jan!
---