Home

Artistic Cake DeZine
Details
Cake Accessories, Cake Delivery + Setup, Cakes + Desserts

Contact Info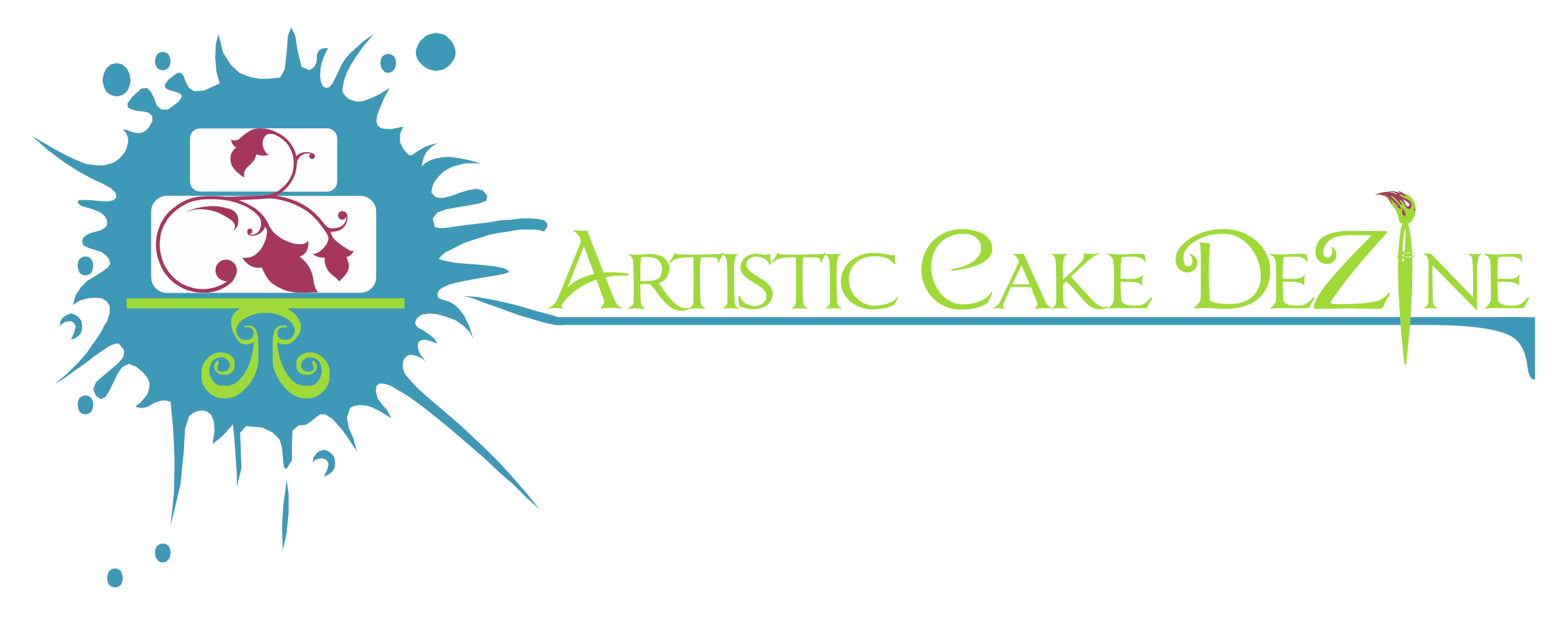 Exactly What we Asked for:
Reviewed on

8/19/2014
Abbee M
I cant even begin to express how absolutely perfect my daughter's wedding cake was. Thank you so very much for making her vision become reality. Kathleen is a true artist. Not only was the cake beautiful, but it was delicious. We had so many compliments on both it's... Read More appearance and taste.
---
Professional,
Reviewed on

4/09/2014
María Isabel A
Before selecting a cake vendor, my now-husband and I did a lot of research for the perfect vendor that would offer value at a reasonable cost. Not only was Kathleen at Artistic Cake DeZine professional, flexible, and highly accommodating, she had a vision for our cake that... Read More included custom cake toppers and handmade sugar leaves that cascaded down the four, circular tiers. The cake was absolutely stunning. All of my guests complimented how beautiful our cake looked. Everything was divine! As for the flavor-- let me just say that we won't be waiting a year to eat our anniversary tier! It was absolutely delicious. The butter cream was the perfect texture and the raspberry filling complemented the lemon cake flavor so well. I already have a colleague who has requested her information, not because he has any major event happening soon, but because he simply loved the cake so much! Artistic Cake DeZine will remain my go-to cake vendor for any future events. Kathleen is very easy to work with and the passion with which she works with is evident in the artwork that she creates.
---
Cusome Cake--Almost too pretty to eat...almost
Reviewed on

11/26/2013
Angela P
I am so so so happy I found Kathleen at Artistic Cake DeZine! She was professional, responsive, easy to work with, and accommodating! This was the best value around! This cake easily fit within our budget, and the quality was out of this world. I shared a picture of a cake I... Read More found on Pinterest with a giant sugar flower spanning all three tiers, and Kathleen replicated it perfectly! I was amazed when I saw it in person--almost to pretty to eat--i said Almost! The flavor combinations Kathleen offered were AMAZING! It was such a hard decision to make because they literally all tasted amazing! We settled on a custom flavor (that Kathleen NAILED!) It was a coconut cake with coconut butter-cream frosting and a passion fruit puree for the top two layers. Then an almond cake with lemon butter-cream frosting and a raspberry fruit filling for the third layer. We got a cake to serve 100 people and only had 75 guests (and a second dessert option), and the entire cake was gone--it was THAT GOOD! I have been to weddings before where the cake looks okay, a little plain, and tastes dry.dry.dry. That was NOT the case with my wedding cake--it was like a work of art, and it tasted amazing-moist, flavorful, and was a BIG hit at my wedding! THANK YOU ARTISTIC CAKE DEZINE!!
---
Wonderful Cake!
Reviewed on

9/13/2013
Lauri P
Kathleen did an amazing job with our cake- everything turned out just as we had imagined it. Throughout the process, she was a true professional, taking into account everything we were hoping for in our cake and executing it perfectly. The incredible thing is, as perfect as... Read More our cake was, her pricing compared to the other bakers we looked at was a huge value, but what we came away with from our experience was how beautiful the cake looked and how delicious it tasted. So many people commented after the wedding on how much they loved the cake that we knew it wasn't just us! We would recommend Kathleen's services to anyone planning a wedding or special event- Artistic Cake DeZine is fantastic!
---
Have Cake Will Travel
Reviewed on

9/03/2013
Mareesa
Kathleen is located in Phoenix, AZ and my wedding was more than 3 hours north of Phoenix. She delivered, assembled and ensured that my cake was more than extraordinary. The cake traveled over three hours and arrived flawless and tasted more amazing than one would expect. Getting... Read More someone to travel three hours was quite a headache until I found Kathleen, she was more than willing and we met more than once so I could sample the various flavors. I was really adamant that my cake not only looked amazing but tasted amazing as well... I didn't want to compromise taste for beauty and with Kathleen I didn't have to. The cake was gorgeous, tasted scrumptious, service was impeccable and Kathleen was a delight. I truly cannot say enough positive things about my experience with Artistic Cake DeZine!
---
Perfect cake for the perfect day
Reviewed on

8/28/2013
Caitlin B
Kathleen was so easy and wonderful to work with and the cake my husband and I ordered was DELICIOUS! We chose a French Vanilla cake with champagne buttercream frosting and could not have been happier. Our guests had nothing but good reviews as well. We will definitely be... Read More contacting her again for an anniversary cake.
---
Highly Recommend! Loved My Cake!!
Reviewed on

8/21/2013
Kathleen did such an amazing job on my wedding cake. We picked an untraditional half white, half chocolate cake and it turned out exactly how I envisioned it! Kathleen went above and beyond what I expected. She had samples of all the flavors I wanted to try and when I was... Read More struggling with the details she had great ideas to help! She was completely affordable and the cakes were delicious. All my guests couldn't stop talking about how awesome the cake was!
---
Perfect Cake
Reviewed on

8/18/2013
Victoria P
Kathleen from Artistic Cake DeZine did a wonderful job on our wedding cake. She met up with us and provided mutiple samples of her cakes and frosting choices for us to pick and choose from. She thoroughly listened to our ideas and put them all together to build a fantastic... Read More looking cake that tasted even better. Everyone loved it. What I was most impressed with was her service. My big day was very stressful. A lot of running around, my florist was a no show, the list goes on. But when I arrived at the venue, Kathleen had already delivered the cake and had it set up. No worries or headaches. It was perfect. Thank you Kathleen!
---
Spring Vintage Wedding
Reviewed on

8/18/2013
Sarah M
I found Artistic Cake Dezine at the Arizona Bridal Expo. Among all the other cake vendors theirs stuck out to me as I was planning my wedding. We had an easy and pleasant consultation and they understood what I wanted perfectly! I got to chose a couple flavors for the ruffle... Read More cake we chose -all of them were awesome! When I saw the cake at my reception I was blown away! Overall awesome service and amazing cakes!! I would refer them to anyone.
---
Highly Recommended! Delicious, Professional, Decadent!!
Reviewed on

4/29/2013
Laura K
Highly recommend!!! Our cake ordering/tasting process was easy and enjoyable :) They are very professional and organized. Payment was easy and cost was low! As our number of guests dropped, they were very flexible in decreasing the size of the cake we originally ordered. When we... Read More first saw the cake we were so excited about how it looked. The design was so awesome! The cake flavors we chose were red velvet on the top layer and bottom layer, and in the middle layer we had white cake with raspberry gel filling. The cake had butter cream frosting. We were able to share a piece from both flavors. They were both amazing!! The white cake with raspberry filling was the most popular among our guests but they were all raving about both flavors. We decided to not save the top of the cake for a year later, since the cake team said they can make a small mini cake for us on our 1 yr anniversary, so we chose to have our cake served until it was gone, and boy did it go fast!! There was nothing left of it! That definitely says something about how delicious the cake was. Thanks again for doing such an amazing job!!!
---
Great Cake!!
Reviewed on

4/06/2013
Cindy M
Artistic Cake DeZine made a beautiful cake for our wedding reception. The cake was very reasonably priced, looked fabulous and was extremely tasty. Kathleen is very easy to work with, professional and really nice. We had a slight miscommunication at one point, but Kathleen... Read More handled the situation in a very professional manner proving that this is a vendor you would definitely want to do business with.
---
Fabulous and Awesome
Reviewed on

1/21/2013
Velma L
Kathleen did exactly what I wanted for my wedding cake and the most outstanding job on the grooms cake as well. My sister designed the grooms cake and you could not even tell that it was a cake, absolutely amazing! Kathleen was very helpful, personal, and outstanding. She not... Read More only delivered my wedding cake to the wedding location and set it up but also delivered the grooms cake (which was a surprise for my new husband) to the dinner reception which was in a different location. She was so accommodating and VERY REASONABLE with the cost of both cakes. With our limited budget we were so pleasantly surprised. I'm recommending Artistic Cake DeZine to our niece who is also planning on getting married in December of 2013.
---
The Perfect Cake
Reviewed on

1/10/2013
Alysia H
I had one meeting with this vendor and knew that she was exactly who I wanted to use! I simply showed her a couple pictures of what I was looking for and the cake I got in return FAR EXCEEDED my expectations. It was precisely what I wanted and I wouldn't have changed a single... Read More thing. It tasted delicious as well, can't beat that!
---
best cake ever!
Reviewed on

1/08/2013
ashley k
Kathleen was so nice and got back to us fast. She met us immediatly to try 4 samples. They were all so delicous we ended up with Strawberry buttercream/white cake and another tier as white cake with strawberry filling. I called other cake places and they said they could not do... Read More the strawberry filling but Kathleen had no problem and said yes right away. She and her husband arrived 2 hours early and set up the cake. They were both super nice!!It was the best cake ever! Everyone at our wedding said the cake was awesome and I told them who made the cake. Thank you Kathleen!!!
---
Amazing Cake
Reviewed on

1/02/2013
Elizabeth C
My cake was delivered the way I had envisioned it EXACTLY to the T! It tasted delicious and Kathleen was so easy to work with.
---
Above and Beyond
Reviewed on

1/01/2013
Holly H
My husband and I decided to elope up in Sedona, AZ. We live in Tucson and only had about 4 weeks to plan. I had contacted a bakery in Sedona and was addressed very rudely because of the short notice. I stumbled across Aritistic Cake DeZine online and they did a fantastic job... Read More accommodating our needs. They made us a beautiful and delicious elopement cake for a very reasonable price. Even met us along I-10 to deliver the cake! I dealt with Kathleen and she was so nice and went above and beyond to make our day special. Will definitely use Artistic Cake DeZine again in the future and highly recommend them to those in the Phoenix area.
---