Home

At Your Door Events
About this Vendor
We plan fabulous weddings for stylish brides.
At Your Door Events was created out of the desire to share the love stories of our clients through their weddings. With our knowledge and creativity we help you plan and design all the elements that culminate in a wedding as unique as the couple getting married. Contact us today to begin planning!
Details
Day-Of Coordination, Full Service Wedding Planning, Planning
Contact Info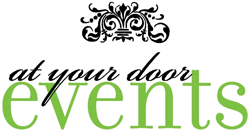 325 N. 2nd Avenue, Upland, CA
Serving all of Southern California and beyond.
Best Wedding Planners!
Reviewed on

1/26/2012
Gracie C
Hiring Sara was the best decision my husband and I made. When I first started planning I had so many crazy ideas and Sara helped me to narrow it down to one amazing theme. We were helped every step of the way and I don't know how I could have done it without them. At Your Door Events helped us find the perfect venue and vendors. While keeping our budget in mind, Sara negotiated prices on everything from the venue, to the D.J.,the flowers, the catering, etc. Our wedding stationary was custom designed by Sara herself, and they were beautiful. She designed everything from the save the dates, invitations, name cards, programs, and menus. When our wedding day came, I was stress free because I knew they were taking care of everything. The wedding ran so smooth and we had so many compliments from our guests. I could not have imagined putting such an important event of my life together without the help of At Your Door Events. Thank you so much!
---
Well Worth the Money!
Reviewed on

11/30/2010
Megan K
We hired Jenny from At Your Door Events, and she was indispensable to our whole wedding planning process! She found us the PERFECT venue, and she and Sara helped us create amazing invitations!!! Jenny was also very organized and conscious of our budget, and she continuously tried to make our vision a reality. No matter what problems arose throughout the wedding planning process, she was there to solve them! It was so nice to have her knowledge and expertise to rely on as we journeyed together to create such a personalized, memorable, and overall absolutely breathtaking wedding.
---
At Your Door Events is Awesome!!!
Reviewed on

9/30/2010
Wendy K
If you are looking for a top notch wedding coordinator, Jenny Goodman of At Your Door Events is the person. She's worth her weight in gold for the calm and organization that having a great coordinator provides. I needed a wedding coordinator for the "day of" for my daughter's wedding. So two weeks before the wedding I was frantically looking for someone and was given Jenny's name …. after six other wedding coordinators had declined because they were booked. When Jenny said she was available I hired her on the spot …. not knowing anything about her. But let me tell you she was an angel sent from heaven and I would not have survived that day without her. She is a great person with the qualities you want: she's professional, warm, accessible, flexible, organized and listens. On the day of the wedding, Jenny worked her magic and made the day go very smoothly. She was invaluable to help with the little details that exist and went above and beyond the call of duty on the day of the wedding. You couldn't ask for anyone better. Logistics of the wedding -- We had a wedding party of 28 including the bride and groom with a reception and dinner for 350 so needless to say there were a lot of logistics involved: multiple vendors, musicians and our wonderful families and friends. Hopefully Jenny is available on your wedding day because she's awesome!
---
THE Best
Reviewed on

3/23/2015
Sara and her team were amazing. Sara made our wedding day easy and made sure we enjoyed our day. The best decision we made was to hire At Your Door Events.
---
Jenny is great
Reviewed on

11/23/2014
Natalie C
Jenny was awesome as a day of coordinator. We worked together a few weeks before the wedding and she was very calm and helpful in organizing our plans. Come the day of the wedding, I was relaxed and carefree knowing that Jenny had it all under control. I would absolutely recommend Jenny for your wedding planner needs.
---
AMAZING!
Reviewed on

11/03/2014
Kristen B
If you are looking for the BEST of the BEST you have found them. At Your Door Events has been absolutely amazing and my only regret is that I did not hire them sooner! I fired my wedding coordinator two weeks before my wedding and my venue coordinator gave me AYDE contact information. When I called Jenny answered the phone and said she was available and we hit the ground running from that moment. Jenny is so professional and is a no nonsense kind of person when it comes to the vendors however she is so nice and friendly when talking with her bride and groom almost like she is family. I just cannot sing her praises enough!! If you need a coordinator please, please do yourself a favor and hire these girls! Jenny and Sara really do know what they are doing. Oh and on the day she comes equipped with a black suitcase emergency kit and a basket of water and snacks :) ----the little things!
---
Most important help in the wedding!
Reviewed on

11/03/2014
Sreejith P
Hiring Jenny was the most important step we took in the wedding. There is no way we can manage everything from start to end by ourself. Also, we may not know what to manage. She is the pro. She was equipped, skilled and teamed to make this happen like it never had any pain. Just amazing!
---
It's like having your best friend there with you
Reviewed on

10/31/2014
Ryn S
It's not just a wedding planning service, it's actually a team of smart, caring, go-have-a-glass-of-wine with ladies who feel like you've known them forever right by your side. Sarah and her team go above and beyond-seriously. There was some family tension and Sarah went literally out of her way (a second car trip) to handle the situation in the line of fire. My only regret is not upgrading and having Her as a partial planner instead of day-of services-although that still includes multiple check ins and mtgs well before too! Sarah and her team are just so lovely though I wish we could have spent more time together-she makes your stress disappear. Thank you!!!
---
Such a HUGE help!
Reviewed on

10/31/2014
The At Your Door Events Crew was so professional and helpful. If anything went wrong the day of the wedding I had no clue. It was so nice not have to worry about things getting done and it gave me such peace of mind knowing that my family and friends could enjoy the wedding and didn't have to worry about helping the day of the wedding. Honestly, the best money I spent for the wedding and would highly recommend them.
---
Amazing!!
Reviewed on

10/31/2014
Wow!! Enough good things can't be said about about amazing At Yout Door Events was for my wedding ! From the day I met Sara she made me feel so comfortable which allowed me to give her the control of my wedding! She took charge the day of and made everything I told her come alive even better than I thought it could have been. I can not thank Sara and her team enough for everything she did to make my wedding day perfect and stress free!!
---
Excellent Wedding Planner
Reviewed on

10/31/2014
Allison L
We worked with Sara, who was our wedding planner from At Your Door Events. The venue we got married at required us to have a day of planner. If not for this stipulation, we probably would not have hired anyone. I am SO glad we did! Sara was great. She was supportive, calm, and able to respond to any hiccups that came up. It definitely felt like she had my and my families best interest at heart. She was kind and gentle but got the job done. I would highly recommend Sara and At Your Door Events.
---
At YOur Door Events is the best!
Reviewed on

10/31/2014
Sara B
I cannot tell you how much Jenny from 'At Your Door Events' helped me during the planning process of my wedding. She was always there to offer support and make sure all the vendors were ding what they were supposed to be doing. Her time table for the wedding day proved to be invaluable. I never, ever, EVER could have done this without her.
---
Like having a super competent best friend coordinate your wedding
Reviewed on

10/31/2014
Sara was amazing. Super organized, amazingly empathetic, and tirelessly upbeat. There is no one else I'd rather have coordinating or planning my wedding.
---
Absolutely the best
Reviewed on

10/31/2014
Natalie N
Jenny Goodman and her team at At Your Door Events were absolutely amazing. They planned my incredible wedding at the end of August, and we just couldn't have asked for anything more. Their organization and contacts helped us get absolutely everything we wanted. I mean, we even had an artist drawing souvenirs for the guests during cocktail hour. The absolute best thing about her was when I said things like, "I want 8 ft live trees with deep red leaves lining the aisle" or "we need a string quartet to play the song the groom is writing 2 weeks before the wedding" or "we want to get 6 foot couches to the 71st floor of the tallest skyscraper in Los Angeles," she never said that we were crazy or it was out of our budget (and we certainly had a strict budget)- her response was ALWAYS, if that's what you want, we will make it happen. There were tons of other much more expensive wedding planners that I called before chosing Jenny, but even over the brief phone call I had with them, I knew they wouldn't be flexible enough to help me plan the unique wedding we were imagining. Jenny did not disappoint. And of course her ideas were absolutely brilliant- I mean she found us a venue at the top of the tallest skyscraper on the west coast, negotiated a price we could actually afford and covered it in sparkling candlelight. Incredible. But even after all that, she still managed to impress me with how quickly she smoothed over problems at the wedding- even serving out wine when drinks weren't coming out fast enough. I heard later that my wedding wasn't perfect- but I sure would never have known, and neither did my guests. I am still getting messages from my friends saying that we planned the best wedding they have ever been to, and wanting to know my secrets as they plan their own wedding. My first piece of advice is always... you better call Jenny.
---
The Best Day Ever
Reviewed on

10/31/2014
Megan K
At Your Door Events made every step of the way easier. Jenny helped us with so much information and made our wedding day perfect. Jenny and her staff were very professional and made sure everything went as planned, and if it didn't- I didn't know about it!! All of our little details came from paper to real life and it was amazing. Best day of our lives.
---
Coordination, Connections, and surprise celebrities. The Best Event Planner!
Reviewed on

10/31/2014
Vanessa S
Jenny & her amazing team, At Your Door Events (AYDE), gave us a gorgeous wedding beyond what we could've imagined. Prior to meeting Jenny, we had done extensive research with other event planners and even contemplated going without an event planner. We also visited many wedding venues and weren't happy with what we were seeing. Thanks to the wedding Gods, we found Jenny. At our first meeting (mind you no contract signed yet), she invited us to a hip hotel bar for drinks and Hors d'oeuvres. She spent several hours listening to our ideas, providing feedback and giving us wedding tips. She was even able to withstand all my husband's drilling questions, he was a "Groomzilla" but a nice one lol. The same day we knew we found the right person to coordinate our wedding. Jenny was able to organize our many ideas, complete tasks we asked of her, and always negotiated the best prices. She was our wedding planner for a little over a year and we definitely thought we would get on her nerves or use up all her patience but no, she promptly responded to our emails, made herself available for vendor appointments and always gave us her signature sweet personality. Two of our primary requirements for our wedding was that we didn't want a traditional venue and we wanted to incorporate a hybrid theme of Travel and Paris. Jenny was able to quickly find us the perfect unique venue at an airplane hangar. She was also able to connect us to the right vendors and negotiate prices to be able to execute our hybrid theme. She was able to coordinate transforming the hangar into something out of a fairy tale. Along with the obvious wedding items, she was able to implement a 14 foot Eiffel tower, chandeliers hanging everywhere, beautiful lighting, dramatic draping, delicious catering, hip lounge/bar furniture, and custom linens. We even had a full size airplane as a backdrop! All our guests said the place felt so romantic. I was pretty astonished how someone could handle so many tasks for one day because there was so many details, customizations, and coordination that I am not mentioning here for brevity sake. Jenny brings her awesome team the day of the wedding. My husband and I called Jenny's team, "Jenny's fairys" because if we wanted something like a vendor to stay longer, handle an intoxicated guest, clean up a spill, move some props, they quickly and happily complied. I also have to mention that Jenny spends a good amount of her own time networking to find the best vendors and connections for her clients. This definitely paid off for our wedding because she was able to get us a famous Pop/R&B artist to perform at our wedding and it was a surprise to me and our guests. That in itself was a big coordination effort and went perfectly. From beginning to end, our experience with Jenny was something we'll never forget. She gave us the wedding of our dreams.
---
Great Wedding Planner!
Reviewed on

10/30/2014
Anne P
Sara was such an amazing wedding planner. She was always on top of everything. She made sure to accommodate my needs as well as those of my difficult parents. I have zero complaints about my wedding day and feel so incredibly lucky to have had her as my planner.
---
Sensational Services
Reviewed on

10/30/2014
Emmalee N
We would highly recommend Sara Holland, of At Your Door. She was reliable, professional and a friend during the stressful days preceding your wedding. She made our life easy and took care of the myriad of details that we would have overlooked. Her services were sensational and we would highly recommend.
---
Amazing Service!
Reviewed on

10/30/2014
With out the hard work and professionalism of Jenny Goodman, our wedding would never have been possible. Jenny, from the first meeting until our big day, always went above and beyond the call of duty. She helped us tremendously from the early planning stages and was extremely helpful on our wedding day. My recommendation, you should hire a coordinator for your wedding, and it should be Jenny Goodman. She will make your wedding truly beautiful and memorable.
---
Unforgettable Marvellous Memories
Reviewed on

10/30/2014
BIG THANKS TO Sara Holland! :) You did an amazing job at our wedding at Terranea Resort. From the first time I met Sara I was feeling so overwhelmed and wasn't sure if I was doing a good job in organizing everything, after the first meeting she put me on ease and I left from our meeting feeling like I could conquer it all and I wasn't alone! Any time I had a question I would email or call I'd get a quick reply back. Sara has tons of fantastic ideas to help your wedding day look beautiful. She also helped us figure out tips for vendors with a handy tip sheet and other important tips to make the day run smoothly. Our wedding day was fun, picture - perfect, and we couldn't have done without a coordinator. We hired At Your Door Events for Day of Coordinating- but wished we had hired her for more time with her. Thank you again Sara for making our wedding day an unforgettable experience. Would highly recommend any bride to choose At Your Door Events for their wedding or for any events year 'round.
---
Great Experience for a Magical and Stress-free Day
Reviewed on

10/30/2014
Karin N
I had such a great experience working with At Your Door Events. Sara and her team were amazing during the planning phase and absolutely delivered on the day. I was definitely type A when it came to my wedding and had a PowerPoint with specific instructions, images and a whole bunch of over-the-top details. Sara didn't bat an eye at my craziness and brought my vision to life perfectly. It was like working with a friend and it was great knowing I was in good hands and didn't have to worry about a thing. I highly recommend At Your Door Events.
---
My Wedding Day
Reviewed on

10/30/2014
Marisa M
At Your Door Events was my wedding planner, I choose them simply because I met with Jenny and liked what she could provide and price was within budget. I went in blind as I did not know their work. We were up against a timeline and had changes with the venue, which made things tight. In the end we loved the service providers (florist, shuttle service) that she brought to the party. The day of the wedding and reception were amazing, but some of the last minute running around details, could have been relieved if a dry run was done. (Overload on electrical circuits, pulling pictures for the reception from the house - I would have printed out family and friend photos)
---
Wedding Coordinator
Reviewed on

10/23/2014
Yuli L
Jenny is sooo wonderful! She is very organized and very professional. She truly loves her job as a wedding coordinator. My wedding was at the Kyoto Garden in May and she was extremely helpful in helping me plan my wedding. On the day of my wedding she even went out of her way to plan the littlest details. She even brought in beautiful diamond framed table numbers and even made my bouquets tossing for me on the spot, since i did not have one. I do recommend her for any bride to be!
---
Outstanding service!!!
Reviewed on

10/22/2014
alissa g
I had the pleasure of having Jenny Goodman as my wedding planner for my July wedding in Rancho Palos Verdes, Ca. Honestly she is the most professional and organized person and helped our day go so smoothly! There were no hiccups on my special day because of this lovely lady (even after I forgot my chargers, and card box at home 2 hours away from the venue! She had her assistant run and get everything I needed). My day was planned to a T and she kept everyone on point and, most importantly, on time! Her attention was on my husband and myself the entire time making sure we were cool, calm and collected. She was definitely a key component to the success of our wedding! I would definitely recommend her (and I have!) to anyone that is even thinking of getting married!
---
The BEST!
Reviewed on

10/02/2014
Erin B
My husband and I worked with Sara for our wedding, and we could not be happier! I think the most telling evidence of her success is, when after the wedding people asked me "did anything go wrong?" I could honestly say "nothing!" If there were any snafus or problems, my husband and I did not hear about them and did not have to worry about fixing them. Sara and her team were on top of everything. During the planning process we found Sara to be positive, engaging, and unbelievably helpful. We went to her without a strong vision and she helped us narrow down our options and make decisions we were both happy with. She navigated the opinions and requirements of our families and us with grace and good humor. Her connections with vendors was tremendous and helped us get great deals. I am most grateful for her having introduced us to our DJ - honestly the best DJ in the business! Leading up to the wedding day, Sara was outstanding in her communication, both to us and to our vendors. She created a detailed timeline of events for the day and made sure every vendor had a copy. She also reached out to each vendor the week before the wedding and confirmed their details and timing, which helped the day run smoothly. I really can't say enough about her positive attitude - during the stress of wedding planning, she kept us laughing and helped us focus on the important stuff. Sara's the best!
---
Send Message