Home

Atlantis Banquets & Events
About this Vendor
When We Say Our Weddings Are Unique, We Mean It.
You'll choose one of 9 diverse settings from the elegant Sea Star Ballroom, overlooking the Peconic River, to the Coliseum Room, within the Aquarium, which houses our most captivating aquatic displays. The Hyatt Place East End is located next door–perfect for all of your overnight accommodations.
Amenities + Details
Amenities
Handicap Accessible

On-Site Accommodations

Indoor

Outdoor - Covered

Outdoor - Not Covered

Reception Area
For more details about amenities, please message the Venue.
Ballroom, Waterfront, Cruise, Museum, Hotel, Tented
Destination Wedding Packages, Destination Weddings, Food + Catering, Planning
Contact Info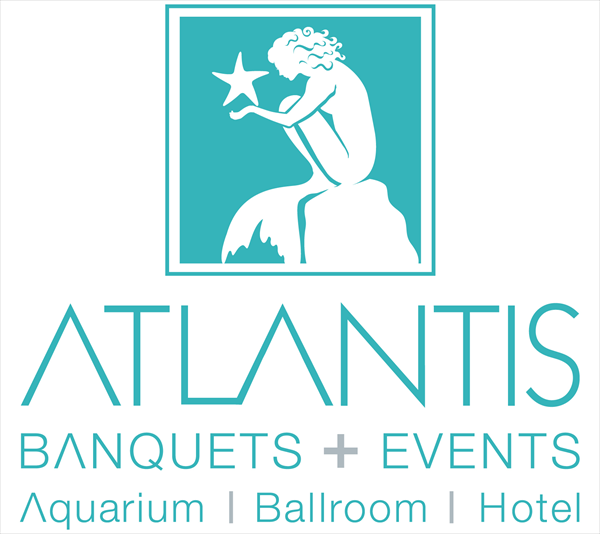 431 East Main , Riverhead, NY
An Amazing Place!
Reviewed on

10/03/2014
I can not say enough how happy I am with the experience we had with Atlantis Banquets and events. We had an afternoon wedding in the Seastar Ballroom. The planning was so easy. Our questions were always answered quickly and they stayed very consistent. Then, on the day of the wedding, I had zero concerns! I had a great bridal attendant who was so nice and took care of EVERYTHING (along with the rest of the staff). The room was set up beautiful, they set up everything as I had asked and more! Then they made sure everything ran so smoothly! I never had to worry! The staff was extremely kind and helpful to all the guests. And the food was amazing! I had guests tell me it was the best food they ever had at a wedding! And we were so full! As the bride, I could not have asked for anything more. The venue was beautiful, the staff was more than accommodating and kind, the food was incredible and everyone really enjoyed themselves. I would recommend having a wedding at the Seastar ballroom at Atlantis Banquets and events to anyone who would listen!
---
Atlantis Wedding
Reviewed on

8/04/2014
Danielle D
We loved our aquarium wedding, it was amazing. Everyone was thrilled and suprised how wonderful it was. It was truly a night to remember. The staff was very attentive, helpful very nice.
---
An event every bride and groom dream of...
Reviewed on

7/22/2014
diane s
If you want a truly unique and memorable venue for your wedding reception look no further than Atlantis Banquets & Events. The day as a whole far exceeded our expectations from the moment we were greeted with champagne and strawberries, experienced a unique cocktail hour in the aquarium, and then enjoyed the reception in the beautiful upstairs room overlooking the Peconic River. The service provided by all of the staff was exceptional beginning with the initial planning with Craig Alexander to the actual wedding day with Lori, Jayme and Jacquie as well as all of the other staff who were attentive professionals that made the celebration run smoothly. The food served throughout the event was delicious and seemed endless. At the end of the evening our out of town guests had the convenience of staying next door overnight at the Hyatt Place East End. Many of our guests commented on how this was the best wedding reception they ever attended. Diane
---
Fantastic!
Reviewed on

7/28/2015
Jessica G
I cannot say enough good things about this venue and the people who work there. I had an amazing time, as did everyone else. The food was spectacular and the ceremony and reception areas were gorgeous. I would recommend this venue to anyone looking for something slightly unique and fun.
---
You have to try this place!
Reviewed on

4/23/2015
An amazing team of people who genuinely care about your big day. They truly made me feel special and provided on hands support during the crazy times and the days I couldn't tell my left from my right. They were patient and understanding.They provided vendor packages that were inclusive of great dj's, florists, photographers, bakers. My event detailer Jayme was the best. The food was great , it did not taste like the typical "banquet food". It was well prepared and delicious. I have received so many compliments about the wedding but I cannot take all the credit. I have to hand some to team at Atlantis who treated my guests well. I highly recommend this place and it is more affordable than you think.
---
Beautiful wedding!
Reviewed on

1/01/2015
Nichole C
Our wedding was absolutely amazing from the very beginning of planning until the end of our wedding night! The entire staff was extremely helpful and made sure all of our needs were met. The aquarium itself looked beautiful, all of our guests continue to rave about it and the food was delicious! We highly recommend it to anyone who wants a unique and very special day!
---
Atlantis Hyatt seastar ballroom
Reviewed on

10/30/2014
I had a pleasurable experience throughout my wedding. My only complaints would be missing out cocktail hour and having no food set aside for us to eat quickly before introductions. I also had missing pieces off my cake that they forgot to put on and when I told them at the beginning about it nothing got done until right before the cake cutting. Other than that our maître d always made sure we had drinks in hand and made sure we were able to sit and eat our dinner.
---
Atlantis aquarium/ hyatt
Reviewed on

10/03/2014
Lori P
We had a wonderful wedding, my family and friends absolutely loved it and had a great time. The only three things that were not perfect was we were unable to bring our own beer in or it was a ridiculous amount of money to do so, we were unsure how to start the event ( took a bit for someone to direct us where to go) however was incredibly wonderful after that. Adrienne was fantastic and was so helpful ( our bridal attendant) and one of the tables escort cards were not put out right away. These were very small things that occurred and besides that the event was amazing, and unique in which all of the guests will talk about for awhile. I can't imagine getting married anywhere else!!!! Thank you Adrienne, Lori, Craig and Jayme. Also to the mysterious captain in the back lol.
---
Wedding
Reviewed on

7/27/2014
Michelle A
My husband and I loved this venue! The staff there is amazing and they were always there when we needed them. Very friendly and reasonably priced for the amount that you are getting. I wouldn't have changed anything about my wedding. The food is amazing as well. They really treated us like we were royalty!
---
Beautiful Day in April
Reviewed on

5/14/2014
Steven and I had a fabulous day thanks to Atlantis! We enjoyed the food, quality and outstanding service that Atlantis provided for us. If you are a couple that's concerned about your budget, this venue is perfect for you. They have a monthly payment schedule that's very flexible. Good luck to all brides and grooms and if you choose Atlantis, you will not be disappointed! Love, Sara and Steven 4/6/2014
---
not happy
Reviewed on

11/15/2013
Did not receive what was promised. Was very upset with out come of my wedding. did not even set up the dining room like I paid for, broke cake topper, Seeing my future husband ended up in a hotel lobby due to their lack of a back up plan, made the elderly family and the wedding party walk in the dark to where the ceremony was to take place, When spoke to upper management all they had to say was we will take this for a learning experience. This was my wedding and they ruined it.
---
Unique and awesome!
Reviewed on

11/15/2013
Elizabeth S
From the start, it was a dream come true. Craig made us feel at ease throughout the whole process. Even when our wedding date had to be pushed back 1 year, he was very accomodating. He arranged for a sea lion kiss for us as a gift. The food was so delicious! The staff, especially the maitre-d and bridal attendant were professional, attentive, and bent over backwards to make our day special and keep everything flowing and smooth. All of our guests have repeatedly told us how impressed they were with Atlantis and how they all had a great time. Even Java (the sea lion) was the epitome of professional and fun! I con't recommend Atlantis more. Unique. Gorgeous fish. Beautiful grounds. So much flexiblity in designing your wedding/function. Fun!!!
---
Aquarium Wedding
Reviewed on

10/06/2013
Kimberly
Atlantis Aquarium did an incredible job with our wedding. My Husband and I wanted a beach wedding but couldnt find the perfect beach and then we worrying about weather, we then thought of the aquarium because this way we could have the beach theme and feel without sacrificing for poor weather and now can have a private ceremony and reception. Overall the Aquarium met all of our needs and request! It turned out even more beautiful then we could ever imagine (and lucked out with gorgeous weather) I highly recommend them for their staff, food (which was amazing) and how they handled everything! Thank you so much for giving us the best wedding I didnt know we could have!
---
Atlantis Wedding
Reviewed on

7/12/2013
Tiffani M
We had our cocktail hour in the aquarium and reception in the ballroom. All of the guests loved how unique this was. I recommend the two locations if you are wanting both something unique, but still want to be traditional for the dinner. The planning process went well. Atlantis was willing to work with us and make sure we were happy. Great assortment of food choices for cocktail and dinner. Open premium bar all night is amazing. We also did the chocolate fountain and cordial/espresso bar with dessert. Our guests loved both. We had the times of our lives. We believe our guests did too based on all the phone calls we received after the wedding. Thank you Atlantis for making our wedding so memorable!
---
Excellent service
Reviewed on

5/27/2013
Elizabeth F
Our wedding was may 10th, and we couldn't have asked for a better place. The whole staff was do accommodating and Lori my bridal attendant there was on point w/ everything, making sure I always had a drink, my dress was always perfect, hair wasn't in my eyes, and took the time to learn everyone in the bridal parties name so she could assist them also. All and all excellent food and everyone said it was one of the best weddings they've been to.
---
Perfect
Reviewed on

10/17/2012
Heather V
From the second we arrived to the second we left we were treated like royalty. We are so pleased we chose this venue.
---
An amazing, once of a lifetime experience
Reviewed on

10/10/2012
Lynn C
My husband and I started out looking to do a destination wedding, but realized we wanted to include people that we knew may not be able to afford such. So we started looking a little more local and stumbled upon the Long Island Aquarium. Initially, we were attracted to the place for the obvious reasons that it was an interesting and unique venue in a quaint little Long Island town. We ended up loving the place after we decided on this venue because of the quality of the service and the openness of the staff. Craig Alexander was extremely attentive to our needs as was the rest of his staff on our big day and everyday leading up to it. The food, even though we barely got to eat because of the usual wedding mingling, was excellent and all of our guests have simply raved about it. Other comments we get from our guests were how different and refreshing it was to be at a wedding where you get to experience beautiful and interesting sea life, instead of just drapes on the walls. My husband and I have not one regret about choosing Atlantis for our wedding and would absolutely recommend this wedding to any couple looking to do something fun and different for their wedding.
---
SHARK TANK WEDDING!
Reviewed on

10/10/2012
sara t
Everybody told me that planning a wedding is really really hard. So first thing we did was to look for a perfect place for us. We've been coming to the aquarium for years already and we love this place. We love everything about it. Then we heard that they do events and weddings here. We thought that the price would be outrageous. They have very good reviews from a lot of people. So we called and went there. CRAIG was the guy we talked to. HE IS THE BEST EVENT COORDINATOR EVER. He gave us a REALLY good price. AND we can get married inside the SHARK TANK!!! So we booked the place. Again, I thought its going to be very hard coordinating with them, being so far out (we live in queens). But nope, he made it so easy. The wedding day itself, everyone, all the staff, were so nice and so courteous and so attentive not only to us, but also to the details and the guests, and they took care of everything!!! (Bec I have no clue what to do). It was PERFECT! It was GORGEOUS what they did. Never thought my wedding would be that PERFECT AND BEAUTIFUL. Everyone loved the shark tank ceremony! Moriches Main Street Flowers (Ms. Judy) did such an amazing job with all of my flowers and the decorations! And they have a really good price too!!! Absolute entertainment and Photos of the heart made this day absolutely perfect. My Bridal attendant was SOOO attentive and SOOO nice! Everyone had such a great time!
---
reception
Reviewed on

9/09/2012
Dina Z
The price per plate with upgrades included was still cheaper than some catering halls plus we had the unique privilege of walking around the aquarium ourselves and all of our guests. It was a different place to have a wedding reception and the sercive was on point. The food was phenomenal and my "cupcake" cake was delicious
---
Atlantis Banquets and Events
Reviewed on

8/11/2012
Kathleen W
Everything was amazing. The food, the service, the atmosphere was better than I had expected. Would definitely recommend this venue for a bride who wants something a little different for the venue but still wants a traditional type wedding. They will cater to your every need!
---
Wedding of the year!
Reviewed on

8/06/2012
Ashley A
The Atlantis opened up a brand new Sea Star Ballroom. Our wedding was everything we could have expected and more. Cocktail hour was outside on the river around the Koi Fish Pond. From there everyone walked through the aquarium to get to the Ballroom. I still have guests raving about how amazing the dinner was and the food at cocktail hour. They are also blown away by the service. There was a waiter per table and constantly refilling drinks and providing anything my guests needed. It is a gorgeous ballroom and would recommend this location. What I liked was that they only do one party at a time, so I was the only bride and it was somewhere different from where everyone else has their receptions. It was more money than the other locations, but you get an amazing atmosphere, staff, and food!
---
All my dreams come true!
Reviewed on

5/22/2012
Melissa M
We were planning a small wedding of 50 people, so we were looking for something different than your standard catering hall. From our 1st visit to Atlantis, we KNEW this was definately the place for our wedding. Patti and the entire staff were so helpful throughout the planning process. On the day of our event, the staff was ready to accomodate all our needs. We had our ceremony outside on the Pavillion and our cocktail hour/reception in the Shark Room and Colluseum. The atmosphere was breathtaking!!! The way they light up the aquarium for nighttime is so beautiful. We have some of the most beautiful wedding photos I have ever seen! I couldn't be happier with the professionalism and willingness to help of the entire staff, the DELICIOUS food and desserts that our guests cannot stop raving about, and the beautiful atmosphere that helped to complete our most special day. I would HIGHLY RECOMMEND Atlantis if you are looking for a place that will top all weddings your guests have ever attended!
---
Incredibly Happy Atlantis Bride
Reviewed on

5/14/2012
Allison C
This incredible staff made our wedding something we could never have dreamed of... so much better than we hoped! The staff was absolutely amazing from beginning to end, they were so attentive to our needs, and the needs of our parents. All the staff were incredibly pleasant, and very accommodating. We can't say enough about the absolutely incredible food, and our guests could not stop mentioning how unique the venue was. We are still on cloud nine, thanks to this absolutely wonderful day. The Hyatt next door was equally on par with their wonderful service, incredibly accommodating staff, and beautiful rooms. This place is definitely the number one wedding pick on the island! Thanks again to everyone involved.
---
A fun place for a wedding
Reviewed on

1/30/2012
Sari L
I was looking for a non-traditional wedding venue that would be good for kids as well as adults. This place fit the bill! My guests were able to feed the stingrays, look at the fish in the tanks, eat, dance, and have a great time. I did find that there were some extra hidden costs, such as chair covers, make sure you ask about things like this.
---
made my wedding more amazing then i ever thought p
Reviewed on

1/17/2012
Dawn R
It started with my husband and I being at the aquarium and meeting Craig Alexander (banquet manager) He showed us the entire aquarium, and even taught us about all the fish and sea life. Never would have thought of doing my wedding there until then. The new Hyatt Place hotel had just opened and the Sea Star Grand ballroom was still under renovation, but we got to see the progress. Once it was finished we went to see it and it took our breath away. We knew this was definatley where we wanted to get married. We had our ceremony in the shark room, which was perfect. And our reception in the Sea Star. Everything was perfect. All of our guests raved about the food and the service was outstanding. No one ever had an empty drink. Patti was my bridal attendent and I couldnt've done it without her. She made sure everything was perfect and if it wasn't she did whatever she had to do to make sure I was happy. Our guests stayed in the Hyatt Place and loved it. The rooms were gorgeous, and the service was great. We could not have asked for more for our wedding day. Thank you Craig Alexander, and the staff of Atlantis Marine World and Hyatt Place East End.
---
Send Message