Home

B Fabulous BBQ and Catering
About this Vendor
You're Fabulous! So are we!
When you choose a caterer for your wedding or rehearsal, you want fabulous food! That's what you'll get when you choose B Fabulous BBQ & Catering! We offer a full-service, build your own buffet at an affordable price. Buffet prices start at just $8.95/person. We offer an amazing variety of smoked and roasted meats, comfort food classics, hot and cold sides and everything needed to be full and satisfied on your special day! We are licensed with the State of Iowa to serve beer and wine. Contact us for pricing for this service. Our full menu and pricing are available on our website.
Details
Buffet, Catering Clean Up, Catering Delivery + Setup, Menu Tastings, Food + Catering
Contact Info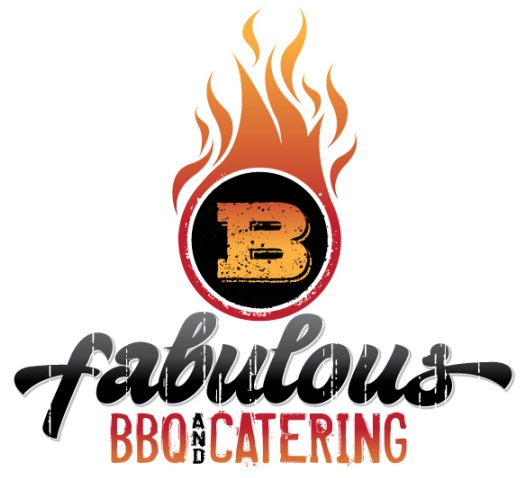 Reviewed on

6/06/2016
Lindsey
I love this caterer!! They have it all! 1. Great food! (Amazing selection!) 2. Great service! 3. They were very accommodating! (I had to make a last minute change and they were so gracious about it!) 4. Great people skills! 5. Great staff! 6. Great prices! I would recommend... Read More them to anyone who wants a stress free environment and awesome food at their wedding!
---
Reviewed on

3/17/2016
Christine M
The food was delicious and extremely reasonably priced! The owners were so easy to work with and accommodating, including helping me navigate what our guests with various dietary needs could eat! They went above and beyond to help make our guests feel cared for.
---
Reviewed on

7/13/2015
You guys were amazing!!! The food was delicious, service was excellent, and the pricing extremely reasonable. If you're looking for some delicious bbq you could not ask for more. The best!!!
---
Reviewed on

3/17/2018
Brian V
B Fabulous BBQ embodies the word fabulous in everything they do! My husband and I had B Fabulous BBQ cater our wedding in 2015 and it was one of the best decisions we made during our wedding planning experience. It was really important to us to find a gay friendly, strong... Read More community focused business to have cater our wedding and B Fabulous BBQ is exactly that. Billy and Deanna are two of the nicest and hardest working people we met during our wedding planning experience. They were super accommodating to all of our requests and took time to get to know us as a couple. During our wedding day, everything went so smoothly and that is all thanks to B Fabulous BBQ. I heard so many positive comments from our guests about how friendly the service was during our wedding. In addition to reliable, friendly service, the food is amazing! We got a few smoked meats with BBQ sauce and a few hot sides. The food was such a hit with guests that they were eating the left overs later that evening because they couldn't get enough. I can't recommend B Fabulous BBQ enough. Choosing them supports local business and you can depend on them to deliver an amazing meal for your big day!
---
Reviewed on

3/17/2018
Nathan D
Our wedding was a super small affair (~50 people to feed), and everything was perfect, but our family is still taking about the fried chicken, Mac and cheese corn, and veggie bowtie pasta. They were great caterers, extremely friendly, and it gave our wedding reception something... Read More extra that most people don't. I love steak, baked chicken, and roast beef as much as the next guy, but I've never had better fried chicken in my life and having it on my wedding day was the absolute best. On top of it all, we saved a ton of money on food because they charged way less than any of the other caterers that we looked at. I cannot recommend them highly enough.
---
Reviewed on

3/16/2018
Kendra J
B Fabulous BBQ was an awesome caterer for our wedding! Their pricing is reasonable and their food is superb! They delivered and set up without a hitch. I would use them again in a heartbeat.
---
Reviewed on

6/12/2017
Lindsay B
We absolutely loved our service and food from BFabulous! They were on-time, food was fantastically prepared, and service was wonderful! We would definitely recommend their food and service to anyone. Not only are they affordable, their food is down to earth and delicious!... Read More Absolutely best decision!
---
Reviewed on

1/15/2017
Bethany P
They did everything right but arrived right at the time we set to eat so they still had to set up
---
B Fabulous BBQ
Reviewed on

1/29/2016
Logan P
B Fabulous BBQ served wonderful food at my wedding. They were flexible and very happy to help me with anything I needed. I forgot last minute to order a gluten-free meal and they had everything under control. The food is amazing (and reasonably priced) and the people are very... Read More nice. Not only do I recommend eating at their restaurant, I highly recommend using them for catering!
---
Delicious & Cheap!
Reviewed on

8/07/2015
Kimberly S
They were the cheapest caterer we could find which worried me. Going in for our tasting I saw their little restaurant which worried me even more cuz they are just a little whole in the wall, But they are seriously the most delicious food I have ever eaten!! I wish I lived in... Read More Iowa just so I could eat there everyday! Everyone was raving about the food and going back for fourths and fifths. Plus Billy and Deana were both very nice and professional while still being totally normal approachable people. She showed up and set up and stayed and served everyone and they even gave us endorsed gifts which I don't know if thats the usual thing or not. I only had one problem with them and that was that I felt like they were using my wedding as an advertising opportunity. I had already told everyone about them and I would've given their name out to any guest who needed it but they brought along a stack of mini flyers and business cards that were then left behind for our guests to take, but what really happened was that there was more mess for us to clean up at the end of the night. I would definitely recommend them to anyone who needs a caterer.
---
Great food!
Reviewed on

6/23/2015
Katherine S
B Fabulous BBQ The food that they brought was delicious. They also helped us by providing chips and homemade salsa for the cocktail hour and they cut the sheet cake for us. Everyone really enjoyed the food! I would highly recommend using B Fabulous as they did a great job!
---
Delicious!
Reviewed on

10/14/2014
Melissa
I was the Wedding Planner/Coordinator for this wedding and B Fabulous was fantastic. Easy to work with, accommodating, and the food was excellent. If you're looking for delicious local BBQ for your catering, they are the vendor for YOU! The grooms and guests enjoyed the... Read More food very much. Thank you for everything, you made the wedding a huge success! :)
---
Above and Beyond
Reviewed on

9/28/2014
Rose G
The food was FABULOUS and affordable! In addition to that Billy and Deanna went above and beyond and catered to anything we asked of them (bartend, wait tables, bring a cork screw), everything! Could not have asked for anything better!
---
Amazing is an Understatement!
Reviewed on

7/31/2014
Gusty G
We hired B Fabulous to do our wedding. They were exactly what we were looking for, in fact, they were beyond our expectations. We loved everything about it and our guests were obsessed with the Mac&Cheese Corn. They were very easy to get in touch with and they always responded... Read More quickly! I highly suggest B Fabulous!
---
Made my day perfect!
Reviewed on

7/17/2014
Chris W
Billy and Deanna are simply amazing. They were so nice and did everything we asked without batting an eye. The guests couldn't stop talking about how amazing the food was. They even helped my assistant get ready for the reception to start - lighting candles and just being all... Read More around really nice and polite to all our guests while maintaining the professionalism. If you book them for your wedding I know they will make sure they are a part of why your day goes well :)
---
B Fabulous BBQ and Catering
Reviewed on

8/01/2013
Chris W
We worked with Billy at B Fabulous on a custom dinner for our barn wedding. The food was amazing and was within our budget. The service during the entire process was incredible. I would HIGHLY recommend using them for your wedding.
---
Amazing food and service!
Reviewed on

7/29/2013
Megan B
B Fab was amazing to work with! They were always easy to contact and had great communication throughout the whole planning & day! They NEVER had us confused with someone else or had our order "screwed up"... as I found many vendors seem to do... Many of our guests commented... Read More how wonderful the food was at our reception! I would consider myself a "Texas brisket" connoisseur, and my fiance & I tried many different BBQ caterers throughout the Midwest when planning our wedding. B Fab is hands down the best BBQ caterer in the Midwest! They also were one of the only places to offer 3 sides, 2 meats, salad, and cornbread muffins for under $10/person! We also had guests raving about the cornbread muffins and even the hotdogs (which had actually been brought for the kids-- but the adults loved them too!) Broccoli salad and mashed potatoes were also delicious! I have eaten at B Fab in the restaurant in Huxley several times, and have never had a bad meal! Both owners even stayed & served people as they went through the line! B Fab also went above and beyond "a normal caterer" because they cut & served our wedding cake for us (which of course was brought by another vendor)! We can't say enough about how great B Fab is! Thank you B Fab for everything you did to make our wedding reception meal absolutely delicious!
---
Fabulous food - still talking about it til this day
Reviewed on

3/19/2013
Michele M
We chose B Fabulous BBQ because my husband and I wanted a meal that screamed IOWA. We had friends/family visiting from Mexico, Wisconsin, Minnesota, and many other states. We couldn't have been happier. People are still talking about the food and how delicious it was and its... Read More been almost one year since our wedding. We made sure we chose 2 different kind of meats with 3 sides (choices for everyone). We also had B Fabulous do something out of the ordinary for our appetizers (Homemade Guacamole and Pico de gallo and chips/salsa) and it was a success. Again, many compliments from everyone. I will definitely have B Fabulous cater another event for me and recomment them to family and friends. Thank you B Fabulous for making our wedding day special. The service was phenomenal and the pricing was definitely in our wedding budget.
---
Yum!
Reviewed on

9/26/2012
Jenny G
Yum, yum, YUM!!! Incredible food, great service, and did I mention incredible food? We received nothing but compliments on our food, and had such an easy time working with Billy and Deanna during the planning process. They even offered to cut our cake for us at our reception!... Read More Can't wait to eat there again (they also have a dine-in restaurant).
---
Meet The Owner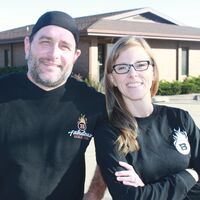 Billy & Deanna Faubus
We recently celebrated 6 years in business and had a location move! We now have hundreds of weddings on our resume and we are looking forward to the honor of serving more. Our food comes from the basic desire to make people happy. What more happy occasion is there than a wedding? We take pride in the food that we make, the flavors we create, and those who enjoy it. We know that this day is one of the most important days in a person's life and we want to make the experience simple, flawless and fabulous. A couple puts a lot of trust in us and it's our priority that we never let down!