Home

Bag of Donuts
About this Vendor
Your wedding will be better than anybody else's!
Booking music for your wedding is hard, especially when all the options seem to be run-of-the- mill DJs, outdated cover bands or local groups that only play obscure originals. But picking the perfect entertainment just got a little easier: Bag of Donuts offers a live music party atmosphere that everyone can groove to, from the flower girl to the father of the bride. We are a New Orleans Party Band that taps into the city's long tradition of costumes and great music to bring New Orleans to wherever you are. The soundtrack to your special evening will be crafted by highly skilled musicians with a flair for the fantastical and a repertoire of all the classics, from 1960 to 2016. After over 25 years of playing weddings, Bag of Donuts knows how to take your reception to the next level.
Details
Guitar, Keyboard, Percussion, Vocals
After Party, Rehearsals + Parties, Ceremony, Reception, Wedding
Live Music, MC Services, Recorded Music, Sound Equipment
Contact Info

Reviewed on

3/06/2016
Rebecca B
BAG OF DONUTS BLEW EVERYONE AWAY! These guys truly made our reception a party NO ONE will forget. The dance floor was full all night – even as we were second-lining to go home. The amount of energy and fun Bag of Donuts brought to our wedding reception was UNBELIEVABLE. The... Read More toilet paper roll shooters and the confetti also made for AWESOME pictures, too! If you're looking for exceptional entertainment and can book these guys for your wedding (or see them anywhere they are playing) you definitely will not regret it! HANDS DOWN, BEST WEDDING BAND, and absolutely worth EVERY. SINGLE. PENNY (and more)! P.S. Bag of Donuts isn't only an awesome and talented band, but they're also a genuine group of guys. Mr. Jerry actually helped us find the priest for our mass at Immaculate Conception Jesuit Church, as well as our second line band (THANK YOU, again, Mr. Jerry!). We truly could not have asked for a better band to play for our wedding reception!
---
Reviewed on

6/08/2016
If you're looking for an unbelievably fun party, just stop looking and book the Bag of Donuts! Their song selections (both old and new) were perfect, and were performed with the kind of enthusiasm that only comes from people who really enjoy what they're doing. I think the... Read More band may have had as much fun as we did! We all danced and sang from the first note to the last encore. These guys helped make our reception the best night of our lives, and we've been told by most of our guests that it was the most fun wedding they've ever attended. Jerry was an absolute pleasure to work with from the first phone call, and the entire band made us all feel like we were hanging out with the band instead of just listening to them. Bag of Donuts did everything they promised and more, professionally and stress-free. You will not regret a night with these guys -- and please, invite us to the party!
---
Reviewed on

4/12/2016
Danyele G
Bag of Donuts is the BEST BAND IN NEW ORLEANS!!! Our wedding was a blast and the band set the tone. The BOD were the first vendor that I booked. I actually booked them before officially booking the church and the reception because we wanted to make sure that they were a part of... Read More our big day. We have seen them play countless times over the years and I am so glad that we were able to have them for our wedding. They will not disappoint. Very professional and an absolute pleasure to work with. All I asked of them was: 1. Make sure they were in full BOD attire ;) and 2. Play whatever they thought would keep everyone dancing the whole night. And they did just that and more. EVERYONE was dancing, having a great time, and smiling from ear to ear. EVERYONE, even the staff at the reception! I received many compliments about how fun our wedding was, even months after. Our wedding was a BLAST and it all has to do with the BOD. They were so much fun! I can't wait to have another big event, just to have them play!
---
Reviewed on

10/31/2016
Mike S
Simply put, BOD sets the bar so high no other band can reach it. No matter the number in the crowd, 20, 200 or 2000, these guys keep the same energy and showmanship. My daughter and her husband and all of those that attended will never forget this party!!! We actually... Read More had people coming off the street asking to join us and wanted contact info so they too could live a night like we had. I can't wait to see you guys again! Much respect!! Mike
---
Reviewed on

9/04/2016
Sarah S
Bag of Donuts played at my wedding reception and they were an absolute BLAST!! If you want your wedding band to pump up the crowd, engage with your guests, and keep the party going, this is your band. I had been to a few BOD concerts around town and was worried my wedding... Read More reception would end up being more of a concert atmosphere than a wedding band, but it wasn't that way AT ALL. The band did a great job interacting with the crowd. They also do a fantastic job accommodating special requests. My family has a tradition of dancing/singing along to Sweet Caroline, so I requested the band play it twice, once toward the beginning to pack the floor and once towards the end just for fun. They also did a great job accommodating the special first dances. I emailed them the songs ahead of time and they had them ready to go via ipod or something when it was time. I would absolutely recommend this band for anyone who wants a fun, upbeat, party-like reception. They know their stuff, are prompt with email responses, and extremely helpful in planning the musical aspect of your wedding reception.
---
Reviewed on

7/23/2016
Awesome performance. The highlight of the wedding reception. Very professional with the whole event from start to finish.
---
Reviewed on

4/20/2016
Kate C
Bag of Donuts has been one of my favorite party bands since I was in high school so, now as an adult and wedding planner, to find out that they perform at weddings is just a dream come true! We had our first wedding together on April 9, 2016 and they were everything that a... Read More wedding planner could ask for. They were prompt in responding to emails and phone calls and incredibly organized on their end - you don't find this with all bands. On the wedding day, they brought the house down! The dance floor was PACKED from start to finish. Speaking of the finish - the crowd was just not having it - they did not want the party to end! The cheered for an encore and boy, did they deliver! They pulled out Callin' Baton Rouge and rocked it! I can't wait to work with Bag Of Donuts again and again!
---
Reviewed on

3/22/2016
danielle c
All I can say is WOW!!!! Bag of Donuts was the perfect band for our perfect wedding! We were looking for a fun band to keep guests on the dance floor for the entire night and we picked the right band. They kept us dancing until the very end. They had people on the dance... Read More floor that never dance. My groom and I had the best time ever. My in laws were a little skeptical when I told them about the band I hired. The morning after the wedding she told me I couldn't have chosen a better band. By far the best wedding ever!! The band members interacted with the crowd and they worked with us with every detail. We got married 11 days ago and we still have not stopped getting messages about how fun our wedding was and how great the band was. They were very professional, and made all my special requests happen. We would definitely request them to any of our family and friends for their wedding or any event and I can't wait for my next event. They will definitely be there.
---
Reviewed on

3/13/2016
Molly H
Bag of Donuts made our wedding reception unforgettable and so much fun! Their energy helped everyone relax and have a good time - from our teenage cousins to our 80 year old grant aunt. We got so many compliments from our guests about what a blast the band was. They were also... Read More courteous and communicative in planning for the event. I'd highly recommend Bag of Donuts!
---
Reviewed on

3/09/2016
Rose R
Best band around!!! They played at my daughters wedding and everyone had a blast!! So many people approached us weeks after the wedding on how much of a great time they had and loved the band! They interacted with the guest and made the night so memorable. We could not have... Read More chosen a better band for our daughter's wedding. The entire band went above and beyond...Would highly recommend them for any function!!
---
Reviewed on

3/08/2016
We had Bag of Donuts at our daughter's wedding. We hated for the night to end!!!! Everyone had a fantastic time and we were told it was the best wedding they had ever been to. Our family and friends were still talking about the wedding a week later about how much fun they had.
---
Reviewed on

3/07/2016
Jerry, Rebecca and Matthew's reception was sensational. The music was great. You guys had the wedding couple and our guests so engaged. Our guests still tell us it was the best wedding ever. My heart is full knowing my daughter and her husband had such a fantastic... Read More time. Wanda (The mother of the bride)
---
Reviewed on

3/03/2016
Bag of Donuts was the best wedding band we could have hoped for. Everyone was on the dance floor from the time they started playing. The costumes were perfect and the music kept everyone involved. They have a great range of music from classic rock to pop. The band members were... Read More very professional and showed up on time and ready to rock! People still talk about our wedding and Bag of Donuts. They definitely set a benchmark hard to top. Don't forget to add the toilet paper gun!!
---
Reviewed on

3/03/2016
Emily D
This is without a doubt the best band in the industry. They were both professional and responsive with all of our requests leading up to the big day and had all 250 guests on the dance floor the entire night. In fact, many people skipped dessert because they never wanted to... Read More leave the dance floor. They knocked every song out of the park and were worth every penny. We are still getting calls and messages from our friends and family about how amazing this band was... If you have to cut back on flowers, your guest list or your F&B in order to afford hiring this band - do it. It'll be worth it and will guarantee that your wedding is unforgettable!
---
Reviewed on

3/03/2016
Easily, the highlight of our wedding. Their repertoire was perfect for a wedding and their energy made for an incredible show. The were very accommodating and learned a song for us in between their break insets. Our wedding was in in 2012 and people still talk about Bag of... Read More Donuts.
---
Reviewed on

3/03/2016
Lauren Y
The band is whats makes a wedding, knowing this we only wanted the Bag of Donuts. They did not disappoint. They were so easy to work with and Incorporated us and our guests into the songs. Everyone we talked to after said they had a blast and that is because of the Bag of... Read More Donuts. They were gracious enough to take many pictures with us and interact with all our guests. Thank you guys for making our Wedding so much FUN!!!
---
Reviewed on

3/02/2016
amy R
The Bag of Donuts rocked my weddings socks off!! If you are looking for all around entertainment this is the band for you. They play awesome music, have wonderful personalitys, and pretty sweet wardrobes. From start to finish they had me, my husband and our guest on the dance... Read More floor. We even payed them to stay longer! To have a band was the best decision I made. It was our own private concert! I would HIGHLY recommend them.
---
Reviewed on

3/02/2016
My niece had the Bag of Donuts perform at her wedding and it was AWESOME !!! Everyone from the kids to the grandmothers were up on the dance floor the entire night!! The band alone made her wedding an evening to remember.
---
Meet The Manager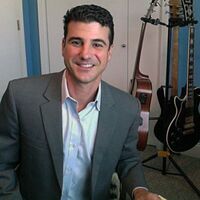 Jerry Christopher, Jr.
Jerry Christopher, Jr. is the Band Manager and Bassist for Bag Of Donuts. Growing up with a guitar in his hand, this 3rd generation musician and band leader learned very young that a performance is about the audience, not the performer(s). Since 1988, Jerry has booked and performed thousands of shows leaving most of those audiences craving more and still finds plenty of time to spend with his wife and children. Jerry also has a 15 year career as an independent financial services professional and insurance agent. Businessman by day...Rock-Star by night...Family Man Always.
Use our messaging tool to connect with vendors anytime, anywhere. Stay organized, all in one place.