Home

Balcony on Dock
About this Vendor
A Premier Event Space in Historic Wilmington
With exposed brick walls, high ceilings and hardwood floors, The Balcony on Dock, renovated to maintain its beauty from the 1840s design is adorned by large windows and two sweet little balconies that open up into Historic Downtown Wilmington.
Amenities + Details
Amenities
Indoor Ceremony Area

Kosher Available

Liability Insurance

Liquor License

On the Water

Onsite Catering

Onsite Overnight Accommodations

Onsite Parking

Onsite Wedding Consultant

Outdoor Ceremony Area

Outdoor Reception Area

Outside Caterers Allowed

Site Fee

Tented Area

Valet Parking

Wheelchair Accessible
For more details about amenities, please message the Venue.
Banquet/Reception Hall, Mansion/Historic Site, Unusual/Alternative
Contact Info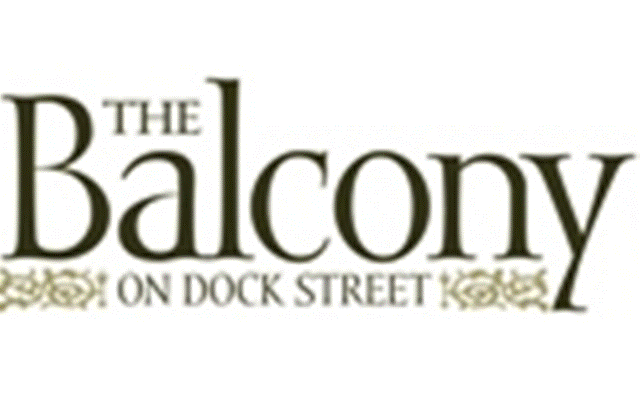 33 S FRONT ST, WILMINGTON, NC
The Balcony on Dock
Reviewed on

8/03/2013
Melissa P
The balcony on dock is a beautiful space and has a lovely view of downtown Wilmington. The food is amazing and Jenn the coordinator is fabulous to work with! She is so organized and collaborates with all the other vendors so there is one less thing to stress about on the wedding day! Highly recommend this venue!
---
AMAZING!!!
Reviewed on

5/14/2013
Amanda R
I could not have been happier with The Balcony for my wedding. We had both the ceremony and reception there on April 27, 2013. It went perfectly!!!! Jenn and the rest of The Balcony staff did a fabulous job, and the food was incredibly delicious! Jenn was so attentive and very responsive to all my emails, calls, and meetings! Without her, I would have been lost. She coordinated the ceremony, reception, and helped with the rental items. We live in DC so things would have been stressful without Jenn! Have I mentioned the food was delicious?!?! (Go with the Asian Meatballs!) The only con is that the wedding is over....
---
The perfect day!
Reviewed on

5/13/2013
Lia A
The Balcony on Dock was one of my dream wedding locations as it was the perfect venue for a ceremony and reception, without having to stress about the threat of rain. My event coordinator, Jenn, was extremely helpful throughout the entire planning process and went above and beyond to make sure my wedding was exactly how I envisioned it. We set up numerous appointments throughout the year to discuss vendors, decor, event design, food, etc and I never once felt like I needed a wedding planner, as she was always available with answers to my questions and made sure everything was taken care of the day of! The Balcony on Dock is a stunning wedding venue and was the perfect size for our group of 75, with plenty of room for more. Our guests raved about the food (southern egg rolls and the beef tenderloin were the favorites) and how smoothly the evening went. My husband and I HIGHLY recommend Balcony on Dock for your next event!!
---
Perfect Venue!
Reviewed on

11/06/2014
Jenn G
After getting engaged my husband and I went to every reception venue in downtown Wilmington. We already knew we were getting married outdoors at a garden. So we needed the perfect rustic venue for our reception. The Balcony on Dock is just that! The Balcony has brick walls, two romantic balconies, windows over looking the Cape Fear river, and an intimate setting to share with all your guests! On top of all the great things about the venue itself, Jenn is absolutely great! She is the wedding coordinator at the Balcony, and she is so organized! Anytime I had a question or my parents wanted to double check about something, she would get back to us right away! Also, she was great about making sure all our other vendors knew what was going on, so that everything ran smoothly! Another plus was that the chef at YoSake does the catering for the Balcony, so we didn't have to search for a caterer. The food was wonderful! We loved the chicken and waffles appetizer!
---
Rude Events Manager
Reviewed on

5/26/2013
Holly F
After having a snack with my planner at Yosake, I noticed that Balcony on Dock was located just upstairs. I have seen it online but always wondered the exact location. We walked up the stairs and stuck our heads in and quickly a woman, whom I assumed was the events manager grabbed the door and tried to shut on us while saying "we are in the middle of setting up" my planner quickly tried to apologize through the shutting door and tried to explain our purpose and the woman said "why don't you make an appointment and come back another time" then shut the door in our faces. This venue will no longer be of any consideration for me, as I can not imagine having to deal with a rude manager who turns business away.
---
My favorite vendor!
Reviewed on

12/13/2012
Katy B
When my husband I first got engaged we started our wedding planning by selecting a venue first. When we saw the balcony we instantly knew it was the place for us. It is so beautiful, but beyond that I loved that it was kind of a blank canvas. Other places we looked at would have forced us to use certain themes or colors, but we knew we could really decorate the way we wanted at the balcony! Jenn Rayle was our coordinator; I truly can't say enough nice things about her. She is so incredibly helpful and did way more for us than I ever expected her too. She was always very quick to respond to phone calls and emails, and was also very eager to make sure we were happy. All of my married friends had prepared me to expect some degree of chaos the day of, but Jenn ran our reception beautifully. I was told by one of our guest that she had been to hundreds of weddings and that our food was the best she had ever had. We had a wide variety of options to choose from. Jenn made sure we were able to eat, and everything was incredibly delicious! Once we chose the balcony, we worked exclusively off of their preferred vendor list. We were so happy with all of our vendors, the balcony made excellent recommendations! As great as our vendors were, the balcony was definitely our favorite! I believe the balcony is a huge value!! There is a reason their reviews are so positive. They go above and beyond, which makes for a carefree and seamless event. I truly had an amazing experience!
---
The stress free decision...
Reviewed on

11/05/2012
Ken D
We absolutely loved the experience of using Balcony on Dock for our reception. The room was very perfect for our reception, and they were great to work with throughout the entire planning stage. They truly helped lower our blood pressure, and a few days before the wedding we felt very little stress knowing that everything was going to be perfect.
---
The Balcony was amazing!
Reviewed on

10/12/2012
Gaea M
I love the Balcony, the venue and the staff. The venue is beautiful and urban. I loved the staff, specifically Jenn Rayle, because she organized and orchestrated our wedding to turn out perfectly. She allowed me to enjoy our day without worrying about the details and planning!
---
great people, great venue, great night!
Reviewed on

9/11/2012
Day Y
This was the perfect venue for our wedding reception last month! We absolutely loved working with Jenn and Bekah at the Balcony. They were always willing to help and really went above and beyond to make sure we had the reception we envisioned. Our guests complimented the food and the venue all night! Everything went so smoothly that my groom and I didn't worry about a thing...we were busy dancing the night away!
---
MMM MMMM...
Reviewed on

7/11/2012
Stuart R
The food at our wedding reception was SO good! The options were endless and we were able to select a wide variety of food for our guests! The Balcony was so easy to work with and kept us up-to-date on everything that was going on with our reception and planning. I would say the Balcony was our reception venue, wedding planner, and caterer. They took care of so many things and were so polite and helpful along the way. I trusted that everything would turn out perfect...and it most definitely did! I would recommend The Balcony on Dock to anyone hosting ANY event!
---
The absolute best!!
Reviewed on

6/05/2012
Erica M
Jenn & the Balcony staff were AMAZING!!! From the very first time I called, through the year of planning, Jenn was beyond helpful. Any time I had a question, I had an answer immediately. She helped with everything and even handled all the rentals I needed through Party Suppliers. I didn't have to do anything other than decide what I wanted and she took care of the rest. I do not live in Wilmington and Jenn was able to give me advice on cake, flowers, photographer, even helped me find a local spa for some pre-wedding pampering. Helpful does not even begin to describe her! Anything I needed or wanted, she was there to help. The night went perfectly and everything exceeded my dreams. Food was also amazing, every guest told me it was by far the best food ever! Thank you so much to Jenn and her staff. They made our day perfect and stress free!!
---
Amazing! Best Ever!
Reviewed on

4/06/2012
Amy C
Balcony on dock is wonderful! I think I had a particularly difficult wedding for them to cater (the venue I picked a lot of strange rules) and I had all kinds of special requests. They met every single one and they were super polite and quick to respond to questions. They were wonderful! So friendly and eager to please/help. Also, the food is amazing! Absolutely amazing! And when I asked for other items not on their catering list, the obliged and did a great job! They are absolutely wonderful! I will definitely use them again for my next event.
---
Excellent Venue!!!
Reviewed on

3/24/2012
Jessica M
We held our wedding reception at the Balcony and we must say that we could not be happier that we chose them. Jenn was with us every step of the way, helping us with final preparations and quickly responding to phone calls or emails. She was also there for the entire reception, making sure things went smoothly. We couldnt have done it without her! The space itself is breathtaking. Our guests loved the exposed brick walls and the view. The food was also delicious!! They have a huge selection to choose from. We highly recommend the Balcony on Dock!!!!
---
Not Enough Words to Describe How Wonderful!
Reviewed on

12/30/2011
Amanda M
My groom and I planned our wedding in Wilmington from out of town. I had attended a wedding at the Balcony years before and remembered how lovely the space was. When my groom, my grandmother and I walked in the space to view it and met Bekah, we were in love! The building is full of charm and character and we knew this was our reception spot! The day of the wedding was amazing. We used the courtyard for a cocktail hour and the upstairs space for our reception. The food is some of the best I have ever tasted and Bekah and Jenn were so easy to work with in the planning process! We got many compliments from our guests on the food and the space. I would highly recommend the Balcony for any event, especially a wedding and especially if you want it to be absolutely magical!
---
Wonderful to work with!
Reviewed on

11/21/2011
Brenda J
Bekah and Jenn at the Balcony made my wedding reception so stress free! From the initial meeting to suggesting other vendors to setting up the room for my reception, they were wonderful to work with. The Balcony on Dock was the perfect venue for my small wedding. Best of all, EVERYBODY thought the food was delicious. They even packed to-go boxes for my husband and I to enjoy after the celebration ended! I would definitely suggest this venue if you want a seamless, stress-free event!
---
Amazing Venue!!
Reviewed on

11/08/2011
Ashley T
The Balcony was a fantastic place to have any event. We had our wedding there a few weeks ago & loved everything about it! The food was amazing, the ladies we workes with were fantyastic & the location was wonderful. :-) Would definitely recomend it!!
---
Dream Wedding
Reviewed on

10/30/2011
Barbi D
Our experience with Balcony on Dock was fantastic! From the original booking to the very end. Becah and Jenn and Josh, all worked so well with my daughter,myself and our coordinator. The food, which was vegan was beautiful and delicious. Kudo's to Josh for such innovative recipes. The space was beautiful and lends itself to many varied decorative styles. Our guest all had a wonderful time. The most important was our daughter and new son had the wedding of their dreams. Thank you so much,Balcony on Dock!
---
Perfect!
Reviewed on

9/20/2011
Michelle M
I LOVED this venue. The staff is willing to do ANYTHING for you to make your day perfect, and not always at a huge additional cost! I had 120 guests and it was pretty full, but everyone still had a place to sit for dinner and more than enough room to dance. My only complaint was that we only had the place for 4 hours....it would have been nice to stay all night! Ha. Excellent food for a great price.
---
Loved Balcony on Dock
Reviewed on

7/30/2011
Dale S
Balcony on Dock made my wedding reception the best. Jenn and Becca helped with everything. The venue is very romantic and the setting in downtown Wilmington could not be better. The top floor setting with floor to ceiling windows was very elegant. The food was superb and the staff was amazing. We had 75 guests but you could have more or less because they do such a great job arranging tables to meet any size of reception. They also worked well with all vendors. We loved Balcony on Dock.
---
Amazing!!
Reviewed on

6/28/2011
Susanna P
Amazing!
---
Fantastic Location & Staff!!
Reviewed on

10/29/2010
Crystal S
My husband & I went to an open house at the Balcony and absolutely fell in love with the place! Jill and Leah were awesome to work with and the entire staff did a great job at our reception! It is a great neutral location, so your colors will absolutely pop no matter what!! I've seen it decorated several ways and it's always beautiful!! The food was wonderful and they even remembered which two family members had food allergies!! A++++
---
we LOVE the balcony!
Reviewed on

8/09/2010
Jennifer
everything at the balcony was so great! because of a few key vendors we selecting, particularly jill at the balcony, we didn't even need a wedding coordinator! she took care of everything related to the reception, and people are still talking about how great the food was!
---
Excellent vendor for Receoption
Reviewed on

8/09/2010
Stephanie A
They met all of my expectations and more. The building is downtown Wilmington with brick walls. They were willing to work with all my needs and budget. The food was delicious and the staff was very professional and excellent. I would highly recommend using the Balcony on Dock for a reception.
---
Review for The Balcony on Dock Street
Reviewed on

10/22/2008
Andrea G
The historic charm with modern city feel at the same time.;Be sure you give detailed instuctions about what exactly you want done - even then it might not happen.
---
Send Message