Home

Bayside Limousine Service
About this Vendor
The one day you want everything to be perfect...
Bayside Limousines has been helping to make memorable events for over 25 years. From vintage classic cars to the latest and greatest stretches and SUVs. All of our wedding packages include the same great service that Bayside is known for. Call us today to secure your reservation.
Details
Rehearsals + Parties, Wedding
Classic + Exotic Cars, Limousine + Sedan, Shuttle Service, Transportation
Contact Info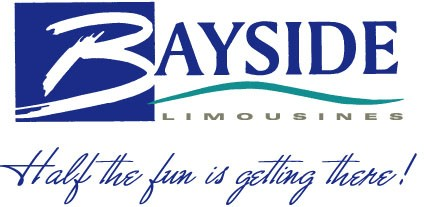 Great service!
Reviewed on

10/21/2013
Candice F
The limo service for our wedding was amazing! The drivers were very willing to do multiple trips. Very professional.
---
Easy to work with!
Reviewed on

9/15/2013
Katie K
We used Bayside Limo for our wedding party transportation and also the transport guests to/ from hotels and the ceremony site. They were prompt, professional, friendly, and easy to work with. We changed some plans around a few days before the wedding and they were extremely... Read More flexible. At the end of the night, the driver drove my new husband and I around town for 30 minutes so that we'd have some time alone before going to the after party. It was so nice to just have a little time to chat about our favorite moments from the day!
---
Red Charger!
Reviewed on

9/03/2013
Ariel E
The red charger limo so so great! Our guests loved it and it was the perfect ride home after our special day! We will definitely be booking again (even just for a night on the town)!
---
Reviewed on

11/08/2017
Annielle M
Renee at Bayside was amazing. She was very sweet and response over the phone, she submitted the proposal to me quickly. Any questions I had or changes I needed to make she was able to do them. She also made some suggestions to me as to what size limo to get and helped with the... Read More timing of when the limo should arrive, etc. On the day of the limo was on time and nice and clean.
---
Reviewed on

5/22/2017
Katie B
Provided shuttle service for our wedding guests; everything went smoothly. Very pleasant, easy to work with and professional.
---
Lovely Rolls Royce
Reviewed on

4/28/2014
Naima H
We wanted to leave our weddding in style but not in the typical limo and Bayside Limo had the best options for our budget. We rented the Rolls Royce for our exit and enjoyed every moment our our ride. Our driver drove us downtown to do a little sightseeing of the city before we... Read More drove to our honeymoon hotel. He even let us get out for a little bit and take some pictures on our cell phones by the tidal basin. Our driver was very friendly and courteous and did limited talking as we left the wedding and recapped the night among ourselves. We were fine with that because when we did speak to him he was still engaging. Although the communication with the company was kindof choppy to book the service (many back and forth convo's over email ) i'm very pleased with this service and company.
---
Good Limousine Service
Reviewed on

10/13/2013
Lauren M
My experience with Bayside was good. They provided and extra shuttle run for guest who did not make it to the church on the first two shuttles, and that was appreciated. However, I was disappointed that the limo driver did not have umbrella on this rainy weekend. We had to be... Read More covered by coats of the groomsmen to get from the church entrance to the car. When we got to the reception site, he did go inside and ask to borrow an umbrella, which was appreciated.
---
Good limo
Reviewed on

7/18/2013
Shelby G
I like bayside limo, but found them hard to deal with. They emailed me on the morning of the wedding demanding that I fill out forms for payment that I sent in weeks before. They were also very hard to get in touch with after to complete the payment process. The drivers they... Read More sent were great, but the office was difficult.
---
Great Service
Reviewed on

6/11/2013
Alyse M
When my husband and I went to check out their fleet, it was in the country in the back of a house, not what we expected haha. But they weren't "salesmen" hounding you about getting the bigger or better for more money, they gave an honest opinion on what they thought would be... Read More best for us. I also talked with them about what our budget was and were able to agree to a price we could work with. We got a shuttle for our guests that stayed at a nearby hotel and had a couple of different runs needing to be made. The driver was great and accommodated to anything I asked of him. Tip was also included so we didn't need to worry about him when he dropped off our guests at the end of the night. One thing that we found with mostly all limo services was you could not split the time so of course the price went up but it was nice for our guests who needed to leave early to go back to the hotel to have the shuttle there whenever someone was ready to go. Overall, I would recommend Bayside limousines!
---
Good service
Reviewed on

12/06/2012
Lisa P
I waited until the last minute to book a limo and I liked bayside because it was easy to book with them and tip was not included in the price, so we were able to tip based on service. The driver was on time and did a great job getting us to and from the church. We like the large... Read More SUV which was able to fit our entire bridal party and our photographer.
---
Great service!
Reviewed on

6/20/2012
Angela S
We met with Jon Gibson to look at his vehicles and discuss rates. Jon is personable and friendly. His vehicles were a wide variety: sedans, SUVs, limos, party shuttles, and specialty cars. We chose to have a sedan in the morning to take us to the venue and the new Charger limo... Read More for the ride after the wedding. The Charger is definitely something different worth having! It's such a beautiful limo! We were also able to upgrade to having an SUV in the morning because we had so much stuff to carry to the venue. Also, the drivers were professional and on time.
---
Never Use Bayside Limousine
Reviewed on

12/06/2011
Kayla S
My husband and I used Bayside Limousine for our wedding in September. The only thing this company did right was arrive on time. When we walked out of the church the limo was still parked around back with the driver, Joy, not even in the car! No red carpet or champagne, which was... Read More included in the contract. The sound system didnt even work in the limo. The driver drove WAY too fast, the way she was driving we needed seatbelts. She got lost on the way to the Venue and we had a get her back on track. We showed up late to do photos and 5 minutes after we arrived at the photo location she was threatening to leave. We ask her to stay she said fine, but a couple minutes later said she was leaving. Our bridal party had to leave early so they didnt miss the limo and My husband and I had to catch a ride to the reception. The driver told a bridesmaid that we would be charged an extra hour then didnt even stay the hour. She left without even worrying about where the bride and groom were or how they would get to the reception. The company charged our credit card an extra $75 and then included a $15 TIP!!! We called to talk to the manager and he told us he would have to get the drivers story.....never called us back. Then sent us a bill for almost $400 with all the wrong information on it. We called again, Jonce was very rude on the phone and then told us he would only give us $45 back. They are unprofessional, gave horrible service, and tried multiple times to overcharge us....If you want your wedding day to be perfect..PLEASE DO NOT CHOSE BAYSIDE LIMOUSINE.
---
Good Service
Reviewed on

11/16/2011
Issata A
I used this limousine service in July for my wedding. I rode in style in the Escalade.The driver was very professional He arrived on time and the service was very good. I will definitely use their service again. Thanks for making my wedding day a memorable one.
---
Amazing Service
Reviewed on

11/08/2011
Meghan O
Bayside Limo did an amazing job. We had a limo and shuttles for our wedding at Running Hare Vineyard. The shuttles were perfect and our limo was gorgeous. The drivers were wonderful to work with, especially our limo driver who was so nice and helpful. I would strongly recommend... Read More working with them.
---
wedding limo
Reviewed on

9/16/2011
LaWanda C
very prompt and groomed. Ofc. Personnel extremely nice.
---
Great!
Reviewed on

9/11/2011
Melody S
They were early and very helpful!
---
Paris and Asylia
Reviewed on

6/15/2011
Asylia H
They did a wonderful job they came on time treated me like a princess very satisfied with there service
---
escalade
Reviewed on

6/13/2011
Gina N
We got a great deal on a white stretch escalade to fit our whole wedding party! Our driver was really great, and they did a nice job. Got freaked when they called 2 days before to confirm a red charger!!! I was like what?!?! But they got it straightened out, no problem, and... Read More we got our white escalade :-)
---
DO NOT USE!!!!!
Reviewed on

10/30/2010
Leah C
They never showed up, never called, and claimed "someone cancelled" from my family - which never happened. Horrible company
---
Excellent service and great value!
Reviewed on

10/22/2010
Laura Q
Did an excellent job. We used their shuttles and limos. It was great and our guests thoroughly enjoyed it. They were very nice and easy to work with even given we booked last minute. Nicole was super friendly and we enjoyed working with her! Almost all the drivers were... Read More polite, professional and everyone enjoyed them. One person should not be the reflection of the whole company, but there was one driver that kind of urked me. We let them know ahead of time we were going to go to downtown to take photos. He insisted it was boat show weekend, which shuts the city down. I knew it wasn't b/c that's why we planned that weekend. It wasn't until my Husband and Bridesmaids stepped in and told him we were going to try anyway that he agreed. I was right and it was perfect, we got great pictures too. Just make sure they know exact locations for where you want them to take you. Otherwise it was a good value and they did a good job.
---
CHERY AND RON'S WEDDING
Reviewed on

9/30/2010
cheryl m
VERY FORMATIVE
---