Home

Bear Creek Mountain Resort
About this Vendor
Award Winning Venue
Bear Creek Mountain Resort is located just minutes from the Lehigh Valley. This venue is beautiful any time of year offering three banquet rooms, on-site hotel, spa, two full service restaurants, outdoor and indoor pools and jacuzzis. Outdoor ceremony sites available April-November.
Amenities + Details
Amenities
Handicap Accessible

Liability Insurance

On-Site Accommodations

Indoor

Reception Area
For more details about amenities, please message the Venue.
Ballroom, Hotel, Mountain, Restaurant
Bar + Drinks, Cakes + Desserts, Food + Catering, Planning, Rentals + Equipment, Service Staff
Contact Info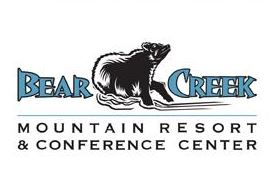 101 Doe Mountain Lane, Macungie, PA
Most AMAZING venue out there!
Reviewed on

10/01/2013
Kristen B
When we first started our venue search, we both chose to go to Bear Creek first. We spend a lot of time snow boarding and just enjoying the atmosphere in the winter. We arrived for our venue tour, and was greeted by Therese, one of the wedding sales managers. She was awesome! long story short.. there was no need to even think about looking at other venues. We booked it the next day. Over months of planning, Therese was there to answer any questions along the way. Our wedding day finally came. A beautiful September day.The staff at Bear Creek was AMAZING. They all did a wonderful job making sure we were happy and everything went smoothly. Everything was absolutely PERFECT. The outdoor ceremony was gorgeous. We chose the Woodland room. It was perfect for the amount of guests we had. Plenty of room for dancing. The food was out of this world. Our guests are still calling us telling us how good their meals were. I would not change anything about our experience with Bear Creek. Our wedding day was PERFECT!!
---
Perfect Wedding Venue
Reviewed on

10/10/2013
Jocelyn H
Bear Creek was the first venue my husband and I visited, and we knew at that moment it was the perfect place. Our ceremony and reception was held in the Mountain Ballroom and everything was absolutely perfect. Lisa Geiger was with us from start to finish and made sure she did everything to make our day perfect. The food was excellent, the customer service was outstanding. The grounds of Bear Creek are gorgeous and the perfect place to have a wedding!
---
perfect place!
Reviewed on

10/09/2011
Nicole S
my husband and i just got married there on 10/1/11 and we had the BEST time!! bear creek was the prefect venue for us and our guests. Therese was our wedding coordinator and out did herself!! I am normally a very detailed and organized type A person so to impress me is kind of a task ... Let me tell you ... Therese did not make me worry or wonder for 1 minute. Our reception was decorated EXACTLY like I envisioned. I cried the moment I saw everything. If you want professional service, delicious food, a beautiful atmosphere then look no further than Bear Creek ... you will not be disappointed in any way!!
---
Couldn't have asked for a more perfect day
Reviewed on

8/24/2014
Emily R
My husband and I got married on June 14, 2014 at Bear Creek and we could not have asked for a more perfect day. From the first visit we made to Bear Creek, we knew it was the best decision for our special day. The landscape was so picturesque, Therese Labour (our wedding coordinator) was so kind and helpful and all of the staff we met was very friendly. Planning a wedding from 8 hours away, let alone another country (Canada) is not easy but Therese and her team made it easy. She was very responsive via email and worked with us to coordinate visits around our scheduled trips to Pennsylvania. Starting with rehearsal the night before, Therese lead us and our officiant (whose first time it was doing a wedding) through the motions. She's clearly done this a few times before. She put us all at ease and worked well with our group, having fun along the way. On the day of the wedding, the entire staff was so helpful in allowing my husband and I to be able to sit back and enjoy the day. We were not stressed, maybe some excited nerves, but definitely not stress. I had handed all of our things off to Therese and her staff and they took to setting it up and handling the coordinating of vendor arrivals and set up. I was able to spend the morning with my bridesmaids, getting our hair done and just enjoying the moment. Our ceremony went off without a hitch (minus my veil trying to fly away!) and our guests all enjoyed the festivities. The food was spectacular and the banquet staff provided wonderful service. Like most couples, we didn't get a chance to eat much, but the staff was kind enough to pack up the 2 extra meals we had due to a last-minute cancellation. They even packed up some extra crab cakes at my husband's request! Which we thoroughly enjoyed the next evening! We had planned a little "after-party" When the food we had ordered for our "after party" went quickly, the staff was kind enough to bring out chips and pretzels to keep our guests fed! They really paid attention to the little details throughout the day. The majority of our guests were staying at the resort for the weekend and from check in to check out, they were very well taken care of. We heard numerous guests say how lovely the hotel was, how good the food was and how courteous the staff was. If you're looking for a beautiful location, spectacular food, and wonderful staff to work with, Bear Creek is definitely a great choice for you!
---
No Detail Forgotten!
Reviewed on

2/11/2014
Hollie H
After an incredibly successful wedding and the best day we could have imagined, I would without a doubt recommend Bear Creek to anyone looking for super service and attention to detail. Erin was our coordinator. She took care of us from beginning to end and made our day as stress-free as possible. No matter how busy, Erin was always responsive to our calls, emails and unusual requests. It is clear from the first visit how experienced Bear Creek is at hosting weddings, and that shows in every encounter. It was the perfect venue for us - allowing us to have our ceremony and reception in one location, while providing a great location for our out-of-town guests to come together.
---
Beautiful Wedding Venue and Best Staff
Reviewed on

10/01/2013
Kathy D
We had our wedding and reception (The Lodge)at Bear Creek in September, and we could not be happier with the way everything turned out. From the start of the planning process to after the wedding the staff was amazing and accommodating to all of our needs and wishes. They made our day effortless. The resort is beautiful, the hotel rooms are perfect, and there are many things for guests to do if staying over. Our wedding day was perfect, and we had several guests say it was the best wedding they have been to, and they will be returning to the resort on their own time because they loved it there.
---
ABSOLUTE PERFECTION IN THE LODGE
Reviewed on

8/31/2013
Kathleen W
The entire staff at Bear Creek Mountain Resort, especially Lisa Geiger, are beyond amazing. The venue is immaculate, the food is delicious, and the professionalism is unparalleled! I had my wedding reception on July 5th, 2013 in the Lodge Room at BCMR. Throughout the process I had nothing but complete confidence that everything about my reception would be exactly as I envisioned. The thoroughness ensures every detail will be executed exactly as discussed. The staff checked in throughout the reception to ensure the evening was flowing as we had hoped and to also keep us on track with the events (I.e. cake cutting, etc.) In addition to delivering the perfect reception, the staff provides any and all assistance possible. My aunt was provided with help escorting my grandparents through the facility. One of the 'team captains' helped to repair the hook & eye that had broken on my dress. Our 'late nite snacks' that were untouched at the end of the reception were transferred to the Grille bar so our guests could continue to enjoy the hot dogs and soft pretzels. To complete the perfect evening, the facility, amenities, and grounds are gorgeous. Our pictures turned out beautifully and our hotel room was a little retreat. We are looking forward to visiting BCMR several times in the future, including celebrating our on year anniversary there next year. Thank you from the bottom of our hearts! Lisa, you are truly amazing and we cannot begin to fully express how grateful we are for the perfect day!
---
Awesome venue, service, amentities, and staff!
Reviewed on

7/12/2013
Andrea G
I honestly couldn't ask for anything more for our wedding. The venue provided everything I could possibly need at reasonable prices, including phenomenal photo opportunities. Everyone noted the excellent service and staff of both the wedding reception and hotel!
---
Wonderful!
Reviewed on

2/15/2013
alicia h
My husband and I were married on October at Bear Creek Mountain Resort. It was more money then we wanted to spend, but it was completely worth it (we actually did our ceremony on a friday evening because it was a 10% discount). We had a lot of out of town guests coming, so we wanted someplace where outs guests could stay comfortably. Everyone loved it. The food was delicious, the service was very good. The give you a wedding coordinator to help you plan everything. Which was a huge help to us because we did not live in the Lehigh Valley at the time. My only complaint would be that, even though the wedding coordinator was a help, she was a little mean. I'm not sure if she was even really mean, as much as too busy. Other then that, I would recommend Bear Creek to anyone. Gorgeous outdoor setting and they treat you very well. We were very happy with it.
---
Romantic and Fun
Reviewed on

2/02/2013
Amy R
We had fun skiing and staying in the King Suite with a jacuzzi, fireplace and living room, kitchenette and bedroom. The Spa at the resort had very nice services available although they were a little expensive. There were a lot of families and kids around the time we went (January) but it was nice having a big room to ourselves. Not many places to eat other than the resort restaurant and cafe. But if you like skiing and need a romantic getaway this is the place to go!
---
The BEST!
Reviewed on

1/16/2013
Kristen H
I can't tell you how many of our guests enjoyed every aspect of this place! The food, the scenery, the staff....everything! Bear Creek really gave us the best reception anyone could have!
---
Bear Creek
Reviewed on

12/30/2012
Tara M
If you are looking for a rustic place to hold your wedding Bear Creek is the perfect spot! The staff there are wonderful to deal with and you are basically given your own wedding planner. The staff at Bear Creek handle all of the major and minor details that I would have never even though of. My wedding day was so relaxing and perfect and the staff at Bear Creek handled everything for me. Not only were they attentive to me and my husband, but they were equally attentive to all of our guests. The food is out of this world and the amenities were fantastic.
---
Amazing & Efficient Staff
Reviewed on

12/09/2012
April M
From our first visit to Bear Creek as a potential Bride & Groom we were thrilled by how we were treated. Of course we decided to have our ceremony & reception here. The wedding coordinator & staff were wonderful! They knew what needed to be done & were SO organized. They made my day easy. I had to just show up & they took care of everything - they have weddings down to a science!
---
amazing experience!
Reviewed on

12/04/2012
Rachel H
I had the most wonderful experience with Bear Creek. From start to finish, their service was exceptional. We chose the venue about 11 months before our wedding, and the entire time of planning, Bear Creek was so accomodating and helpful. Erin Fritch was our coordinator, as well as Terese Labour, and they were both great! So organized and detail-oriented! Nothing was over-looked! The venue itself is gorgeous! The Mountain Ballroom was perfect for our ceremony and reception, and the rooms were great for our guests! It was an amazing experience I will never forget! A+ service!
---
The best place to have a wedding & reception
Reviewed on

10/19/2012
Dina G
I cannot say enough about Bear Creek & it's staff! We had our wedding there outside on 10/6/12 & did not decorate except for the arch bc the scenery & potted plants were enough. The reception was held in the Woodland Ballroom & we had a fall theme w/ pumpkin centerpieces, a candy buffet, & homemade pickles for favors-the decor went perfectly w/ our theme. The staff is so accommodating...from Therese (the wedding coordinator), to the spa staff, to all the staff that worked our venue the day of. Everything went smoothly, the food was awesome, & all the guests are still raving about how much fun they had! Bear Creek was the perfect place for us, it was everything I could have asked for & I cannot thank everyone there enough for all they did for our special day!!
---
The Best
Reviewed on

8/13/2012
Jodi R
If you want to have a wonderfully elegant wedding and have no wedding-day set-up stress, this is the place to go. They are fantastic. Bear Creek takes care of pretty much everything. Guests at our wedding continue to rave about the resort, the ceremony, cocktail hour, the food, the overall reception and the after party.
---
Fantastic!
Reviewed on

8/08/2012
Jayna B
Everything at Bear Creek ran flawlessly. Everyone kept telling us that this was the best wedding that they have ever been to. The service and professionalism at Bear Creek is fantastic. We couldn't have asked for a better day!
---
Amazing!!!
Reviewed on

7/29/2012
Ashlee H
We could not have asked for a better venue! Bear Creek was absolutely amazing! They helped give us our dream summer wedding. The staff not only made Keith and I feel special, but all of our bridal party and guests as well. We did not have to worry about a thing on our wedding day! They had it under control. I would recommend this venue to anyone!!
---
Wedding
Reviewed on

7/25/2012
Heather R
This place had a wonderful location and the food and service was immpecable!
---
Perfect day
Reviewed on

7/18/2012
Diana B
The staff at Bear Creek was amazing, and provided excellent service to all of our guests. Our wedding coordinators Therese and Erin took care of every possible detail to ensure that the day went off without a hitch. Our reception was at The Lodge, and I would highly recommend it!
---
Happy Bride
Reviewed on

6/05/2012
Jenna H
The staff of bear creek was amazing from the tour in the very beginning to our check out the day after our wedding. our wedding coordinator Lisa was amazing. She made sure every detail was in place and that our wedding ran smoothly. The staff also made sure that we had everything we needed. The venue was gorgeous and everything i have ever dreamed of my wedding venue being. I would highly recommend bear creek.
---
Perfect Venue!
Reviewed on

2/17/2012
Alyssa W
While a little on the pricey side, BCMR is well worth the price, by having nothing to think about on your wedding day. They are organized everywhere from the planning stages to the day of. Everything they did was perfect, and if something wasn't we had many people around personally for us that we could have spoken to, from the coordinator herself, the banquet manager and our personal waitress. Everyone said the food was delicious, and they had a wonderful time. They are also very willing to accommodate special meals, and they have a very conscientious wait staff. I also did not have to set up anything, I dropped off my thing, including complicated centerpieces, and they had them set up just the way I wanted them.
---
Amazing!
Reviewed on

1/17/2012
Jaclyn J
Bear Creek couldn't have been more wonderful! Therese was an amazing planner to work with, who was there for every single question and concern I had. I can't talk enough about Bear Creek and Therese. The staff was amazing and our guest are raving about how amazing things were...for the location, to the venue, to the food. Thank you for making my day amazing!
---
Top Notch Facility, Staff, Food
Reviewed on

10/20/2011
Janine H
We can't say enough about this place. It was the first place we looked at and we booked it on the spot. The facility is beautiful, with 3 reception rooms and 2 corresponding outdoor areas for the ceremony, and lots of places to take photographs. Therese was our coordinator and she was on top of every single detail, was VERY easy to work with, and she brought a calm tone to every discussion, which is helpful to a bride and groom who may be facing other stresses while planning a wedding! The reception staff was TOP NOTCH. We received so many comments from guests about how on top of everything the wait staff was, and how friendly they were. We laughed at how they folded your napkin if you got up from your seat, and when I asked one of them to light the candles that were set up around our cake table, she pulled a lighter out of her vest pocket. I even asked one of the staff members to run something up to our hotel room and he did it without hesitation. The food was the best we've ever had at a wedding, and many guests said the same. The filet mignon was unbeatable – you could cut it with a butter knife (they didn't even have steak knives out because they literally weren't needed). This is a great reception place if you have a lot of out of town guests like we did. Their hotel rooms are spacious, modern and beautiful. It's perfect if you're looking to have the ceremony and reception at the same place.
---
Coordinators were absolutely amazing!
Reviewed on

10/07/2011
Kerry I
Bear Creek was such a wonderful place to get married at, and I'm so glad I had my wedding here! From start to day of the wedding, the coordinators were so helpful and the wedding went off without a hitch! We got married outside at the Woodlands Ballroom and it was simply gorgeous. I could not think of any other place I would have rather had my wedding at.
---
Send Message