Home

Bee For the Day
About this Vendor
Bee For the Day
Bee for the Day has been planning and coordinating weddings since 1994. Our many years of experience will assist you in creating the wedding of your dreams! No wedding is too complex. No detail is too small. We are here for you every step of the way.
Details
Day-Of Coordination, Full Service Wedding Planning, Planning
Contact Info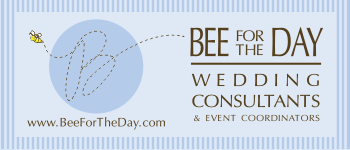 844 Elm St, Perrysburg, OH
Awesome and Smooth Day
Reviewed on

11/05/2013
Kari C
Bee for the Day was wonderful and helpful throughout the entire event. They were helpful through all of the craziness that day (my dad broke his arm before the wedding) and kept us all calm. I am glad we hired them and could not imagine having the day flow so smoothly without Bee for the Day.
---
Worth Every Penny
Reviewed on

10/03/2013
Kelsey H
I hired Brooke for a wedding in September. I was a little hesitant as to whether it would be absolutely necessary to have a wedding coordinator, and I am so glad we hired her. She was so easy to work with, very organized, and very responsive. She had a lot of great insight and she responded to any issues that arose throughout the day. I recommend her to anyone looking for a wedding coordinator!
---
Wedding Coordinator
Reviewed on

9/02/2013
Emily C
We used Bee For The Day for our wedding and I couldn't have ben happier! It definitely took a load off to have the minor details taken care of by someone I trusted. heather did everything I asked for and more--She took care of the minor crises--ones that I didn't even have to know about :) A lot of stress was gone and I could enjoy my day knowing they were in charge! DEFINITELY recommend.
---
Reviewed on

5/24/2015
Beth F
Best decision we made! We got married in Cleveland, OH. They are based in Perrysburg, OH but have a few Bee's that work in Cleveland! We hired Bee for the Day mostly for day-of stuff because I didn't want to be bothered with annoying things that might ruin our big day! However, they were so helpful in managing our wedding before that day. They met with me and put together a timeline for our entire weekend. They pointed out some things that we were behind on doing or things we might have forgotten about. A couple weeks before the wedding, they put an itinerary together including all of the vendors and sent an email out to EVERYONE involved in the wedding plans. They told everyone to contact them with any questions (which was nice because we didn't need to deal with logistical things). They charged us fairly for the work they did. I would recommend them to anyone.
---
SPECTACULAR!!
Reviewed on

1/02/2015
Natalie M
Brooke and Debbie are angels sent from heaven!! I was so against having a wedding planner but then these two fabulous ladies walked into my life and I have no idea how I would've gotten married without them!!! There are not enough words to describe how amazing they were!! They made sure everything ran on time, took care of all the little details so I wouldn't be stressed out, and they were actually able to keep me calm for the wedding!! They were so much fun and easy to get along with. I truly felt after that day like we were family!! You will not regret hiring them for one second I promise you!! Even my photographers, videographer, and band said how on the ball they were!! Loved them!!!
---
Couldnt have done it without them!!!
Reviewed on

11/21/2014
MacKenzie L
I can't even imagine how my wedding would have turned out with out the Bees!!! They helped with everything from the smallest details that I never would have though of to the big things that we couldnt have done on our own. They allowed my special day to run perfectly and I know it wouldnt have been so incredible without them!!
---
Couldn't have done it without them!
Reviewed on

11/19/2014
Molly L
Hiring the Bees for my wedding day was the best decision I made in the planning process! Words cannot begin to describe how valuable the Bees were for me, my husband, our families, our wedding party, all guests and other vendors. Dani and Allison answered every question and addressed every concern I had throughout the entire process and especially on my wedding day. The Bees think of things that I would never think of myself, such as extra toothbrushes for bridesmaids or strategically placing tissues in my floral arrangements for the ceremony. Allison filled in for the photographer's assistant when she got lost and, when I forgot my list of setup directions for the gift and dessert tables, Dani arranged everything better than I could have myself! Amid all the excitement and chaos of our big wedding day, the Bees made me feel completely at ease. I couldn't imagine my wedding day without them. I owe so many of the wonderful memories I will always have of my wedding day to the Bees.
---
Truly fantastic women!
Reviewed on

10/28/2014
Kelleigh n
Brooke and her Bees are truly the best in the business! They literally took all the little details of our plate and made sure they got accomplished. A wedding day is something to be cherished and remembered forever and they made sure that it was a day we will never forget! You know when they are there that you don't have to worry about anything because they already had it taken care of before it became an issue. I cannot say enough about how hard these ladies worked to make our day amazing. I am so blessed to have met and have brooke be apart of our wedding it will be a day that I will never forget. Thank You Thank You Thank You! You are truly special people at what you do!
---
Sanity Savers!
Reviewed on

10/26/2014
Katie T
Brooke was our Bee and was absolutely incredible. The day of the wedding she took care of every little detail - I could completely relax and enjoy the moment. She was very flexible, helping take care of our dog ring-bearer, driving me when I didn't have a ride to our first look, handing out umbrellas when it poured down rain, and more. My Mom and I literally would have lost our minds without her! We have been to a few weddings since our own and many people have commented that they wish they had "a Brooke" to help them on their big day.
---
Amazing Service!
Reviewed on

10/27/2012
Sara G
I can't say enough good things about Brooke and her Bees. These ladies are easy to work with, are well prepared, creative, motivated and fun. They were able to help me with day-of services and some pre-wedding day planning. My wedding was themed and required a lot of set-up, which they completed perfectly. Brooke even organized and confirmed with all of vendors on the actual wedding day. This service is worth every penny, and our day wouldn't have been complete without it!
---
could not imagine the day without them!
Reviewed on

10/16/2012
Sarah B
professional; organized; very easy to work with; and helped the day run smoothly!
---
The only Necessity of the wedding
Reviewed on

10/16/2012
Amanda C
If you do not use them, you are causing yourself TONS more stress. They hands down made the wedding. As a bride, you are constantly worrying about everything, but they allowed me relax, and enjoy every minute with my new Husband and have fun at the party I planned for an entire year!!
---
No words
Reviewed on

9/19/2012
Barb S
No words can explain how absolutely wonderful Brooke and her Bees are. I always knew I would use Bee for the Day. My concern was that I was having a small, intimate wedding (100 guests) and I already knew the majority of what I wanted for my big day so what more would I need help with? Brooke made me feel as if my 100 guest wedding was just as important as a 1000 guest wedding. Since I had pretty much everything planned and organized she pretty much gave me her opinion when I had questions about vendors. Because she is not contracted with anyone, she will give you her honest to goodness, no mincing of words, opinion because she has experience working with everyone and they dont pay her...you do! Bonus, that she doesnt charge by the event, but rather by the hour, so you are only paying her for the time you are actually utilizing her services. She also helped with so many small things that I honestly had never thought about. On my wedding day, I was surprised as to how much I needed the Bees. Since we only had one attendant each and no ushers, we had no rehearsal, therefor we needed a little direction. Sarah and Rachel were amazing!! They kept everyone moving, kept us in sync with our timeline, kept my champagne glass filled and really, no words can ever explain how important and special they were on my big day.
---
Go with the Bees!!
Reviewed on

7/15/2012
Megan M
Having a wedding coordinator was the best thing we ever got. Working with Brooke made everything so easy. The Bee's made everything run so smoothly and were able to fix any situation that came up. They made the day stress free for myself and my mom. I am so thankful to have them help out and they were so caring and kind to one of my bridesmaids who has ALS. They help in more ways then i could ever imagine. Brooke is a kind person and is truly there to make sure everything is perfect.
---
Wedding on June 23, 2012
Reviewed on

7/08/2012
Emilie G
I have tried to be upfront and honest about all of my reviews, and I must admit I have mixed reviews about this vendor. Brooke, the owner, is very nice and you can tell she is very passionate about what she does. That being said, I think she has just taken on a bit too much, as I always felt it was not quite as personalized as I would have liked. Towards the end, I felt there were things were very rushed that should have been done earlier. It always seemed to be a bit difficult getting her on the phone as well. I will say that her "bees" she provided on the day of the wedding were a HUGE help. Any time someone needed something, they were always there to fix the problem. A couple issues came up during the day of the wedding that I would change- my cake did not come out the way it was supposed to and because the "bees" didn't know what my cake was supposed to look like, it was not able to be fixed. In addition, like on the review of the photographer I gave, I'm not sure who is to blame for this- I gave Brooke a list of pictures I wanted taken during the wedding. Some pictures with my aunts, cousins, etc did not get taken. The list was on the outline she provided, so I'm not sure who is responsible (I will even take blame; however, it does get a bit crazy during the wedding so I'm not sure whether I knew if I was coming or going!) If you are looking for someone who can give you tips on etiquette and be present at the rehearsal/reception to help you out, this company is definitely for you.
---
BeeTasTic!
Reviewed on

6/12/2012
Colleen R
Brooke, Sarah and Christine were my angels on my wedding day! They took care of things I didn't even know needed to be taken care of. They let me enjoy and soak up the true spirit and emotion of the day. Thank you girls for letting me have that! Brian and I can't thank you enough! XOXOXO!! Love, Colleen L. Ruggiero
---
worth the money
Reviewed on

9/21/2011
Jessica H
Brooke and Heather were such a great resource at our wedding. They were organized, helpful, firm with guests and other vendors when needed, supportive of the wedding party. Overall, money well spent to not have to worry about all the little details of the wedding day.
---
Bee
Reviewed on

9/15/2011
ashley m
I have seen there work and it looked great
---
Wedding Planner
Reviewed on

11/16/2010
Anne W
Brooke is the best wedding planner! She makes your wedding day the best it could ever be. I do not know what I would have done without her. She makes sure you get what you want. Anything that you want for your wedding she makes happen. If you need a wedding planner she is the only one to call. I could not ask for anything more. Brooke and her other bee's are just the best! Anyone that I have met who is getting married I tell them to call her. No one will regret it. Brooke is absolutely the best wedding planner!!!
---
Amazing Wedding Coordinator
Reviewed on

11/13/2010
CAMERON S
From the second we met with Brooke right after our engagement, I knew we were in good hands. She is so professional and so much fun to work with crossing every single t and dotting every i. She has such wonderful experience and provides great insight to plan a beautiful celebration! We could not have planned the wedding without her help and she was a saving grace the day of the wedding allowing me and everyone to enjoy the day as we should and not have to worry about one single thing. She literally thinks of everything and goes above and beyond the call of duty. Thanks Brooke, you helped make our day the most perfect ever! We would recommend her and she and Bee for the Day are worth every penny:)
---
A Godsend!
Reviewed on

8/23/2010
dorothy t
Brooke was so wonderful. My husband wasn't too sure about having a wedding planner. Brooke introduced us to so many vendors that we would never have found. My husband now says that having Brooke as our planner was a great idea!
---
Review for Brooke Lauber Cobb
Reviewed on

11/16/2008
Julie M
Very sweet and caring.
---
Send Message