Home

Berwick Manor Banquet Center & Catering
About this Vendor
homemade Italian goodness
Congratulations! This is your wedding day, and we have the experience, attention to detail, and incredible food and service that will ensure it is the day that you have always dreamed of. From the menu selection to the last dance, the Susi family will personally be with you every step of the way.
Details
Contact Info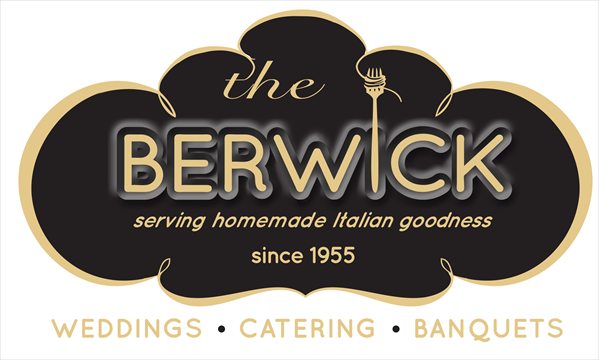 3250 Refugee Rd., Columbus, OH
Couldn't Get Enough!
Reviewed on

5/07/2014
Nikki L
We used Berwick for our wedding at St. Charles. We had the option of picking Berwick or another company, but went with Berwick because of their customer service. Not only was the service in preparation for the big night wonderful, but so was the service the week of and that night. They made everything so easy on me and my family. They took care of basically everything and took a lot of stress away from me. While eating dinner at the wedding, I overheard a guest tell another guy (who will be getting married in July) that the bar has been set for food. He loved the food Berwick made and couldn't get enough of it!
---
Outstanding
Reviewed on

11/10/2013
Cindy M
Berwick is amazing. They have great food and great service. They have been around forever and had so much information and advice to share. Spending time with them was so valuable. They knew everything about the industry and worked with our budget.
---
Better than imagined
Reviewed on

10/28/2013
Rachel B
Berwick Manor was a dream to work with. The family-run business was always available to me during the planning process --answering emails within a day usually. Their staff was so helpful during set up the day before and knew just what to do the day of the wedding. Their staff is obviously well experienced, anticipating my needs and going beyond what I asked. The food was amazing. We received many compliments on it the day of and after. We also had a TON of leftovers. About half a dozen guests did not show up, but the leftover food was enough for my family for several days. And it was still delicious. Their tasting policy is great as well--we went home with 7 boxes of leftovers because they made large portions not only of what we wanted to taste but of other popular items. And the tasting was FREE, which is not the case with all vendors. They let us substitute wedding soup (delicious!) for salad and provided us a couple small display tables for free. I can't say enough good things about them!
---
Great family owned catering business!
Reviewed on

7/26/2015
Liz O
What a great family to work with! They gave us great deals and were very easy to work with. They did all the brunt work of set up and clean up. The service staff and bartenders were amazing! We were very happy with the price and they even threw in an extra side item for us! We go so many compliments about the food. If you want real Italian food go with Berwick!
---
Exceptional Food and Service!
Reviewed on

7/17/2015
Emiliy B
The food and the staff at Berwick Manor are simply amazing!! I loved how personable the staff was and that it's a family business. The food was awesome!! We had many compliments on it! The server staff were very attentive and on the ball. The bartender was great! Since we were able to setup our venue on a Friday, Berwick's staff came out and helped setup the tables for us on Friday! I was completely impressed! They were extremely helpful and very responsive. Everyone was professional and everything ran so smoothly! I couldn't have asked for a better caterer! Berwick Manor made our wedding day even more memorable and I would definitely use them again!!
---
Easy, fun, flexible! YES!
Reviewed on

7/12/2015
Kathy K
The Berwick provided catering for our wedding and it was absolutely excellent. They were so thoughtful and caring, they helped us prepare details we hadn't anticipated we needed to address. They also helped with some set up and clean up which made our use of a non-traditional setting so much easier (less work for us). We completely changed our vision for our dinner several months before the event and the Berwick staff replied with "Sounds good! How can we help you?" Our guests passed along a multitude of compliments for their meals and everyone had plenty to eat and drink. The Berwick service staff was excellent and thoughtful. They helped our event run very smoothly. Stephanie and Orlando went over and above expectations to help make our day as wonderful as we could have hoped. THANK YOU!
---
Catering
Reviewed on

7/12/2015
tanya M
Berwick catering was absolutely amazing. They are willing to work with us within our budget. They offer a lot of extra accessories. The food was amazing. Everyone was talking about how much food we had and how great it tasted. Whenever we had a question they would call or email us right back. Stephanie made sure our catering at the wedding ran very smooth. We have had their food on many occasions. We will for sure use them again. Thank you everyone at Berwick for everything you did to make our wedding great!
---
Reviewed on

5/29/2015
Chelsea M
The staff of Berwick Manor Catering is absolutely superb! They went above and beyond to make our day extra special. Orlando was our catering captain and did a great job with his two other staff-hands. Everything went so smoothly you would think there had to have been at least 10 staff members. Stephanie coordinated all of the pre-wedding details and was always pleasant when helping us make decisions on our food and set-up. All of our wedding guests were crazy about all of our food choices. We had many of our guests get two plates or more of food because it was so delicious. Our favorite was the glazed pork. Berwick Manor Catering also has the best prices we could find in the Columbus area. I could not imagine our special day without the help of Berwick Manor Catering. They made everything go smoothly and it all turned out beautiful!
---
Great Food!
Reviewed on

1/04/2015
Megan A
Our experience with The Berwick was one of varying levels of happiness. Overall, we were very happy. If this review was based on the quality of the food and the experience from the guests' perception, it would be 6 stars. We are still hearing from our guests about how great the food was. From a service standpoint, there were a few details that had been agreed upon that were not carried out. If we had not hired a day of wedding coordinator, our ceremony might not have had chairs set up or our reception may not have had any table decorations. Thankfully, others picked up the slack and to our guests, everything was great.
---
Great taste, great value, and tons of expertise!
Reviewed on

12/05/2014
Mary R
My husband and I recently worked with Berwick to cater our wedding reception with about 100 guests. TJ, Stephanie, and Orlando were all wonderful to work with. They have extensive expertise and experience with catering weddings and will walk you through the process. The food was delicious!! We ended up going with 3 passed appetizers, 3 buffet stations, and beer/wine bar, and a coffee/tea/flavored water station. Everything was a huge hit! Everyone complimented us on the variety, quality, and quantity of food provided, as well as the excellent service provided by the servers. Berwick's staff did several things during the wedding that I wasn't anticipating, but really appreciated, such as gathering up the remaining appetizers and serving them at the head table for dinner, since me and my groom, as well as our wedding party, did not get to enjoy them at the cocktail hour since we were taking photos. Cost wise- Berwick was by far the best value I could find in Columbus. They really seem to strive to offer excellent service at a fair and competitive price- which is exactly what they did :) Give them a call! They're a great, family-run business, that exceeded my expectations!
---
So Much Food!
Reviewed on

7/11/2014
Jules W
My husband and I were given a choice of preferred food vendors by Longaberger and having tried their food at another wedding went with Berwick. We made the perfect choice. The food itself was plentiful and hot, so plentiful that we still have some in our freezer. We had a tasting session at their restaurant with six of our guests where we tried and fell in love with their barbeque beef brisket. It was so tender you could cut the meat with a spoon. Our guests during the tasting session and at our reception raved about how good it all was. I would also recommend their vodka tortellini - yummy. Their staff were great, helping pack all the leftovers up and ensuring it was labeled so we knew what was what. Delicious!
---
Couldn't ask for more!
Reviewed on

10/09/2013
Monica Z
Berwick was amazing from the taste test til the end. They set everything up at the wedding and acted almost like our wedding coordinator because they handled so much. Plus people are still not done raving about the delicious food! Seriously they're not over it. There's just no one better than Berwick!
---
Fabulous!!!!
Reviewed on

6/07/2013
Carolyn T
My wedding reception was held at Berwick Manor and it was flawless! One of the owners Orlando & their employee Stephanie bent over backwards to accommodate my husband & I. They delivered on everything they promised and went above and beyond! The food & service by the staff was fabulous! They set up two different buffet lines so my guests did not have to wait to eat. They served delicious meatballs, crab and sausage stuffed mushrooms as an appetizer. Even their rolls are great! The rolls have different flavoring inside of them such as grape or strawberry jelly. Berwick Manor also assisted all of my vendors in setting up and ensured that everything was exactly the way my husband & I wanted for the wedding reception. I would recommend Berwick Manor for anyone's event! We selected them because they did a great job catering my sister's wedding. Now they did another great job having our wedding reception at their venue & catering. I have nothing but positive things to say about Berwick Manor! They truly can make wedding wishes come true  Thank you Berwick Manor for making our wedding night the best night of our lives!
---
Great Food
Reviewed on

5/31/2013
Neika H
Berwick had great pricing upfront that included everything but the staff fees, unlike some other catering companies that sound great until they start adding in fees for linens, plates, silverware, glasses, etc. Our reception was at another location and all of the food was hot and tasted great. Everyone loved the prime rib they served. They even boxed up all of the leftover food for us to take home. They were great to work with and I highly recommend them!
---
Berwick
Reviewed on

5/19/2013
Lori R
Everything tasted great and the buffet food was still hot when we ate it. Berwick was very accommodating in providing all the unusual ingredients for our signature drink and making menu substitutions. They even gave us candles. Berwick's pricing is very reasonable. They sold us beer and wine at cost and were willing to take back the extras which saved us a lot of money.
---
Reception Oct. 2012
Reviewed on

11/14/2012
Amanda A
Great service. Very very helpful!
---
Catering
Reviewed on

10/04/2012
Allie M
Great food and set up everything food related for us.
---
Best Reception Site Ever!
Reviewed on

8/16/2012
Matrice R
My husband and I selected Berwick Manor for our wedding reception because of our "first impression." We called to get details and pricing on the venue and were floored at what we would recieve for our buck. From the initial booking of our reception, the food tasting, to the actual reception on the day of our wedding we we very impressed! We loved how the Suzi family went above and beyond to ensure us that our reception would be one to remember. Great pricing, dee-licious food, and exceptional customer service. Thanks again...Kevin and Matrice Jones
---
Best in Columbus!
Reviewed on

10/03/2011
CHRISTINA R
We used Berwick for our 250+ wedding reception. The food was amazing, their customer service is the best! We got so many compliments on the food. After we booked the Berwick, I did not worry one bit about how the food and service would go. I knew it was in good hands!
---
Delicious Food
Reviewed on

9/18/2011
Alison B
Received so many positive comments about the food. They walked wine around during the cooktail hour and provided other items at no extra cost.
---
Reviewed on

8/14/2011
Carli L
Great to work with!
---
Delicious food!
Reviewed on

5/31/2011
Colleen R
Berwick Manor did a wonderful job catering our wedding reception. They are full-service in every sense. They set up the day before, so I could see how the table linens looked, and they picked up our chair covers, put them on, and returned them to the linen rental company. We chose a buffet style; there was plenty of food and it was served hot. We received so many compliments on how good the food tasted. They were always available to answer questions via phone or email, and both times I went to their location to meet with them, they treated us to an amazing buffet lunch. The food is delicious; I definitely recommend Berwick!
---
Send Message