Home

Beyond The Veil Bridal
About this Vendor
We Make Your Dreams & Visions Become Reality
Welcome to Beyond The Veil Bridal & Formal Wear ~ The Affordable Elegance Boutique Vancouver & Portland Premiere Full Service Salon, Your One-Stop Destination for All Your Formal Wear Attire Desires Where Dreams & Visions Become Reality ~ No One Does 'I Do' Like We Do! We Say 'Yes' To The Dress & All The Guests! The Adventure of Your Most Memorable Journey Begins at Beyond The Veil Bridal & Formal Wear Personalized Attention in a Comfortable Atmosphere to Assure You are Free to Express Your Hearts Desire.
Details
Bridesmaid Dresses, Flower Girl Dresses, Mother of the Bride Dresses, Shower + Party Dresses, Wedding Dresses, Dresses, Alterations, Bridal Stylists, Custom Designs, Dry Cleaning + Preservation, Group Discounts, Plus Size Available, Private Appointments Available, Rentals, Fashion Services, Fashion
Contact Info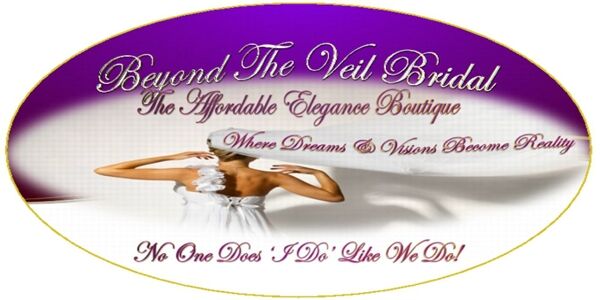 Reviewed on

10/16/2017
Meghan S
Best customer service, friendliest people! You can't find a better place to find a wedding, bridesmaid, mother, or flower girl dress! They also do tux rentals! They're a one stop shop and they are the best place to work with! I haven't met a single wedding vendor who doesn't... Read More up-sell in some fashion, but Beyond the Veil Bridal does there best to LOWER prices for you!!! No up-selling at all! I was shocked when they took off alteration costs for me simply because they knew it was a stretch for me and they didn't want my day to be hampered by something they could fix. AMAZING!!! I walk in and I feel like I'm with family. They always know my name and they are not here to just make the next sale. The entire team is here to make your day special! I'm so thrilled that I found my dress at Beyond the Veil Bridal!!!
---
Reviewed on

10/16/2017
Tania M
I had a very pleasant experience with Beyond the Veil....apart from finding my dream dress, the staff is exceptionally sweet and helpful, they stayed overtime when I had come in to try on dresses and were genuinely happy for me when I found "THE dress." I would recommend this... Read More shop to anyone looking for an affordable price and great help while looking for your dream dress! Loved my experience and my dress :)
---
Reviewed on

9/09/2017
Kara T
The staff at Beyond the Veil Bridal are so sweet!! They made me feel so special and comfortable when trying on dresses. They happened to be the first place I went and found my dream dress! The owners are so accommodating, definitely recommend!
---
Reviewed on

10/31/2017
Mary H
Jeff was amazing to work with!! His customer service, and persistence in assisting me during my wedding journey was beyond helpful! He definitely was a huge part in making my wedding day a success! I am so greatful for his service. I would HIGHLY recommend Beyond The Veil.
---
Reviewed on

10/27/2017
Desirae M
My first experience with Beyond the Veil was nothing short of amazing. I had high hopes and expectations. We had discussed what I wanted from the very beginning, 11 months before I got married. When I picked the dress without even seeing it in person, I stated I would want to... Read More add a simple sleeve. I was not comfortable with bare arms in October. I was reassured many times this would be no problem. When I visited the shop in June, we discussed the sleeves and appliqué I wanted to add along the waist and across the edge of the bust. Again, I was reassured this was simple and no problem. They were going to send me fabric options and go from there. I ended up having to call and email multiple times to receive my choices. I was told to make an appointment to come back in July. I was very understanding as I know they are very busy and a small shop. I wasn't scheduled an appointment in July, but rather, later because of all the summer weddings. My mom went to the shop to clarify the simple applique details and helped pick the appliqué for me. At the appointment, one of my sleeves was complete and the appliqué trim pinned on to be sewed. This was simply a narrow applique trim to be added around the waist and the top edge of the bust. The dress was pinned to my height. I was asked to come back the middle of September and it would be complete. Unfortunately, since I work 12 hour night shifts, had a fiancé going through chemo and live 5 hours away, I decided to schedule the appointment out an extra week to assure everything was completed and there would be no delays. On my way to Vancouver, I was advised by the shop that my dress and veil would not be ready Monday morning and were not ready because the material was on back order. This was confusing to me, as they had all the material at my last visit, and the applique trim was already pinned on the dress. After several calls I was text messaged to come to the shop after 5 pm on the Tuesday before my Saturday wedding. I was extremely frustrated because I had company flying in from across the country on Wednesday, decorating and other last minute wedding details and still waiting on my dress. When I arrived shortly after 6pm, I was told my dress was still not ready and that maybe I should go get a mocha! Once the ladies who I had never met brought it out to me, they told me to try it on if I wanted and asked if I needed help. They got the dress in the dressing room and I pointed out they had missed a 6 inch section of appliqué and had not sewn the bra cups in. At this point it is very late in the evening. I was in a hurry to drive back across the state to pick up company arriving. Without any regard for the days I had spent waiting in Vancouver, I was asked how I wanted to settle the remaining $187. I have no problem paying for anything. The dress and additions were rather expensive, in fact the price of the additions changed frequently. It was the manner of disregard of my time 3 days before my wedding that rubbed me wrong. Ultimately, I got my dress and the $187 was paid. I was home 2 days before my wedding absolutely exhausted from driving until 5am. There is no doubt the dress, sleeves and appliqué were lovely. One wouldn't know that by the awful picture posted on the website of me on my phone, no makeup, black bra out and my hair a mess. Sadly, by the end of the night, both sleeves had ripped off, bustle buttons broke and stitching came undone. Luckily, we only wear our wedding dresses once!
---
Reviewed on

10/16/2017
Kristi R
Absolutely great shop. Good selection for all sizes and very reasonable price. I didn't feel pressured or pushed to buy anything. The owners are amazing and very responsive when you call or email.
---
Reviewed on

3/14/2017
Danielle P
The staff at Beyond the Veil are beyond amazing! They made me feel so comfortable and excited about my day from the moment I stepped into their shop! I had around 5+ appointments at various other bridal gown shops, and I am thrilled that I found my absolute dream dress at BTV!... Read More It's exactly what I always wanted, and more! Jeff and Tamara are the sweetest people you will meet, and they work so hard to make sure every bride is happy. Kelsey has also helped me, and she is amazingly sweet and very helpful! It is so wonderful to work with people that truly are passionate about what they do, and who strive to make their customers happy no matter what. Thank you so much for making my special day even more special! You are the best! :-)
---
Reviewed on

1/23/2016
I had the best time shopping for a bride's dress and I found it. Tamara and Jeff were really amazing in helping me out with finding my beautiful dress and the price was perfect. The best customer service I've had so far.
---
Meet The Owner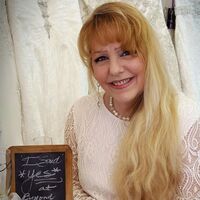 Tamara
Every girl has a dream, a vision of her special day... Long ago, my own dream began at the tender age of six, believing in the Land of Fairy Tales & Handsome Princes. As a little girl dancing along a small creekside, dreaming of a handsome prince, a frog was found. Bound with a great wish within, she gently blew a kiss. Yes, every girl has a dream, For the bride-to-be, her day has come, she must prepare,Her soon-to-be groom awaits her with welcome arms..And, like you, I know, your heart desires the dress of your dreams, Thus, here I am, to assure all your dreams & visions become reality.