Home

Bistro to Go
About this Vendor
Simply delicious & extraordinary wedding catering!
The Dream... From elegant receptions to whimsical backyard weddings, Bistro To Go Catering creates delicious memories that unite your imagination and your budget. Our planning and culinary experts can handle every detail. We are careful to listen to your heart... Creating the day only you can imagine. We blend culinary skill with fresh, contemporary ideas. Your wedding should be an original celebration of amazing flavors and beautiful presentation your guests will remember for years to come.
Contact Info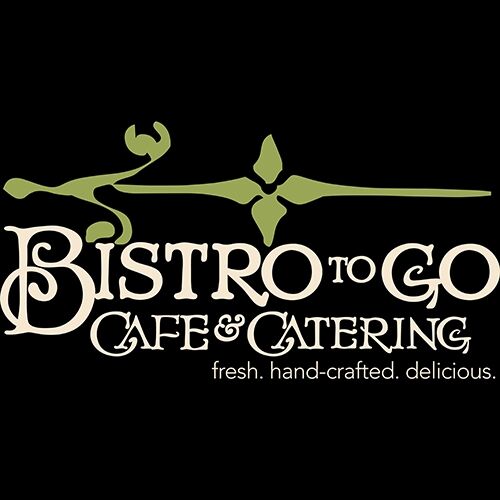 Reviewed on

6/26/2017
Alexandra E
Bistro to Go was absolutely fantastic at every step of the game. Nikki worked with us to develop a plan for dinner that was cost-effective and delicious. The tasting was incredible and whenever we had to make changes to the original plan (such as switching from buffet to... Read More sit-down or having them cut the cake), she was always patient and accommodating throughout the whole process. On the day of the wedding, everything ran smoothly thanks to her team and one of the waiters was kind enough to give us a sampling of the food options for my husband and I! Nikki runs an incredible business and we were so blessed to be able to find and work with her.
---
Reviewed on

3/28/2017
Alicia K
The food here is just amazing, I am still eating leftovers that were frozen during the honeymoon and it tastes just as good, I'm sad it's almost all gone! Nikki was great to work with for our caterer, although at times she is not the most responsive but she made up for it in... Read More quality food and really caring about making our day special and working within our specific budget. She did a full tasting of all the food we were interested in for both of us and our parents without even talk of a contract or being hired. She truly let the food do the talking and it was a no brainer to go with Bistro to Go, especially since she guaranteed amazing food in our budget. Nikki was in contact more the closer we got to our date and she attended our final meeting with our venue to make sure we were all on the same page and happy with the menu. The day of the wedding we didn't worry about anything, her team worked directly with the venue to set up everything and made sure everyone got food including the vendors! They were especially concerned with making sure we (the bride & groom) got to eat! Everyone was thoroughly impressed with the quality of cocktail hour food and the main buffet, we couldn't be happier with them. They stayed until the end to help clean up everything and even took care of the tables even though they did not provide the linens. They were so professional and I love the food, I am already trying to think of something else to order there food for!
---
Reviewed on

8/16/2016
Kira K
If I could give 1000 stars, I would. Finding a caterer was turning into the toughest part about my wedding planning. Upon a simple glance at the Bistro menus, I knew it would be perfect for my food vision. The initial meeting with Nikki, the owner, felt like I was meeting my... Read More friend for a chat. She immediately understood what I was looking for and made menu recommendations to compliment my vision. I cannot say enough good things about her! She is the most genuine person and has an obvious passion for her food and her brides. We fell in love with her. She is also so knowledgeable of the wedding scene, its like having a second wedding coordinator on board. She even referred the bartender I ended up using at my wedding. For our tasting, it was literally like a mini party at her restaurant on the North Side. I was absolutely blown away! She prepared every dish I was interested in (which turned out to be lots) and let us take home the leftovers (of which there were lots). With one bite of her food, I knew I had to have her there on my wedding day. I communicated directly with Nikki throughout the process of menu planning and leading up to the big day. She was attentive to detail and very responsive throughout. Nikki and her staff seamlessly executed my wedding day. It. was. perfect. And I know they had so much to do with it. The food on the wedding day was just as delicious as I remember at the tasting. We had the BEST appetizers: mac & cheese bites, grilled cheese with chilled soup shooters, sweet & sour meatballs, and pulled pork sandwiches. We had BBQ short ribs and lemon-basil chicken as mains, her infamous "whip cream" potatoes (you have to try them), corn on the cob, vegetable medley, green beans, strawberry & sugared-pecan salad, watermelon-blackberry salad, and cornbread. Nikki and her staff did so much to make my wedding day just as I imagined! They made sure my groom and I had food, including the yummy apps, on our sweetheart table early in evening to ensure we got to enjoy the food. I have absolutely no complaints. Would not change a thing! I highly recommend Bistro to Go as your next caterer for any occasion, but especially for your wedding. :)
---
Reviewed on

10/28/2016
Rhonda P
Bistro To Go was delicious! We catered breakfast for a Sunday AM wedding reception and it was truly the best breakfast I've had! Our guests loved the display and the food. Bistro offers everything you could want from full service catering and was super flexible. A friend... Read More recommended them in the first place, and I would gladly do the same for anyone looking for catering. We were so happy with them!
---
Reviewed on

10/26/2016
Renee R
Allergy friendly! I am Celiac and they made my life easy! Bistro to Go catered our Rehearsal Dinner and the food was incredible. I wish they would have catered our wedding! The staff working our rehearsal dinner went above and beyond with how helpful they were.
---
Bistro is the Best!!
Reviewed on

10/03/2014
Lauren S
Nikki, Desiree & all the staff at Bistro to Go was phenomenal and professional from start to finish. The food was first class & delicious. Nikki went above & beyond to create a menu for us that was unique and amazing for our outdoor, family-style dinner. As a vegetarian, she met... Read More with me several times and prepared several different options until we came up with the perfect dish for me and my (2, yes 2) other vegetarian guests! She made sure I was completely happy with my food. My father was insistent we go with the Common Plea, but after he came to the tasting at Bistro, he said Nikki's food was as good, if not better than, theirs! Sold! Leading up to the wedding, Nikki took charge where my wedding planners were not. When my family and I were about to have meltdowns due to lack of organization and communication about the details of our wedding, Nikki stepped in and made sure things went in the right direction for all parties involved. Our wedding was a verydetailed affair, as it was held at my parents' home, and thus everything from the layout to the bathrooms to bartenders and staffing all had to be arranged and coordinated. Nikki was calm and organized from the get-go, and I knew she had everything under control. If there was one thing I was not worried about on our big day, it was the catering. On our wedding day, we were not disappointed. The staff were extremely professional, polite, and attentive to our guests. The food was served fresh and hot and since everything was grilled on site, it was made even more delicious. We had several people comment that it was the best food they ever had at a wedding. We had one guest say it was the best steak he had ever had in his life! Wow! The only complaint I would have is that after we cut the cake, it sat and was not cut. I had to ask someone to cut it, when I noticed it sitting there untouched after dessert (we had a dessert buffet in addition to cake) had already begun! My wedding planners should have noticed that, not me, but regardless, once I told the caterers, they whisked the cake away, cut it and plated it. Go with Bistro! You will not be disappointed!!
---
Meet The Owner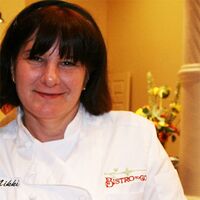 Nikki Heckman
Nikki comes from a large Italian family, learning the Old World traditions of cooking from her grandmother, and fondly remembers their big, traditional meals eaten on long tables in the basement. After years in the food service industry, Nikki opened Bistro To Go, and loves helping wedding couples create the day of their dreams - making it an extraordinary event to remember for years to come.