Home

Bliss Stationery & Events
About this Vendor
What's your Bliss!
Bliss Stationery & Events is that special moment when entering our shop and glance at your handcrafted, personally designed invitation. That first look, makes your upcoming wedding or event official. It's exactly what you envisioned, your names are in print, and your about to share your excitement with your family and friends. Bliss Stationery & Events, most often referred to as "a gallery of stationery art," offers an array of unique proprietary invitation designs, inspired by love, art, pop culture and fashion. Our designers have a vision, to truly capture the essence of a couple or event. It all begins when you first enter the Bliss Miami Store and discover the design that brings your vision to life. Visit us or shop on-line at StationeryBliss.com
Details
Signs, Decorations + Accents, Custom Invitations, Coasters, Escort + Place Cards, Guest Books, Ketubahs, Marriage Certificates, Menus, Programs, Seating Charts, Table Numbers, Thank You Cards, Paper Goods, Embossing, Engraving, Letterpress, Printing, Email Save-The-Dates, Save-The-Dates, Shower + Party Invitations, Online Invitations, Wedding Invitations, Invitations + Paper Goods



Contact Info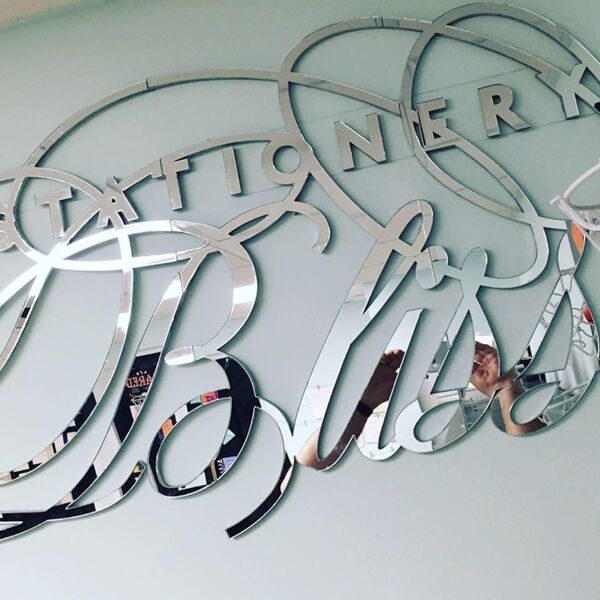 Reviewed on

1/07/2018
Karen F
The invitations for my daughter's wedding were absolutely stunning. They set the tone for a perfect day. Marilyn was so helpful in dealing with a long-distance bride and, for most of the time, a long-distance mother-of-the-bride. She provided samples of paper, ribbon, and... Read More every conceivable typeface for a very detail-oriented bride to review. Marilyn was patient and creative. We did an elaborate invitation with a bling starfish and it was worth the extra expense. I heard over and over that it was the most beautiful invitation people had ever seen (and my friends have seen some nice invites). It was a great beginning for what was to be a perfect wedding day!
---
Reviewed on

2/24/2018
Marquita S
Marilyn was very helpful from start to finish. She gave us many different options and helped us achieve the look we were going for while still staying within ou budget!
---
Reviewed on

2/24/2018
Marquita S
Marilyn was very helpful from start to finish. She gave us many different options and helped us achieve the look we were going for while still staying within ou budget!
---
Reviewed on

12/27/2017
Giselle H
Thank you Marilyn and team for the GORGEOUS wedding invitations. I'm in LOVE with the ones we selected!
---
Reviewed on

11/22/2017
Vicky F
Marilyn made magic happen with 72 hours notice. Thanks Marilyn!!!
---
Reviewed on

10/03/2017
Krysten S
Words can not describe how amazing my experience was with Marilyn and her team at stationery bliss. When we first met with her she welcomed my mother, mother in law, grandmother, my fiancé and I with open arms. She guided me through picking out the most gorgeous invitations .... Read More Thank you Marilyn for all your help!!
---
Reviewed on

9/25/2017
MELODY P
My invitations are GORGEOUS!! Marilyn is a pleasure to work with and she makes sure that are perfect and exactly how you envisioned. She is doing our receptions menus and table numbers. Stationary Bliss is the best!!
---
Reviewed on

9/19/2017
Nicole L
Love my final product! I sent a sketch of what I was looking for and they created a masterpiece for my daughter's Mitzvah. We were able to do all of our interactions over the phone and email without ever walking into the store. I will definitely use them for future events. I... Read More have gotten so many positive feedback that my invitation was so original.
---
Reviewed on

9/06/2017
Roxy R
My fiancé and I had our invitations done at Stationary Bliss and we worked with Marilyn to get them done. This place has a great selection of invitations and more at great prices! The service was also fantastic. Marilyn is so sweet! She gets back to emails and any questions you... Read More may have very quickly and works to give you options on fonts and other custom details. We are so pleased with how they turned out that we will be making another order from her for our reception menus and table numbers! Thank you Marilyn :)
---
Reviewed on

8/31/2017
caridad h
the best invitation in united states
---
Reviewed on

8/29/2017
Jenny M
I'm so happy we found Stationery Bliss. Marilyn is very patient and professional. Her knowledge and experience are only second to her friendliness. She asked all the right questions and was able to create an invitation for my daughter's "Quinces" that met all our needs within... Read More our budget. We reviewed proofs and invitations were ready when promised. Highly recommend!
---
Reviewed on

8/28/2017
Matthew G
Stationery Bliss did an excellent job on our wedding invitations! We love the final product and were so thankful that they were able to be accommodating to our timeline. We would highly recommend Stationery Bliss over the other wedding invitation companies in Miami. Thank you... Read More again!
---
Reviewed on

8/25/2017
Melissa C
Excellent! I love my wedding invitations! Hands down the best place ever!
---
Reviewed on

8/24/2017
Moriah P
Beautifuly done! Fast shipping, no hassle and great price for great quality! Very satisfied!
---
Reviewed on

7/15/2017
Suzette B
My daughter's wedding invitations are simply GORGEOUS! My entire experience working with Marilyn via phone and emails only for the entire order was extremely easy (since I live out of state). Look no further for a unique, custom tailored invitation that will surely receive... Read More lots of compliments! THANKS MARILYN AND STATIONERY BLISS!!!!!!
---
Reviewed on

6/05/2017
Yisell S
Muy buena atencion y muy satisfecha con el servicio.
---
Reviewed on

5/02/2017
Maria L
I stumbled upon this boutique while I was looking for another stationery store. They were very professional and organized as well as kind and approachable. If you want your invitations quickly and beautifully I suggest you give them a try.
---
Reviewed on

4/07/2017
Catherine O
Holy cow! This vendor was the worst part of my wedding experience. Not only were the uncommunicative, they were RUDE! They blamed every mistake on me. Told me they would send me a proof first, no proof. Told me I would have a 1-2 week turn around. Laughable. Literally ignored me... Read More and my emails for a week as I started to panic toward the end. Then they told me they got me my item in plenty of time. It got to me like 2 days before my wedding. I ordered it 6 weeks before my wedding. And when there were technical issues that they blamed on me, they refused to 1. Tell me about them for a week and 2. Help me fix them. Yes, I got my product. But the process of getting it and the "customer service" was so bad. It was the only vendor I dealt with that made me feel like crying. So, I'm so glad you guys are in another state. If I could give you half a star I would. Shame on you.
---
Reviewed on

3/14/2017
Adele A
Stationery Bliss was a lifesaver. My daughter was overwhelmed with professional school interviews and asked me to pick out the invitations and get them in the mail... in a two week window. Marilyn was a great advisor, professional and a godsend. She knew exactly what needed... Read More to be done with wording, additional inserts, etc., and expedited our order, printed the envelopes which helped me get them out not too far behind our deadline. Not to mention that the invitations were beautiful and high quality!
---
Reviewed on

11/14/2016
Ingrid A
I was smitten meeting Marilyn she is a humble hard working woman along side her husband. A family owned business well worth every cent. Marilyn takes you through a journey of stationary but with your vision in mind, she gets to know your style. My wedding invitations were... Read More exceptional they really translated the mood to my guest making my day feel so much more real. I can't wait for my wedding day!!
---
Reviewed on

11/08/2016
Lina B
The staff at Stationery Bliss is very professional and excellent with the clients. The work they do is amazing are are always willing to change whatever necessary to please clients. I would always recommend and go back to them for invitations, thank you note or any kind of... Read More stationery.
---
Reviewed on

10/26/2016
Jaclyn G
Perfection. I love the way it looks, ordering was easy, and customer service was superb. Can definitely recommend to others.
---
Reviewed on

10/25/2016
Nicole P
Stationary Bliss is absolutely wonderful! They have accommodated me in every way and have made my vision come to life! They know exactly what I want without saying too much! I would definitely recommend them to anyone!!
---
Reviewed on

8/17/2016
Melissa R
I absolutely love my invitations. Marilyn is so easy to work with and is very helpful in making your vision come to life. I totally recommend her for any service you may need.
---
Reviewed on

8/10/2016
Vivian F
Absolutely LOVE my invitations!! They are unique and gorgeous. Couldn't have asked for a better experience with Marilyn & Stationary Bliss. She took the time to sit with us while deciding on what to pick and helped us with any questions we had.
---
Meet The Owner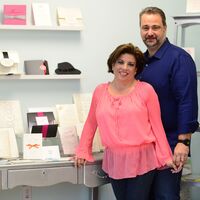 Eddy and Marilyn Martinez
Bliss Stationery & Events is owned by husband and wife, Marilyn and Eddy Martinez. Together, they have been designing custom invitation since 1996 and won 3 prestigious Greeting Card Association "Louie Awards" and a certificate of Excellence from Gruppo Cordenons.