Home

Blow Out-Glamorous Hair Styling and Make Up
About this Vendor
Blow Out-Your Wedding Specialists!
Blow Out, a Luxurious Blow Dry & Makeup Bar was created to provide women with the value and convenience they need without compromising quality. We are your wedding day specialists for hair and makeup. We can accommodate your party at our salon...or we can come to you! Contact us today to take advantage of our special trial pricing! $20 off Hair and Makeup Trial...contact us for details!
Details
Beauty Group Bookings, Hair + Makeup Trials Available, Hair Stylists, Eyelash Extensions, Makeup, Makeup Artists, On-Site Hair + Makeup, Beauty
Reviewed on

1/08/2018
kayla H
What an awesome experience my maid of Honor and I had having my make up trial done! The owner was quick to respond and answered all our questions. Brittany did a great job on my make up and I booked them for my wedding in June.
---
Reviewed on

12/14/2017
Megan M
We had a great experience at Blow Out...we called to ask them questions and pricing. They were very helpful and straight forward. That was the best part. We then scheduled a trial session. They took their time and tried several different hair and make up for all of us. We had... Read More champagne and a lot of fun. On wedding day, they were very calm and professional. They did an amazing job for all all of us.
---
Hair & Makeup
Reviewed on

9/29/2015
Maricela C
I hired Blow out Salon to do my hair and makeup along with my entire bridal party for my wedding day. Michelle was my first contact to get a price breakout, schedule a hair and makeup trial and workout the day of logistics. She was amazing to work with! When planning a wedding,... Read More it makes life so much easier when your vendors are reliable and great to work with. My original makeup stylist who did my trial was no longer there when it came to the month of my wedding. Michelle recommended someone just as great actually even a little better and squeezed me in for a free makeup trial. That's just amazing customer service in my books! Jennica did my hair and from the hair trial to the day of she was fantastic. I wanted an updo that was very detailed and she did an amazing job! If you have a special occasion and want to look & feel gorgeous, she is your girl! Olivia did my hair makeup and she did a beautiful job. I wanted something natural but still stand out and she accomplished just that! I also trusted her to do my mother in law's make-up who is very particular about her make up and she did a great job on her as well. As for the rest of the team, they made my beautiful girls look even more beautiful. Their hair and make-up looked great! Thank you Blow Out Salon!
---
Reviewed on

6/09/2015
I cannot say enough wonderful things about Blow Out in Aliso Viejo! Though at first hesitant to get my hair and makeup down professionally for my small intimate wedding, I am so thrilled that I did -and- did so with the team at Blow Out in AV. I appreciated Michelle's approach... Read More (owner of Blow Out) from the start. She truly listened to my reservations and questions, and offered her thoughts and recommendations based on her over a decade experience of being in the business. Her approach was kind and professional, and I felt instantly that she had my best interests at heart. I booked trial appointments for both hair and make-up. Best decision ever. The peace of mind it brought (knowing that I no longer had to make ANOTHER decision nor do another errand to purchase make-up, hair products, etc. coupled with the ease of already experimenting with different up-do's, lashes on the eyes, etc) was worth EVERY penny and then some; plus not to mention the entire experience of being pampered by their awesome staff (complimentary drinks, etc). Since I had already had my trial, the day-of my wedding I was both excited and relaxed (priceless feeling) knowing that I was in great hands with my off-the-charts talented and super attentive stylist and makeup artist. And my hair and make-up came out AMAZING!! I received countless compliments making this bride feel on top of the world. THANK YOU team Blow-Out! Beyond grateful...
---
Great hair for my bridesmaids
Reviewed on

11/24/2014
Engie H
Cristina and Christine did my bridesmaids and mother's hair. Everyone looked gorgeous. Michelle, the owner, was great to work with. I would recommend them.
---
FirstbutnotheLast
Reviewed on

11/07/2014
Xiomara C
My experience at BlowOut was awesome! I was getting married and had no idea where to start with the whole hair/makeup deal. It was actually my first time getting my hair and make-up done period! The girls made the process smooth and painless. We had such a good time with the... Read More trial run that for my actual wedding day 8 of us went there to get all dolled up. The entire staff was so friendly and still very professional. The owner, Michelle was also there to check and see if we needed anything. I recommend this salon to any bride who is looking for a great deal and wonderful service!
---
Marvelous Experience!
Reviewed on

10/30/2014
Lovely salon and staff! I am the mother of the groom and was just amazed at the talented staff. I truely reccommend Blow Out. You must chech it out
---
The absolute best wedding hair and make!
Reviewed on

10/18/2014
nicole f
I had 7 bridesmaids and 2 mothers of the bride with me. I was very impressed with the friendly hospitable staff. We each were offered mimosas and seated right away. I have been hunting for a team that I knew could handle all our different hair types and skin types for my... Read More wedding. We all want different looks so I knew this was going to be a challenge. I was so impressed at how skilled and professional the staff was. I wasn't sure what I wanted but they had all sorts of different ideas and in the end I couldn't have been more pleased! Everyone in my wedding party looked amazing as well. Hair and make up were flawless.This place is AMAZING!
---
Never looked and felt so beautiful!
Reviewed on

10/08/2014
suiyuen w
From the minute I spoke to the owner on the phone I knew this was going to be a good experience. I was pampered the whole way through the process. The stylists are so skilled and professional I wanted my hair down with lots of curl and half up with a braid. My hair style lasted... Read More the whole day even though my hair does not usually hold curl. I chose to add a few hair extensions to give my hair volume and help preserve the curl which was recommended by my stylist. What a difference it made! I love Blow Out! Now I use the extensions all the time! My make up was flawless and beautiful! I felt and looked like a princess. I got exactly what I described. On top it all I had a wedding party of 5, plus mothers of brides, and flowers girls. Their hair and make up also looked amazing!
---
Thank you for BEAUTIFUL me on my special day!!!
Reviewed on

9/19/2014
Galina L
I usually do not write reviews. But I need to share that I have an amazing experience with Blow out Bar on my Special day. Michelle was very accommodating! We had everything planned ahead of time for me and my girls (hair and makeup). I love the atmosphere there: friendly... Read More and professional stylists, free champagne!!! to start your special day:), you can bring your food and snacks etc. Kristina did my hair and I am beyond HAPPY! She listens and makes it just like you wanted and actually better! I felt very relaxed as I knew I am in good hands. All my bridesmaids, few guests and my mom were taken care of and they all looked gorgeous. Good luck with your planning and you should definitely check this place! Very reasonably prices too:)
---
Thrilled and Gorgeous!
Reviewed on

9/11/2014
I will never forget how fantastic Blow Out made my hair and make up look the day of my wedding. This is the one day that I absolutely needed my hair and makeup to be perfect! Not only did they do a perfect job, but they made me feel pampered like a princess! Their hospitality... Read More and expertise with hair and makeup just put me more at ease on the day of my wedding. Our whole wedding party was catered to the minute we walked into the door. They created a celebratory environment for me and my wedding party. We were offered champaign and even had wonderful scalp massages. Blow Out was affordable and worth every penny. Weddings are a big expense for not only the bride and groom, but the wedding party too. Guys have it easy just renting a tux, but us ladies need to spend more on dresses, shoes, make-up, jewelry and hair etc.. Blow Out's affordability made it possible for us all to have everything we wanted -- flawless hair and makeup. Fabulous hair and make up is so important to me because, after all, I want to look back at my wedding pictures and be proud of how stunning we all looked. Wedding memories are worth a whole lifetime!
---
Fab Salon!
Reviewed on

9/10/2014
HEATHER B
Blow Out was such an amazing experience. As a bridesmaid I was somewhat along for the ride but wow, I just had to send in a review because we all had a blast the morning of my friends wedding. Not only did we decorate the salon but we used their kitchen to set up breakfast, the... Read More owners were so accommodating and friendly!!! The best part, free mimosas which helped us all relax and giggle. Thank you Blow Out Staff!!!
---
Made getting ready for the big day fun and easy with gorgeous results!
Reviewed on

8/27/2014
Kira L
Michelle, Christine, Ashley and team did an AMAZING job getting my bridal party prettied up for my big day! The price was very reasonable, and included champagne, coffee, fruit, muffins and cupcakes (my fave!) in the morning. I can't think of a more fun and relaxing... Read More environment we could have gotten ready in. There were 8 of us total and we were in at 8:30 and out around 1pm, everyone was super happy with the end result, probably because the stylists were so helpful and flexible during the process. Also, everyone's hair and make-up still looked great at the end of night. I had my trials with Christine (hair) and Ashley (make-up), they both went above and beyond (during the trial and on the day) to make me feel happy and comfortable with everything, and totally understood the look I was going for without me explaining it very well! Michelle was was an absolute superstar during the whole booking process. She was pregnant and had the baby during the lead up and still managed to reply to all my emails in a timely fashion, and was patient when I had some of the bridal party changing their minds on style. I 100% recommend Blow Out for weddings, or for just a normal pop-in styling!
---
FANTASTIC Venue for Hair & Make Up
Reviewed on

8/27/2014
I highly reccommend Blow Out for weddings. I got married in July and I was so impressed with the level of professionalism and talent of thier staff. Their whole staff was a dream to work with. The pricing is afforable and the attention to detail is impeccable. I had a large... Read More wedding party and every single one of us looked amazing. Each one of us got hair, make up, and lashes. I booked my hair and make up trial the night of my bachlorette. This was a great call because I was all dolled up and ready to go.
---
Meet The Owner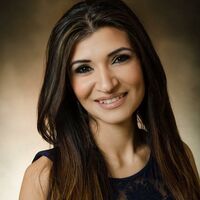 Evette and Martin
Evette has been involved in the beauty industry for well over a decade...makeup and hair are her areas of passion. Martin has been in the beauty industry for several years...mostly in operations. The husband and wife team have established Blow Out salon which specializes in weddings! We understand your needs and expectations for your special day. That's why we are both committed to exceeding all of your needs! Contact us today and let us make your special day beautiful!