Home

Blue Dahlia Photography
Details
Artistic, Classic, Lifestyle
Bridal Portraits, Engagement
Getting Engaged, After Party, Rehearsals + Parties, Wedding
Online Proofing, Digital Files, Second Shooter Available
Contact Info
Best wedding vendor we picked!
Reviewed on

6/10/2014
Sarah T
I was nervous when selecting a photographer because I do not really like pictures of myself, and my husband is super laid back and I knew he would not want an "in your face" photographer. When first speaking with Rabeeh, I instantly felt comfortable. He explained everything to... Read More me and was always available when I had questions prior to the wedding. The price was very reasonable too. Rabeeh and Alana were both great the day of the wedding! They were on time, very nice and personable, professional, and they were not over-involved and not under-involved. They are both young photographers, but you'd never know it from the photos. Like I said, I don't really like pictures of myself, but I love our wedding photos. Out of all the wedding vendors we used, Blue Dahlia was my favorite. Thank you Rabeeh and Alana for making the best day of my life so far even better!
---
Just What We Needed
Reviewed on

6/07/2015
We really lucked out with Rabeeh. I asked him to be our photographer at the absolute last minute, and not only did he agree, but he jumped right in, got all the logistics figured out, and everything went seamlessly. It was an enormous relief to have a real professional there.... Read More I didn't have to worry about him at all. In fact, I don't even remember seeing him during the ceremony---but, looking at his pictures, he somehow managed to capture everything. Thank goodness I decided not to rely on my family's photography!
---
Wonderful experience and excellent results!!!
Reviewed on

6/09/2014
Anna C
What initially attracted me to Blue Dahlia Photography was not only their incredibly reasonable prices but the quality of the photos on their website. It was very important to me to not only capture family and bridal party but to really capture the feel of our big day. Right... Read More away I was beyond pleased with Blue Dahlia. They responded to my inquiry very quickly, pricing was clear and more than fair and I was given a questionnaire to help clarify the types of pictures I wanted; things I wouldn't have thought to ask for without their guidance. Leading up to my wedding they stayed in contact and continued to work with my changes and requests. Day of they were so incredible to work with! I am very shy and nervous about having my picture taken but they put me quickly at ease and gave great direction to get the photos just right. I received my pictures very quickly and they are outstanding!! Better than I ever expected! My day was captured perfectly and I will have these photos to look back on for years to come. I couldn't be more pleased with the quality of work done and the friendly, caring staff. I would absolutely recommend Blue Dahlia Photographer to anyone!! Wedding date 5/31/14
---
Reviewed on

9/09/2016
Beatriz A
Since I met Rabeeh I liked his approach to the wedding. And he got me immediately. The Wedding Day, he capture all those moments that we talked about. I was very happy with all the pictures I wish I could have all of them. But the ones I picked I really enjoyed. I was so happy... Read More that the day before I told him about we needed an extra hour and he didn't object. I felt very comfortable while taking pictures. Now that we are pregnant I'm looking to have him to take my pregnancy pictures and my newborn as well. Exceptional service.
---
Reviewed on

8/21/2016
ember e
Rabeeh was an absolute pleasure to work with, and I LOVE my wedding photos. He knows what will look good - both in traditonal and artsy ways - but also captured the personalities of my wife and me in a way that doesn't look super posed. We had an outdoor wedding and tried to... Read More save money in a lot of ways. Blue Dahlia prices were good and the photos are absolutely worth every penny. I'm so thankful we chose Rabeeh to photograph our big day. We've recently added a baby to the family, and I feel certain we'll reach out to Blue Dahlia again.
---
Reviewed on

8/19/2016
We had the very best experience possible with Rabeeh. He took such care and consideration with every photo, and was able to exactly capture our day the way we had envisioned. I would hire him a million times over!
---
Reviewed on

7/26/2016
Shandi S
Rabeeh from Blue Dahlia was amazing! He did our engagement pictures, my boudoir shoot and our wedding pictures. We loved them all! Rabeeh was really fun and easy to work with. Pretty quick turnaround on all my pictures and he made sure we were satisfied. Definitely would... Read More recommend.
---
Reviewed on

6/18/2016
We had a wonderful time working with blue dahlia ! From beginning to end he worked with the business of the wedding day, visited the site prior to, was easy to get a hold of through the whole process. all in all, we will be calling again for family photos !!!
---
Reviewed on

6/11/2016
Shelby Q
I found Blue Dahlia Photography when we first got engaged on this site. Since then he has done our engagement photos, he photographed our elopement, and spent the day with us when we had our reception. We absolutely adore him, and the pictures are always to die for. We will hire... Read More them for every event in our lives.
---
Reviewed on

6/09/2016
Great photographer! Really knew what he was doing and genuinely seemed to love what he was doing!
---
Reviewed on

6/07/2016
He took both our engagement pictures and our wedding pictures. Both were absolutely beautiful. He was very nice to work with and made both my husband and I comfortable while taking pictures even though we are both very shy. Overall, the best experience we have ever had with... Read More getting photographed.
---
Reviewed on

5/25/2016
Becky R
I would highly recommend Blue Dahlia to anyone looking for a talented photographer! Rabeeh was so easy to work with and accommodating. Rabeeh asked if there was anything important that we would like him to capture. And something that came to my mind was my husband's dog Jackson... Read More a black labradoodle that was his best man. There were so many great pictures with Jackson in them! He really took special care to make sure Jackson was included. Rabeeh made it work beautify even though the lighting at our wedding venue was pretty difficult to work with. All the photos turned out so beautiful my husband and I were so so pleased and happy with them. Blue Dahlia captured our special day with such beauty, I so grateful they agreed to take the job on such short notice. Thank you Rabeeh and Blue Dahlia!
---
Reviewed on

5/21/2016
The photos from the Back to the Future wedding were really great!
---
Reviewed on

5/20/2016
Very beautiful and original poses of Nora and Michael wedding pictures. ( Back to the future theme wedding) Also the pictures were bright and nice considering the lights at the wedding venue were not bright.
---
Reviewed on

4/25/2016
We decided to take a chance with Rabeeh for our photographer. We didn't meet him until the day of our wedding and he turned out to be wonderful. He was very easy going and flexible. Even when we were a little pressed for time to get all the pictures that we wanted before the... Read More ceremony, he didn't make me feel rushed. He was also very comfortable to be around while he was taking pictures. And more importantly, all the wedding pictures turned out great!! :)
---
Reviewed on

4/24/2016
Blake P
Rabeeh from Blue Dahlia was a great photographer. We couldn't have asked for a better person to capture our family and ceremony. Rabeeh was very friendly and created a beautiful photo session, which was not easy on a chilly day! Thanks again Rabeeh!
---
Reviewed on

4/24/2016
Emily F
Choosing Blue Dahlia was one of the easiest decisions I made during my wedding planning. I saw Rabeeh's profile on theKnot.com, and loved all of the sample photos in his portfolio. He was super easy to communicate with before the big day, and took his time answering any... Read More questions I had. The weather was unseasonably cool the day of our wedding, but he was really funny and had such an ease about him, we soon forgot about the cold temps! I can't thank Rabeeh enough for being a part of our special day, and giving us memories that we'll cherish forever.
---
Reviewed on

4/17/2016
Nora A
I seriously can't say enough great things about Rabeeh and his work! We had a whimsical Back to the Future themed wedding reception in low light and he captured every moment perfectly!!! He also captured all the best movements and reaction shots of the night. I'm so impressed... Read More with the detailed shots and he worked with us on exactly what we wanted. For most the night you wouldn't have even know he was there except for all the perfect photos he took! His communication before the event was excellent and I highly recommend him as a bride who had an unusual vision that he reproduced perfectly with his lenses!!!
---
Reviewed on

3/01/2016
My sister and her husband where radiant on there wedding pictures!!! the photographer was very nice, easygoing and get to captured the perfect moments of that special date!!!
---
Reviewed on

2/04/2016
Robert G
Rabeeh was fantastic. He met with my wife and I, took that information, and professionally applied to our wedding. The photos came out amazing. Due to his great attention to detail he was able to truly capture our day.
---
Blue Dahlia
Reviewed on

11/11/2015
Our photographer (Rabeeh) was awesome. Really nice and really made us feel relaxed and happy. Him and his assistant did a good job making us laugh, which in turn makes for awesome pictures. The photo quality is simply stunning. What more can I say, he captured the evening and it... Read More was more than I could have asked for.
---
Great!!
Reviewed on

11/11/2015
Danielle M
They were very personable and got some great quality shots of the bride and groom!! They didn't rush and really took their time to get a lot of photos!! I would recommend!!
---
Best Photographer Ever!
Reviewed on

11/11/2015
Michele R
Rabeeh & his assistant with Blue Dahlia Photography were awesome to work with! Very nice, down to earth people. My husband and I love every single one of our pictures from our wedding! If you are looking for a wedding photographer, I highly recommend Blue Dahlia Photography!!
---
Reviewed on

11/07/2015
Allison S
Blue Dahlia Photography was one of the best parts of our wedding! Professional, attentive, responsive, patient, kind, fair, and incredibly talented! Great with the kids, the family and entire wedding party. One of the best vendor experiences too during the planning stage. We... Read More can't say enough of how amazing our experience was with Blue Dahlia Photography! Our pictures are insanely AWESOME! Definitely captured all the amazing moments we will cherish for the rest of our lives! Thank you Blue Dahlia Photography!
---
Best photographer
Reviewed on

10/15/2015
Rabeeh from Blue Dahlia was the best photographer. He was on time, very friendly, down to earth kind of person. He captured our vow renewal perfectly. The cost for the session and pics were very affordable considering how professional the whole experience was. I would highly... Read More recommend Rabeeh for your special day.
---
Meet The Owner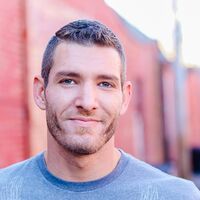 Rabeeh Elassal
My name is Rabeeh. When I first started taking pictures, I can honestly say that I didn't plan on becoming a wedding photographer. Most other photographers I socialized with would tell me how stressful and demanding wedding photography could be. Several years and numerous weddings later, I must strongly disagree! It's easy to tell if someone enjoys their job by how they interact with you while performing their duties. I would say my assistants and I are mostly remembered by the way we interact with our clients and share the excitement and joy of their special occasion!
Use our messaging tool to connect with vendors anytime, anywhere. Stay organized, all in one place.