Home

Blue Streak Limousine
About this Vendor
Blue Streak Limousine
We service the entire tri-state area and are sure to fulfill all your limousine dreams! We work with all of our brides and grooms in order to accommodate them and their guests at a price that is reasonable and budget friendly. Contact us today and see what special deals are in your future!
Details
Rehearsals + Parties, Wedding
Service Staff, Classic + Exotic Cars, Limousine + Sedan, Shuttle Service, Transportation
Contact Info

Reviewed on

1/17/2018
Pers B
Blue Streak Limo made our day even more special . The limo was beautiful and the driver was so nice and helpful , my husband and i had enough time to take photos with our bridal party,I will definitely use them in my other event.
---
Reviewed on

11/03/2016
Anderson R
THANK YOU FOR BLUE STREAK LIMO ,i used them for my wedding day .they did help me a lot to choose the vehicles, they gave me best price for the 40 pax party bus, Chrysler for my family, and the Rolls Royce for me and my wife with red carpet and champagne toast. Also thank's a lot... Read More for the drivers who did help me and all my family . I recommend BLUE STREAK LIMO for anyone looking for limo .
---
Wonderful
Reviewed on

7/13/2012
Christine S
very helpful, great prices, very clean cars. would recommend
---
Reviewed on

2/12/2018
Danielle J
We used Blue Streak Limo for our wedding this past weekend. We found them at a bridal show, and they gave us a great deal. Lisa was extremely nice and professional. I am a bride who wants to make sure everything is perfect and Lisa was extremely quick to respond to my 1000... Read More emails, calls and questions and never seemed to be annoyed or aggravated with me. She went above and beyond to make it perfect and listened to our requests. The bus was great, it was nice, clean, new, and so much fun ! We would highly recommend and use them again for the future.
---
Reviewed on

1/01/2018
Fred G
We rented the Cadilac Escalade ,the vehicle was stunning, driver was nice and on time. No complaints
---
Reviewed on

1/01/2018
We rented a 30 passenger bus for my friend's bachelorette party in NYC. The trip included odd stops, as we had made a little scavenger hunt for her. The driver is so polite and most patient man I've come across.. ,affordable prices.
---
Reviewed on

1/01/2018
Mike M
Thank you so much for being a part of our special day , the driver were early 20 min early ,the limos were very clean , thanks for You courtesy and professionalism,
---
Reviewed on

12/31/2017
Aigner B
Great service! Professional and a delight to deal with from the start. Blue Streak Limo was able to provide party bus for the wedding bridal party and handled the job beautifully. The driver was terrific and was able to handle getting us to a remote location with no issues!... Read More I would highly recommend Blue Streak Limo . They are a great value!
---
Reviewed on

12/29/2017
Sasso L
Thank you so much for the outstanding service , the drivers were great and amazing and super accomodating , thank you so much for the great service and really recomend them to all my family and friends
---
Reviewed on

12/29/2017
Sandra R
Sam was our driver on my wedding day, and was excellent. He arrived early at the bride's house, and was extremely accomodating. He did a great job of keeping us all on schedule. The limo was clean and nice, and they even provided champagne! The owner was very easy to get in... Read More touch with, and made the whole experience perfect.
---
Reviewed on

12/21/2017
Fred B
Amazing service! They were prompt, and so helpful!! I definitely recommend them!
---
Reviewed on

12/18/2017
Jere S
I had memorable day with Blue Streak Limo at my wedding day .I booked a party bus for my bridal party and a Cadilac Escalade for my Family ,everything was perfect all the drivers got before the time 15 minutes , the dreiver Dany rolled up the red carpet for us and did the... Read More Champagne toast , Really everything was perfect as we expected. Thank you again for everyone helped us in our wedding day .
---
Reviewed on

12/18/2017
Dany M
This company is very reliable. They provided great customer service and great prices. Making our reservation was very easy, the manager himself went over the details, prices that they had. They did a great job keeping in touch with us before the event to reassure us that... Read More everything is on schedule. They take the extra step to make sure their customers are satisfied. Don't hesitate to use them, they are professional, very affordable and ethically inclined.
---
Reviewed on

12/12/2017
Mat R
I would like to thank Blue Streak Limo as one of our vendors for my special wedding day , we got the 36 passengers party bus and they showed up on time , we even went overtime and it was in grace time and end up not charging us for the overtime .
---
Reviewed on

12/11/2017
Fatima L
Great service , great customer service . We had everything for our wedding as we expected .
---
Reviewed on

12/08/2017
Cathy M
We used Blue Streak Limousine for our wedding and could not have hoped for better transportation. We rented the 36 passenger party bus and it was perfect for our large bridal party. we had a good time on our ride to pictures and to the reception. Our driver was very friendly... Read More and professional meet us all with a smile! The bus was really clean , we got champagne toast pictures ,it is memorable. Prices are very reasonable and worth every penny!
---
Reviewed on

11/13/2017
Amanda W
I consider myself lucky because the only aspect of my Wedding that went without a hitch was our Shuttle Service. I am kicking myself though, because I would've never hired Blue Streak if I read these reviews ahead of time. Our situation was VERY similar to the stories below …... Read More The day before my wedding, I confirmed our CONTRACTED Coach Bus to shuttle our guests from our hotel to our venue for our Ceremony (2 trips). At the end of the conversation, I could tell that the employee was trying to push the Party Bus on me – I adamantly said NO, because we paid for the Coach Bus, and did not want a Party Bus transporting our relatives. Fast forward to 30 minutes before the ceremony … one of the Groomsmen got a photo text of his young son on the Party Bus in front of a Stripper Pole. Blue Streak sent the Party Bus instead of the Coach Bus anyways, without our knowledge or any communication regarding the change, and I was on the phone with them literally minutes before walking down the aisle. Since there was nothing that I could do at this point, I instructed them to make sure they went back for the second pick-up so that the remaining guests could get to the Ceremony. Turns out the Bus was late for the second pick-up, our 2nd round of guests ended up missing our Ceremony, AND the Party Bus that they used was dirty and had Maggots in one of the coolers (our guests took photos) ! Our Wedding Day was otherwise perfection, so we didn't allow this to affect our day, however we knew we needed to address this since we did not get what we paid for, and some of our family members were very upset to miss the Ceremony. My husband called when we got back from our Honeymoon, and experienced some of the WORST customer service of his life. He was told that we received the Party Bus because the AC on the Coach Bus wasn't working (thanks for letting us know ahead of time!), and did not receive any sort of apology. The representatives also claimed that our guests were LYING and that the driver was at the Hotel on time for the 2nd pick-up, but no one was outside … they went so far as to say that the driver went into the Hotel Lobby to check with the Front Desk, and no guests were there. We ended up calling out Hotel, and they went through the Security Footage for us, and confirmed that no driver went inside the lobby, and that our guests were waiting that whole time! In the end, Blue Streak agreed to give us a ridiculously low refund (only for the maggots!) and said we could take them to court if we wanted more money … nice right? Mistakes happen and can be understood, but the lack of professionalism and disrespect we were shown after this mishap was absolutely appalling. Don't make the same mistake we did – steer clear!!
---
Reviewed on

8/22/2017
Keri M
The weekend before my wedding we rented a limo (pink hummer) for my bachelorette party and it broke down on the side of the highway. This alone made me nervous for what was to come for the wedding day. We ordered a 30 person party bus which was very spacious, however the air... Read More only worked in the back of the bus and it spit out water! Something obviously was wrong!
---
Reviewed on

6/20/2016
Please do not waste your time. Don't get fooled by the "great deals" Sylvia will provide you with. Please TRUST ME it's worth spending $500 extra to rent from another company. They are extremely rude and unprofessional. They tell you they have best cars and the cars are in good... Read More condition... BULL S#!T. I rented the HUMMER for my wedding and my day was ruined because of Blue Streak Limo. The car looked terrible, very old, dirty the doors were falling apart, the driver could not open the doors because they were broken so we were stuck in the car for a few minutes... On top of this the AC was NOT working... The weather was 85 and very humid, we were dying in the car, please keep in mind that I rented the 22 passenger car and it was only 13 of us. I emailed the company and they wasted one hour of my time on the phone, the day of my wedding!!! Sylvia was asking me if the A/C is working and she said if it is not working she will fire the driver. This is very rude, heartless and unprofessional. I told her it is not the driver's fault that they have shitty limos. You cannot fire a person because your cars are crap. They ended up giving me $400 refund but trust me my wedding day was ruined because of this company. I would rather pay extra money and get quality service...
---
Reviewed on

1/25/2016
Dear Alana M, We are very sorry for the unfortunate circumstances that lead to your this satisfaction and this review because of an error we only charge you for 4 hours wedding but because this was our mistake we provided you with 12 hrs of service we stand by our mistake.... Read More When you contracted a 36 passenger party bus,We explained to you that we would make as many trips as you need in the 12 hours provided that was a minimum of 10 passengers per trip, Your people then began to abuse our driver demanding that he drive 1 or 2 people in a trip, this is no a TAXI this is a huge 36 passenger bus. As per the grooms request we replaced the driver and upgraded you to a brand new MERCEDES SHUTTLE and because of this review the driver no longer with our company, We belive in customer satisfaction and did everything in our power to accommodate you on your special day. Sincerly, Blue Streak Limo Staff
---
Reviewed on

1/05/2016
Antoinette G
My husband and I had a wonderful experience with Blue Streak Limo! Right off the bat my phone and email interactions with Scotty were both pleasant and productive. We reserved a white hummer limo for our wedding day as transportation for myself and the girls to the church and... Read More for the entire bridal party from the church to the reception and received just that and more. Our driver was prompt and extremely helpful, assisting us in and out of the vehicle as well as taking our reception extras off our hands and placing them in the front. We had a lovely red carpet waiting for us after the ceremony as well as some champagne. All in all it was a wonderful experience and an amazingly fun, new and exciting vehicle with awesome light fixtures and a fantastic sound system!
---
do not go here
Reviewed on

12/01/2015
alana m
They provided a driver who was rude, did not abide to the contract, and threw a cigarette at my husband after refusing to go back to the hotel and get the remaining guests- who did not make it to the ceremony. They eventually sent another driver, with a smaller bus, and had to... Read More make 3x as many trips to the hotel. They did not refund us any money. DO NOT USE THIS COMPANY
---
Incredibly professional and courteous
Reviewed on

4/07/2015
Jen K
Nothing but positive things to say about my experience with Blue Streak!
---
NEVER AGAIN!
Reviewed on

11/25/2011
Laura B
I cannot begin to express my utter disappointment in Blue Streak's service. I reserved a Chrysler 300 for the day of my wedding. On Sunday, October 30th, I was getting ready when my brother asked me if I reserved a hummer. I was NOT happy. I was actually quite angry that a... Read More hummer would arrive at my house on my wedding day. I would NEVER have reserved a hummer. Not only did I NOT receive the car I reserved, but I also was NOT made aware of any changes to the reservation. A different car just "showed up". This is Unacceptable and caused me undue stress on a day that was supposed to be worry free. After the church, the limo driver was asked several times if he knew where the reception was located. He indicated that he had the address. However, he began driving in the opposite direction of the reception. We stated loudly enough for him to hear, as the partition was open, that he was headed in the wrong direction since the reception venue was in Little Falls. The driver continued to drive as, I guess, he assumed he knew where he was going. Instead of taking 15 mins to get to the reception which would have left me ample time to get ready before my introduction at 5pm sharp, it took us 40 mins. This is because the driver headed in the wrong direction when he left the church bringing us to the Grand Chalet instead of Victor's Chateau. As a limousine driver who has an exact address as I confirmed in this email, this is Unacceptable. When we finally arrived at Victor's Chateau at 5:05pm, the driver passed the entrance even though I kept telling him to stop. Then instead of turning the limo around to go in the entrance, he stopped on the side of Route 23 and made us get out. Keep in mind, the entrance to the reception venue is in the back and the sidewalks were covered in snow due to the previous day's storm. I told him I could not get out there due to the snow so he kicked some aside with his shoe. I had to jump down from the hummer over the snow. This was not an easy task and not one that should have been required especially after already poor service. My bridesmaids and mother who could not "jump" down from the high hummer in their strappy sandals/heels, were forced to step directly in the wet, cold snow. COMPLETELY UNACCEPTABLE. (My father, groom, and groomsman were also in the limo having to jump down and out over the snow.) We then had to trudge around the venue to the back where the entry doors are located, all the while with highway cars zooming by. How embarrassing! I did not have a cocktail hour. I only had a 4 hour reception. My late arrival caused me to be late for my entrance/announcement as I needed time to use the restroom and have my dress bustled which takes time. This caused me to lose 20-30 mins of my reception time and left my guests waiting for me. Now, whenever I am asked if everything went by smoothly on my wedding day, I cannot help but think about the whole limo fiasco.
---
Meet The Owner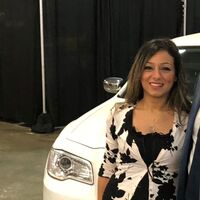 Sylvia
Family Businesses