Home

Blush Bridal
About this Vendor
BLUSH BRIDAL Romantic. Unique. Exclusive.
We are a couture bridal boutique housed in the Love building in the acclaimed Reading Bridal District. As a small, intimate shop we look forward to spending one-on-one time with you and your bridal party. Call us today to schedule your appointment!
Details
Wedding Dresses, Dresses, Bridal Stylists, Private Appointments Available, Fashion

Contact Info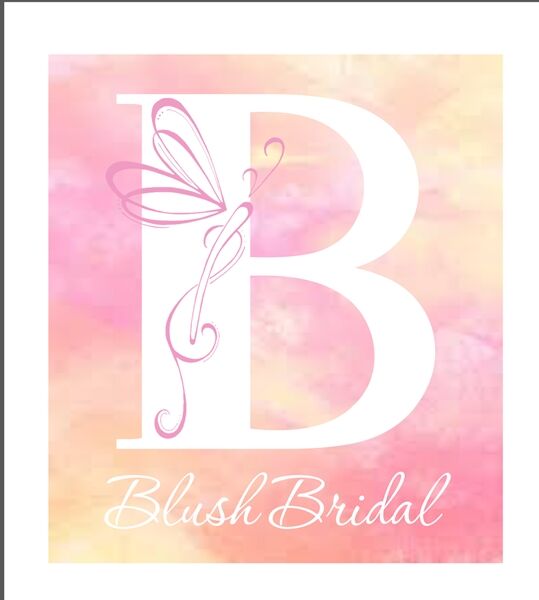 Reviewed on

3/04/2018
Sarah L
From when I walked in to the moment I found my dress, Blush Bridal was amazing! It is a smaller, more intimate setting, which I really adored. It made it feel all the more personal! They made sure to keep my budget in mind, select dresses that fit my style, and keep me focused... Read More on finding THE ONE. Blush Bridal truly made finding my dress as easy and stress free as possible, and I cannot recommend them enough!
---
Reviewed on

7/10/2017
Maddy B
Very Small and intimate setting, it was perfect for me as I had some idea what I wanted in a dress but had not tried any on yet! I definitely would recommend this as your first stop if you are planning on visiting the bridal district in Cincinnati. The selection is small and... Read More personal. It allows for it to be a no pressure, educational experience--seeing what looks best on you! I worked with Jamie, I recommend trying to snag an appointment with her on a Sunday, you might get the whole boutique to yourself and you and our squad get exclusive service from Jamie, learning everything that there is to learn about choosing your dream dress!
---
Reviewed on

3/18/2018
Allison V
I had a wonderful experience at Blush Bridal, probably the best out of any of the dress shops I went to (and there were 6). I worked with Jami who was not only super professional and knowledgeable, but also very interested in learning about my wedding and what I liked and... Read More disliked in dresses. From the initial phone call to ask what type of dress I was looking for and assuring me "We're going to find your dress this weekend" to the personalized thank you note I received after ordering my dress, my experience was 100% centered around me and finding my perfect dress. I ended up finding it on my first visit, but then took 2 months to decide the dress was right for me. When I came back in to try it on again, Jami was again wonderful and gave me essentially red carpet treatment with the fully private upstairs parlor area. For my final try-on after coming to my senses and saying "Yes" to the dress I had been thinking about for 2 months, I worked with Colleen who was so great with suggesting veil and accessory options, even taking pictures on my phone for me to send to my mom. All of the ladies at Blush Bridal are so sweet and helpful, and I would highly recommend them to any bride. I'm so excited to pick up my dress in September!
---
Reviewed on

3/15/2018
Brittnie M
Incredible staff and store! Polite and professional staff that do everything to give you the best experience possible! They are in no way like any other store in the bridal district! I bought the dress of my dreams there and service was top quality!
---
Reviewed on

3/01/2018
Emily K
Dress shopping is extremely overwhelming but the moment I walked in, I felt very welcome and comfortable with the staff. Brittany was extremely helpful and went above and beyond to help me find my dress and make me feel like a "bride." They also gave us some celebratory... Read More champagne the moment I found my dress. I referred one of my best friends to them, who also found her dream gown. There is an amazing selection of gowns, too! Thanks again!
---
Reviewed on

2/27/2018
Leigh S
Dresses were amazing. Stylists were extremely helpful finding the right dress for my body type.
---
Reviewed on

2/26/2018
Noelle L
Blush Bridal was absolutely amazing! The service that was provided was more than I could have asked for. They made finding my dream dress easy and so much fun!
---
Reviewed on

2/12/2018
Megan S
These gals are amazing! The manager called me to confirm my appointment and asked smart questions about what I was looking for. She was incredibly kind and genuine. The appointment was fantastic, and I loved the stylist who helped me pick out dresses. I had a dress to beat from... Read More another shop and after trying on a bunch of other options, the Blush team was honest with me and encouraged me to go get my dress - even when it wasn't theirs. I was super, super impressed with the heart, professionalism, and sincerity of this shop. Also, they were lovely as a curvier bride, so don't shy away if you're not a size two!
---
Reviewed on

12/28/2017
Stacy S
I had the most wonderful and truly personalized experience at Blush Bridal. Jaime truly listened to my opinions and helped find the most fabulous dress to fit both my personality and venue. I could not have asked for a better shopping experience! Thank you!
---
Reviewed on

11/29/2017
Kelly M
I had an awesome experience at Blush and agree wholeheartedly with all of the other reviews. I tried on my dream dress here and didn't say yes the first day. After going to other salons, I realized I had to go back to blush and say yes to the dress there. The other salons in the... Read More district don't compare. Save yourself the hassle and go here first!!
---
Reviewed on

10/28/2017
Becca B
I had a wonderful experience there today, finding the dress of my dreams! Their staff is wonderful-especially Jami! They go out of their way to make it all about the bride! I highly recommend this place!!
---
Reviewed on

10/26/2017
Heather W
I did not expect to find my dress when I went in. I wanted to find out what kind of dress was right for me. Jami was so great to work with. It only took 45 minutes and 4 dresses to find my dress. I can't wait to put it on and marry the man of my dreams!!
---
Reviewed on

10/24/2017
Danielle K
Everyone at Blush Bridal was absolutely WONDERFUL!! They weren't pushy, they listened to what I was looking for (even though I wasn't totally sure) and helped me find different options to try. They didn't rush the decision process and let us just have fun! It was such a great... Read More experience and I was so happy to say yes to the dress at Blush Bridal!
---
Reviewed on

10/22/2017
Deb H
Blush Bridal was magnificent! Lindsey and Jami did a wonderful job of making my daughter the bride, her sister the maid of honor and myself the mother of the bride feel very comfortable and welcome. Blush Bridal was our first appt of the day...we had a very busy day within the... Read More Reading Bridal District scheduled. Jami and Lindsey were very informative and patiently educated 3 ladies filled with excitement and anticipation! My girls had some pics of styles they were interested in looking at, an idea of a budget, and an openness to take suggestions from the experts. When my daughter walked out after trying on just her second dress we all knew this was the perfect one to make her the most beautiful bride on her special day! Lindsey also helped us to accent the dress with a beautiful beaded belt and a headpiece. Since she said "Yes to the dress" she also was given a veil to go with her dress. We could not have asked for a better experience...we were made to feel like we were part of the Blush Bridal family but more importantly my daughter the bride to be felt like a million! Every little girl dreams of growing up and marrying the man of their dreams while wearing the perfect dress on their special day. Thank you to Lindsey and Jami and Blush Bridal for their part in making my daughter's dreams come to life...and giving her a wonderful experience as she said Yes to the dress!
---
Reviewed on

10/09/2017
Kathryn H
I had the BEST experience at Blush Bridal!!! The ladies were extremely nice, listened to what I wanted, and helped guide me to find the right dress - whether it was with them or elsewhere. Lindsay helped me say YES to the dress and was so helpful along the way! Jamie was also... Read More there to help and was so knowledgeable about every single gown, the material, the fit, and everything in between. I am SO HAPPY I was able to find the gown of my dreams at Blush, I can't imagine going anywhere else!!! I would highly recommend going here FIRST when visiting the Reading Bridal District. Whether you find your dress here or not, they will be sure to help you regardless!!! THANK YOU ladies at Blush Bridal!!!! xoxo, Kathryn H.
---
Reviewed on

10/05/2017
Angela D
Cannot say enough great things about this shop. Jami is such a wonderful person to work with. She made my experience one I'll never forget
---
Reviewed on

10/03/2017
Jaysie S
The ladies at Blush made my experience so special. They were able to pull the perfect dress that I had in my mind on the first try and were excellent at giving alteration advice when the dress arrives! I am so excited to go back and try on my gown, and see my new friends at... Read More Blush!
---
Reviewed on

10/01/2017
Cassidy R
I found my dream dress at Blush Bridal! The women who work here are so helpful, caring, and easy to work with! They were able to work with my price point, likes and dislikes, and short time line to get my wedding dress. I highly recommend going here to get your dress. Such a... Read More wonderful experience that I will never forget. I seriously hope to take my future daughters wedding dress shopping here one day.
---
Reviewed on

9/29/2017
CARRIE L
Great experience at Blush!! Jamie is the best!!
---
Reviewed on

9/29/2017
Jessica D
Great, small boutique salon! Got really personalized service and my appointment was really fun. Very friendly service!
---
Reviewed on

9/07/2017
Britney C
The staff at Blush was absolutely amazing, they knew what would look good on me and gave great advice. I bought my dress, veil, headpiece, earrings and bracelet all from them and wouldn't of changed a thing. They were such great help and remembered me everytime I was in there... Read More even without an appointment!
---
Reviewed on

8/21/2017
Courtney C
I had a really wonderful experience at Blush Bridal. Their selection of dresses was great - lots of different styles from a few select designers - and the prices were the best of any bridal salon I visited. Colleen was super attentive and helpful, and they were so, so sweet... Read More about letting me come in to try on a dress that I really liked but was feeling unsure about. I ended up purchasing another dress elsewhere that just felt like a better fit for me, but I would not hesitate to recommend Blush Bridal to to ANY bride!
---
Reviewed on

8/14/2017
Shawn H
I had the pleasure of purchasing my wedding dress from Blush Bridal and spend the day with Jami. They were AMAZING! Not only were they professional and so helpful, I had so much fun! My group loved every minute of our experience here. We loved that we got to look through the... Read More dresses instead of having someone else pick out our dress. We traveled from Indianapolis and we were not disappointed! Thank you so much for being amazing and a one of a kind bridal salon!
---
Reviewed on

5/31/2017
Nikki H
Teri put my mind at ease. I came to her in a panic and she calmed me down and solved my issue with ease.
---
Meet The Manager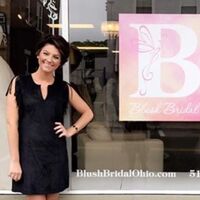 Jami Harrod
At Blush, we are focused on making this your ultimate bridal shopping experience. Jami leads our team of friendly & knowledgeable consultants here to guide you through every decision and detail. Our main goal is to help you attain your unique and fabulous look! Jami loves the smile on each bride's face when they find the perfect dress! She has been helping the ladies of the Tri-State for years and is looking forward to working with you!