Home

Blush by Brittany Airbrush Makeup Artist
About this Vendor
Airbrush & Traditional Make-up On Location
I LOVE what I do!! I offer on location airbrush and traditional make-up. I have been doing make-up for 12 years. I "make-up" about 60 brides per year. It is very important for me to make sure that a brides skin in perfect condition prior to their wedding day. I give lots of tips to help perfect their look. I love the bride that values my experience in photography and the bridal look. Quality products are important to achieve a long lasting look. I can book up to a year in advance. I KNOW the bridal look you want!
Details
Beauty Group Bookings, Hair + Makeup Trials Available, Hair Stylists, Airbrushed Makeup, Eyelash Extensions, Makeup, Makeup Artists, On-Site Hair + Makeup, Beauty





Contact Info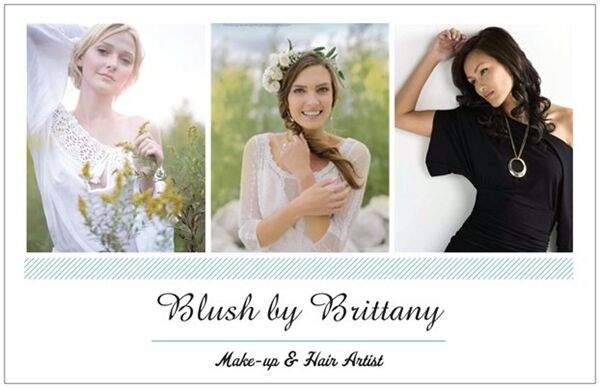 Reviewed on

4/09/2017
Louisa P
Brittany was one of the easiest people to work with. She came to my house to do a makeup trial a few months prior to the wedding, and everything was perfect. There was not a single thing that I wanted to change and was no longer nervous about the makeup for the wedding (and I... Read More never wear any makeup). The day of the wedding, she arrived to the hotel early and finished my makeup as well as 5 others in a little over 2 hours. I did not feel like she rushed at all and everyone was pleased. I would highly recommend Brittany with zero hesitation.
---
Reviewed on

4/18/2017
Kathryn C
I'm so glad Brittany was my makeup artist for my wedding. I had at least 3-4 different makeup trials before I met with Brittany. Brittany came to my house and listened to how I wanted to look on my wedding, and she provided great guidance and suggestions. She also did my mom's... Read More and my sister's makeup for my wedding at our hotel and they looked stunning. I have never felt more beautiful or more like myself than my wedding day and Brittany is the main reason why! I would recommend her to any bride!
---
Reviewed on

1/18/2017
Andrea H
I had 3 different makeup trials before (thankfully) I finally came across Brittany! While I did like the other trials, I never found anything I loved. Brittany is incredibly talented on really making you the best version of yourself and her makeup application does not look... Read More caked on--which was a big concern of mine with others I had tested out. Also, Brittany is incredibly efficient. I had 9 bridesmaids plus myself and she was finished with all of us within 4 hours and every girl looked flawless. Last but not least, the "on location" services are really hands down; it is SO nice to be able to get ready in the comfort of your home on your big day. Trust me, Give her a try!
---
Reviewed on

1/17/2018
Mariah R
Brittany did the makeup for my wedding back in October 2017 and she did an absolutely fantastic job! During my trial she truly listened to what I wanted and executed it above and beyond my expectations. She also did my bridesmaids makeup and they all loved it! I got numerous... Read More compliments on it. Would definitely recommend her to anyone looking for a makeup artist!
---
Reviewed on

1/08/2018
Brooke M
Brittany was professional, prompt, and very talented. She comes to your location for both the trial and the wedding. She did my make-up as the bride and 2 of my bridesmaids, and we all loved our make-up!
---
Reviewed on

12/05/2017
Kayla B
Brittany did an amazing job doing makeup on my wedding day! She first came to my house for a trial which was so convenient and she is very knowledgeable with her products. She even recommended a skincare for me that helped my skin so much. On the wedding day, she came early to... Read More the hotel and everyone looked absolutely beautiful. Thank you Brittany!
---
Reviewed on

10/22/2017
Megan H
I used Blush by Brittany for our wedding on 9/23/17 and we couldn't have been happier with our fresh faces that lasted all day! She is a talented makeup artist, and I have recommended her to multiple friends for their weddings. Thanks Brittany!!
---
Reviewed on

10/06/2017
Anne Marie B
Brittany does amazing work! My bridesmaids and I were so happy with our make up and they continued to compliment what a great job she did on our wedding day.
---
Reviewed on

10/03/2017
Kim L
Brittany did such an amazing job on my (and my bridesmaids') makeup! Her prices are reasonable, and I appreciated that airbrush or typical foundation was the same cost, as most places charge so much extra for airbrush. I loved what she did - she made me look gorgeous without... Read More making me look like a different person altogether (which was my biggest fear in hiring a makeup artist). And it seriously lasted all day - I was done by 10 am or so and it stayed through hours of photos in 80 degree heat, an outdoor ceremony, and dancing until midnight. 10/10 would definitely recommend!!
---
Reviewed on

9/09/2017
Jennifer T
Brittany was a great selection for my wedding. The makeup was so beautifully natural and light it was wonderful. The ability for her to come to site and communicate frequently made the day go very smoothly. I would recommend her to any soon to be bride.
---
Reviewed on

9/06/2017
Kylee F
Brittany was amazing and a delight to work with from the make-up trial to the big day! She was super responsive and helpful, and always available to answer questions. She also provided me with contacts for hairstylists. She did my make-up and all of my bridesmaids, and everyone... Read More commented on how sweet she was, and also how talented she was — we all looked beautiful. I highly recommend her for any special occasion.
---
Reviewed on

9/05/2017
Rachael N
Brittany was amazing to work with and has truly amazing talent! My makeup looked amazing and lasted for over 14 hours! She new exactly what I wanted and made me feel at ease on my big day.
---
Reviewed on

8/30/2017
Jamie J
Brittany was a dream to work with. She is super prompt and very responsive. She brings anything and everything, and I had such an easy time coordinating my trial and our day-of needs. I was so happy to have someone so easy going and comfortable to be around, it definitely helped... Read More alleviate some anxiety. And I couldn't have been happier with my - and my bridesmaids' - makeup. I'd never had airbrushing done before Brittany, and let me tell you....it stayed on ALL day. I had my makeup finished around 9am and it remained looking impeccable until midnight when the party ended, even though I was sweating! If I could hire her to be my personal makeup artist whenever I left my house, I would!
---
Reviewed on

8/29/2017
Allyson B
Brittany was excellent to work with. From the initial contact via email(s), to the make-up trial, follow-up emails, and finally "the BIG day" she was easy to work with and quick to respond to any questions that I had. All of the bridesmaids and moms who got their makeup done... Read More that day were happy with how their "looks" turned out and that the makeup stayed all night. When we did the trial, Brittany was very knowledgeable with her recommendations for "traditional" makeup vs airbrush and I was very happy with our decisions. We got married in WI in August, so if ours held up in the humidity and heat, I am sure yours will too! Brittany provided excellent and professional customer services from the initial contact with her up until our wedding day. I would definitely recommend her to anyone looking for a great make-up artist for their wedding or other special event.
---
Reviewed on

8/23/2017
Andrea Z
Brittany was great. I loved my bridal makeup and lashes. It was flawless!
---
Reviewed on

8/07/2017
Victoria S
Brittany was so great to work with! She was always very responsive, and willing to accommodate what I wanted. She made me and my bridesmaid look great on my wedding day! I would definitely recommend her to do your makeup!
---
Reviewed on

7/30/2017
Erica B
The experience with Brittany was great! She was very responsive and completed myself, six bridesmaids & my mom very quickly the morning of my wedding! Eveyone looked so beautiful & I LOVED my makeup!!
---
Reviewed on

7/27/2017
Alyx F
Brittany did a great job! She was on time/timely and friendly! It was so nice having the convenience of her coming to us! This was my first experience getting my makeup done and I was not disappointed! My Girls are specific on how they want their makeup to look and Brittany did... Read More a great job taking that into consideration and fulfilling their likes! Thanks Brittany!
---
Reviewed on

7/24/2017
Katie C
Brittany was so amazing to work with! She showed up right on time the morning of our wedding, and she finished 9 people's makeup with time to spare! All of my bridesmaids looked beautiful and they all loved their makeup. We all got airbrush, and not only did it look great, but... Read More it also lasted all night! Would highly recommend booking Brittany for your wedding day!
---
Reviewed on

7/16/2017
Samantha M
When it came to day-of make-up I was by all means behind schedule (I booked late March for our May wedding) — but luckily Brittany had a rare opening in her schedule for our wedding day. We set-up a trial and Brittany came to my location to try out a few different looks. I... Read More brought some photos of what I was thinking and we talked through the colors and general look and feel for the wedding so she could better perfect my look. I am pretty simple when it comes to doing my own makeup so I didn't totally know what I wanted (or what would feel "normal" to me). I felt great after the trail and my colleagues loved the look but I realized that there were a few tweaks I wanted to make for the wedding day (this is after all the whole point of a trail). I shot Brittany a text and let her know the small tweaks that I wanted to make and she was totally on bored. That is the biggest piece of advice I can give to any bride-to-be that is getting their makeup done. Make sure you love it and if you don't let them know! Brittany took no offense — as it was nothing she did wrong — I simply changed my mind — it happens! Anyways — we settled on my day of look and it was goodbye until our wedding day. Brittany met us on-location at the hotel (where we were getting ready) and quickly set-up her things so we could get going. Not only did she do my make-up but she also did a few of my bridesmaids. We all looked and better yet felt beautiful! I would recommend Brittany to any ladies looking for make-up (not just for wedding but for all events as well).
---
Reviewed on

6/08/2017
Irene J
I am so happy that I chose Brittany to do my wedding makeup! She completed the look that I wanted. My bridesmaids looked stunning as well! Her ability to enhance features while maintaining a natural look is fantastic. I highly recommend her.
---
Reviewed on

6/07/2017
Sarah G
Brittany was amazing! She was helpful at the trail by recommending products so my face was perfect for the big day! She was in contact with me a few days before the wedding to make sure we were all set with the schedule. Everyone's makeup was flawless and she made she all the... Read More girls were comfortable with their looks! Thanks Brittany!
---
Reviewed on

5/31/2017
Jacqueline D
Brittany was wonderful! She was pleasant to work with, on time, and professional. All of my bridesmaids looked beautiful and natural. We all wanted to look ourselves and we did! She was efficient for both the trial and on the wedding day. We were thankful we found her!
---
Reviewed on

5/17/2017
Katelyn S
Brittany saved me for my wedding! My first makeup artist dropped out on me two weeks before the wedding and a week before my wedding I contacted Brittany to see if she was available. She moved her schedule around to fit me in for a trial the Saturday before which turned out... Read More great! She also was able to move her schedule to make sure she could do my mother, mother-in-law's and my makeup the day of the wedding. I would recommend her to everyone! Not only is she flexible but she listened to what I wanted and worked with me to get the perfect look! I loved how I looked and felt on the wedding day!! It was also really nice being able to get ready in the comfort of my home.
---
Reviewed on

4/24/2017
Dan N
Brittany was great and everyone's makeup looked beautiful at my wedding! She uses high quality makeup brands, responds to emails quickly, is punctual, and gets just as excited as everyone else during the "getting ready" part of the day. She even stuck around to touch up my... Read More makeup after one of my bridesmaids delivered a sweet letter from my fiance (now husband) that made me cry. Thanks Brittany!
---
Meet The Owner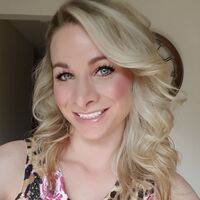 Brittany
I received my Aesthetics degree from Vici Park, an Aveda Institute. Makeup artistry has been a career that I've always wanted to advance in. As a former art student, I've had the experience with color and design, that has led me to the creativity that I have today.