Home

Blush Makeup Artistry
About this Vendor
Let me create your flawless wedding day look!
I will put my experience to work for you and create a look that is all your own for your big day. I provide on location airbrush makeup that will last through the night so all you have to worry about is making memories!
Details
Contact Info
Reviewed on

7/25/2016
Kenzie K
Christine is UNBELIEVABLE!! Everyone looked amazing and Christine was so much fun to work with! We LOVED her, and we LOVED the airbrush makeup! Even on a hot day with lots of dancing my makeup stayed on all night and did not fade at all. And with how flawless the airbrush is... Read More and how well everything stays on, the price is very reasonable!! I HIGHLY recommend Blush Makeup Artistry! :)
---
Amazing!
Reviewed on

4/08/2014
Camille R
Christine was just amazing! She was so sweet and just did an outstanding job! I would recommend her to any bride and bridal party! Just rocked!!
---
Amazing!
Reviewed on

4/08/2014
Andrea G
This is the 2nd wedding I was a bridesmaid in that I had Christine from Blush do my makeup and each time she did an amazing job of us girls and the bride! She was very friendly, easy to talk to and work with and our makeup turned out beautiful. My friend (the bride) was hesitant... Read More of the fake lashes in the beginning because she didn't want them to feel strange, but everyone ended up loving them.
---
Reviewed on

5/12/2017
Kyle S
I loved my make-up for my wedding! I don't usually wear a ton of make-up and I wanted to look like myself for my wedding (and my fiance, now husband wanted to make sure he could still see my freckles). My make-up looked so natural and beautiful and it looked amazing in our... Read More photos! If you are hesitant about getting your make-up done, I would totally recommend Christine. It took so much of my worry away and I loved how it looked and I still looked like myself. And it stayed on all day (even through the rain and my emotional tears!)
---
Reviewed on

3/01/2017
Jennifer C
I have had my makeup done by Blush (Christine) on several occasions (weddings, girls nights out, reunions) and my makeup always stands out. It's amazing how Christine is able to use such a wide variety of colors in her palette to always tailor my dress/outfit to my makeup. I... Read More love seeing my professional makeup compared to others because it never fails that mine is always the makeup that looks the most consistent, natural and always holds up. This past summer, on a 103 degree day, I was in a wedding at the Omaha zoo where we had to take outdoor pics for 90 minutes straight. Throughout the course of the pictures, you can see others makeup smudging and running, while mine stayed consistent. Even throughout the evening, I never have to touch up my face. Her experience and expertise make her the best in town, without question.
---
Reviewed on

1/19/2017
Sana W
Christine is absolutely fantastic. She was so generous during my trial and definitely knows her stuff. On the wedding day, she was like a breath of fresh air, a very relaxing personality on a busy day. She is timely and got all 5 bridesmaids and my makeup done with plenty of... Read More time to spare. We received compliments all night long about how fresh we looked! The makeup lasted from noon until midnight and I loved the gloss she gave me in my touch-up kit. I use it daily and it reminds me of that special day :) I would definitely hire her again!
---
Reviewed on

1/10/2017
Katie B
Christine is INCREDIBLE. She was super easy to work with and was able to create the exact look I was hoping for. I have had a ton of people ask me where I got my makeup done. Christine is able to make your makeup look not only flawless but natural as well; it doesn't look... Read More caked on or totally fake. I would highly recommend her!!
---
Reviewed on

1/04/2017
Stephanie H
Christine was very personable and made getting my makeup done a fun experience for my wedding. It was nice because for the trial you go to her studio, but for the wedding she comes to you. I would certainly recommend her work, as I felt absolutely gorgeous and my makeup lasted... Read More until I took it off late that night.
---
Reviewed on

12/12/2016
Ryan B
Christine did an amazing job! She captured the exact look I wanted for my wedding day. She also did a fantastic job on the rest of the wedding party.
---
Reviewed on

12/01/2016
Deborah A
Christine saved me...I was literally 2 weeks away from my wedding when I decided I needed professional makeup. She was very accommodating and fit me in! Not only is she super quick, but it looks beautiful when she's finished. She's affordable and traveled to the place where we... Read More were getting ready. She even texted me the morning of my wedding and was able to come early!
---
Reviewed on

10/18/2016
Felesha P
Christine was an absolute ANGEL. I'm a happy-cryer and I knew after I became engaged and started planning our wedding that I would need some serious make up that will last through the tears. That's when I came across Christine! She was so nice, funny, and did an amazing job!... Read More AND she was fast! I got a million compliments, all of my girls looked AMAZING, and (not to sound egotistical) all of my pictures turned out great! And there wasn't any make up running down my face during our vows ;) I highly recommend booking Christine for your bridal makeup! If you're concerned about looking like you're wearing too much make up, don't worry; she makes you look like a natural beauty!
---
Reviewed on

10/17/2016
Kate O
Christine did an amazing job on me and my bridal party! She is so talented and made us all look and feel beautiful!. She was also very professional providing great communication, was on time and got us done with plenty of time to spare!
---
Reviewed on

10/08/2016
Ellen C
Christine did an absolutely outstanding job! She squeezed me in on her already busy schedule and made me look flawless. Thank you so much!!!
---
Reviewed on

10/04/2016
Jenny F
Great job! Loved my makeup...everything was perfect.
---
Reviewed on

10/04/2016
Allison C
Christine is absolutely amazing at what she does and so fun to work with! I've had her three times now, once for my own wedding and twice in friends' weddings. She awesome!!
---
Reviewed on

10/04/2016
Kristyn W
Christine was amazing to work with! I am not a make-up kind of girl, so I told her what I wanted and she kept true to that. She didn't make me look like someone I was not! I trusted her with my look and she made me feel so comfortable and beautiful! She was always on time and... Read More dependable! I highly recommend Christine and have to give this advice to brides: BOOK HER IN ADVANCE!! She is so professional and well known that she fills up quick! Don't wait on booking her as you will want her on your wedding day!
---
Reviewed on

10/04/2016
Amanda C
Christine was amazing! Literally a magician with makeup!! She was really easy-going and fun to talk to. And I have never been more pleased with how my makeup looked. She was also extremely quick while still making sure everything was perfect - which is exactly what I needed on... Read More my busy wedding day!
---
Reviewed on

10/04/2016
Alex C
Stunning. From the time I sat down for my trial with Christine I was so confident that I would feel beautiful on my wedding day. She is truly gifted at what she does! I wanted to look like myself..but vavavoomed up! and that is exactly what I got! I have and will still only... Read More recommend Christine for any special occasion!
---
Reviewed on

9/04/2016
Brianne E
Christine, you are an AMAZING makeup artist! As you know, I found you through a wedding vendor recommendation and it was said that having you as part of my wedding team would be a dream team - and they were so RIGHT! My makeup for both my engagement pictures and wedding day was... Read More picture perfect! You also did a phenomenal job on my entire wedding party (bridesmaids, MOB, MOG)! Everyone looked so incredibly BEAUTIFUL and amazing in pictures!! We all continue to rave about you! It was also so relaxing and fun to have you onsite! You are the BEST and we HIGHLY recommend BLUSH MAKEUP ARTISTRY to any bride/wedding party/ for a special occassion!
---
Reviewed on

9/03/2016
Brianna O
Christine did an awesome job on my make up, my bridesmaids and my mothers! I had two trials before I had my trial with Blush and I'm so happy I went to Christine and had her to do my makeup on my wedding day!
---
Reviewed on

8/23/2016
Ashley N
Christine did an amazing job on my wedding day makeup. She was able to create a look that made me feel beautiful all day long! She was very easy to work with and I would recommend her to others.
---
Reviewed on

7/25/2016
Jessica B
She was amazing! She did my makeup, as well as my mom's and bridesmaids. They all turned out amazing and everyone complimented us on how good it turned out!
---
Reviewed on

7/25/2016
Tammy N
Our entire wedding party looked gorgeous. Blush Artistry make up did an awesome job. Would recommend blush makeup artistry again.
---
Reviewed on

7/25/2016
Alaina D
Christine was awesome and professional! So many people commented on how amazing my makeup was. She also did my mothers makeup which looked amazing, and she received so many compliments as well. The airbrush makeup held up all day through sweat and tears as she said it would.... Read More Thank you Christine!!
---
Reviewed on

7/25/2016
Amber F
She is super reliable and travels to you on time and is super fast. I loved her waterproof airbush make-up. It covered my sun spots and lasted all night long. The lighting must have not been that great in the room where we were getting ready, when I walked out of the room and... Read More into the restroom my sister noticed that I had lines and blotches around my chin and jaw line. My sister ended up fixing my make-up. I know these things happen, overall I was happy. everything always works out. My suggestion would be to hang around a bit longer to make sure everything is A-ok.
---
Meet The Owner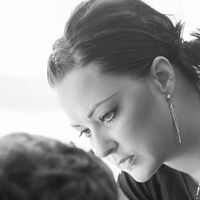 Christine Danderand
I have over 20 years experience in the makeup industry. My passion is working with brides to make them feel amazing on the biggest day of their lives! Let me put my experience to work for you to keep you looking flawless all day and night.