Home

Boulevard Bride
About this Vendor
Come say YES to your dress at Boulevard Bride!
At Boulevard Bride we are not only known for our gorgeous gowns, but also our wonderful customer service. When you walk into Boulevard Bride you are greeted by our friendly staff and taken to your bridal room where we conduct a mini interview. This day is all about you, so we want to take the time to get to know you and what you have in mind for your dream dress and dream wedding. We carry all your attire needs for your wedding day. We offer wedding dresses, bridesmaids dresses, flower girl dresses, and suit rentals for your groom, groomsmen, ring-bearer, fathers, and ushers. Call us at 636-561-4030 or visit our website to schedule your appointments!
Details
Bridesmaid Dresses, Flower Girl Dresses, Mother of the Bride Dresses, Wedding Dresses, Dresses, Bridal Stylists, Custom Designs, Dry Cleaning + Preservation, Group Discounts, Online Ordering, Plus Size Available, Private Appointments Available, Rentals, Fashion Services, Fashion
Contact Info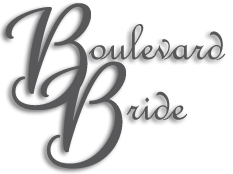 Reviewed on

1/21/2018
Sarah O
I was so excited to try on my dream dress at Boulevard Bride, and they did not disappoint! Setting up an appointment was a breeze. The fitting space is beautiful and the lighting was perfect to catch all the beautiful details of the dresses. Stephanie, my consultant, was... Read More fantastic! She made me feel like I was the only bride shopping that day. At the end of the appointment, the owner stopped by and made sure we were well taken care of. I would recommend this boutique to anyone looking for a wedding or prom dress.
---
Reviewed on

12/20/2017
Caitlin B
I had the most memorable experience at Boulevard Bride! The staff was very friendly and knowledgeable when paying attention to all the details on a dress I had envisioned to wear on my special day! Jenn is incredible and made sure my family and I was taken care of which I... Read More admired! I definitely recommend Boulevard Bride to anybody in search of a bridal, bridesmaid, flower girl gown and even tuxedo or shit rentals!
---
Reviewed on

7/31/2017
Carolina V
I was very nervous about trying on wedding dresses, but the staff at Boulevard Bride was very kind, professional, and accommodating. It was easy to set up an appointment through The Knot on short notice. The staff totally understood my priorities and wishes and did not try to... Read More pressure me into buying a certain brand or style of dress; they listened to what I wanted and suggested dresses that suited me. They also helped me arrange for alterations through Kaye Nicole Couture, which was very helpful since I lived out of state at the time. Even though I was buying my dress two months before the wedding, Boulevard Bride worked hard to make sure I had a dress that I was happy with. This bridal shop went above and beyond my expectations and made dress shopping a very pleasant and anxiety-free process for me.
---
Reviewed on

4/20/2018
Allison B
I had a great experience at Boulevard Bride. I walked in and told the owner exactly what I wanted. The first dress she gave me to try on was the one. She gave me a discount on the veil and dress because it was a sample. Definitely recommend!
---
Reviewed on

2/15/2018
Jessica C
I absolutely loved my experience here! I wasn't sure what I wanted and they found me something i could have never imagined! So sweet and helpful :)
---
Reviewed on

12/20/2017
Kylee W
The staff is so amazing and the dresses are beautiful!!😍 Would reccomend to anyone planning for their big day
---
Reviewed on

10/18/2017
Ashley B
I found my dream dress at Boulevard Bride! Everyone was so helpful and really listened to what I wanted in a bridal dress. They helped match the perfect veil to it and we added an headband from there as well. The have a great selection of beautiful gowns and I'd go back in a... Read More heartbeat!
---
Reviewed on

3/25/2017
Alyssa M
This shop was great... until I paid. The staff was friendly and knowledgable, and I found a dress I loved. Unfortunately, after I paid in full I was shown my dress and it was different than the one I had ordered! Instead of a zipper back it had a corset back. The staff took no... Read More responsibility for the mix-up- saying it was always on the receipt when we purchased it and therefore they could do nothing. A corset option for the dress was never mentioned while I was trying it on and I couldn't find anything on my receipts. While the mix-up might not have been their fault (who knows what happened,) the staff did not handle the situation well and I wish I had bought the dress somewhere else. I still love the dress and will wear it, I just wish it was the one I ordered!
---
Reviewed on

11/09/2016
Chelsea B
Love this place I would have made the owner my bridesmaid if I could have lol! So happy with my dress!
---
Reviewed on

7/03/2016
Kelly B
Boulevard Bride is the best bridal shop hands down in the area! The owner Jennifer is such a joy to be around, she was with me every step of the way from browsing to preserving my wedding dress. They have beautiful dresses and will always give you the time you need even if that... Read More means scheduling in you at the earliest time available. Boulevard Bride was the best decision I made and they made the whole process go so smoothly and fun! I have and will always recommend them.
---
Reviewed on

5/06/2016
Kacie T
I can not give this store enough stars they are AMAZING!! I had started to pay for a dress changed plans and then decided to do a wedding called and they had lost all my payments, then went to a national brand store and had some rude comments made to me from the consultant and... Read More then she scrached my face and walked away. Called Boulevard Bride this morning they got me in and I found my dress they worked with me to get a dress that I love. I will never shop another dress store they now have a long time customer for any of my dress needs. I will tell all my family and friends where to go when they are looking for a formal dress. Wish I could give more then 5 stars.
---
Wedding Dress DREAMS
Reviewed on

1/10/2016
Michelle K
I bought my wedding dress at Boulevard Bride and can't say enough about them! I absolutely loved the team- everyone I talked to was so positive and constructive. The store appears small but the selection is AMAZING. I tried on a bunch of dresses and then actually had a *moment*... Read More when I tried on my dress. They do all of the alterations (at extremely reasonable rates) and went out of their way to make sure I was satisfied. I went to 5 salons before this one and the service here cannot be beat. They also have an amazing selection of bridesmaids dresses and off the rack wedding dresses with incredible discounts. I love this shop and the staff!
---
Reviewed on

7/30/2015
Emily W
I had a wonderful experience here! Jenn went absolutely above and beyond to help me at this special time in my life. I highly recommend this shop to all future brides! Beautiful dresses and kind helpful people!
---
So easy to work with
Reviewed on

10/28/2014
Rachelle D
Boulevard Bride was awesome! They were so easy to work with and were very communicative. I didn't get my alterations through them, but they did make me a custom veil which was beautiful. Definitely reccommend!
---
A Little Gem of a Shop
Reviewed on

10/22/2014
Shannon M
When I first started looking online at wedding gowns, I quickly became overwhelmed. Somehow I stumbled across Boulevard Bride - and I couldn't have been more lucky! Jen, the owner, answered when I called to inquire about making an appointment. She was so upbeat and friendly... Read More over the phone. And when she found out that I hadn't even tried on a dress yet, her enthusiasm sky-rocketed. I believe she said to me, "Oh! You have to come in and we'll just PLAY!" And play we did! For over 3 hours, I tried on all types of styles - from A-line to mermaid to a full-on ball gown. Not only did she explain the different styles, but she also educated me on the types of material, too! At the end, I felt like Jen was a long-lost friend! Now, I didn't get a dress at my first visit - no, I went around to many, many other shops looking for a dress, but I never felt like I got the personal attention that I received from Jen. So, I returned with all my girls, tried on my favorites (and a few more that I hadn't tried, including a Sophia Tolli that Jen had specially ordered in for me to try) and I found The Dress (which ended up being Anita by David Tutera). Ordering was a breeze after Jen got my measurements (which also included a discussion on shoe heel height). Jen called me as soon as the dress came in. The fittings were quick and easy - there was just one little snafu with the bustle, but they fixed it in a jiffy. My dress was perfect and ready to go 2 weeks before the wedding! I'd recommend every bride to swing on in and try Boulevard Bride!
---
Jen is AMAZING!!
Reviewed on

5/18/2014
I first agreed to check out Boulevard Bride as a favor to my Mom, as the shop was only about 5 minutes from her house.., but I wasn't expecting much... I didn't think there was much of anything in that area. Then, I checked out the website, and saw she carried David Tutera... Read More dresses, and I was drooling, I swear. I brought in my tablet and pulled up Pinterest to show Jen some of the dresses I liked, and was completely SHOCKED when she looked at my number 1 pick, and then grabbed the sample of it! This little shop in the middle of nowhere, and she had a sample of my top pick. I ended trying it on twice during that visit, and the second time, I mentioned that my only reservation was that it was just missing something.. and she suggested changing out the satin ribbon belt with a different color, and it was PERFECT! I had initially planned to get the tuxes and Bridemaids dresses elsewhere, but after seeing what David's Bridal had available for plus size BMs, and the price the tux rental places wanted, I wasn't thrilled. Then, the style we had picked for the BMs at David's Bridal were discontinued, so I emailed Jen the dress we were looking at, and she found something similar, but better (and cheaper!). So I decided to get the tuxes from Boulevard as well. Since we got so much from her, we did get a pretty nice discount. The only kinda downsides, through no fault of Boulevard's, was that my dress and the BM's dresses arrived the week before the wedding. The blame was split between us taking too long to get Jen the deposit to get the dress ordered and the Chinese New Year, which led to some staffing issues at the manufacturer. While Jen couldn't do the alterations due to some health issues, she made a call and got us into Alterations by Valerie, who did amazing and amazingly FAST work on my dress and one of my BMs. Pieces of 3 of the tuxes had to be traded out, which Jen got to us the next day. Thankfully, the one guy who couldn't pick up his tux until the day before had no issue! I know where I'll be going for any formal occasion, and will send everyone I know looking for formals to her!
---
Boulevard Bride
Reviewed on

5/18/2014
Ashley E
I really wanted to get my dress at a local vendor and I called a few places to set up appointments. I went to Boulevard Bride first and didn't have to go anywhere else. They had the prefect dress for me. They were extremely nice and helpful. They make sure you are fully taken... Read Moreauyfcbefvrafaxtfuutwwtrufxwrzdburayxxw care of. Even though they are small they had a great selections of dresses. Then once the dress was bought they were very flexible with fittings. They made sure that I had two fitting before they cut into the dress the wanted to make sure I didn't change size too much and didn't want to cut into the dress and it didn't fit. They had the dress finished quickly and it looked amazing!! They also don't charge you for every fitting they just have a one time payment for the whole thing. They also were very helpful in helping me find a belt for my dress. My dress was white but I wore real pearls and they tend to be more ivory. So they helped me find a belt that had pearls and detail for a very descent price. She even called around for me to get the best deal. When the belt came in the pearls were white and to make them match the necklace she mad sure to get a color sample and she had painted the pearls on the belt for me at no extra charge. They looked amazing and I was extremely happy with the service I got with them. They even have someone who hand makes the veils and you can get those coustom made and they are beautiful. I was so glad I went with them. They were the best in making sure everything looked prefect without draining my budget.
---
Wedding dress
Reviewed on

3/13/2014
Pam I
I absolutely loved my wedding dress!
---
Loved loved loved it
Reviewed on

9/08/2011
Stephanie T
This is a quiet little bridal shop owned by a mother and daughter. I found my PERFECT dress on the rack and was able to buy it immediately. They were so nice and didn't hover or pressure us at all. They were really interested in making sure I found my perfect gown whether it was... Read More there or not. When I got it, it had to undergo some major alterations (I had too little time to order a gown in my size), so they recommeneded the sweetest seamstress, Joy Ritchey in Wentzville. I took my dress to her, and when I picked it up a few weeks later, it looked like it had been designed just for me.
---
Meet The Owner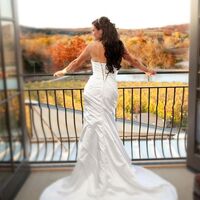 Jenn Glosemeyer
Hello, my name is Jenn and I am the owner of Boulevard Bride. I have owned the store for five years and I have a different philosophy on bridal gowns. I always make the most out of a situation and compared to other bridal salons, we offer a fun and inviting experience while trying on gowns. Everyone that walks in our door is treated like family, and we will go above and beyond to make sure you are prepared for your big day! Hope to be meeting you soon!