Home

Briarhurst Manor
About this Vendor
Voted Best Wedding Reception Venue
Amenities + Details
Amenities
Handicap Accessible

Liability Insurance
For more details about amenities, please message the Venue.
Ballroom, Historic Venue, Restaurant, Tented
Contact Info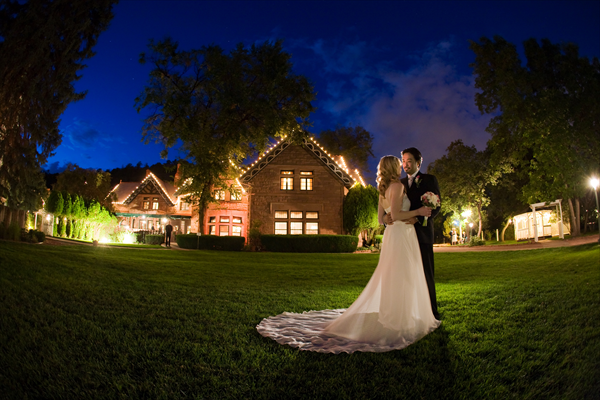 404 Manitou Avenue, Manitou Springs, CO
Just Perfect!
Reviewed on

10/27/2014
Jennifer R
Everyone at the Briarhurst Manor was so kind and helpful. They made sure all our requests were taken care of before and on the day of our wedding. The food was delicious according to all the guests and the servers were accommodating. We hired a band and they sounded great in the ballroom and there was plenty of room for guests to dance. As the bride everything turned out perfect and I couldn't have done it better by myself!
---
Beautiful Venue
Reviewed on

10/03/2014
Jennifer N
When I first started looking for a venue, I wanted something with a great value - nothing too pricey, but we had a little money saved up for a nice wedding. The Briarhurst turned out to fit our exact budget. I would caution other brides to be aware of those "hidden" fees - the Briarhurst does have a service fee of 22-27% that tacks onto not just their services, but the vendors you bring in... DJ, photographer, videographer, etc.). I'm sure this was gone over in our very agreement signing, but a year later when I'm paying for my non-Briarhurst vendors, and seeing that additional 6/5 of cost being billed, I wasn't too happy. Nevertheless, the scenery was worth it. Janice was very accommodating for most changes we wanted. At times, you could tell she was agitated (like on my wedding day when I saw her and she didn't smile as soon as she saw me.... Yeah, that was unpleasant). But I'm sure dealing with dozens of brides is not an easy job. The banquet hall was very spacious and didn't need a ton of additional decorations - just loved the draping pearls and satin! The only true draw-back from the Briarhurst was the wedding cake... It was mandatory to use the Briarhurst's in-house cake baker - Carol. Carol is such a wonderful woman, and was very nice during our tasting. She wrote out what I wanted and the cake itself was to die for! However, when I saw my wedding cake the day of... I was embarrassed. Sadly, there is no other way to put it. The execution on the plan was terrible. It looked as though a child had colored on it =( Even the wait staff we're asking my wedding party what was going on! Carol attempted to fix it after we brought up our disgust with it, but there wasn't much we could do with a buttercream icing. The Briarhurst did refund us for most of the cake and gave us a gift certificate for their restaurant, which was nice. Given that the cake was delicious, I guess all was forgiven in the end! Just don't go with an ombre cake ;) Best of wishes to other brides!
---
Worth every penny
Reviewed on

6/11/2014
Jennifer R
We held our ceremony and reception at the Briarhurst. The setting is gorgeous, the venue is the perfect size (not too big, not too small), and the food was delicious! We sometimes felt that the Briarhurst's communication with us could have been better, and found ourselves worrying whether all of the details would be taken care of. In the end though, everything was perfect and the Briarhurst came through in every way! It was a beautiful, magical venue for our wedding, and the Briarhurst surpassed all of our expectations.
---
A Wonderful Day
Reviewed on

11/07/2013
Kathi K
We had a very special day because of the expertise that everyone gave us at the Briarhurst. The setting was gorgeous of course but because of the professional staff and expert wedding planner our daughters big day was perfect. One compliment that was said through out the evening was that the food was more like a fine dining evening at a nice restaurant rather than the usual wedding fare! The chef was great!!! Every time we drive by the Briarhurst my husband and I smile-great memory and fun evening for all. Would recommend the Briarhurst to everyone, for a romantic dinner or a big reception!
---
Nice place
Reviewed on

9/18/2013
Sara H
They did a great job helping us make the day organized and very nice. They end up charging for everything, which is normal of vendors, but it adds up! It was an extra $9 per person for cake and you are required to use specific vendors associated with the Briarhurst.
---
motherofthebride
Reviewed on

9/14/2013
Reyne P
This is a fabulous location for a wedding reception. They were very accommodating and made it easy to plan a reception. It was wonderful to have them do all the decorating, set up, tear down, cooking and serving. We just had to show up and enjoy ourselves. It was as low stress as planning a wedding can be. The staff were friendly. The service was excellent. The food was amazing. We had cocktails on the outdoor terrace prior to dinner. The ballroom is very elegant. We felt like royalty. I like the Victorian atmosphere and the outdoor twinkle lights. Endless opportunity for fabulous wedding pictures. As far as the cost, you pay for what you get and I didn't mind paying to be pampered a bit and not have to work at my daughters wedding.
---
Beautiful venue, overall positive experience
Reviewed on

7/23/2013
Laura T
Briarhurst was very reasonably priced comparative to other venues of similar caliber. The staff are very nice and seemed to go out of their way to ensure your day was just as you imagined it to be. They are very accessible during the planning process. The only complaint I have about this venue is their policy regarding outside vendors. Briarhurst requires that all vendors(photographers, videographers, photobooths, DJ's, etc) carry a million dollars of liability insurance and require that the vendor enter in contract directly with the Briarhurst-most weddings the vendors enter in contract directly with the bride/groom. This created a problem because many vendors did not want to work with the Briarhurst due to problems with the vendors receiving their money timely. On top of that, they are were not very forthcoming with me about this policy. This policy made it very difficult for me to find a photographer within my specifications and budget. Due to this difficulty and stringent policy, I provided this venue with 4 out of 5 stars. Otherwise, I would have given 5 out of 5.
---
Beautiful, Easy, and Affordable
Reviewed on

8/22/2012
Amber P
We had a beautiful August Wedding out on the West Wing Terrace. Janice our event planner was a great help. I never felt stressed or that the event was not being taken care of while my Banquet Captian Steve took care of us all evening.
---
Amazing
Reviewed on

7/13/2012
Jessica S
Briarhurst Manor was such a joy to work with. They did everything so amazing. Unfortunately, due to the Waldo Canyon fire, Manitou was evacuated the same day as our wedding. So we did not get to do our wedding there, but Briarhurst is such an amazing place. The food is so wonderful, the scenery is spectacular, and the staff is amazing! If you book your wedding here, you will not be disappointed at all!! I recommend this amazing place so much!!
---
Awesome venue, Jennifer was great!
Reviewed on

7/10/2012
Erin G
Reception was beautiful, everything went as planned. Our coordinator, Jennifer, was priceless. She kept on top of everything and helped keep us organized.
---
Briarhurst
Reviewed on

12/09/2011
Cassadi D
Way over Priced and very small.
---
Good food
Reviewed on

10/20/2011
Taylor S
but not enough time to eat. The Briarhurst does great helping you to choose your menu and works with your budget creating items that will be tasty and appealing.
---
Best Venue!
Reviewed on

10/18/2011
Kelly H
The coordinator of the Briarhurst, Alison, is so accomodating. I met with her countless times, changed my mind tons of times, and she worked with me happily every step of the way. She took care of every detail and made the room more beautiful than I had imagined it would be. The cost was decent because it included everything (food, cake, alcohol, decorations, etc.). Not only that, but when my new husband and I got locked out of our car and started walking to our hotel in our finest, Alison got in her car to find us and drove us there! She really cared about our wedding and made everything perfect.
---
Very nice venue!
Reviewed on

10/04/2011
Miriam J
Loved the area in general, and had a great time! My wedding ran so smoothly. Was easy to get a hold of and plan my wedding with. Only down part was the costs kept adding up, and the vendors I chose had to have $1 million in liability insurance so they got expensive as well. Other than that the area was gorgeous and everyone had a great time. I definately reccomend them!
---
Beautiful venue, great food
Reviewed on

8/23/2011
Amy P
The Briarhurst is great for a lovely outdoor wedding. The planning process with our assigned coordinator was a little frustrating - it seemed she never wrote down anything we discussed and would ask me the same questions over and over again. But on the wedding day everything went smoothly and was great. The food was fantastic and the staff attentive. I felt like the reception was a bit rushed. The only downside: I thought the hors'douvres were way overpriced - a dozen for more than the price of our plated meal. Otherwise, I thought the prices were fair and that they were the best priced overall package for the money. We really wanted to keep everything simple: ceremony and reception in the same location, caterer, bar, linens, china - all of that was taken care of by the Briarhurst and made our lives much simpler by doing it this way. Bottom line - would highly recommend the Briarhurst!
---
Manor
Reviewed on

8/10/2011
Skyla L
This location is nice but expensive. I feel like they want to charge you for every little thing. We wanted to decorate ourselves and they don't allow this and charges for it. But is very pretty
---
Cheap and fabulous
Reviewed on

8/07/2011
Alicia G
I love the briarhurst they were very helpful and their service is quality.
---
The Place
Reviewed on

7/01/2011
Angela L
Absolutely georgous outside venue!
---
Great place to get married!
Reviewed on

6/30/2011
Annalyse M
My husband and I wanted an "intimate" mountain wedding where we had creative control over everything, but didn't have to start from scratch (having to rent tables, linens, etc). Since the Briarhurst is a restaurant but also a wedding venue, it was the perfect happy medium for us. We had the creative control to make decisions that truly made it our day, but I loved the fact that I didn't have to think about those details the day of the wedding. Our coordinator, Alison Moreno, was absolutely fabulous! She remembered not only who we were but our specific details, and worked to accommodate everything we wanted. She was there the day of the wedding and worked closely with us to make sure that everything went smoothly. The service was great, the food better than I could've hoped for, and the overall day perfect! I would recommend the Briarhurst to anyone looking for a low-stress, peaceful, intimate mountain wedding. We couldn't be happier with the memories of our wedding day!
---
Great food!
Reviewed on

6/16/2011
Rachel C
I picked this venue because I was 99% sure I would at least get good food, and I was right. The people there are very experienced with weddings and it showed. They don't have all the amenities (the place they provide to get ready is just a women's bathroom) and they don't have a sound system on the patio, but all in all a beautiful location. The coordinator lady is a little wacky but very nice...
---
Perfect Everything
Reviewed on

11/17/2010
Angela S
We had an intimate reception here in the West Wing (30 guests). Everything was perfect for us. Good food, beautiful historic building, good staff. I loved it! I have to mention a few things that I didn't mind, but could be an issue for others: (1) Small bathrooms are shared with other events and resaurant guests, (2) Two weddings may be happening on the same day (our wedding was on a Sunday, saved $1000 and no one else was in the building), (3) they are good at the resaurant side of things, but not so much actual wedding ceremony coodination (not an issue for us since our ceremony was off site). As with any vendor, read and understand the contract! It is very specific, but reasonable.
---
Great Venue Bad Coordinating
Reviewed on

9/30/2010
Jennifer A
Loved this space, not too expensive but the woman in charge of all my details was not one top of things!!! I was a very laid back easy bride and I found her frustrating and unable to follow-up! I had to frequently check in and re-discuss and reminder her of changes numerous times!
---
Briarhurst Manor- Wedding
Reviewed on

8/09/2010
Lauren G
We were just married at the Briarhurst in July 2010. We absolutely loved the mansion itself on the outside, I wasn't fond of the antiquey look of the inside but that is personal preference, the area we had outside made up for that. I went through two wedding planners with the briarhurst because of a job change but loved the turn out. She was wonderfully attentive the day of my wedding and I couldn't imagine the day without her help. The mansion really makes our wedding pictures as well, it is a beautiful venue!
---
Review for Briarhurst Manor Estate
Reviewed on

5/10/2010
Alison H
Small intimate setting wonderful food.;The 'wedding planner' is not very proactive about helping before the ceremony or with the vendors. They also didn't follow thru on some specific details we requested. There wasn't very much direction or organization regarding the time line of the night on behalf of the venue staff.
---
Review for Briarhurst Manor Estate
Reviewed on

10/02/2007
Rachel H
I loved the location and the beauty of the mansion. I loved the outlay of the area I was in. It was a library with three room with an outside patio and gazebo area!;The bathrooms are not very big, you share with the other parties there.
---
Send Message