Home

Bridal Hair NY
Details
Hair Stylists, Makeup Artists, Spas, Beauty
Contact Info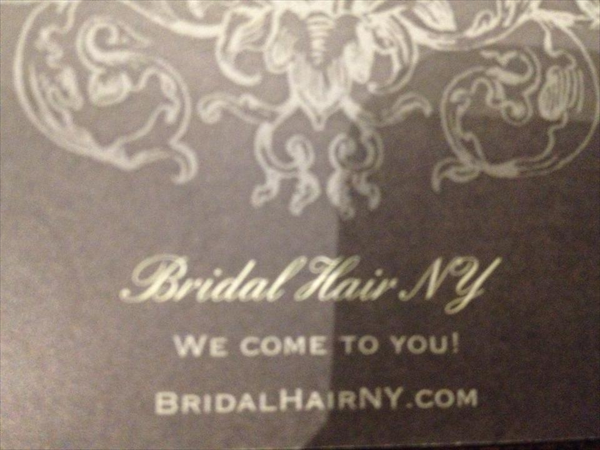 AMAZING!!!
Reviewed on

10/11/2013
Jessica H
I just got the pictures back from my wedding!!! Done by the stunning Lindsey Shallenberger!!! She is amazingly fast and creative and she had all 8 of my bridesmaids, myself the bride, all done with hair and make-up in time for the church!!! She even did mother of the brides... Read More make-up and mother of the grooms hair!!! Plus helped out with one of the flower girls hair (Which was probably the biggest challenge of them all)!!! It was the most pleasant mornings, even though I was worried about everything else, she put me at ease knowing that all of my girls were happy with how they looked. It was so great that she was willing to travel an hour to the location of our wedding, bring all of the supplies necessary, and accommodate our large wedding party. She worked with what space we had to offer and went with the flow. I would highly recommend using BridalhairNY for any bride getting married! She was professional, organized, and pleasant. Thank you for making my day so very special! I will remember you always!
---
Very Professional
Reviewed on

10/08/2013
carrie S
Lindsay did an amazing job on my hair. She was quick and efficient. I got numerous comments on my hair. It held in place all night and was easy to take out when I needed it. The bride looked absolutely amazing. Her makeup was beautiful.
---
Lindsay at Studio 22
Reviewed on

10/07/2013
Jenna H
Excellent job! Very professional and quick. She can do anything you ask! Awesome job!
---
Excellent Job!!
Reviewed on

10/06/2013
Nicole S
I used the services of Bridal Hair NY for myself and my bridesmaids on my wedding day. Everything went wonderfully; they were punctual, accommodating, friendly, and incredibly talented. Our hair and makeup turned out beautifully, and everyone was really impressed! On what can be... Read More an incredibly stressful day, they helped to put my mind at ease. I would highly recommend Bridal Hair NY!
---
Beautiful Updo's
Reviewed on

10/06/2013
I'm not too picky when it comes to my hair so I didn't end up having a trial (which I hear should be basically mandatory). I have thick coarse hair to work with and she never once complained. My hair came out perfect and stayed the entire night. I highly recommend her!!! I... Read More have used her for several events and she is my main hair dresser now. Thank you SO much for being a part of our special day! I don't think it could of been any more perfect!
---
Bridal Hair
Reviewed on

10/06/2013
Alyssa H
Lyndsey is an amazing hair stylist! All you have to do is show her a picture of an idea that you want and she can match it. She did a phenomenal job with all the girls in my wedding, including my hair. I danced all night and the curls held up which made it look like I just had... Read More it done when in fact it had been done 8 hours earlier. I would recommend her to all my family and friends. Her prices are reasonable but the quality service that she provides is priceless! Thanks so much Lyndsey, you're the best!
---
friendly, professional, and pleased with updos
Reviewed on

9/09/2013
amy a
Lindsey and a second makeup artist came to us at Bristol Harbour for hair and makeup. They worked with us until we were happy with our updos and makeup, fixing it to our liking. They were very easy to work with and made it an enjoyable experience. I was a little skeptical of... Read More the fake eyelashes considering how reasonably priced it was, but they turned out great!
---
Stunning updos and beautiful makeup!
Reviewed on

8/28/2012
April S
I worked with Lindsey from Bridal Hair NY, she was great!!! My hair and makeup were beautiful and she did a wonderful job on my step-daughter's light makeup and waterfall braid. She was able to combine two styles I found on pinterest and make it perfect on me. She is so sweet... Read More and professional, I highly recommend Bridal Hair NY. I did the on-location and it was so nice not to have to rush to get somewhere the morning of the wedding. It was stress free and so worth it!
---
Outstanding Updos and they came to us!
Reviewed on

11/07/2011
Lindsey S
I Heard about Bridal Hair NY from a friend and gave Lindsey (the owner) a call. She was extremely polite and detailed. They came right to me for my trial and on my wedding day! talk about taking the stress right away! we could have mimosas, music, and the comfortableness of my... Read More own place while getting ready for my wedding day. They assisted me with everything and made me gorgeous! I highly recommend them to anyone in ontario and monroe county. Very professional and fun! Great at what they do!
---