Home

Bridal Reflections
About this Vendor
Bridal Reflections
Bridal Reflections has been assisting brides and their families for 40 years. We offer some of the world's foremost designers in bridal and evening wear. Our professional bridal consultants and world-class seamstresses are experts at making every bride look and feel as special as the moment!
Details
Bridesmaid Dresses, Flower Girl Dresses, Mother of the Bride Dresses, Shower + Party Dresses, Wedding Dresses, Dresses, Alterations, Bridal Stylists, Custom Designs, Dry Cleaning + Preservation, Private Appointments Available, Fashion Services, Fashion
Contact Info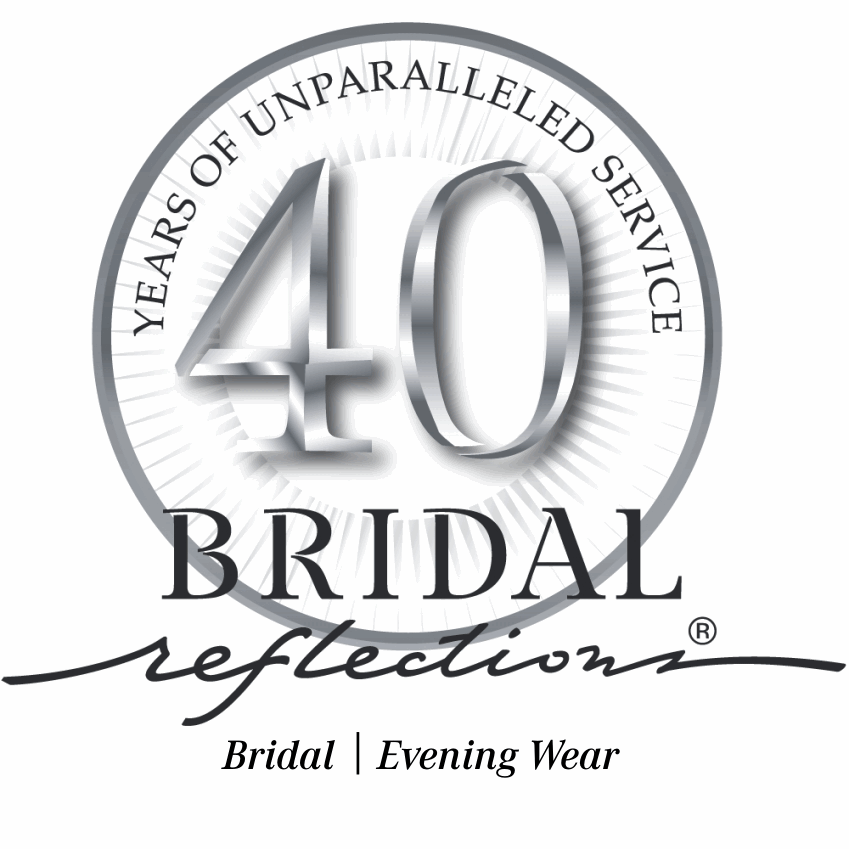 260 5th Ave, New York, NY
A Wonderful Experience From Beginning to End!
Reviewed on

5/30/2014
Megan P
Bridal Reflections came at the recommendation of a co-worker after I had shared my horror stories of bridal gown factories and surly sales people that seemed more intent on earning a commission than finding your dream gown. I didn't say "yes to the dress" and I didn't "love David's Bridal" I didn't feel there was enough of a selection at the smaller boutiques either...and then I walked in to Bridal Reflections. Their Manhattan location is like a hidden gem - not visible from the street level but tucked away on the fourth floor of a commercial building. The space is beautiful and the staff was so attentive and warm toward me and my entire entourage. They took their time with me and let me shop the racks. The sales woman that I worked with offered suggestions and pulled dresses based on what I liked (or didn't) from previous styles i tried on. I was the only bride in the salon when I found my gown and in the 6 or so times that i came back for fittings, there were never more than 3 brides on the floor at a time. The seamstress and sales associate were WONDERFUL...and I can not stress that enough. They listened to all of my concerns, they fixed and tweaked and added beadwork to make the dress flawless and they offered suggestions for picking out my veil and headpiece to complete the look. The level of service was just above and beyond. I will recommend them to all future brides and if you're looking for a more intimate bridal gown shopping experience - make an appointment - you will not be disappointed!
---
My Dream Wedding Dress - Great Service And Affordable!
Reviewed on

1/23/2014
Rachel M
Ramona Keveza L196 Approx Time Frame: Order 4-5 months, Fittings 1-2 months Original Wedding Date: November 2012 (postponed because of Hurricane) Wedding Date: May 2013 Cost: Reasonable compared to competitor store (approximately $900 difference) I found my dress at another store, but couldn't impulse buy a dress because of a trunk show, discounts, pressuring myself, etc. I took a breath and called around after I found out who the designer was. Well, there were only 2 places in NYC that carry RK at the time, and the second is BR. I talked to Christina the manager about my situation, and set up my appt for that week (last week of Dec 2011), and took my sister along. The 5th Ave store normally doesn't have dresses less than $5K, but they were able to transport the dress from their LI store. I tried the dress, and it fit like a glove and just as amazing as when I tried it on originally. I was in love all over again. This time I was certain, and my sister absolutely loved it too. But what about the price? At this point the manager already knew my budget and what the other offer was. She had pre-negotiated with the designer and offered me a price nearly $900 less than the other place. Had I not done my due diligence, I would have either 1) Not gotten the dress I wanted or 2) Pay too much for the dress I loved. Going to BR was a great decision. I ended up with class A service from the moment I went in for trying on dresses until I walked out with my dress. Additionally, I had a wedding postponement due to Hurricane Sandy. My dress was done, my last fitting was complete and I was planning to pick up my dress a few days after the hurricane. But we had to reschedule for 6 months later. And BR was amazing to hold the dress onsite for those 6 months and redo my fittings ] the weeks before my 2nd attempt wedding. For future brides, I recommend you shop around for a place that offers you great service and pricing to suit your needs. Luckily, BR was that place.
---
Wonderful!
Reviewed on

10/12/2013
Sarah P
Bridal Reflections on 5th Ave in NYC was wonderful! I am from Ohio but the trip was completely worth it for the experience. The dress shopping experience and the alterations experience were both great, everything I would expect and more. I got my dress at an Eve of Milady trunk show. When it came time for my alterations they did back to back days and completed everything in one weekend from Thursday to Saturday. They fixed every little thing I requested and did a beautiful bustle. I would definitely recommend any bride to get their dress here. I could not have had a better experience getting a dress!
---
True Professionals!
Reviewed on

12/02/2014
Rose D
I LOVE this place!!! I got my dress, my bridesmaid dresses and my mothers dress here. I had the opportunity to work with both the Massapequa and Carle Place locations. Debra from their Massapequa location helped me pick out my dress and she was wonderful!! She made my experience feel truly special! She really listen to what I wanted and didn't try to push anything on me. Debra is a true GEM!!! Emila from their Carle Place location did my alterations and she went above and beyond to make sure my dress fit perfectly! I alway heard stories of bustle breaking. NOT MINE! My dress was in perfect condition the entire night!! I highly recommend them to anyone!!! They truly made my dress shopping,buying, and altering experience EASY and STRESS FREE!!
---
Bridal Reflection/Perfection
Reviewed on

11/04/2014
Lauren R
Bridal Reflections was recommended to me from a friend that had the nicest things to say. I am beyond HAPPY that I listened to her! My experience with the staff has been nothing but pleasurable from shopping to fittings. They are professional, knowledgeable and an overall joy to work with. They listen to what you want and do not stop until you get it! The entire team is amazing and the seamstress is a miracle worker!
---
wedding dress
Reviewed on

9/29/2014
Simone Z
My wedding dress was exactly what I dreamed for and the three day fitting was so convenient since I was coming in from Buffalo, NY to purchase my dress. I'll cherish my Ines Di Santo forever
---
Loved this place!!
Reviewed on

6/19/2014
Jessica M
I got married on June 1st of this year and got my dress from their 5th ave show room. I was sooo in love with my dress and so were all my guests. The service at this place was amazing I went originally to look for my dress on a Sunday in August and had almost the entire place to myself. I was not pressured to buy anything or end the appointment when my allotted time was up. I was there for at least two hours. My seamstress was my favorite person during the entire process she is AMAZING and made my dress covered in beads fit like a glove. She was so sweet and cool. I would highly recommend this place to anyone I wish I could get married again and again. I also used their carle place location for my bridesmaid dresses and mother of the bride dress. I really love Bridal Reflections !
---
The Perfect Dress
Reviewed on

11/20/2013
Jena C
They were great. My Victor Harper dress was perfect. the dress was shipped to my home and arrived with a black spot on the back of the train. I was able to have this cleaned out before the big day but it was kind of strange that a black spot on the dress would have been shipped like this.
---
THE perfect gown
Reviewed on

10/10/2013
Synge M
Good attentive staff. Really excellent fittings. Not inexpensive. But I found my gown in a magazine and there was no going back.
---
Thank you Thank you
Reviewed on

10/04/2013
Alyssa M
Most brides dream about their wedding dress from when they are little girls. I certainly did! Bridal Reflections made that dream come to reality. They custom made a dress for me! Top of one and the bottom of another brought together to make my dream wedding dress. Jen was my seamstress and was cool and calm even when I wasn't! She made the the most gorgeous bustle for my very long train! It was just how I imagined it. I recently got the photos of me walking down the aisle with father and then back up with my husband and the dress looked EXACTLY how I dreamed it would! Thank you Bridal Reflections for making my dream dress for me.
---
Loved my Dress!!
Reviewed on

9/26/2013
Staicy T
Was looking for something unique with a little bling. Found the perfect dress from Victor Harper and got to meet the designer during his trunk show. Was able to make a few changes to my dress and the tailoring was amazing!
---
My Perfect Dress
Reviewed on

9/25/2013
Kimberly O
My wedding was in 5 ½ months and I had tried on countless gorgeous wedding gowns, but none of them felt right. I was at an appointment Wedding Atelier and was advised to go to Bridal Reflections. My mom and I took a walk over to Bridal Reflections & they were able to fit us in. Samantha Fortune was helping us pull the dresses and she brought in a handful of big dresses. I tried on my dress & I remember thinking it was so simple compared to the others I had tried on. (It was trumpet style, all lace, no beading). My sister hadn't been able to come to the appointment, and I was dying to have her opinion. Samantha let us take a picture of me in the gown and send it to my sister. Sure enough, after calling my sister & my mom breaking down into tears, we decided I couldn't leave without getting this dress. It was perfectly in our price range and I didn't want to take it off – so I knew this was my dress. Samantha was amazing. She was the perfect blend of helpful, professional and sweet. She brought tissues for my mom and gave us plenty of time and space to take everything in. For my fittings, Jennifer was my seamstress. She was great! My dress was HUGE when it first came in, and Jennifer made it fit like a glove in just 2 fittings. After my wedding (& wearing my gown for 12 hours), I was sad to take off my dress because I knew I would never get to wear it again. The ladies at Bridal Reflections helped me to find a dress to fall in love with and make it fit perfectly without any frustrations. I would highly recommend them to anyone in search of their dream dress.
---
Bridal Reflections
Reviewed on

7/20/2013
Anne Marie W
After 14 stores, I finally found my dress at Bridal Reflections. Bridal Reflections had a large variety of dresses that allowed me to try on 3 of my favorite dresses at one time and one that surpassed my expectations. Because they had a variety of dresses, I was able to compare my favorites and pick the one that I hadn't seen anywhere else that was truly unique. The saleswoman I worked with was accommodating and easy to talk to. I went to a veil/accessory trunk show and ended up getting my veil and hairpiece there, as well, because the quality could not be surpassed. I took off 2 stars for service just because it took so long for the dress to come. I was told that the dress would take 7-8 months to arrive. However, at the 8 month mark, I didn't hear anything from them. I waited 8 1/2 months and then finally called to see, and they told me that they hadn't heard from the manufacturer, which stressed me out immensely. However, they had it remedied after 2 weeks and sent me detailed shipping information. My suggestion would be to ask for a specific date and call that date, or ask for an update. I ended up being stressed for a good month thinking that no one knew where my dress was. I know it takes a long time to make a dress, but I would've liked more frequent updates - or at least something other than that they hadn't heard from the manufacturer in a while.
---
Worst Vendor Ever
Reviewed on

12/21/2012
Natasha L
For starters...my initial experience with the shop was wonderful. My Mom and I went to NYC for a day of dress shopping. I was very indecisive and bridal reflections helped narrow down to a dress I would love. I found a dress, loved the bottom and hated the top. The boss (Christine) and my attendant (Lizette) agreed that the shop would be able to alter the top no problem. BAD IDEA. Lizette started off to be so helpful and I will admit that the shop always allowed me to stay in the shop as long as I needed. Let me break this down... -I explained and drew out on paper what I wanted the top of the dress to look like. They were not going to alter the dress until I was in the shop and they were going to do it on my body. At my next fitting, the dress top was already altered. I didn't like it. - Long story short, it took over 7 trips to the shop (I live in Connecticut) for the seamstresses to get it somewhat close to what I wanted. I spend countless hours in the shop, a complete waste of my time. They kept telling me "we can't make it how you want" or "this material can't be stitched like this". My dress was a sweetheart neckline top made of satin silk. The sweetheart top had pulls in it all over from the stitches; they just kept telling me it was my body shape. One fitting I showed up and my dress had a spot on it. Another fitting 3 stitches were popped. The list continues. My 2nd to last fitting I waited for an hour and a half before I was greeted because they were working on my dress in the back, rather than fixing it before I got there. In the end, my dress was pretty but I deff. Regret going to bridal reflections. SAVE YOURSELF A HEADACHE! Do not go to Bridal Reflections! When I went to pick up my dress it was steamed but still had noticeable wrinkles in it. Also, Lizette would not even come out of the back room to talk to me. Christine the manager tried her best to work with me and I will say she was patient but she does not know what she is talking about half the time, either do the seamstresses. Also, 30 minutes before I walked down the aisle the side boning of my dress collapsed, there was nothing I could do. My dress designer was by Christine Anthony (Bridal Reflections Private Designer). Not to mention, the cost of the alterations were absurd, I spent $800 on alterations. That includes the french bussle for 275.00. The bussle is not included in their "cap". I wanted this to be the best experience of my wedding but it turned into a headache and nightmare. I wasted time and money with traveling back and forth. There are plenty of other stores out there. I have spoken with a handful of other girls who have said the same thing about Bridal Reflections. Take my advice.
---
One Shot Delight
Reviewed on

12/07/2012
oriel r
I went to bridal reflections a week ago and food my dress. My consultant Was amazing, she listened to my needs and paid attention to what I was looking for. After trying on 3 dresses that only started to get better, she went an pulled out a beautiful Winnie couture dress that was also in my budget!!!! The manager was great at striking an amazing deal that allowed me to get the dress of my dreams (mom's dreams too) with my first time ever wedding dress shopping
---
Great selection, great customer service!
Reviewed on

10/25/2012
Kate C
I went wedding dress shopping at the Manhattan location of Bridal Reflections as my first stop of dress shopping. I cannot say enough positive things about this boutique! From the moment my mom and I arrived, they were so sweet. We worked with Jessica (who I think is one of the managers), and she was great. I described the feel of the wedding we were going for, what my thoughts were on dresses, and showed her pictures of the venue so she could get a sense of the style. From there, she pulled several dresses and the third one was the charm! Even though I thought I had found "the one" she encouraged me to try on other styles, just to make sure that I was 100% confident in "the one." I was never rushed, never pressured to make a decision, or upsold to a dress that was more expensive than I wanted to spend. I had scheduled an appointment at Kleinfelds the same day as Bridal Reflections and still wanted to try out Kleinfelds "just in case" there were other dresses I wanted. Jessica encouraged me to do this and encouraged me to call her after my appointment to schedule my fitting if I still wanted my dress. They fit me in the next morning to get measured and to pick out accessories. Throughout the ordering process, wait time, alterations and final fittings, I was more than impressed with Bridal Reflections customer service. They were upfront with everything and kept me informed along the way! Alterations were perfect and reasonably priced and done in a very timely manner. Bonus: They also give a 15% discount on bridesmaid dresses (at their other locations) if you buy your wedding dress there and since all my girls were out of town, they took care of all orders over the phone and gave us a 25% "no frills" discount for all bridesmaids dresses and then shipped them out when they arrived. They were great at keeping me informed on which bridesmaids had (and hadn't) called in so that I could make sure the girls all received their dress in time.
---
Best Experience!
Reviewed on

10/21/2012
n o
I flew into NYC for the sole purpose of finding my wedding dress. The Bridal Salon I flew into NYC to see was Kleinfeld's, but when I was flying down to NYC I was flipping though my bridal magazine and found an advertisement for Bridal Reflections. I called the Bridal Salon and made an appointment that day and they were able to fit me in! I started browsing through the racks and noticed some gorgeous dresses that I could not wait to try on. My bridal consultant was patient and absolutely fabulous. During past bridal appointments, I was rushed and the consultant just wanted the sale. I feel during this process I was able to take my time and evaluate the dresses that I tried on in order to make the right decision. The salon owner and consultant were so wonderful and the dress was so perfect, I bought it on the spot. I enjoyed my experience at Bridal Reflections and would recommend this bridal salon to anyone. They carry Eve of Milady dresses, which are stunning!
---
I found a dress here
Reviewed on

9/10/2012
Caitlin M
Found exactly what I had been looking for at this shop. My sales assistant was not the greatest but I think it was because it was at the end of a long day. Much less stressful experience than some other larger shops in NYC. The seamstress was phenomenal, I would recommend her to anyone.
---
Good Service
Reviewed on

8/24/2012
Stacy E
They were very nice in helping me find the perfect dress.
---
I loved my dress!!
Reviewed on

8/15/2012
Jennifer Z
I absolutely loved my dress!! It was so gorgeous!! The only reason why I'm giving it 4 stars instead of 5 was that I needed my maid of honor to pin my train up more because it was dragging too much and people were stepping on it. Other than that, the service was great and did i mention that I Loved My Dress!! =)
---
Love Bridal Reflections
Reviewed on

8/10/2012
Karitssa B
When I began the quest to find my wedding dress, I didn't realize how tiresome (and at times annoying!) it could be. I tried on 50 dresses prior to going to Bridal Reflections. My experience at Bridal Reflections from my first day there until the last day of my fitting/dress pick-up was wonderful. The staff were extremely attentive, they listened to what I was looking for and I found my wedding dress there on the first try. Each subsequent visit was easy and even though they were very busy at times, it was clear that they knew exactly what to do to ensure great customer service.
---
the dress!
Reviewed on

6/28/2012
Leticia M
I actually bought my dress at the Carle Place location but had it transfer to the 5th ave location for alterations. First, they order me the wrong style of dress since my dress came in halter or sweetheart. I chose sweetheart but I received a halter. They quickly sent it back to the designer to get fixed but they did a horrible job in fixing it. the top of the dress looked like it didn't belong to the skirt. they sent it back and I didn't see a change the second time around. Finally the third time they decided to fix it themselves and it was better. After that, come regular alterations which usually after 3 times you are done but no, again I had to go 4 times and the last time was two days before my wedding and still did not fit right. I had to wait for them to finish making the alterations on that day. With all the times I had to go honestly the whole wedding experience was ruined. Overall my dress looked nice but I did not enjoyed the service or experience.
---
Bridal Reflections in Massapequa
Reviewed on

6/19/2012
Marcia E
my experience with them was not what i expected. The only good customer service I recieved was from the girl that sold my dress to me after that the service went down hill. very disappointed
---
Beautiful dresses, fair prices, lots of designers
Reviewed on

5/06/2012
Kerri M
Bridal Reflections had the most variety of dress designers of all the Long Island bridal salons that I found. I brought a few pictures of dress styles I liked and they asked me my price range and what I was looking for. The girls brought me a range of dresses, all within what I wanted, and a few dresses later, I had my dress! They were patient, accommodating and made me feel so comfortable while trying on dresses - a hard thing to do! The only comment I would have is that for out of town brides, it is tough to get in for fittings. They only had 1 Saturday a month available for fittings and were very inflexible until I told them I had no other options and was having to take days off of work.
---
They made it work
Reviewed on

10/11/2011
Lisa M
Bridal Reflections has a great selection of gowns and they worked hard to find the right dress for me. Although pricier than many of the stores, their alterations department made sure the dress ultimately looked how I envisioned it.
---
Send Message