Home

Bride & Formal On Main
Details
Bridesmaid Dresses, Flower Girl Dresses, Mother of the Bride Dresses, Wedding Dresses, Dresses, Alterations, Fashion
Contact Info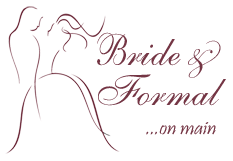 Reviewed on

1/13/2017
Molly T
I was very happy to find a dress that was so unique and high-end in such a small town! My experience with Natalie and her staff was great, including alternations with Kathy. It made it even more special that I was able to purchase in my hometown! I also got my bridesmaids... Read More dresses here as well as flower girl and mother of the bride.
---
Reviewed on

11/13/2016
Diane C
I had a great experience picking out my dress ! They were so helpful and made sure that I was 100% satisfied.
---
Reviewed on

8/22/2016
Cassandra G
My wedding dress was seriously breathtaking! I chose this shop because they carried the David Tutera dress I saw online and wanted to try on. The day I went for my appointment was so great. It is a beautiful shop and there is plenty of room for people to sit to view you in... Read More the wedding dresses. And wow, what a great selection!! I ended up purchasing a different David Tutera dress than the one I originally wanted, but there were seriously so many gorgeous gowns. Everyone I worked with at the shop was so nice and friendly! Lauren was my consultant when I tried on dresses and she made me feel so comfortable and did a great job at choosing dresses that she thought would look good on me. Natalie, the owner, was great at handling an issue with a bridesmaid dress that did not fit and made sure my bridesmaid had her dress before my wedding date! Their customer service is outstanding! Also, the seamstress, Kathy, is seriously so talented and was so nice to work with! I decided I did not want to deal with a bustle and I definitely did not want a big poof at the bottom, so I opted to cut off my train...and it was A LOT to cut off. My dress had lots of beading and she altered it beautifully and you could not tell where she took in the dress. Kathy did an excellent job!! I could not have been happier with my dress and I received sooo many compliments!
---
Reviewed on

8/20/2016
Ashlee M
I am so glad that I bought my Stella York wedding dress from Bride and Formal on Main!! I drove 2 hours to get to this shop and it was worth it! They made trying on wedding dresses easy and they were so accommodating to my large group that came with me. Natalie was very easy to... Read More work with and so helpful! I also had my dress alterations done here and my alterations were perfect as well! I had so many compliments on my dress! I still love it so much!
---
Reviewed on

8/17/2016
Sara R
I would like to first state that this glowing review is not for the shop but for their seamstress, Kathy. I am having my wedding out of town and bought my dress while I was there. However, I live in Columbus and needed to find a seamstress here. I heeded the little bit of wisdom... Read More from the bridal shop where I bought my dress - try and find a place that carries your designer as they are familiar with your dress. That was the best advice they could have given me. That brought me to this boutique. They may not always answer their phone, but leave a message and they will return your phone call shortly. If you send in an electronic inquiry, they respond promptly. I met with Kathy at her home where she works from mostly except for 3 days a week at the shop. There is more availability if you drive to her home, and much more personal. She gives you her full attention which is wonderful. Kathy is the sweetest woman you will meet, but it is her background and reasonable prices that sold me. She had experience working with my dress because it is one of the designers Bride & Formal carries. She has been doing bridal for 20-something years but sewing for money for upwards of 30. Her prices are beyond reasonable, I was so pleasantly surprised at how affordable she is. My dress needs to be hemmed 4 inches and keep the applique border and she didn't express any frustration at the amount of work it will be (unlike another place I had visited). She was meticulous to make sure the dimensions of the hems on the sides were just right so the dress would look good on my short frame. She showed me 3 bustle options and even willingly repeated ones so I could see them again to compare and decide. I have not seen the finished product but I know she will do an amazing job. I can't tell you how much I love her and I only had my first fitting appointment with her. You will be in good hands!
---
Reviewed on

8/09/2016
Anna L
I recently got engaged and was on the hunt for a wedding dress. There are so many styles and colors of dresses that I felt overwhelmed! Bride and Formal on Main was the second bridal shop I had been to. We walked into a clean wedding boutique shop with beautiful wood floors and... Read More a charming seating area for wedding dress fittings. Natalie greeted us with a beautiful smile and a bubbly personality. She made me feel so comfortable and excited even from the beginning. The first bridal shop we went to, the lady made me feel dumb because I did not know anything about wedding dresses or weddings in general. How was I supposed to know? But I really appreciated the call by appointment because no one else is around, it is quiet and intimate and the focus is on the bride. Natalie was extremely knowledgable, very friendly and her wedding dress selection is AMAZING. She hand picks them with utmost care. All of the dresses looked so good on me! They were all queenly, classy and tasteful, from vintage and ornate to more modern and simple. She made me feel beautiful and confident during the whole session. Natalie was so impressive, flexible, gracious and I would recommend Bride and Formal on Main to any bride getting married! And I got my dress of my dreams! Thank you, Natalie!
---
Reviewed on

5/14/2016
Taylor H
Bride and formal on main is AMAZING!!!! They are in a small town but they have the most incredible selection. This was the first and last place I went to for trying on dresses because I found my dress here. I tried on about 10 and it was pretty tough to choose because 7 of the... Read More 10 dresses were stunning. That's how good their selection is. The sales ladies are very sweet and helpful and they have lots of big mirrors that make it easy to see what you look like in the dress. The seamstress Kathy is also AMAZING and so sweet and made my dress fit me perfectly. They have a great selection of veils too. I would highly recommend this store to any central Ohio bride!
---
Reviewed on

4/02/2016
Kelsey S
I had the pleasure of working with Natalie the entire time and she was amazing! Their dress selection is beautiful and has so many to chose from. I loved that Natalie never forced me to try on anything I didn't want to. If I didn't like a dress that I had on she just simply... Read More removed it from my fitting room. But, she also made suggestions and pulled dresses that I never would have thought to try on. The wedding dress I chose Natalie said "just try this one!" And I simply fell in love with it. Their prices were reasonable and quality was superb! Kathy who does their alterations was awesome as well! I felt beautiful on my wedding day and got so many compliments. I highly recommend bridal and formal on main!
---
Reviewed on

3/05/2016
Hailey L
I called to make sure they had a particular dress in stock and I was so happy they did. This was the closest place to me that carried the collection and it was going to be an hour drive. I was greeted by a young girl who just pointed me in a general direction of Mother of the... Read More Bride dresses and that was it! No further help. Obviously when shopping for a $500.00 dress, it would be nice to have some help. I was apparently a bother to her and after struggling to find something, I walked out. I will pay more at another store but hopefully receive good customer service. I will avoid that store in the future. There are too many other establishments that would appreciate my business.
---
Reviewed on

11/14/2015
Victoria W
My experience at Bride and Formal on Main was nothing less than amazing! Natalie and her staff were the best people to work with. From my first time there trying on dresses to the very last fitting they were as nice and accommodating as a bride could hope. My mother bought her... Read More dress from the salon too and Natalie even called me at one point to let me know my mom had a fitting and was checking to see if I'd like to schedule my fitting for the same day so we could come out together. Nothing but great things to say about this place. There are a ton of places to find bridal gowns but Bride and Formal on Main gives that wonderful experience and atmosphere that every bride wants when they go dress shopping
---
Reviewed on

9/13/2015
Megan S
Love! Love! Love! I loved Natalie and her shop, Bride & Formal on Main. Natalie is wonderful! Instead of feeling like I was shopping with a stranger, I felt like I was shopping with a friend. First of all she fit me in at the very last moment the day I was out shopping which... Read More really meant a lot to me. The entire time she had great suggestions, and helped me to imagine what each dress would look like on me so I could make the best decision. Natalie is a very genuine person. She has great taste and carries gowns that you wouldn't find just anywhere. She also graciously allows brides to take pictures of gowns which sadly a lot of shops don't. Natalie has also been very easy to communicate with through email or phone.
---
Down to earth quality service
Reviewed on

1/19/2015
Courtney K
I had my first ever appointment to try on wedding dresses with Natalie last weekend. As much as I would like to say I love this whole rite of passage. I do not. I am not the princess type and do not enjoy being the center of attention. Of course the atmosphere and the experience... Read More I had in Natalie's shop may have changed my mind...for one day! :) What a great space she has created for the no nonsense, down to earth brides. Natalie will no doubt separate herself from the "take a number" competition. Her personality and knowledge along with the simple décor and clean environment really stand alone from any other shop I have visited. (disclaimer: I have been to many shops as a bridesmaid or guest.) Bride & Formal is a good hour from my home. I chose to visit here because I felt that a shop in a town just like mine would provide the atmosphere and cost friendly aspects that I am looking for. I also chose to visit Natalie because she carried the line of dresses that I was interested in. A shot in the dark, hit the bull's eye! I have yet to commit to purchasing, which I never felt pressured to either. (Win!) So, obviously I have not experienced anything other than my first appointment, but feel that a positive review in any manner can never hurt.
---
The best bridal shop around!
Reviewed on

9/11/2014
Deanna I
If customer service matters, you must go to bride and formal on main! Natalie is the absolute best! She guided me throughout the process of picking out my perfect dress and put my mind at ease during the alteration process.
---
Amazing
Reviewed on

8/18/2014
Sarah S
This bridal store is one of a kind. The staff is so friendly and listen carefully to what you are looking for. I was able to purchase my wedding gown from here. After going to a few bridal shops I was starting to get disappointed, BUT once i stepped into bride and formal on main... Read More I was so happy with my decision to come here. The store is decorated beautifully. Once again the staff is amazing!
---
Fantastic!
Reviewed on

8/16/2014
Heather Y
I loved the service here at bridal and formal wear! Natalie took such great care of me and was patient and understanding as we found my perfect gown. After trying on David Tutera's Anita I fell in love! The team continued to help me in finding my bridal jewelry, veil and Hair... Read More piece! The experience was amazing and me and my mother both got emotional! Great service, great people, great experience! :)
---
Great Shop!
Reviewed on

7/25/2014
Beautiful Store with great displays. Natalie is very helpful and so patient. Willing to go the extra mile to make your wedding everything you imagined!
---
Bride and Formal
Reviewed on

6/29/2014
Jennifer M
My initial experience with Bride and Formal was one that was perfect. I had driven all the way to London, OH just to be able to see my dream dress in person that no one close to me had. I was so impressed with my interactions with Natalie that I decided to purchase the dress... Read More there. Everything was great until the dress came in and I suppose maybe it was because her business began to get busier but she stopped contacting me and failed to get information on my veil which I was planning to buy at her shop. I had to call her several times to remind her and eventually after her not responding I just went to a different bridal shop close to me. In addition I was not very happy with the work that her alteration specialist did. No one at my wedding including my coordinators had seen such a complicated buttress in their lives. In her defense she did show my mother how to do it, but given it was so complicated my mother invariably forgot. I just want to note that I understand I got my dress in the busiest season of the year but I felt kind of like once I had paid my money for my dress, Natalie didn't care about me or my services any more. Keep in mind she was still a wonderful person to work with during my decision for my dress.
---
Bridal & Formal on Main, London, Ohio
Reviewed on

11/15/2013
Natalie W
A beautiful store with exceptional service. Top designer dresses and the staff are so friendly and helpful. I planned my wedding in 5 weeks- which for any bride that is terrifying! After meeting with Natalie and talking to the seamstress, Janet. I was relieved to know they... Read More were going to do everything to make my shopping experience stress free and fun...and they did. I highly recommend this store to the bride that is looking to find not just any gown,but the perfect gown! The selection and the staff are amazing!
---
Amazing Service!
Reviewed on

8/10/2013
Karla D
I LOVED this store! After I tried on my dress but still wasnt sure, the owner kept my dress in the back for THREE WEEKS before I called her to tell her I wanted it and paid for it. amazing!!!! and i got a huge discount on my dress! :)
---