Home

Bryan George Music Services
About this Vendor
"Editor's Pick" by Washingtonian B&G Magazine
We specialize in providing DJs, uplighting and live musicians for fun and elegant weddings. We know from experience that entertainment is the cornerstone to any successful event. We pride ourselves on the kind of quality service that will ensure that your special day is truly one to remember.
Details
Classical, Country, Disco, Hip-Hop, Jazz, Pop, R&B, Rock, Indian, Latin, World Music
Ceremony, Reception, Wedding
MC Services, Recorded Music, Sound Equipment, Music
Contact Info

Serving DC, MD & VA, Washington, DC
Serving DC, MD & VA
The Best
Reviewed on

6/18/2013
Ally S
I initially chose Bryan George Music Services after reading so many amazing reviews. From the time we first contacted Bryan I was immediately impressed with his responsiveness. Bryan was so easy to work with, and actually spoke to me on the phone for quite some time just to make sure he got everything right. He organized my playlist so that certain songs were played at appropriate times throughout the evening. He essentially kept the entire wedding timeline on track in the most professional way. Our constantly packed dance floor and hearing people say that it was the most fun wedding they'd been to are both tell-tale signs that Bryan knows what he's doing. I would recommend Bryan to anyone looking for a DJ in this area.
---
Best DJ out there!
Reviewed on

7/08/2013
Kara T
Absolutely awesome. Chose Bryan George based on my Godmother's referral and he pulled through big time. From our first conversation Bryan was helpful and responsive. He gave me suggestions on cake cutting songs when I had no idea what to play and he helped organize our whole reception in my parent's backyard. He helped us figure out all the logistics. We gave some ideas on what we did and did not want played and he nailed it. Everyone had so much fun dancing and said the music was amazing. Bryan made the whole thing work. Couldn't be happier!
---
Excellent DJ Services!
Reviewed on

6/15/2013
Tracey Y
Bryan was great to work with from our initial contact all the way until the end of our wedding. He was very responsive and took the time to listen to our vision for our reception and also provided input regarding his past experiences that made our reception better. We had a non-traditional format to our ceremony and reception, and a lot of the evening's activity was driven by musical cues. Bryan was totally on board with everything and did a great job making sure things flowed well and didn't feel forced. We had several guests comment on how great Bryan was, and he was great at feeling out the crowd and playing what worked. I would definitely recommend Bryan George Music Services!
---
Reviewed on

7/22/2015
Natalie S
Bryan George Music was an amazing DJ service for our wedding!!! I felt very well prepared going into the big day thanks to Bryan's immediate attention to all of my emails and the long, detailed discussion i had with DJ Ramses before the wedding. We filled out a detailed questionnaire conveniently online beforehand which provided our DJ with all of the plans my fiance and I had then we held an hour long conference call to discuss any questions Ramses had for us (including all name pronunciations!). My fiance and I were very particular about the songs we wanted (some that were not on the suggested lists) and the timing and Ramses worked hard to make them happen. Due to the weather we had to use some of my Plan B for ceremony set up but our music was still perfect and I LOVED the selection played during the reception! DJ Ramses played everything on our requested list and i was so pleased! Thanks to their attention to detail going into the big day (keeping me worry-free!) and the way they kept the dance floor full, i would definitely recommend Bryan George Music to everyone!!
---
Reviewed on

7/01/2015
William C
Bryan and the team at Bryan George Music Service were an absolute dream to work with for our wedding ceremony and reception. For the ceremony we hired a string trio and for the reception, Bryan worked as the DJ to ensure the music was perfect for our big day. Bryan is talented, hardworking, and went above and beyond on numerous occasions, including when he personally edited the version of our first dance song. He also helped created one of the most memorable moments of the wedding when he pulled off a surprise song for the groom's cake cutting. At every moment during the day, Bryan was there to help. A consummate professional and a pleasure to work with, I fully recommend going with Bryan and his team for your wedding ceremony and reception. You will not be disappointed. Thank you so much Bryan for making our day what it was! Excellent job!
---
Reviewed on

6/23/2015
Rae B
There is so much to choose from when you are getting married in D.C. that we based our DJ choice off of reviews, prices, and how we felt when we spoke with the company. Bryan George Music services was a perfect decision! They were extremely responsive and attentive to all of our inquiries. Christian was our DJ at the wedding and he absolutely KILLED IT!! Our entire reception spent the majority of the time on the dance floor. Christian did an awesome job at mixing old and new music (per our request), keeping the timeline, ensuring he had all the music we requested, and never letting the guests get bored. I would recommend Bryan George Music services time and time again!
---
Reviewed on

6/09/2015
Stephanie I
Bryan was truly great to work with from our initial contact all the way until the our wedding day. He was extremely responsive over email and phone, and took the time to listen to our "creative music vision" for the reception. We had somewhat of a non-traditional format to our wedding reception and the venue layout, and a lot of the evening's activity was driven by musical cues from our DJ Rich. The dance floor was packed the entire night and our guests had a great time... I would definitely recommend Bryan George Music Services!
---
Reviewed on

6/09/2015
Katie K
Bryan was very responsive and always answered our questions promptly and thoroughly. Bryan was not our DJ at the wedding, however DJ Christian did an outstanding job at our wedding and we were so happy with him!! Everyone had an awesome time and the music was definitely one of the reasons. Christian knew exactly what song to play to get the crowd up and dancing. He was an excellent DJ!
---
Great DJ!
Reviewed on

2/12/2015
Erin G
The worst thing to happen at a wedding is that no one dances, which was not a problem for us at all! Bryan is awesome!! He had everyone up and on the dance floor all night long, which is exactly what i wanted. He played all the songs we wanted to hear, and did an amazing job of reading the crowd and keeping everyone excited. Highly recommend. This was my second experience having bryan as a DJ, as he had done my SIL wedding a few years ago and that was fabulous as well!
---
Army Navy Country Club Wedding 1/10/15
Reviewed on

1/16/2015
We had Bryan DJ our wedding ceremony and reception in the ballroom at Army Navy Country Club in Arlington, VA. He did a great job, and was extremely professional and easy to work with. The music for the ceremony was exactly what we asked for and the music for the reception was perfect; it was exactly what we had envisioned.
---
Best of the best (11.29.14 wedding)
Reviewed on

12/09/2014
Jordan M
Bryan was absolutely fantastic. From initially working with our budget, to answering all our questions and helping us get organized, and then most importantly his performance the day of our wedding; he couldn't have been a better pick for us. He was extremely professional, but also very friendly and personable. He did everything we asked of him and executed it all perfectly the day of. He did it all with a smile on his face and was extremely low maintenance in terms of needing things from us or getting questions answered. The day of, he struck a perfect balance of speaking and just playing music (mostly just playing music per our request) and kept the dance floor packed at all times by reading the crowd and reacting the way great DJs do. Basically anything we asked of him, he did and did it perfectly. We very strongly recommend Bryan if you're looking for a DJ for your wedding (or any other event).
---
Wonderful!
Reviewed on

12/05/2014
Lindsey C
Bryan George was wonderful for our October 12, 2014 wedding. A great DJ was pretty high up on our list of important factors of our wedding and Bryan did a great job. We were excited to have Bryan himself DJ for us and the music flowed great. We actually had our guests submit music requests on their RSVP cards, and Bryan was able to incorporate all of the music suggested throughout the cocktail hour and reception. All in all, it was a wonderful experience!
---
Fantastic Service
Reviewed on

11/25/2014
Marcus D
My wife and I are not "music" people, so though we appreciate good music, we don't know a lot about it. We also consider ourselves introverts, so the thought of a loud and crazy DJ was nerve wracking when it came to determining who would DJ our wedding. After doing some research online, we narrowed down our search to Bryan. He was quick to respond to emails and met with us soon after. He showed up on time, had great handouts to provide to us and it was obvious he was very knowledgeable about what to do. As soon we left our first meeting with him we knew he was our guy. We spoke with Bryan a few times via email before the wedding but about a week or two out, my wife and I got the typical wedding jitters and wanted to meet with Bryan face-to-face again just to make sure we were on the same page. Again, Bryan was great about sitting down with us and calming our nerves; his experience shows! The day of the wedding, Bryan showed up on time and was dressed appropriately. His selection of music was spot on (my wife said over and over during the event how happy she was with what he was playing). Bryan didn't make the show about him but instead remained by his table and only spoke up when we had agreed we needed announcements made. Of all the vendors we worked with for our wedding day, Bryan was our favorite. We cannot recommend him enough.
---
Perfect!
Reviewed on

11/24/2014
We had a great experience with Bryan George Music and our DJ! They are super easy to work with and Christian (our DJ) was fantastic. Several of the guests at the wedding told me that he was the best wedding DJ they had ever heard. They were extremely professional and so helpful during our planning process. It's so important to have a great DJ because they really control the flow of the entire reception. I would recommend Bryan George Music/ Christian to anyone!
---
Absolutely perfect
Reviewed on

11/23/2014
Jen G
I can't say enough about how great the Bryan George Music team was at our wedding. They started off with a planning worksheet that was very helpful in my planning. When I talked to them ahead of the event, it was clear that they were experienced and professional with weddings. They knew what songs to play, what people wanted, etc. At the wedding, they played every song we asked for and totally captured the mood we described before the event. Our guest gave us tons of compliments on the music. They also covered little details I never would have thought of, like having an extra person there who handled mics so we didn't have to put them back on the stands ourselves, and other little details that made the evening flow more smoothly. Everything they were involved in was perfect. I can't recommend them strongly enough.
---
Bryan George Music Services
Reviewed on

11/05/2014
Catherine R
Bryan George Music Services deejayed our wedding, and did an outstanding job from beginning to end. His booking process was easy, he provided a thorough template ahead of time to fill out ceremony music, cocktail hour music, wedding party intros, and must play/do not play songs. We then had a phone call ahead of the day to discuss everything and go over any final questions. Day of, he was great. The ceremony music was flawless, he customized the cocktail hour music around shows my husband and I have attended, and handled last minute changes with ease. The dancing portion of the evening was perfect, with guests of all ages on the dance floor. He did a terrific job flowing between songs from classics through contemporary. We got countless compliments throughout the evening and in the following days on how great the DJ was. We highly recommend Bryan George Music Services. He is professional, detail-oriented, and all around great at his job.
---
Best DJ Ever!
Reviewed on

10/29/2014
Kristy V
I am so happy to have chosen Bryan George Music Services for our wedding at St. Francis Hall. We booked right after our first conversation with Bryan because it was obvious he had the talent and experience that we were looking for! Not only were we right, but Bryan exceeded our expectations. He kept the energy high from cocktail hour to the bridal party intros until the very last song. He provided the right mix of music so that every generation was having a blast on the dance floor - which is exactly what we wanted! The entire night flowed seamlessly including the transitions to toasts and cake cutting. Beforehand, he was really invested in getting to know how we wanted the evening to transpire and helped with our timeline which contributed to the flawless evening. I can't thank him enough for his suggestions! He was so helpful and professional throughout the entire process which helped put me at ease. It was so clear he knew what he was doing. As any bride knows, wedding planning can be stressful but I knew the entertainment was in the right hands and that I didn't have to worry about it. My husband and I still get compliments on the music and we are thrilled that everyone had so much fun. The music is essential to creating the right vibe for your wedding, and Bryan nailed what we were looking for. You will be so happy you booked Bryan George Music Services! Thanks Bryan, for making our day so amazing and memorable!!
---
Definitely recommend for a wedding!
Reviewed on

10/12/2014
Jeannette C
Bryan Georges was a fantastic DJ to work with. He is incredibly professional, organized and easy to work with. Definitely deserving of all the rewards they have received! I was a very disorganized bride, so I really appreciated Bryan Georges - they walked me through everything and made sure that we had addressed all the important things like length of our first dance song, how to pronounce everyone's names etc. We had DJ Dario and he was FANTASTIC! I made it really clear that I wanted this to be a fun dance party and DJ Dario made it happen. He played all the right songs and got the audience moving and we loved him! He was also so fun and nice... I would definitely want to work with him again. Thank you Bryan Georges and DJ Dario for making our wedding so memorable and fun!
---
Music & Service Made Memories!
Reviewed on

8/27/2014
Ashley W
Recently married in Gaithersburg, MD we chose Bryan based solely on his positive online reviews. Not being from the DC/MD/VA area we were basically at the mercy of other people's experiences…and fortunately for us his client's testimonials are entirely truthful. I initially sent Bryan an email inquiry and not only did he respond promptly, but he called personally rather than send a reply email. I was immediately impressed with his customer service, and we had a lovely chat about our vision for our special day. Throughout future correspondence he remained as prompt and courteous as he had in our initial conversation. Ever since I was a little girl I had always dreamed of having a string ensemble play at my wedding, so we additionally hired his Centennial Strings ensemble. His musicians were just as professional, considerate, and attentive as Bryan. It was truly an honor and a pleasure working with all of them! My bride and I already knew exactly what songs and what vibe we were going for; and Bryan and the musicians worked with us down to every detail—from timing to editing song lengths for special dances, etc.—and it all ran smoothly and effortlessly. I'm sure that most engaged couples can agree that planning a wedding is a stressful and anxious process. But, in all honesty working with Bryan was not part of this stress. In fact, his constant professionalism and open communication was actually an enjoyable relief from the other stressors! If all wedding details were as fun, easygoing, and smooth as it was working with Bryan I would get married all over again…like every weekend! Ashley & Kris
---
Bryan George - Awesome DJ (Reception & Ceremony)
Reviewed on

8/10/2014
Rachel Z
Bryan George rocks! If you're looking for a DJ, you don't need to look any further than Bryan. Bryan was not only the DJ for our wedding reception, but also provided the music for our wedding ceremony. He is an awesome DJ, and is also extremely professional, organized, and detail-oriented. It was extremely helpful that Bryan had wedding ceremony and reception prep forms for us to complete beforehand. Plus, Bryan held a call with us the week leading up to the wedding to ensure everything would run smoothly and he understood all of our special requests – and we had several of these for both the ceremony and reception. We had complete trust in Bryan, and everything ran smoothly…and our dance floor was packed the entire night! If you want the music portion of your wedding to be stress-free, choose Bryan!
---
Young, fun, and professional DJ!!!
Reviewed on

7/03/2014
Megan M
Bryan was so organized and on top of everything. He was open to us picking a variety of songs but still threw in some other good dancing songs. He didn't miss a thing and kept the whole evening running smoothly. Bryan did a wonderful job letting people know what's going on but not being corny or obnoxious like other DJs. Super nice to guests and keeps in mind the tastes of the bride and groom. I loved having a younger, fun, and professional DJ like Bryan. You're the best, Bryan! Book him today!!!!!
---
5.31.14 Wedding
Reviewed on

6/24/2014
Jenna P
Our wedding was planned in 4 months and Brian George Music services worked very closely with us to ensure that the music and reception were exactly how we wanted. 3 days prior to the wedding the owner Brian and also our MC were on the phone with me every day/night reviewing things with me, providing feedback and working with me to make sure everything went smoothly! The communication with them was great, always returning phone call and answering emails in a timely manner. During the event our MC made sure that we kept our timeline and would even come find me and my husband to remind us. He was very friendly and really did a great job keeping our guests dancing and having a good time! The night really flew by and we all wanted to keep dancing and partying all night! Overall the experience with Brian George Music services was very positive! I would definitely recommended this company to other people and would use them again for other events!
---
Excellent DJ Service!
Reviewed on

6/16/2014
Lara M
Bryan George came recommended to us from our photographer, whom we really trusted. His rates were initially more than we wanted to pay, but given his professionalism and the awesome service we received during planning and on the day-of, it was worth every penny. Leading up to our wedding, he kept all of our emails and requests organized and remembered every detail. Bryan is a low-key DJ (no cheesy MC-ing), but he played a great mix of music that appealed to all our guests and kept the party going all night. In addition to the music, he was great at organizing the wedding party for introductions, and keeping us on schedule (e.g., toasts, dances, etc.). Our wedding wouldn't have been the same without Bryan, and I would highly recommend him to any couple planning a wedding.
---
Packed dance floor, and great flow of Reception
Reviewed on

6/05/2014
lindsay r
Both my sister and I have used Bryan for our weddings, and we could not be any happier. From the beginning of planning, Bryan was always very prompt to respond to any e-mails and calls. I don't think an e-mail response ever took longer than more than an hour. Bryan understands the flow of a wedding, and will help you to organize the different "parts" at the wedding, meanwhile having a HUGE amount of great suggestions for songs, lengths, and order. With only a few song suggestions, Bryan totally understood the "vibe" that we were looking for and showcased our personal music selections in the cocktail hour, and kept the dance floor packed for the reception. We have had multiple guests comment that the wedding "flowed" perfectly, and seamlessly (thanks to Bryan). He was also super friendly with all guests, and made them feel comfortable in requesting certain songs (or multiple songs in the case of our over enthusiastic best man). I would recommend Bryan for any family member or friend. His prices are competitive, and worth the extra penny for guaranteed professionalism, quality, and confidence.
---
Fun and easy!
Reviewed on

6/05/2014
Charlotte L
Bryan very simply made our whole experience with him fun and easy! We booked Bryan for our wedding in Culpeper, VA. I looked at tons of DJ reviews online, watched their videos and met several DJ's at different bridal shows before finding Bryan. Bryan was the only DJ I researched that did not have one bad review and he certainly lives up to it! There was also a 'cheesiness' vibe I had gotten from other DJ's that I did not get with Bryan. Leading up to our wedding he was very easy to get a hold of and made different suggestions to make our day go smoothly. We had a lot of different song changes during our ceremony and he went through them flawlessly. Our reception was a blast and he did a great job keeping everyone up and on their feet dancing for the evening! Would definitely recommend Bryan!!
---
Meet The Owner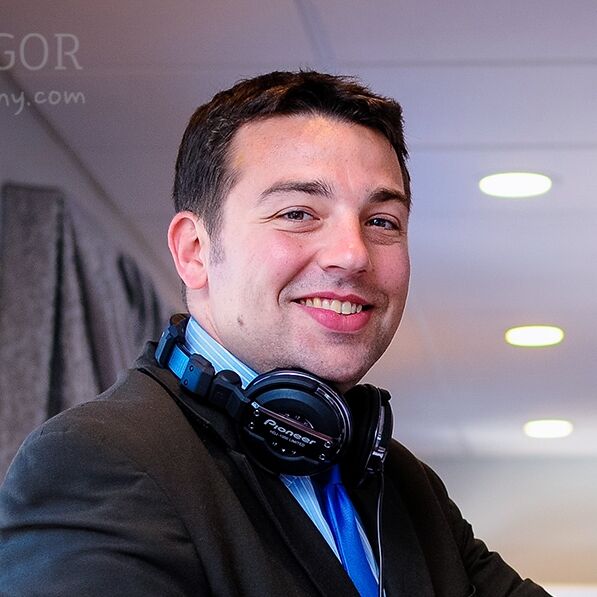 Bryan George
I started Bryan George Music while at Villanova University in 2001. It grew out of my natural love for music, and my ability throw a good party! In 2004, I moved the company back to my hometown of DC, where it has grown into a leader in the wedding industry with a team of 10 top-notch professional wedding DJs. I've been a DJ for 15 years and have since won multiple awards from Washingtonian Magazine, Wedding Wire, The Knot, & Yelp. This past February, I married my beautiful wife, Danielle. Together, we handle the day to day operations of the business and absolutely love what we do!
Send Message