Home

Bryon Rickard Catering, LLC
About this Vendor
Exquisite Catering Services at Reasonable Prices.
We are a full service 5 Star Caterer servicing Greater Central Alabama. Our Exceptional team of chefs specialize in creative, custom menus and provides exceptional service. Whatever your event, we can make it the most special - small or large, casual or elegant - whatever your dreams, we will do our part to make your occasion unforgettable. We strive provide the highest level of service, freshly made cuisine, and delicious deserts. You tell us what you want and we'll make it happen for you and your guests. No menu is too small or too big. Whatever your tastes, our chef staff will design the menu you're looking for.
Details
American, French, Italian, Fusion, Seafood
Buffet, Catering Clean Up, Food + Catering
Contact Info

Reviewed on

2/02/2017
Whitney S
I wish i could give more than 5 stars to Bryon and his staff! The food was beyond delicious and Bryon and his staff are so willing to serve! They brought food to my husband and I after the ceremony and before the reception so we could eat and still have some time alone; before... Read More the reception! The nicest people i have ever met, and were willing to work with me so that i could get the food i wanted! The set up was absolutely beautiful! I can't say enough great things about Bryon Rickard Catering!
---
Reviewed on

12/12/2016
Sarah M
Bryon is by far one of the best people to work with. He made planning our reception food so much fun! He has some crazy good ideas when it comes to food for weddings. One of the biggest compliments I receive about our wedding is the food. From the taste to the appearance,... Read More it was hands down first class. We told him our vision for the food and he made it happen. Everything he suggested fit our personalities and our style. Bryon was there to answer any and all questions 24/7. Even when things became overwhelming, he calmed us down and told us not to worry for a second. We felt like we were dealing with family and that was very important to us. With Bryon, you are not just another couple getting married. It is a personal experience that made it so worth it. I highly recommend Bryon and his team.
---
Reviewed on

9/09/2016
Corinne Evans S
Bryon is certainly a first-class chef. His food was exceptional, and surprisingly affordable. We had buffet lines with very hearty food (cajun chicken fettuccine alfredo, stuffed pork tenderloin wrapped in bacon, cajun dirty rice with sausage and chicken, etc) and everyone keeps... Read More talking about how great it was! The meal was mostly served in pretty chafer dishes, and the platers that he had for biscuits and such were nice, too. He even did superhero platters of fruit for me when I threw around the idea! (We had a superhero photo booth.) Bryon did take a while to get back to us when my mom and I started trying to reach out again (about a month before the wedding- he apologized and explained he had been busy), but he made sure everything was settled and no detail left undecided by the two-week mark. He and his crew were very professional to us and our guests - great service. Bryon was a very kind and calming presence for the bride. I would certainly recommend him to any of my friends and family. If I ever have another big event he will be my first call!
---
Reviewed on

7/14/2017
Dorothy V
Everything was perfect! We had a brunch reception and Bryon hit it out of the park. So easy to work with and he did everything he said he would do! Bride and groom private meal, cutting cake, sending food with us, always being ready to serve our guests, and delicious food-... Read More everything was superb!
---
Reviewed on

4/24/2017
Kristi L
Not what I thought. Very pleased with meeting him at first. Booked my wedding with him and then very unexpectedly had to cancel. After asking him for a contract several times and never receiving one , he said he would only give 20% back after cancelling 6 months in advance. He... Read More has been so mean to me and my family and we were treated awful since we were not a "big" wedding. He never responded to phone calls , text messages (which he said he prefers) , emails or no other forms of contact. I have connections in the wedding instudry and have been telling everyone of my expeinence. Not a good way to run a business.
---
Reviewed on

4/09/2017
Adrienne N
If I were rating the food alone, I would give this company a five star rating. All of my guests said they loved the food! But if I'm rating the service and responsiveness, I can't say I was impressed. I was most excited about the food and everything Bryon described when we first... Read More met with him (about 10 months or so ago). He put me at ease and described everything going so smoothly. He said we were his first event for our date and that he would certainly be at our event. He told us they would set up a private dinner for the bride and groom and that they would send us with little gift baskets and food to go at the end of the night. He even wrote down our drinks of choice for the gift baskets. I guess a bigger and better event came along. I had to call him about half an hour prior to the ceremony to hear that there was a staff change and that his crew was "on the way." He would not be coming to our event. Not only was the crew late, but they had to have part of our bridal party help set up food and drinks. There was no private dinner, and my matron of honor had to go get us dinner so that we could eat before the reception. My matron of honor also had to pack us to go boxes at the end of the night. Again, I have nothing poor to say about the food as it was outstanding! However, a little more professionalism (and maybe an apology?) would have gone a long way. I can confidently say that my wedding was perfect, and this was my only disappointment.
---
Reviewed on

9/25/2016
Kurt S
I do not understand any of the bad reviews on here. Frankly, I do not believe them, and, even more importantly as you look for your own wedding caterer, neither should you. I can only assume that those reviewers do not know how to make and spend within a budget, and,... Read More therefore, because they overspent on the wedding and did not have enough monetary gifts come in like they hoped (due to them being miserable people in the first place), they must be trying to extort extra cash from Bryon with their lying reviews. Because the truth is this: if you are looking for a five-star caterer on a one-star budget, you are done with your search. You found Bryon Rickard Catering. Book Bryon now before it is too late. BEST VALUE In my mind, the foundation of your entire catering decision is not the price. Is is the value, what you get versus what you pay. And, looking at the value, Bryon is simply the best. No other caterers even came close to the scrumptious food offered compared to what he charged. On top of that, every extraneous detail we wanted was never used an excuse to overcharge; Bryon worked to keep it all extremely affordable. If you receive a quote from Bryon and still believe you want a more economical option, I hope your guests enjoy their Subway BLTs. AMAZING TASTE Bryon's food all tasted delicious. From the appetizers to the desserts, my taste buds watered almost as much as the guests' eyes when my bride walked down the aisle. BEAUTIFUL PRESENTATION Once the food is confirmed to taste great, presentation is just as important, and Bryon passed with flying colors in this regard. His spreads were equally as impressive on the groom's table as they were on the main table. PLENTY OF FOOD No shortcuts by Bryon's team here. Bryon made more than enough food for all of the 300 guests, and nobody was left wanting at all. PROFESSIONAL YET PERSONAL TOUCH Bryon set up a private table for my bride and me in the exact way we asked. In a feat of professionalism during this private time, he waited on us in an expert fashion, not being intrusive yet still providing us all that we needed. In addition to this, he left us with a gift basket. BOOK BRYON NOW If you are looking for a caterer in the greater Birmingham area, choose Bryon Rickard Catering. My wife and I were extremely satisfied, and you will be, too.
---
Reviewed on

7/14/2016
Chef Bryon and his team are amazing!!! Once my daughter decided on her menu, we met with him for the tasting, discussed the enhancements to the menu and signed our contract. He provided great southern comfort food for the wedding reception on a very hot Alabama night!! We... Read More were extremely pleased with everything and the food was delicious!! He and his staff are full-service: complete set up, servers, bartender, and clean up. He knows what he is doing and dots every I and crosses every T!! From the elegant, professional tasting to the wonderful 8 food menu, it was perfect in every way!! We had to adjust our number significantly at the last minute and he did so without any problem. Our food also included an incredible Biscuit Bar and all of the fixings and condiments to compliment it. We had my daughter's dream menu and every detail was perfect!! He answered all of my emails, texts, and phone calls in an appropriate amount of time. Please consider using Chef Bryon and his team for your next event!! We were beyond happy with everything!!!
---
Reviewed on

6/14/2016
Casey M
When I first spoke with Bryon, he sounded like a dream come true! But the next several months of working with him turned out to be a nightmare. He was disorganized and so unreliable that I made a back-up plan in case he didn't show for my wedding (he consistently could not... Read More remember the date or time of the event, nor any previous discussion we had had regarding the food choices or layout of the venue. For example, Bryon agreed to bring an extra 5 ft round table because, after visiting the venue and seeing what was available to him, he stated that he needed it for how he wanted to set up. The day before my wedding he didn't remember saying that and couldn't remember how we discussed laying out the food--even though the venue was already set up to his specifications). Furthermore, we had to ask for our invoice countless times, and only received it 2 weeks before the wedding when his final payment was due (it also took him 3 times to get it correct). From being 45 minutes late for the tasting we scheduled weeks in advance to not knowing the time of the ceremony the day before the wedding, Bryon Rickard catering only added to my anxiety as a bride. With all this, why did we book him? Because he gave a great spiel on the many services he provided, his tasty food, the great décor, etc. & his reasonable price. He said he'd provide a bartender, a private dinner for the newlyweds, cake serving, set up and clean up--all as part of his quoted price. He described beautiful decor in which our taco bar had multi-colored nachos flowing out of a basket, and our pasta station, grits station, & dessert shooters were equally as beautiful. However, at the wedding there was no décor (food was served in disposable tin pans, which he claimed to never use) & the food was put away a full hour earlier than we paid for (the bride's mother nor the groom's parents got to eat at the reception b/c the food was put away so early). The bartender (Bryon himself) left the bar for guests to serve themselves early on (though he now claims the venue didn't allow liquor, which it did, because I--the bride--cleared it with the owner). Finally, Bryon claimed he would leave us the left over food, but all he left was some fruit, plain pasta, & meat (no toppings/sauces/dips). When I called regarding the rest of the food, he claimed there was none left, which made no sense since we paid for 100 guests and only had around 60, & the food was served half the time. Either Bryon didn't make enough food, or he took what he could freeze and reuse for another event. Bryon refused to acknowledge packing the food up early and was quite rude. He did offer to give us extra sauce & guacamole 2 days after the wedding, but as my family left town after the wedding they were unable to get it. He stopped answering any phone calls and emails regarding his breach of contract with serving us an hour less than we paid for. He claims he did not breach the contract, but I have the invoice (thankfully) to prove it. ` Originally I would have given Bryon 3 stars. He was annoying to work with, but he did show up. After seeing that he clearly does not value customer satisfaction, I have lowered my rating to one star (the minimum I can give). Overall, I would not recommend Bryon Rickard catering. You will not get what you pay for & he won't fulfill his word or contract. Most importantly for the bride, he will only add to your anxiety & the worries of wedding planning.
---
Reviewed on

6/10/2016
I cannot recommend this guy to anyone. He is a con artist. Did not do anything he said. He was suppose to serve 2 1/2 hours but took all the food up after an hour.
---
Reviewed on

3/21/2016
Kelsey G
Bryon was wonderful to work with from start to finish! I described the theme and vision for our wedding and he created a custom menu that was a perfect fit (and our guest loved!). When we arrived at the reception, there was a private room with dinner waiting so that my new... Read Moreauyfcbefvrafaxtfuutwwtrufxwrzdburayxxw Husband and I could share a meal (and some quiet) before the chaos of the reception! Throughout the night he continued to check on us and played a HUGE role in making the night the success that it was! I highly recommend using Bryon Rickard Catering if you want to be worry-free about your caterer for the night. I had no doubts that he would deliver on everything he promised every step of the way.
---
Reviewed on

2/15/2016
Katie R
I cannot say enough wonderful things about Chef Bryon and his team! They have been so accommodating and wonderful from the first contact I made with them! I called for a quote about 3 weeks before the wedding and Chef Bryon just happened to be available! He got us in for a... Read More tasting within days of our first contact and we were hooked right away. The food was phenomenal and the service even better! And for all you budget conscious brides, don't even waste your time looking for a better deal, this is it!
---
Reviewed on

5/02/2015
Chef Bryon Delivered!! He took regular comfort food my picky family wanted and delivered his slant on it and made it so unique and memorable. His team was so "Servant" oriented and it is a reflection of his overall approach. I will remember it forever!!
---
Chicken & Waffles
Reviewed on

2/25/2015
Allison F
GET THE CHICKEN AND WAFFLES!!!
---
No Worries!!
Reviewed on

12/16/2014
Words cannot explain how amazing Mr.Rickard is. His food is exceptional. He met me where it was convenient for ME. He TEXTS. which is rare to find with any vendor!! His promise to me was that my big day would be all about me and he would take care of everything. And he... Read More followed through 100%. I had NO worries about the catering that day. He even helped decorate my cake table. He also packed us a bride and groom basket filled with our favorite goodies and he made sure I sat down and had a chance to eat!! We hired him for my bridal shower as well and my guests were blown away. His presentation and care that goes into his work is phenomenal. He is a genuine person that actually cares about his clients and his work. 5 stars. Would not have chosen anyone else and we intend on using him in the future for his private dinner events.
---
Incredible Catering
Reviewed on

11/27/2014
This guy doesn't just handle food but builds relationships with the family. The food is exceptional but the service is intimate and chef bryon takes care of truly everything. You want this caterer to do your wedding !!
---
Meet The Owner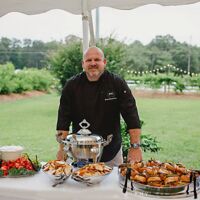 Bryon Rickard
Bryon is a previous restaurant owner and has been a Chef for over 35 years, Bryon decided to enter the wedding catering business after a terrible experience with his daughters wedding. 500 Weddings later, Bryon Rickard Catering is now a 5 star rated caterer and serves brides all over Alabama.