Home

Cadillac Jazz Band
About this Vendor
The Perfect Mix of Music!
Cadillac Jazz performs cool, classic Jazz - the perfect musical backdrop during your cocktail, dinner, or social gathering. Your guests will absolutely love our sophisticated and elegant sound! If you'd like upbeat, fun dance party music at your reception, we can easily transition into our tasteful DJ/MC service - spinning a non-stop mix of all-time party favorites - a little something for everyone! We make your big introductions & important announcments and provide a wireless microphone for your toasts & speeches. Don't hesitate to contact us for more information or to check our availability on your date - at no obligation to you!
Details
Keyboard, Percussion, Piano, Saxophone
After Party, Rehearsals + Parties, Ceremony, Reception, Wedding
Live Music, MC Services, Recorded Music, Music
Contact Info

Could not have been happier!
Reviewed on

4/21/2013
Tracy S
We could not have been more pleased with the music from Cadillac Jazz. We give them our highest recommendations and would use them again for any special event.
---
cadillac jazz band
Reviewed on

7/29/2013
sara j
I wish we lived near Pittsburgh so that we could actually hear this band play regularly. We couldn't stop talking about how gorgeous the arrangements were, and how talented all the players were. I would recommend them to anyone. Jason was also very professional and... Read More organized--very easy to plan with and place trust in.
---
Charles/Wheatall Wedding
Reviewed on

11/12/2012
Brittany C
Jason and the Cadillac Jazz Band was absolutely fantastic! Jason worked with me months in advanced to our big day and was so organized. He made me look good! Not only were we impressed with him in our meetings but he and the band did an amazing job at our wedding reception. The... Read More jazz music was the perfect touch during our cocktail hour that all of our guests enjoyed for that is all they are talking about! Jason was also able to help us with a customized father/daughter dance that was a huge hit! Thank you Jason and the rest of the band for such an amazing reception full of wonderful music.
---
Reviewed on

6/21/2017
Julie C
The band did a great job at our wedding! They were very easy to work with, professional, and entertained our guests! I would definitely recommend them.
---
Perfect!
Reviewed on

1/24/2015
Nicole B
Cadillac Jazz performed at my November 29, 2014 reception and was everything we hoped for! We held our reception at the LeMont in Pittsburgh so my husband and I wanted something classy but lively and Cadillac Jazz fit the bill perfectly! I worked with Jason (band leader) on a... Read More very specific playlist that ranged from Ella Fitzgerald and Etta Cox to The Beatles and the The Beach Boys and he was wonderful in meeting so many of our requests! He knew exactly which pieces of his band should be playing through cocktails versus dinner versus post-dinner drinks and dancing and kept the ambiance perfect through our entire wedding reception. If you're looking for a classic jazz band with a great repertoire these are your guys!
---
Excellent - Look No Further!
Reviewed on

10/27/2012
Andrea S
First of all, if you just want the two-sentence version, here it is: Jason was extremely great to work with both in personal interactions and as a professional performer; he was an awesome, classy DJ, and he and his band blew us away at our wedding. If you are here, look no... Read More further; Jason and Cadillac Jazz are the absolute best, and we would have paid two or three times as much for the satisfaction we derived from our experience with them. For our wedding, my wife and I were looking for something that not many people offer - a Jazz band AND a DJ. Our concerns were 1) that we would get a person who excelled in Jazz, but not as a DJ, or vice versa, and 2) that paying for the two services separately would be very expensive. But after talking to Jason and experiencing Cadillac Jazz, all of our concerns melted away! To be specific... 1) Cadillac Jazz was awesome. The jazz during dinner was perfect, and really gave our wedding a very classy and sophisticated feel. We loved it. Also, as a DJ, Jason was so great. The music he played was excellent. I would say "classy" here as well. It was a perfect mix of songs that brought everyone from our college friends to our grandparents, and everyone in between, out on to the dance floor! Almost as critical was the fact that he knew what songs NOT to play (I hope you know which ones I'm talking about haha). Basically, not a single complaint. 2) In a sentence, Jason and his band were worth way more than we paid for them. It was honestly the most enjoyable aspect of all of the wedding planning because Jason worked so hard on our behalf. Not only did he provide more than we expected as a musician, but he also provided help and recommendations for other services we needed in the planning process. He went above and beyond the call of duty in order to provide us with the best service possible; looking back, we wouldn't even consider hiring anyone else. If you want an amazing wedding, you would be crazy not to choose Cadillac Jazz! They are awesome.
---
A musician's choice!
Reviewed on

10/23/2012
Claire R
As a musician, I was more than picky when it came to the music at my wedding reception. Jason Hollar and Cadillac Jazz went above and beyond my expectations for the reception. He helped create smooth transitions, made sure to play my requested songs, and the jazz was... Read More spectacular. Because I actually majored in jazz piano performance, I wanted to play a song and dedicate it to my new husband. Jason was not only willing, but excited to let me sit in with the band! I couldn't be more honored to play with such outstanding musicians. Overall, we had a wonderful time, and it was such a relief knowing that I didn't have to worry at all during the evening about anything DJ/music related. Cadillac Jazz played a huge role in making my wedding day the very best day of my life. I couldn't thank them enough!
---
We Could Have Danced All Night
Reviewed on

10/21/2012
Philip N
Jason and Cadillac Jazz were incredible for our wedding. Jason went out of his way, literally across the state of PA, to play at our wedding and to DJ/MC the entire evening. There was never a moment where Jason was trying to run the show, he sincerely listened to our ideas and... Read More our wishes, and put forth every bit of effort to make our reception perfect. We had a 5 hour reception beginning with a cocktail hour paired with wonderful jazz from Cadillac Jazz. It was perfect. Our guests could not have been more pleased, it set the mood for the early part of the evening. The music allowed our guests to chat and enjoy each others company, but also continued to build the excitement and anticipation for the party that was yet to come. Following the cocktail hour, the band broke down their gear (without disturbing a single guest), and Jason took on the role of DJ/MC for the remainder of the night. We had told Jason early on that we hoped that he would be able to read the crowd, and respond to their mood with the proper music choice. We had given him plenty of "requests", but left it in his hands to decide what to play and when to play it. Following dinner, Jason didn't hesitate to get the party going with Shout, and from that point on, the dance floor was never empty. Jason was a professional from start to finish. Before we booked Cadillac Jazz, Jason took the time to speak with us over the phone and make sure that his services matched our desires for our reception. He managed to have a conference call with us about two weeks prior to the wedding, where we discussed every last detail of the reception. Jason did not leave any stone unturned during that conversation. He truly listened to everything that we said, and made us feel like he was there to serve us, not the other way around (like so many other vendors make you feel). Jason's music selection was HUGE and if there was a song that he didn't have, he would get it. He even went out of his way to edit (a few different times) our first dance song, trimming it down in a few areas for us. Jason edited our entrance songs as well, making sure that the wedding party had the perfect beat to make our grand entrance. Since Jason is a musician, the sound quality of his equipment is top notch, and it filled the room perfectly. Also, his additional lighting was just right, he had an eye for what lighting worked with the room without making it tacky. We would recommend Cadillac Jazz and DJ/MC Service to anyone. No matter what type of reception you are hoping to have, they will listen to your wishes and make sure that the evening goes as you have envisioned it.
---
Excellent jazz trio!
Reviewed on

10/19/2012
Scott D
We hired Cadillac Jazz for a couple hours of cocktail music and we were very impressed. Very professional, excellent musicianship, extremely friendly, and a deep repertoire. We highly recommend these folks for your special event.
---
Fantastic experience - Thank you Jason!!
Reviewed on

10/18/2012
Danielle H
From start to finish, Jason and Cadillac Jazz was one our most attentive, most thorough, and easiest to deal with vendors. It was clear from the beginning that Jason wanted our wedding to be a success not only because he wanted to make his clients happy, but because he take's... Read More pride in his company and his work... and that pride showed in his performance. We asked for a mix of services from Cadillac Jazz, a live music jazz trio during our cocktail hour, and for a DJ driven dance party later in the evening... oh and we asked Jason to travel three hours to York PA (from Pittsburgh) to perform. Not a single issue, not a single 'we'll need to charge extra for that', Jason couldn't have been more accommodating and we couldn't have been happier with the results. As a true master of ceremonies, Jason's focus was on his guests and the bride and groom, not on himself. He played what we wanted and what the situation tastefully called for, He kept the evening moving smoothly, but flexed enough to roll with the punches… Cadillac Jazz helped make our event one to remember and we still get compliments from friends and family. Thank you Jason! C & D
---
Wonderful and Professional!
Reviewed on

10/18/2012
Rusty M
We had Jason Hollar as our DJ/MC for our wedding on October 14th, 2012. Everything was perfect. He helped us with wedding music choices and during the wedding if anyone had any requests, he was more than willing to play the song. Jason also kept us up to date of the time and... Read More made sure we were on track with announcements and everything. I would definitely recommend Cadillac Jazz to anyone having a wedding or any event. Wonderful all around!
---
Perfect!
Reviewed on

10/18/2012
Vanessa C
My husband and I are both musicians, so it was VERY important to us to have a great band. Cadillac Jazz was amazing and we wouldn't have changed a thing. We had some soft piano during dinner, which created a nice vibe so everyone could talk, and then we had a 5 piece jazz band... Read More for dancing. The musicians were fabulous and everyone loved them. Jason is extremely kind, flexible and easy to work with. We realized we didn't have anyone to announce when toasts would be or when the wedding party arrived at the reception, and he stepped in very smoothly and did it for us. All-around great, couldn't recommend them more highly!
---
LOVE them!
Reviewed on

8/28/2012
Nikki K
Great band and great DJ services. DJ is prompt to respond to any questions and is very helpful!
---
Great Jazz Band!
Reviewed on

10/18/2011
Becky B
I really loved how Cadillac Jazz was able to find musicians in our area to fill out the Jazz Quartet. He picked perfect musicians and we had gotten so many compliments. The musicians played for the cocktail hour and dinner, while Cadillac Jazz Dj'd for the remainder of the... Read More reception. It was perfect and everyone had an amazing time.
---
highly recommend
Reviewed on

10/18/2010
Jenn B
We had the pianist play for our ceremony and then the jazz trio played for our cocktail hour. They did a great job and were very professional to work with!
---
Cadillac Jazz is amazing live music
Reviewed on

9/18/2010
Kyla J
My Husband and I had our reception at the Music Foyer of the Carnegie Museum for cocktail hour and dinner. This space is very hard to play and Cadillac Jazz sounded amazing! I asked them to play something grand for our entrance into the reception and of course they blew us out... Read More of the water. Jason Hollar and his group were so kind and professional in the planning as well. Everyone is still raving about how much they loved the music that night. We wouldn't change anything.
---
Excellent Choice!
Reviewed on

9/10/2010
Melanie A
We were so thrilled with Cadillac Jazz at our wedding in August. They touched base with us at all times before the wedding and took care of all arrangements. They were extremely accommodating and their music was awesome! We used them during our cocktail hour and dinner hour and... Read More it was absolutely beautiful. I still have people coming up to me telling me how great they were. We are beyond happy with the job they did and would highly recommend them to anyone!
---
Top Notch
Reviewed on

9/10/2010
Rebecca K
Cadillac Jazz is fantastic. They played for our wedding reception (aug 2010) and provided some great background jazz. They can change their style, tempo, and volume to fit the mood of your reception. We also had their pianist play for our ceremony and cocktail hour and he was... Read More wonderful for both of those as well. The group is very professional and I would recommend them for anyone's special day. Thank you guys for doing such a great job. David
---
Cadillac Jazz
Reviewed on

6/17/2010
Renee H
Excellent performance that received many compliments from guests. Highly recommend !!! Dependable, reliable, and professional. Performance enjoyed by all ages !!
---
Review for Cadillac Jazz
Reviewed on

5/10/2010
Wendy W
The instrumentalists were very good, but the male singer could have been better. We also had a female singer who was very good. They didn't emcee too much, but I think that was our fault for not communicating what we wanted better.;We were a little leary about the contract.... Read More They require you to pay in advance, and if they can't make it to the wedding due to bad weather conditions or whatever, you do not get your money back. Luckily everything turned out fine for us. We were happy with them overall.
---
Meet The Owner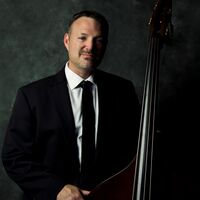 Jason Hollar
As a professional bassist for over 25 years, I've been blessed to perform with so many incredible & talented musicians at venues all across this great country. My band Cadillac Jazz has performed for hundreds of upscale wedding receptions, private parties, and special events - as well as night clubs, concerts, and music festivals. We work with only the finest musicians - and it shows! Trust our group to deliver an exceptional performance on your big day!